Matt Hesse is an Army veteran, married father of two, and the man responsible for creating the not-for-profit FitOps Foundation.
"FitOps is a program that helps veterans transition from active-duty service to a fulfilling career in the fitness industry," explains Hesse, who is also the founder and CEO of the sports nutrition company Performix. "Having served in the military myself, I understand the commitment and sacrifice our veterans have made to keep us safe. I've seen firsthand how hard the transition from service to reentry into civilian life can be."
To date, FitOps has helped more than 300 veterans graduate from its program en route to becoming personal trainers. However, instead of patting himself on the back for his efforts, there's simply too much work to be done to conquer the tragic epidemic of veteran suicides, he says. In fact, our vets are more likely to die by their own hands than those of the enemies they've faced abroad. More than 45,000 Americans claimed their own lives in the past six years, and according to the Executive in Charge at the Veterans Health Administration, Richard A. Stone, suicide "disproportionately affects" those who have served.
Because of those harsh realities, Hesse doesn't "stop to smell the roses very often because that number [300], you know, it's just not enough," he says.
"The Pentagon just released a report that says it's now 25 vets a day who lose their life to suicide," Hesse adds. "It crushes me every time. So there's still 25 a day that are taking their lives, and until that number is zero, it's just not enough."
Hesse's call to enlist and his sense of patriotism can be traced back to his Midwest upbringing. Born in Crofton, NE—"a Pleasantville kind of life"—Hesse was raised on strong morals and values, and recited the Pledge of Allegiance every morning. "And so serving my country was a relatively easy decision," he says.
Hesse and his three brothers were ultra-competitive with one another, so he had always considered himself athletic.
"I remember when I was probably 7, all the Christmas presents had been opened, and my dad was like, 'There's one hidden behind the tree.' It was a football, and he gave it to me as if to say, 'You're going to be my little football star.'"
So Hesse played football all the way through high school, but he was also a bareback bronco rider and hardcore wrestler.
Then the moment came that changed both Hesse's life and his career path.
"We used to have these things called wrestle-ups, where your lightest-weight guy would wrestle the guy right above them and then keep going," he recalls. "I was fairly light in high school, maybe 125 pounds. But I was good for how small I was. I was wrestling the person at 189, and he was throwing me around like a rag doll. I remember hearing a crack, and then I woke up in the hospital."
Hesse broke his neck, which derailed any chance of wrestling competitively in college. "So I did what any injured kid would do—I went to the Army."
By then, his parents had split up. He had moved to Wyoming with his mom—while his brothers lived with their dad back in Nebraska.
"I grew up without my dad around," Hesse says. So the Army provided a unique experience. "For kids that come from chaotic environments, the military becomes the first place where they really get structure. You're taking orders; there's no other choice."
As he neared the end of basic training and AIT (advanced individual training), Hesse had two options: to go into the Reserves or the Army full-time. But then his mom got into a serious car accident— and coincidentally broke her neck, leaving her paralyzed. It was a tough decision, but also a simple one: care for Mom, attend college, and still train by entering the Reserves.
Following his neck injury and subsequent physical therapy, Hesse began focusing on nutrition more than ever. "I used to go into GNC stores and just ask the guy behind the counter tons and tons of questions. And one day he was like, 'You want a job, man?'"
Hesse started working at the local GNC, where he met young athletes from his college who were looking for guidance integrating supplements into their nutritional regimen. So he started writing programs for them. "I became infatuated with that."
People would walk into the store, hold up a copy of a fitness magazine like Muscle & Fitness or FLEX, and ask Hesse, "Do you have this?" pointing to a photo of a supplement. "I want to lose weight—sell me that." "I'd give it to them," he says, "but I'd also explain to them that supplementation is a small part of the battle in trying to make a change. It's not a pill or a powder that's going to make you change your life. I don't believe in selling people things that you can't back up."
So his desire to get into the sports nutrition industry stemmed from his goal of tying it all together: product, inspiration, aspiration, content, and support.
In 2015, Hesse launched Performix—a nutritional supplement line providing energy, focus, metabolism, hydration, and recovery. By 2017, it was GNC's biggest brand. And although he admits his company's success was "super fun," the enjoyment wasn't completely fulfilling him on the inside.
"I needed to fill that gap inside of my heart," he explains.
That's when he decided to create FitOps.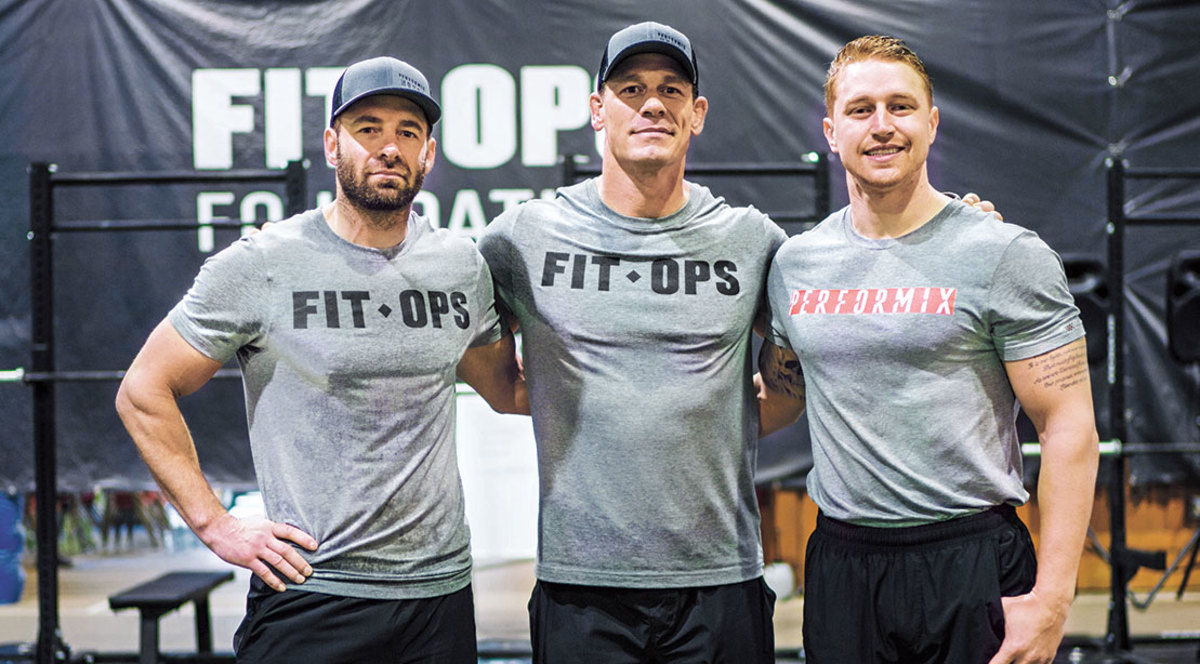 Here's how the FitOps program works: Up to 50 veterans who apply online at fitops.org are selected to participate in a training session at various locations around the U.S. Airfare and transportation to and from FitOps camp are all covered by FitOps. The camps are six weeks long—the first half consisting of at-home intense pre-study, and the latter half hosted at rented-out Boy Scout camps, during which candidates undergo physical, mental, and emotional training. (In addition, prior to arriving at camp, candidates are required to perform 12 weeks of athome learning in exercise physiology and nutrition.)
Each vertical is specifically designed to address the challenges of transition. FitOps camp replicates a scaled-down but still rigorous version of basic training: "You're up doing PT at 5:30 a.m., and we beat you up," Hesse says. "It's equal parts mental and physical warfare. We've found that when we bring veterans together, they are inclined to share their stories with each other, so it's important to us to create a safe space for that, because civilian life doesn't inherently offer that."
It's not always easy to open up, so to set the tone and to help the group realize it's OK, Hesse steps up to get things rolling.
"I usually share my story first," he says. "They see me let go of shit, and that opens a door."
Once you complete a FitOps camp, you become a Certified Veteran Fitness Operative (CVFO). You're not only equipped with a personal training certification, you're also given the tools to succeed—from learning to interview for a job to building a résumé, networking, and giving back to your community. "Ultimately, it's like a life camp for transitioning vets."
After graduation, many of the CVFOs gain employment at top fitness clubs in America. Some have been featured in national publications, such as Men's Journal, Muscle & Fitness, and Men's Health, for their expertise and achievements.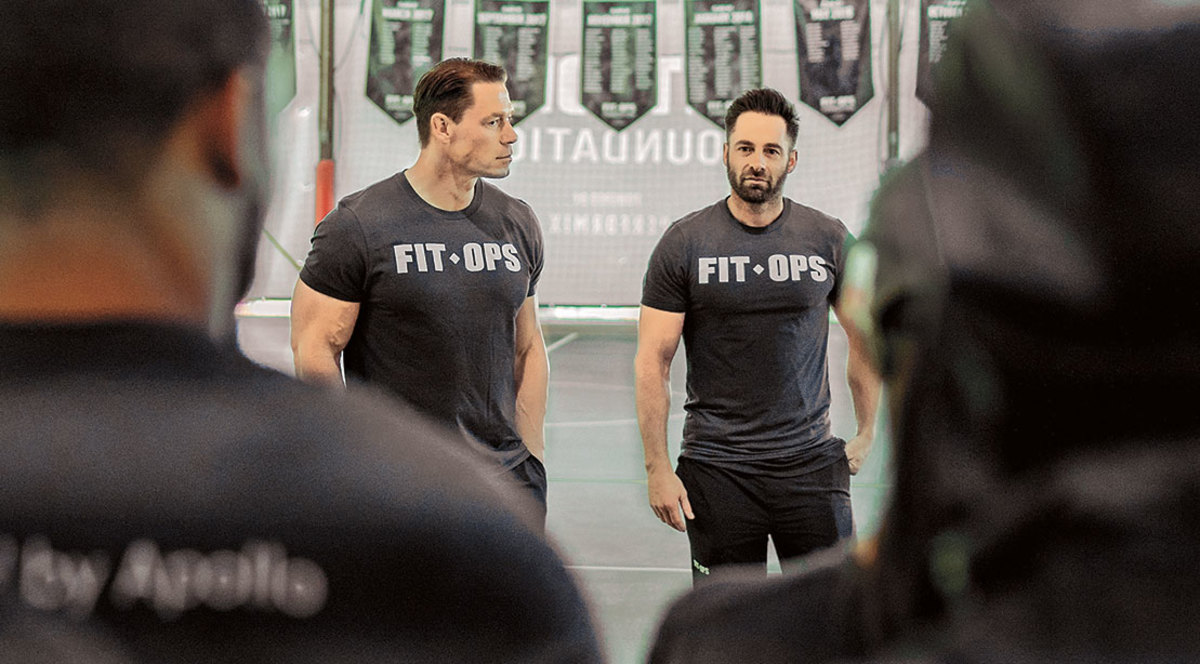 As word continued to spread about the FitOps mission, many people throughout the military community and entertainment and fitness communities began to get involved. The most high-profile person to be inspired by Hesse's mission to change the world through the power of fitness is world-famous actor, WWE Superstar, avid weightlifter, and philanthropist John Cena. To show his support for the cause, Cena used time during a September 2019 appearance on The Ellen DeGeneres Show to announce that he would match donations to FitOps up to $1 million. The news spread quickly across social media, and donations spiked.
"John has built his entire life around the philosophies in the power of fitness which we seek to share through inspiration and aspiration," Hesse says. "I can't imagine partnering with anyone else on this amazing journey."
That journey, however, is far from over. "Hopefully, someday," says Hesse, "when I'm old and retired and sitting in a rocking chair, and my son's talking to me about FitOps, I'll be able to say, 'We really made a difference.'"
For access to exclusive gear videos, celebrity interviews, and more, subscribe on YouTube!