Anthony Bourdain first found his way onto a grappling mat in 2014. Since then, Jiu Jitsu has become a daily ritual for the chef, and his sole conditioning tool against the life of excess that comes with being a hugely popular travel host. Men's Journal sat down with the gruff-voiced journeyman during an event for his Balvenie series Raw Craft to discuss the incredible benefits he has found through the martial art, and why it's the best way to start a day.
How did you find yourself falling for Jiu Jitsu so quickly?
Look, I'm an addict. There is something that ticks for me. I find myself going to pretty great lengths to get my time in. I train wherever I go. No matter what city I'm in, if there is a gym that calls itself Jiu Jitsu, I will be there. I will just walk into a class. I don't like to do privates on the road.
So you feel pretty comfortable walking into any gym?
I have had my ass kicked everywhere in the world. I am a 60-year-old blue belt who doesn't suspect he will ever make it to black belt in this lifetime.
I have to imagine you get a few taps in.
Every once in awhile I get to feel the will to live drain out of a 23-year-old athlete. [Laughs] That's enough for me.
Did you visit any great gyms overseas recently?
I was just in Singapore for a longer stay, and there is a lot of Jiu Jitsu there. They have an incredible academy there called Evolve and between the three schools I could always find a 7:45 a.m. class.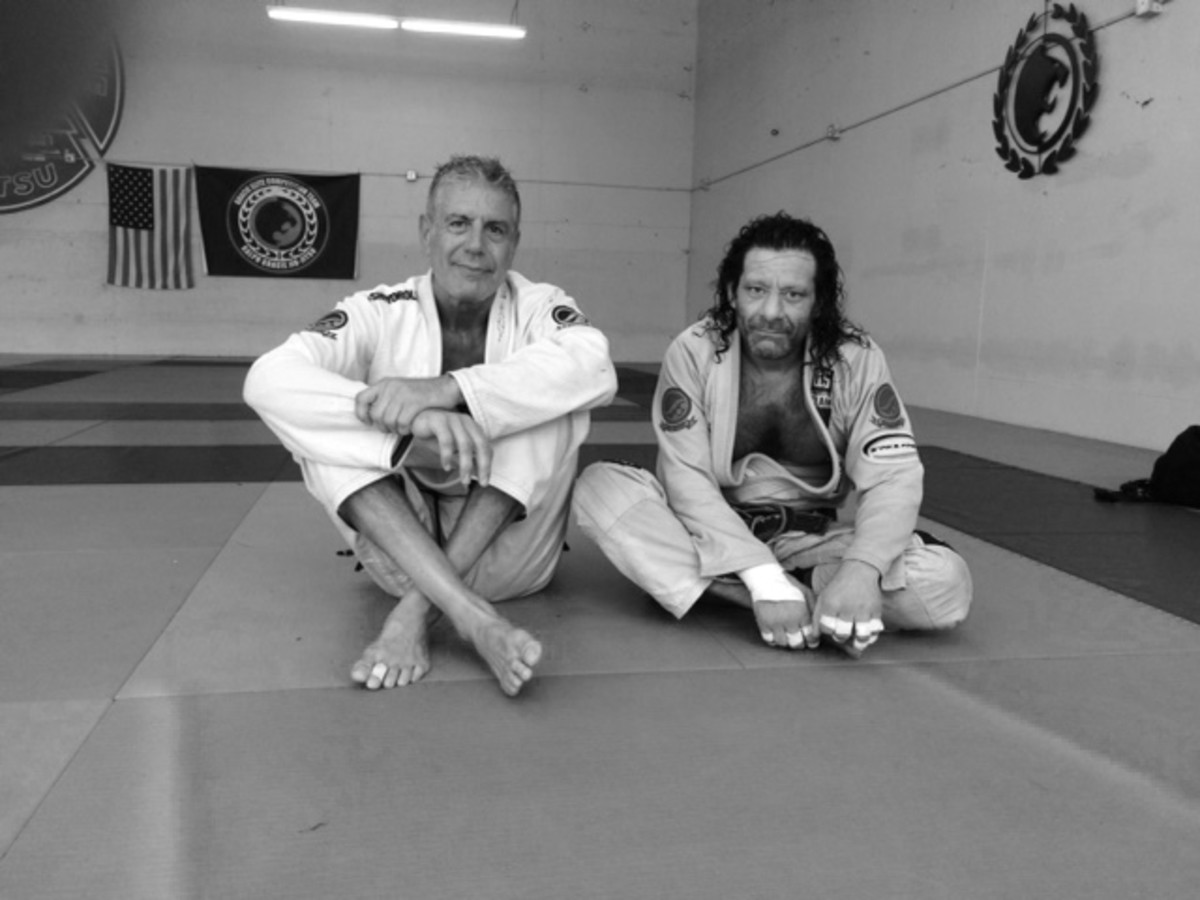 So you like to start your day with it.
I always train in the morning. I'm not eating lunch and then going for a roll. I wake up, have a little water, and then it's straight there. It's incredible for you physically. I feel like I lose eight pounds after five rounds. You're pouring water. Then you eat an immense meal after and feel just fine about it.
Now you're back home promoting your documentaries Jeremiah Tower and WASTED!. What are your gyms in New York?
I train with Igor Gracie when I'm here, and then I try to take a noon class with John Danaher. I went to Mushin for strength and conditioning before the New York Open, and they were just brutal to me. They whipped into shape right quick. That is the place a lot of the guys from Renzo's go for strength and conditioning. I rolled with one of the owners, who's a black belt. He heel hooked the fuck out of me. He rolls hard for an old dude too.
Do you do any other training?
I don't do anything but Jiu Jitsu. No weights or machines. I always feel incredible afterwards. It is the perfect countervailing force against my life as a professional glutton.
For access to exclusive gear videos, celebrity interviews, and more, subscribe on YouTube!