Damion DiGrazia knows pain. Five years ago, he was 20 miles into an ultramarathon in the hills of Vermont when the connective tissue in his right knee became displaced, jabbing bone into nerve with every step. DiGrazia ran the last 42 miles with his kneecap tied in place. But even the rush he feels after a 100K endurance test is nothing, he says, compared with what he'll feel here at the state fairgrounds in Springfield, Illinois, where DiGrazia will go head-to-head in armored combat like a 12th-century knight, only with a slightly better chance of avoiding decapitation. By day he's a management consultant at a major investment bank in Manhattan; on most weekends he teaches Sunday school. Today, however, he'll strap his arms, legs, and torso into the handcrafted sleeves of 21-gauge stainless steel armor. His weapons of choice: a wood-handled mace topped with a flanged steel head, and a red birchwood shield lined with metal, which he holds not for protection but for bludgeoning opponents into submission. When DiGrazia steps onto the battlefield, the 33-year-old former Air Force mechanic and Harvard grad transforms into a modern-day medieval ass-kicker. "You can't be scared in this sport," he says. "People give up because they're afraid of getting extremely hurt. If I'm on the ground, that means you've destroyed me."
You know those Renaissance fairs, where European history buffs and World of  Warcraft nerds dress in wizard's robes, drink mead, and talk with "ye olde" accents? This is not that. DiGrazia is a member of the Armored Combat League, part of an international sport with members in more than 20 countries that prides itself on full contact, real steel, and unbridled violence. The USA Knights – roughly 200 participants from nine regions across the country – train year-round to compete for top spots on the team and a chance to fight in the International Medieval Combat Federation's world championships, held in Europe. While you won't see Game of Thrones–style beheadings, bones are broken, appendages severed. "This is dangerous," says Andre Sinou, a 48-year-old Marine Corps reservist and USA Knights captain. "Guys will buy cheap armor just so they can play, and they end up in the hospital."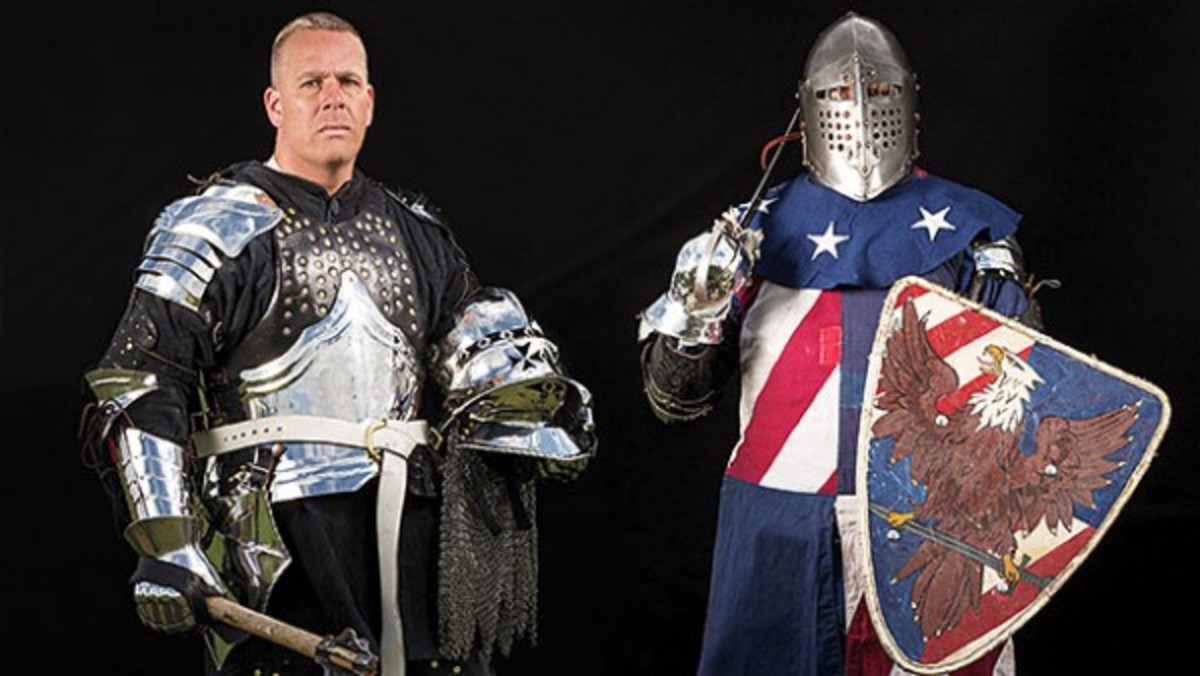 From left: Team captain Andrew Sinou and Bill "Bam Bam" Woodbury compete in armor weighing up to 80 pounds. 
(Fred Conrad / The New York Times / Redux)
Sinou shows off his gear, starting with his custom-fit gauntlets. While the gloves are lined with supple leather – "When you punch somebody, it's like you're getting a hand massage," he says – the polished steel knuckles inflict damage, even to a helmet-protected head. "I punch guys in the face all the time wearing those. And it feels good."
The Springfield tournament is a no-frills event – a livestock auction pen at the state fairgrounds serves as the arena, and by noon a crowd of more than 900 has filled the building. Like DiGrazia and Sinou, the 70 or so other men have traveled here to compete for spots on the top three American squads, which will do the majority of the fighting at the championships, held in Spain. In two years of international competition, the Americans have yet to win a gold medal.
The rules for ACL fighting are simple. Some compete in individual contests, in which the winner is determined by the number of blows landed. Then there are "melees" – five on five or 16 versus 16, bashing each other in what looks like a metal-plated mosh pit; the last team standing in the fenced-in arena roughly a third of the size of a football field wins. If any three body parts touch the ground at once (feet included), you're out. Surrender is also an option and often a wise one. ("If you have a guy in the corner getting blasted by a poleax," Sinou says, "he may put his hand up and say, 'I've had enough.' ") Hits to the back of the knee are illegal, as are thrusting and stabbing. All weapons must have rounded or blunted edges and meet weight requirements, ensuring no one will get a limb hacked off or a skull crushed. Otherwise, nearly anything goes. Punching, kicking, leg sweeping, bull-rushing, and targeting exposed flesh are essential tactics. Bigger players who prefer close combat favor swords and hand axes; pole arms up to seven feet long are ideal for smaller speedsters who might strike at a distance or sneak up with a hockey-style cross-checking blow. Shields are used more for punishment than defense.
A few months before the Springfield tournament, Sinou stood inside his office – a converted auto shop in the flatlands of southern New Jersey that serves as an armory (with full suits and weapons costing anywhere from $2,500 to $5,000). This is his full-time job, and one that fits his image – his European opponents call him Captain America, and his phone rings to a Marine Corps running cadence. At a stone-solid 6-foot-2 and 250 pounds, Sinou says he qualifies as a "medium-size" member of team USA.
Among the shelves lined with battered helmets and racks of hefty blades and maces, Sinou explains the history of the sport. Modern medieval-style combat began in Russia a few years ago, but loose rules and shoddy armor made every match a lethal proposition. (Rumor has it that in the sport's primitive days, a Russian was run through with a sword and killed.) Here in the States, the concept appealed to guys like Sinou, who was a lineman in high school and competed in a full-contact wooden-sword league for years. Sinou had reached the highest level of training – the equivalent of a black belt in martial arts – and grew bored. So a band of 29 would-be warriors, including Sinou, formed the inaugural U.S. team and flew to Warsaw in 2012 for their first taste of international combat. "We had a great time," he says. "But we got our asses kicked."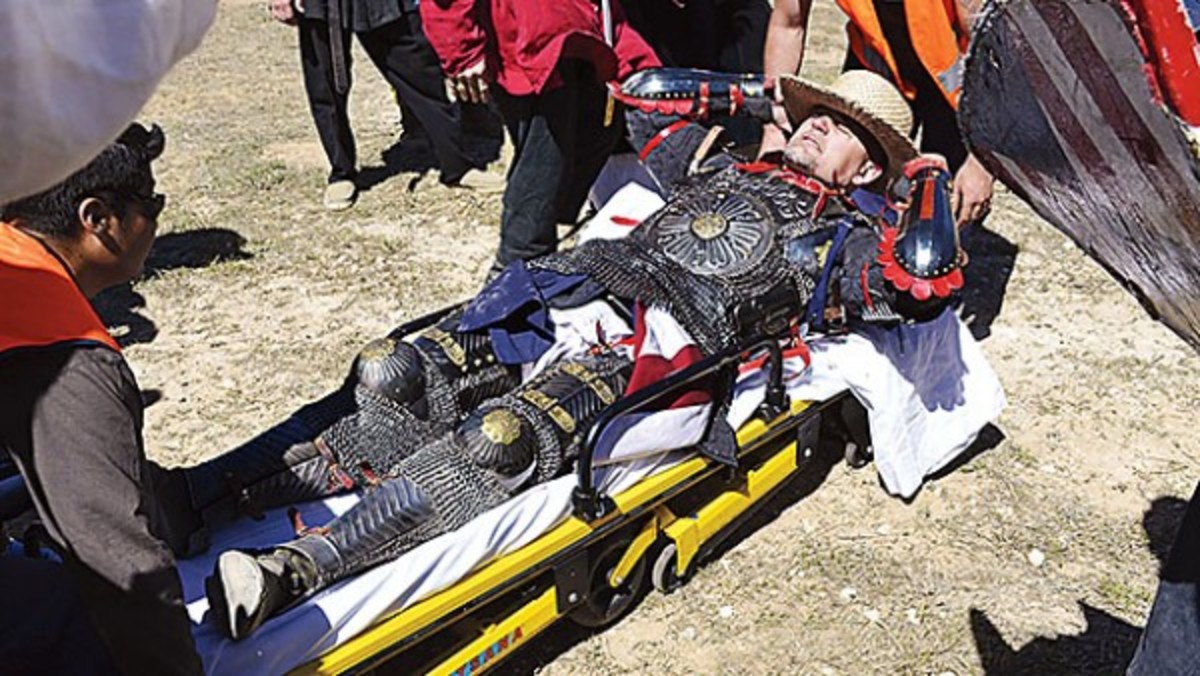 An injured USA Knight is carried off the battlefield. 
(Photograph by Jose Acedo)
At least there were no casualties. "People said, 'You're crazy,' " Sinou says. " 'You're going to fight with real weapons? It's insane, right?' We came back and people saw we lived through it. But it took an extreme amount of courage." The FNGs, or "Fucking New Guys," as Sinou calls them with a grin, are considered "aspirants"; only those who've fought overseas are given the rank of knight.
Just a handful of team members who made the trek to Springfield have military backgrounds like Sinou and DiGrazia. Dmitriy Ryaboy, for example, a 33-year-old programmer, lives in San Francisco, where he works for Twitter – he joined when the company totaled around 100 employees; in his spare time, he wrote an ACL tactical handbook (sample tip: "Do not look for the perfect kill . . . find a leg to kick, a heel to anchor, a hip to punish"). L. Dale Walter, a 49-year-old from Howell, Michigan, earned the nickname Iron Man, thanks to his work as a defense contractor, building weapons (M1 Abrams tank parts) for the government à la Tony Stark. He fondly recalls the practice melee in which he had just introduced his falchion, a one-handed sword, to Anthony Lynch, a 6-foot-6, 250-pound software manager from California – when Sinou ran him over. "I was facedown on the ground and broke my nose," he says. "That was my first day. But we have a saying: Everyone eats dirt."
Lynch is something of a rock star within the ACL thanks to his intimidating frame, his distinctive red-and-blue helmet, and his dedication: The 43-year-old lost 65 pounds in preparation, then put on 15 pounds of muscle through CrossFit training. Those without Lynch's size and brute force rely on quickness and guile. The day before the national championship in Springfield, DiGrazia explained his corkscrew throw – with his lean frame and speed, he charges in fast, tosses swift blows to disorient his opponent, then spins his foe off balance and into the ground. DiGrazia knows he's a long shot to make the Striking Eagles, team USA's all-star squad led by Sinou, but he hopes to see plenty of action on the B team in Spain. No matter who he fights with, DiGrazia's ultramarathon training should give him an edge. "Those races run overnight, into the mountains," he says. "I know how to dig deep."Backstage at the state fairgrounds in Springfield, a cold concrete hangar serves as a makeshift dressing room, and the smell of leather, sweat, and Bengay hangs in the air. Leg plates and weapons spill out of hockey bags, crates, and wheeled luggage as the process of suiting up begins; some fighters need nearly an hour to gear up, and a full suit weighs anywhere from 50 to 80 pounds. Volunteers – mostly friends, injured players who can't compete, or wives and girlfriends – help make last-minute adjustments, such as tying down shoulder guards, called pauldrons. (Most knights use historically accurate terms to describe their gear; their armor is required to be time-period-appropriate. Combining a 13th-century helmet with a 15th-century gorget for neck protection is verboten.) Simon Rohrich, one of the Striking Eagles, is fighting for the first time since tweaking his back at a tournament last fall. The 39-year-old is known as the smartest guy on the team – a tech entrepreneur with 24 patents to his name – and one of the toughest fighters. Rohrich squeezes into borrowed arm plates, exposing a serpent tattoo that fills the expanse of his back and winds across his shoulders. For him and many of his teammates, primitive combat offers both camaraderie and catharsis. "I was abused as a kid," he says. "I was raised around violence. So I could go to jail. Or I could do this." USA Knights officer Brad Schaive carries his deceased father with him into battle, literally – Schaive had his ashes forged into his armor in tribute.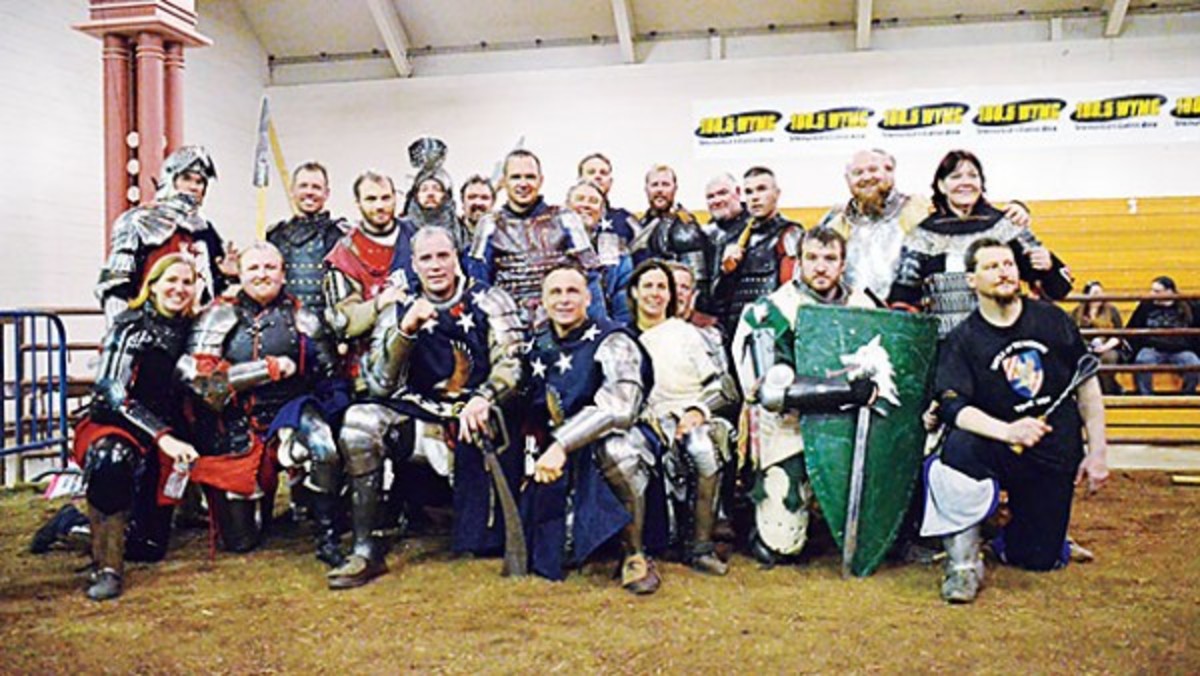 The country's top contenders fought for team spots at the national tournament in Illinois in March. 
(Photograph by Joel Schonbrun)
The U.S. nationals don't lack for brutality – the crowd gasps and cheers when one knight swings his pole arm overhead like he's chopping wood and lands three blows to the head of a foe. But here, competing with each other, no one wants to injure a friend just to improve his standing on the team. Overseas, though, there is no mercy – concussions and broken bones are common. At last year's championships in France, multiple fighters were carted off the field. One from Poland had compound fractures in both arms. Schaive suffered a puncture wound on his shoulder that cut him to the bone.
By the end of the Springfield tourney, only one knight falls to injury, and he sits in the hangar with his swollen ankle wrapped in ice after a poleax struck him. Still, he's happy: "One of the guys said I hit him so hard he saw his ancestors. So it was a good day." And despite some minor frustrations, DiGrazia battled admirably enough to earn a shout-out from Sinou during a post-tournament dinner at a local Italian bistro. "Damion, you're a gentleman and you're throwing people around," he says. "You're getting better every time I see you." The captain praises the room for a fine display of "prowess and spirit…I saw a team that's ready to go to Spain."
A dose of reality hits when the fighters sign a shield to send to the Ukrainian team, which lost a member during the bloody protests against Russian occupation. He was said to be using his combat shield to help the wounded when he was shot and killed. "It reminds me of the real-world obligation that comes with being a knight," says Rohrich. The notion of chivalry is one that most team members take seriously, starting with Sinou. "We're ambassadors for the United States, whether you like it or not," he says. "We have to be courteous, we have to show good sportsmanship, we're not going to lose our temper if something goes wrong. I will pull you off the field for something like that. You're going to make us look like a bunch of assholes. We want to be a paragon of honor."
The night ends in a sports bar at the Route 66 Hotel, where a divisional commander lines up plastic shot cups in battle formation and talks strategy. In a month, most of them will march on the grounds of Belmonte Castle, a 15th-century hilltop fortress, where world champions will be crowned and the unlucky will leave on stretchers. Sinou promises that those who didn't make the cut on the top three units or in individual duels will fight regardless, either in the 16-man skirmishes or in the massive "all-in-alls" – freewheeling 30-on-30 battles royal that don't count in the standings. DiGrazia is relieved to hear he's been named to the USA Knights second team. "I didn't know if I had the money or the time," DiGrazia says of the sport, "but for a regular guy like me, I had to do this."Five weeks later, the Americans stand on a grassy battlefield in the shadow of a medieval Spanish castle, trying to make history. A crowd of nearly 10,000 turns out to witness the final day of competition – including the five-on-five championship, which pits the Striking Eagles against a Polish team that's younger, skilled, and well rested. But in the deciding melee, victory rests on the broad shoulders of the last man standing – Bill "Bam Bam" Woodbury, Simon Rohrich's business partner. Woodbury survives a charge attack and hurls the lone Polish knight to the dirt. Victory.
It's a record-setting day for the USA men, who finish with four gold medals, including a sweep of both melee events and pole-arm single combat. "It felt awesome," Sinou says. "It's a grueling tournament. It's nice to see the guys and girls reap the rewards of their hard work." Unlike in past years, most injuries were relatively minor – nothing close to two years ago in Poland, when an American cleaved a Danish opponent's finger in half with a long-sword blow. (In a bizarre show of sportsmanship, the fighter gave the severed digit to the man who bested him.) Now there's just one bit of unfinished business ahead – the Russians, who, amid accusations of cheating and a surprising degree of global shit-talking via Facebook, didn't compete in Spain. "Until we beat the Russians," Sinou says, "we're not the best in the world."
DiGrazia's squad placed fourth; if not for an unfortunate seeding that pitted his team against the Striking Eagles, he and the USA B team would probably have medaled as well. In the midst of all the international handshakes and bro hugs afterward, the Spanish team captain approaches DiGrazia and asks if he was the American who was sprinting around, zigzagging all over the battlefield (as most knights don't have ultramarathon training, DiGrazia's speed and stamina tend to stand out). The captain is so impressed with his unique performance that he hands DiGrazia an arrowhead. DiGrazia begs off the gift until he notices the captain tearing up as he explains the token's significance – it's an artifact given to him by his son, an archaeologist, and dates from a historic Spanish battle more than 800 years in the past.
The captain says they've given DiGrazia a nickname, as any knight who fights with "grace" and "elegance" deserves: He's now "La Flecha," the Arrow. DiGrazia takes a knee and the Spaniard presses the gift into his hand with a broad smile – a sign of brotherhood between two 21st-century men who find themselves, for a few days each year, better suited for another time.
For access to exclusive gear videos, celebrity interviews, and more, subscribe on YouTube!