Competitive CrossFitters Dani Sidell and Jeremy Reijnders are not life-long disciples of a plant-based diet. In fact, growing up in the Netherlands, Reijnders thought vegan dieters were "weird or strange," and a few years ago, Sidell was featured in a documentary "buying pounds and pounds of ground beef, packets and packets of Tilapia fish, chicken breast, eggs, and bacon."
But in the last few years, both have cut animal products from their diet—and both say they've never been in better shape, which is supported by their results. Sidell is on her way to Regionals in the team division for the mid-Atlantic, and, after beating out his countrymen in the CrossFit Open, Reijnders was crowned the Fittest Man in the Netherlands.
Both athletes told Men's Journal that watching a documentary was the pivotal moment in their transition. For Sidell, it was "Cowspiracy," which focuses on the environmental impact of the meat and dairy industry. For Reijnders, it was "Forks Over Knives," which argues that "most, if not all, of the so-called 'diseases of affluence' that afflict us, can be controlled, or even reversed, by rejecting our present menu of animal-based and processed foods." Reijnders was so convinced that, despite "really, really liking meat," he decided to transition over the course of four weeks.
The first week, Reijnders cut out meat, then fish, then dairy, then eggs. Beforehand, he found Dr. Greger's Daily Dozen checklist, which helped him configure his new diet. Sidell, on the other hand, went cold turkey and "kind of winged it for the first six months." For anyone interested in making the change, she recommends cutting out dairy first ("even gas stations have almond milk") and then eggs, which are the cornerstone of many people's breakfast.
As for protein—the boogeyman that haunts all discussions of going vegan—Sidell says she gets plenty (see her typical day of eating below). For a protein powder, she says that everyone should try a few to find their preferred brand but recommends Veva and About Time (she isn't sponsored by either). Reijnders is sponsored by OrangeFit.
While Sidell admits that her lifting PRs have decreased slightly since she made the transition, she says she's leaner, faster, and better at gymnastics, all while eating about 1,000 fewer calories per day. Both tell me they have more energy, are more clear-headed, and recover more quickly—Reijnders so much so that, just six weeks in, he was able to add another day of training per week. And since he became vegan, in November of 2015, he's gained five pounds of muscle mass.
As their body composition changed, so did their taste buds. Reijnders says that a piece of fruit is about as sweet as he can handle now, and Sidell, who's gone even further and eats almost exclusively a raw food diet, had a more drastic change. A few months in, she ordered sweet potato fries from her favorite burger joint but found they were too greasy to be enjoyable. Likewise, movie theater popcorn "just started to really gross me out."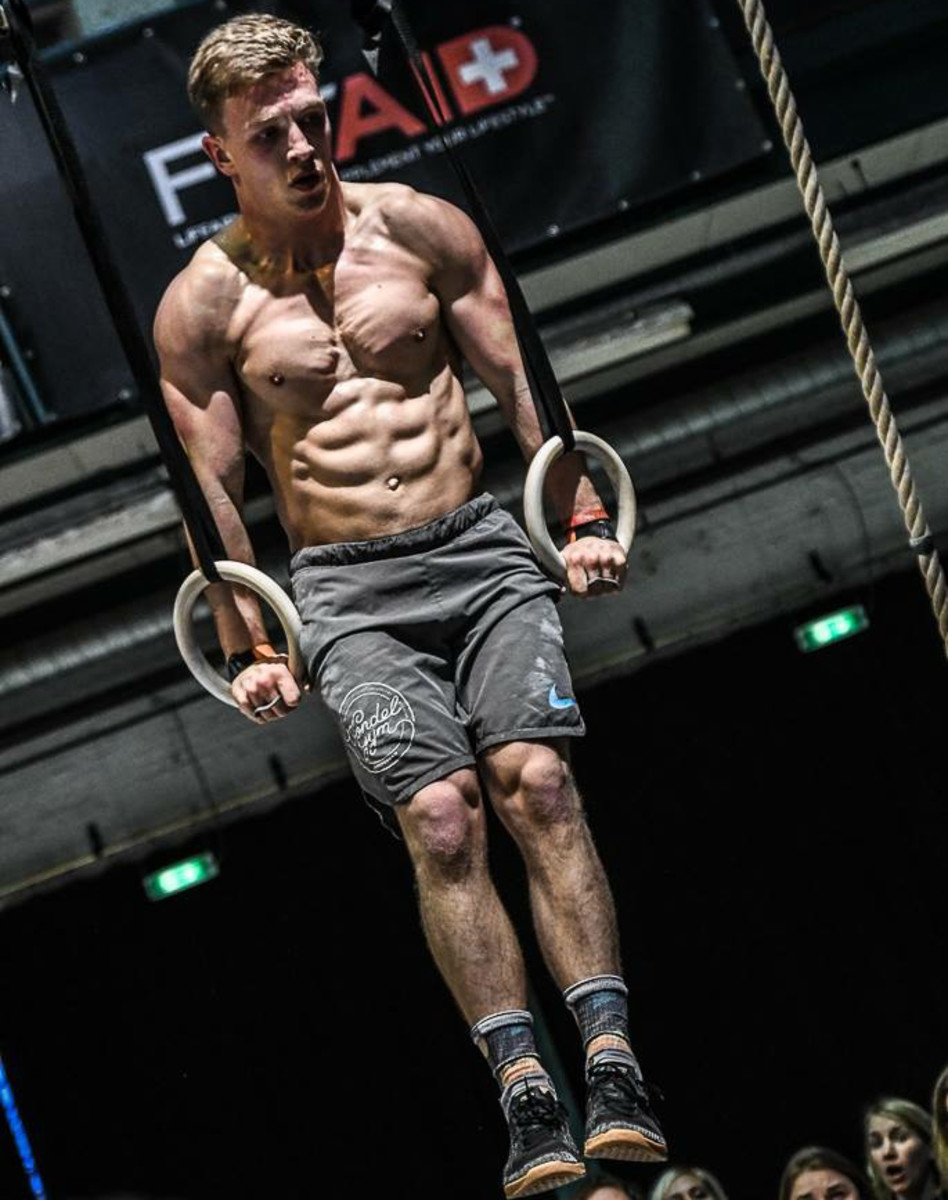 Sidell also finds it unappetizing to support restaurants that serve animal products, so she cooks most of her meals at home, a level of commitment that her teammates aren't always supportive of. For example, a few weeks ago, her coach bought Chipotle for the team after a training session, "and people were laughing at me because I wasn't eating it," says Sidell. "You want to have thick skin because you're going to be pushed around." But on his end, Reijnders says that, instead of teasing him, many of his friends have gone vegan themselves.
For both of these elite CrossFitters, their diet has become more than just fuel for their sport. Reijnders hopes to transition to all-vegan clothes (like Brave Gentleman), and Sidell uses her social media to critique the meat industry. Her advocacy has cost her followers, but she says that gap is more than filled by the appreciative messages she gets in response. "I finally feel like I found my purpose," she says. "I can compete at a high level and be a vegan athlete, and I'm proud of it."
Want to swap out the eggs and bacon for a plant-based breakfast? Here's what Reijnders does.
Jeremy Reijnders' Vegan Smoothie Bowl
1 or 2 bananas
50-100g of frozen berries
100g frozen kale or spinach
1 spoon of flaxseed
1/2 teaspoon of turmeric
1 pinch black pepper
1 teaspoon cinnamon
200-300ml of almond or soy milk
1/2 scoop of pea protein strawberry-flavored pea protein
When all of the above ingredients are blended, REijnders adds the smoothie to a big bowl and tops it with a blend of muesli or oats, raisins or daes, almonds or walnuts, or pumpkin or sunflower seeds. He tops it off with more berries.
Curious how Sidell fuels her workouts? Here's what she eats in a typical day:
Dani Sidell's Typical Day of Eating
Breakfast:
Two slices of naturally sprouted bread, half an avocado, half a banana, three to four strawberries, a handful of blueberries, a handful of blackberries, a serving of peanut butter. Coffee.
Two to three hours later, snack:
One-fourth cup of roasted chickpeas and three cups of plain popcorn ("It sounds crazy, but popcorn is a great source of a carb, and it gives me that satisfying feeling of eating for a longer period of time.")
Two to three hours later, lunch:
One cup of Beyond Meat chicken strips, four to five ounces of sweet potatoes or a cup of jasmine rice, and a handful of berries.
Right before working out:
A banana, a serving of peanut butter, and eight ounces of pea milk.
Post-workout:
Coconut water with dextrose and thirty grams of protein powder. An apple.
Dinner:
One cup of sauerkraut, one cup of Beyond Meat beef crumble, one cup of sweet potato fries or rice with tomatoes.
Right before bed:
A whole bell pepper and a half cup of hummus.
For access to exclusive gear videos, celebrity interviews, and more, subscribe on YouTube!