Over the last 25 years, photographer Mark Thiesssen has been shooting wildfires and the men who fight them, taking photos of some of the most dangerous jobs in the world. Thiesssen was at it again earlier this year when he embedded with a team of Alaskan smokejumpers, who he describes as the "Navy SEALs of the firefighting world."
Smokejumpers in the lower 48 states usually deal with fires that are an "acre or less," with ground crews taking over the larger fires, Thiessen says. But in Alaska, smokejumpers don't just deal with small fires: Because of the vast nature of the Alaskan wilderness, there are no roads in certain places, leaving the Alaskan smokejumpers to parachute down to battle the fires as the first—and last—line of defense.
The training process to become an Alaskan smokejumper is a tough one. Thiessen says around 200 people apply each year for the job, and out of that, maybe 10 will be selected for the training program. Usually, the applicant will have at least five to 10 years of wildland firefighting experience before applying. To keep up with those guys when he's on assignment, Thiesssen went through fire school training early in his career and he's consistently used a training routine to make sure he stays fit enough to keep doing it.
"For the last 20 years, I've done cardio and weight training nearly every morning," Thiessen says. "I want to be prepared for any assignment that might come my way, whether it be fire or something else. Every other day I run three miles and alternate with weight lifting days of upper body and lower body. My knees are giving me trouble so I'm cutting back the running cardio some."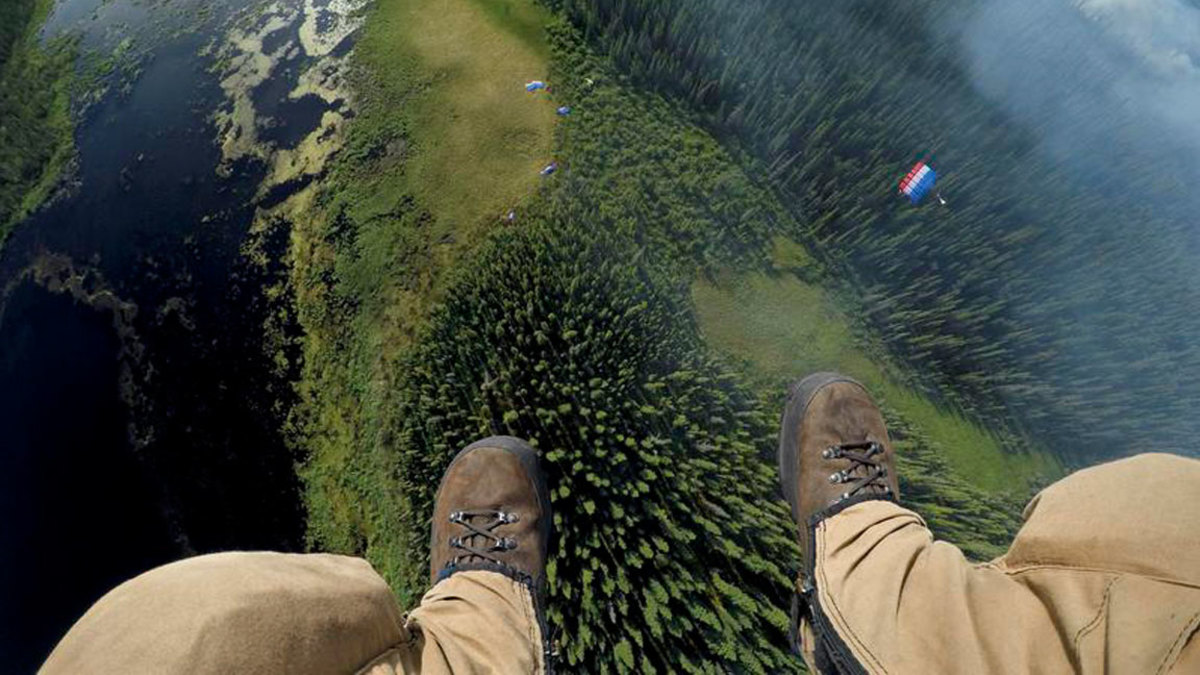 But to actually become an Alaskan smokejumper, you have to pass a pretty tough physical test. Thiessen told us about the test the smokejumpers face when they are in the running for the job. If you feel like testing yourself—and only if you feel comfortable doing it—here's the workout they go through:
60 sit-ups
35 push-ups
10 pull-ups
Run 1.5 miles in nine minutes 30 seconds or three miles in less than 22 minutes 30 seconds
Carry a 110-pound pack for three miles in less than 55 minutes
Read more here about how Alaskan smokejumpers fight fires.
For access to exclusive gear videos, celebrity interviews, and more, subscribe on YouTube!