Over eight weeks, or 56 days, approximately 280 meals were carefully calculated, 32 brutal training sessions logged, no alcohol was consumed or diet slip ups were made (except for his 3 slices of pizza on the cheat meal day). Charlie has finally made it to the last day of the 8-Week Transformassacre. From day one of the project, the objective was clear—turn an everyday guy, who happened to be our Marketing Manager, into a lean, mean and inspiring byproduct of gut wrenching training sessions and meticulous dieting.
Dan Trink, Charlie's trainer, coach, motivator and support system from Peak Performance NYC provided daily guidance and established these goals out of the gate for Charlie. He nailed his halfway point goals, now, we're ready to see if he made it happen at the end of it all.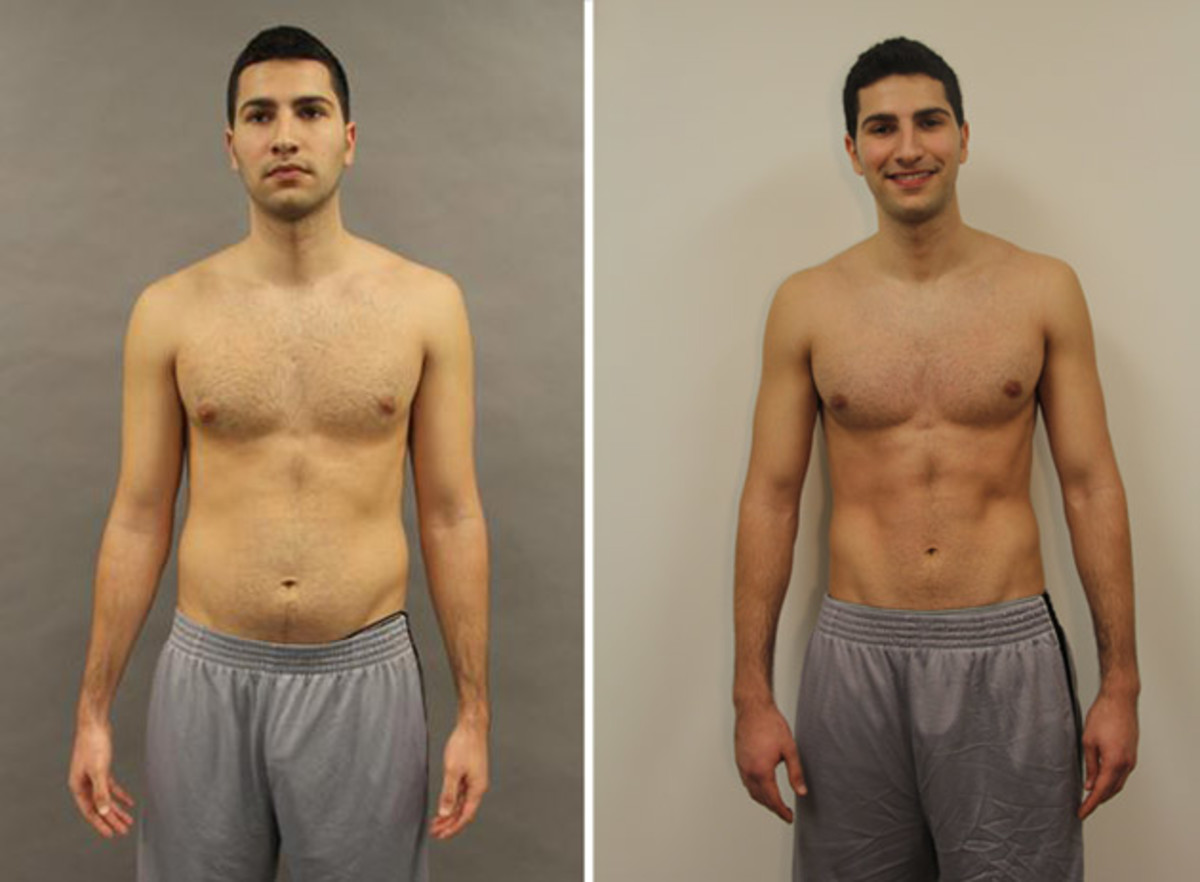 See more of Charlie's AFTER PHOTOS >> First time hearing about the Transformassacre? See the backstory >>

Final Wrap-Up Q&A with Charlie
So, tell us. Are you happy with your final results? Why? I'm happy with how far we've come, but I just wish I could have somehow done better. I know that eight weeks is a crazy short time and am ecstatic about the "new me"—I just wish I could have somehow done more.
What's your three best pieces of advice to anyone considering making a transformation? 1. Set out an organized plan with a schedule to monitor your progress. If possible, work with a trainer on this part. 2. Socialize what you're doing to everybody you know so that you now have to be held accountable for your transformation. 3. Stay focused on your goals at all times and surround yourself with post-it notes, mobile alerts, or whatever it takes to keep your head in the game.
How do you plan on celebrating? With some strippers, limos, champagne, a charter jet and my entourage. NOT! Actually going to celebrate by watching some of the motivational movies that Men's Fitness Facebook Fans recommended with my girlfriend. While it does feel like I should be celebrating the end of the Transformassacre—I feel like I'm celebrating the beginning of a new lifestyle.
If you could do this all over again, would you? If so, would you do anything differently? I think that I would and I can't imagine doing anything differently. I put 1000% into this and had the best support and the best trainer that I could have ever asked for at the best facility I have ever seen.
Who would you like to thank from all of this? A huge thanks would definitely go to Dan Trink and the team at Peak Performance for really pushing me to be my best and work my hardest. Also, Men's Fitness readers, Facebook fans, and Twitter followers have all been extremely encouraging and really made me feel like I was doing this with a massive team. There were a lot of faces behind the scenes that helped me keep the momentum going. From MF writer Mike Simone calling me to make sure I'm going to sleep when I should be to my girlfriend, Lori, who did the entire Transformassacre meal plan with me to support the cause—their support was a constant reminder of how many people I would let down if I slowed down at any point. Need motivation for your own "Transformassacre"? MF readers on Facebook and Twitter submitted tons of motivational quotes to inspire Charlie. We're sure they'll give you a boost, too. Congratulate Charlie and inspire others by posting on our Facebook Page and Twitter (#Transformassacre)!
Got your own transformation story? Show us. E-mail your story, your contact info, and any pictures that help illustrate your progress to successstories@mensfitness.com. You'll be considered for both the online and print editions!
* The Transformassacre was conceptualized, written, and produced by HUMANFITPROJECT in conjuction with Men's Fitness.