Pick up the new January/February 2017 issue of Men's Fitness starring VIN DIESEL on newsstands Monday, January 2 and available for download here.
There's a slim possiblity that the person attached to the parachute in the distance, which just alighted from a knobby brown peak high above Malibu, could be—just maybe—Vin Diesel. Fifteen years after he introduced the world to extreme sports star turned reluctant secret agent Xander Cage—who shot bad guys while doing motocross stunts and once escaped gunfire by rail-sliding down stairs atop a sterling silver waiter's tray—Diesel is finally bringing back the role that made him an action-movie superstar.
So it wouldn't be completely outrageous for him to arrive at our photo shoot—at a spectacular Spanish-style mansion on a hill overlooking Malibu's beach—by, say, para-gliding into the pool. The heads of assistants, stylists, and photographers all turn up as the yellow- and white-striped parachute soars down the side of the mountain, swings out over the house's stucco roof, and drops straight toward the yard—then past the pool, over a tree, and out of sight, as the chute vanishes over the hill on its way down to the beach.
Because of course it isn't actually Vin Diesel. But the fact that we even considered it says a lot about the man, who seems to be about as close to an actual superhero as we still have in Hollywood today.
Diesel arrives a few minutes later in his own Mercedes party bus and laughs when told that he just missed such an on-brand stunt opportunity. "You're shitting me?" he says, from under a black baseball cap, its flat brim cocked to the side. "Oh, my God. That would have been great. A hero's entrance!"
Diesel is 49 but has barely aged in the 15 years since he played Cage, the character who cemented his status as the next generation's premier action-movie megastar. Born Mark Sinclair Vincent in Alameda County, CA, and raised in New York City, Diesel had toiled for much of the 1990s in obscurity, auditioning for parts and working as a bouncer, only to later get his big break as a felled soldier in Steven Spielberg's 1998 war drama Saving Private Ryan. Diesel's profile quickly rose: After starring as the brooding, buff alien Riddick in the hit sci-fi indie Pitch Black (2000), smooth-talking his way through the sleazy stock broker movie Boiler Room (2000), and co-starring as a car-racing auto mechanic in the first The Fast and the Furious movie (2001), Diesel then signed on as Xander Cage in xXx (2002), a movie filled with dubious turn-of-the-millennium fashion, actual extreme-sports stars, and over-the-top stunts.
The movie begins with a hectic foot chase through a concert for the German metal band Rammstein and ends with Cage yelling "Welcome to the Xander zone!" as he leaps from a drone submarine that he just disabled to save Prague—a drone submarine he reaches by paragliding in on a parachute. My favorite part is when Cage skydives into the Alps on a snowboard and, using explosive charges, triggers an avalanche that he barely outruns but that takes out the villain's communications tower. "Nothing like fresh powder," Cage says as he emerges from a pile of snow.
The movie is unabashedly silly and impossible to stop watching. "It never becomes a comedy, but, man, it's funny," Diesel says. The film's fans are legion, including former president Bill Clinton and Facebook founder Mark Zuckerberg, who have both personally pleaded with Diesel to revive the franchise. "My good friend" Zuckerberg, says Diesel, loves the movie so much he bought a replica of Xander Cage's signature fur-lined coat for one of his Facebook colleagues.
Diesel says he always intended to come back to Cage, but The Fast and the Furious movies kept getting in the way. That franchise became such a runaway hit for Universal that Diesel has been in perpetual production since 2006 and, considering that he's also been anchoring the Riddick and Guardians of the Galaxy franchises (he's the scene-stealing Groot) and logging appearances in the occasional smaller project—like last year's Ang Lee Iraq War drama Billy Lynn's Long Halftime Walk—Diesel has had virtually no time to develop other big projects.
But after he lost his Fast and Furious co-star and friend Paul Walker in a car accident in 2013, Diesel says he needed an escape.
"I needed to play a character who let me laugh or smile again," he says. "I needed to do something different so badly because I was just a wreck. If I wasn't careful I would have ended up retiring."
Instead, Diesel decided to get more extreme than ever.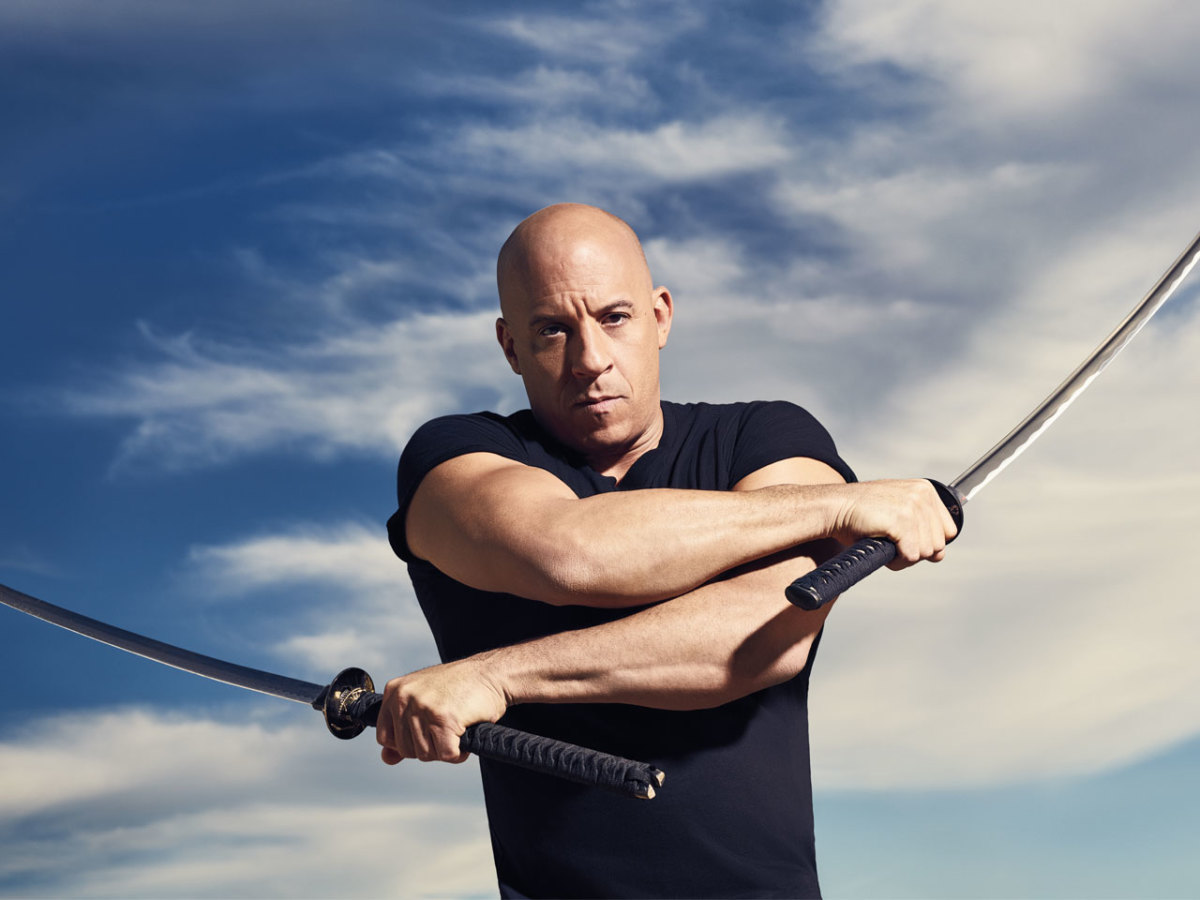 Vin Diesel is a large man, powerfully built. That doesn't make him the one who calls all the shots in his own family.
No, that would be one of his two older kids, ages 6 and 8. For much of this afternoon, Diesel plays Charlie Puth's piano ballad "One Call Away" on repeat because it's his daughter Hania's favorite song. And later in the afternoon, when she, her brother, and their mother—a tall, stunning model named Paloma Jimenez—arrive, the children commandeer the set, singing "One Call Away" on Facebook Live, with Diesel joining in.
If you have a Facebook account, you probably know this isn't unusual. Diesel is the third most popular celebrity on the site, with more than 100 million followers. (Only singer Shakira and soccer player Cristiano Ronaldo have more.) And while it's true that most A-listers outsource their social media to experts or interns, Diesel mans his own Instagram and Facebook accounts and personally publishes a robust stream of thoughtful, upbeat messages. In fact, as tough as Diesel is in his movies, it's obvious when you meet him that he is, in reality, a tender, big-hearted guy. And clearly, this unabashed positivity—combined with a sincere delivery—has struck a chord with his millions of devoted followers, who have renamed his Facebook page "Vinbook." ("Happy creative Sunday everyone," he says in one typical video while smiling in front of an exercise machine and listening to soft piano music. "Remember to lead with love.")
Vinbook regulars know 8-year-old Hania. She's a frequent co-star in his videos and is not even slightly shy about being on camera in front of 100 million fans. She's not even slightly shy in general.
Later in the evening, she interrupts her father to take command of a chair he's supposed to be sitting in, which he finds very amusing. At another point his 6-year-old son, Vincent, tries to cut our interview short so he can have his father back. "Thirty minutes, or 15," Vincent says, with sad eyes.
"There's the new boss, the new publicist," Diesel says, laughing.
As Diesel begins to talk proudly about his latest child, nearly 2-year-old Pauline, named for the late Paul Walker, Vincent is still there on the periphery, eyeing me suspiciously. "It's so real, right?" Diesel says, after Vincent shuffles away. "It's one of the hardest things about doing movies. Leaving your damn kids."
That's why the past year has been especially hard for him. He shot the xXx sequel and Furious 8 back-to-back, which took him all over the world. His kids have always come out to visit him on the road, but with the two oldest in school, they're not as free to travel as they once were. That's something he struggles with. "We're all a work in progress," Diesel says. "Every parent, on some level, wakes up every morning wanting to be a better parent. No matter who you are."
Next year, Diesel will turn 50. He has no plans to scale back on action-movie roles; but when it comes to the stunts, he says he's making adjustments. Diesel rubs his shoulder, which he hurt while jumping from a car during a scene for Furious 8. "The novelty wears off really quickly when everyone else has wrapped and you're still nursing an injury," he says.
His workout mindset has also evolved in recent years. "I think the older you get, the less preoccupied you are with the amount of weight you lift," he says. "You don't try to bust blood capillaries anymore. You're able to learn how to train in a safer way, so you're not squatting or bench-pressing a crazy amount of weight. I've seen this with all my training friends—the older we get, the less we care what the weight is."
These days, Diesel modulates his training—doing multiple workouts per day only when a role really calls for it. Riddick, for instance, requires "incredibly intense" work—two to three sessions a day of cross-training that includes body-weight exercises, dumbbells in the gym, and MMA combat. Then he backs off training a bit for The Fast and Furious movies because, he says, Toretto is supposed to have "a mechanic's body"—strong but a little soft. For xXx, Diesel worked his body back into Riddick form.
As we're on the subject of his physique, I bring up a moment in fall 2015 when he was photographed on the balcony of a hotel in Miami in an unflattering light. Vin Diesel, the gossip sites crowed, officially had a "dad bod." Diesel laughs at the story as he did then. There's a good explanation for why Diesel looked so unusually unfit: He'd just flown from the West Coast with his friend and Furious co-star Tyrese, and they'd both been drinking beers along the way. On the way to the hotel, they stopped for ice cream. So yeah, Diesel wasn't in the best shape of his life at the time, but he was also hugely bloated and jet-lagged, he says. And instead of getting pissed about the negative attention, Diesel owned it. The next day he began to post a series of Instagram shots of himself with his shirt off or pulled up, exposing a rippling six-pack.
"It was hysterical," Diesel says. "I was like, 'You're going to do that to me? Are you fucking crazy? You're going to give me a beautiful reason to post a picture with no shirt on!' Again and again and again."
Male-body shaming has a long and overlooked history in Hollywood, Diesel says. "It's remarkable what they're expecting male actors to do. A lot of them are feeling so pressured that they're using performance-enhancement drugs."
He hasn't taken PEDs himself, but at some point, he jokes, he's going to retaliate against Hollywood by letting himself go. "That's my threat to the world," he says. "I'll go to Tahiti or somewhere where it's culturally acceptable and I'll go full Brando."
But that won't be this year—not with the arrival of Fast 8 coming just a few months after xXx: Return of Xander Cage.
I ask Diesel if he worries that Cage may seem dated. After all, the movie came out in 2002, when extreme sports were still new and considered to be edgy. Diesel says that Cage is actually more relevant than ever and anyway, the movie wasn't just about extreme sports. The original xXx began filming right after 9/11, and that, he says, had a major influence on the role.
"There was something very post-9/11 about the character," he says, explaining that Xander Cage was a counterculture rebel compelled by circumstance to serve his country. "The least patriotic people were all of a sudden becoming very patriotic. Remember how bizarre that time was? Today we need more irreverence backed with some über sense of patriotism."
Which isn't to say that the movie is an exclusively American affair. Diesel cares very much that his movies have global appeal. He's lined the cast with international superstars, including Bollywood's Deepika Padukone, China's reigning martial-arts master Donnie Yen, and Brazil's most famous current soccer player, Neymar. And of course the stunts will be even bigger than before.
The biggest question he keeps asking himself, he says: "How do I top what I did last time?"
Pick up the new January/February 2017 issue of Men's Fitness starring VIN DIESEL on newsstands Monday, January 2 and available for download here.
For access to exclusive gear videos, celebrity interviews, and more, subscribe on YouTube!