We've read a number of stories about the joys of goat yoga.
Goats? Cute. Baby goats? So cute. Doing yoga in a picturesque, zen-like farmyard? Insta-worthy, to say the least. All your friends will be jealous.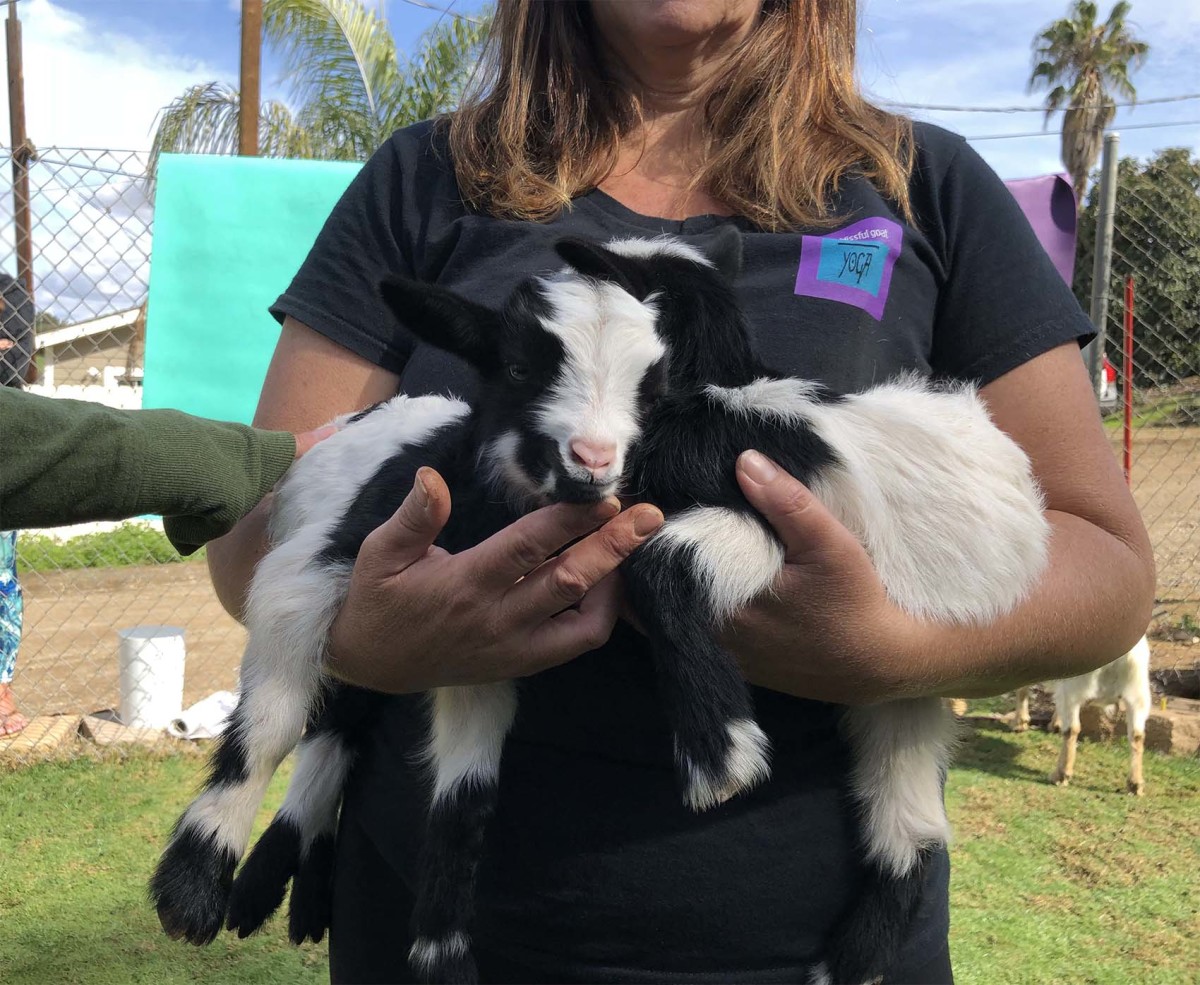 But, it must be stated for the record, that not many of these stories mention the not-so-pretty aspects and logistical mishaps that could (and most likely will) arise along your goat yoga journey.
We are not advocating against goat yoga – there are some truly amazing benefits to spending time with goats. We simply want you to be as informed as possible before you go.
First and Foremost: How Do You Feel About Being Barefoot in a Barn Setting?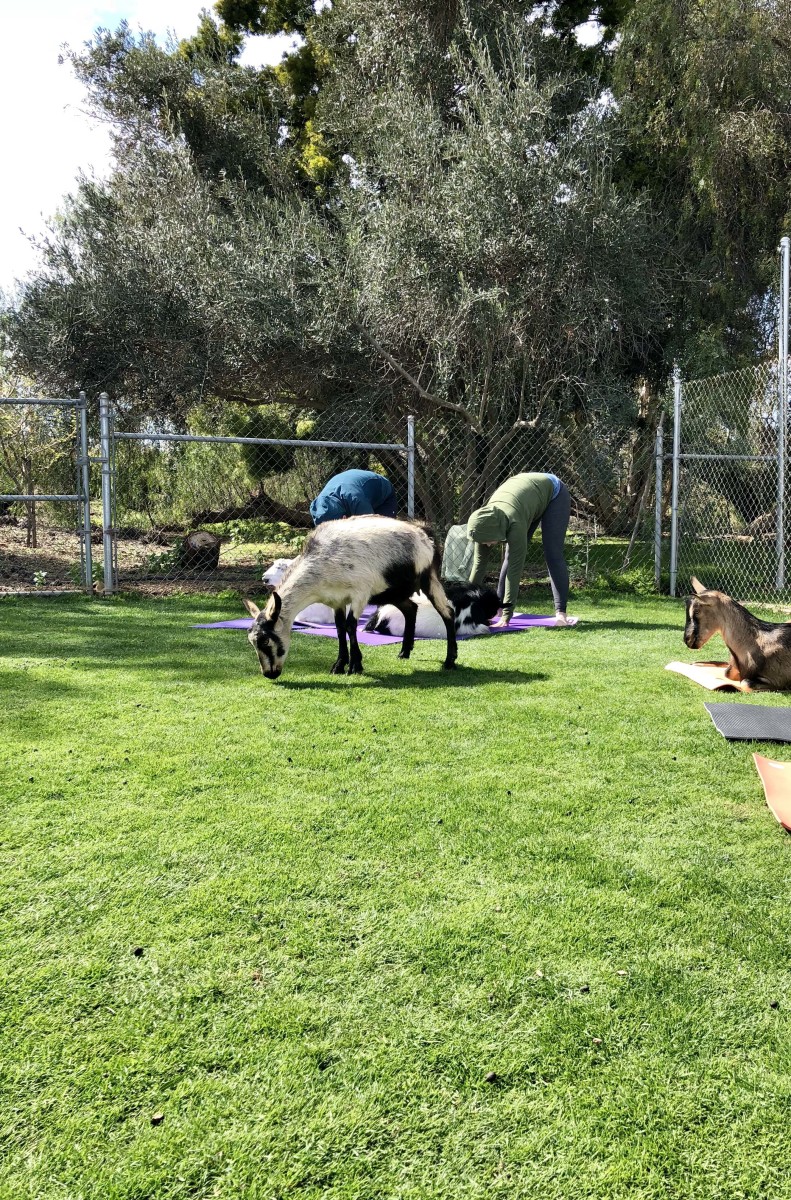 If you winced slightly upon reading that last sentence, it's okay. There's still hope for you to attend a goat yoga class.
While most of us aren't accustomed to parading around in grass dotted with little goat "nuggets" it's safe to say that only a tiny percentage have ever done so with no shoes on.
The thought of making direct skin contact with animal excrement is, well, not that appealing. It is a fact that goats are going to go to the bathroom – a lot. There's no avoiding it.
But if you can get past that, and focus on how rewarding it will be to cuddle and interact with goats, then it's almost guaranteed you will start to forget your misgivings and have a blast. You'll be glad you did it, trust us.
We strongly recommend leaving your own yoga mat at home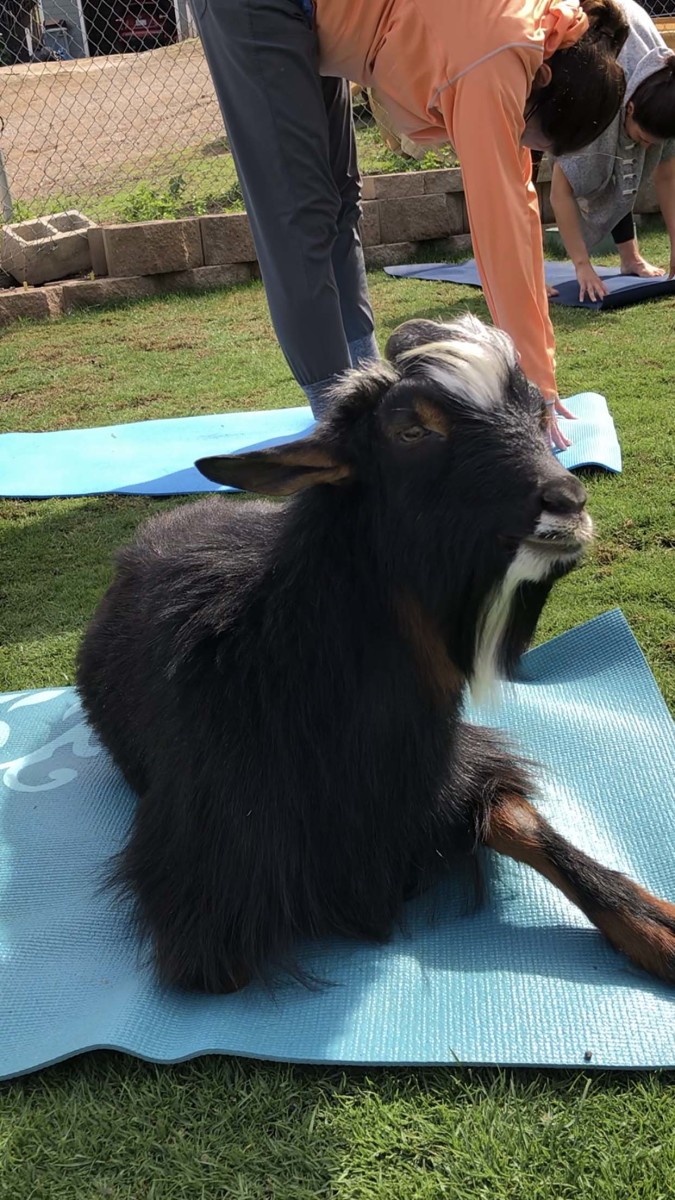 It's true, it won't just be your toes interacting with, um, nature. If you have an expensive, fancy mat, or are just adverse to the thought of practicing on a mat that has been peed all over by multiple adorable said animals, then leave your gear at home and opt for a mat rental.
Most mats rent for $3-$5, and this is so worth it, especially when you factor in the hour you'll spend hosing down and disinfecting your own gear later on.
Most goat yoga classes have mat rentals available, but if the details aren't clear, call ahead and double check your options before you go.
Goats Are Pretty Heavy … Just Sayin'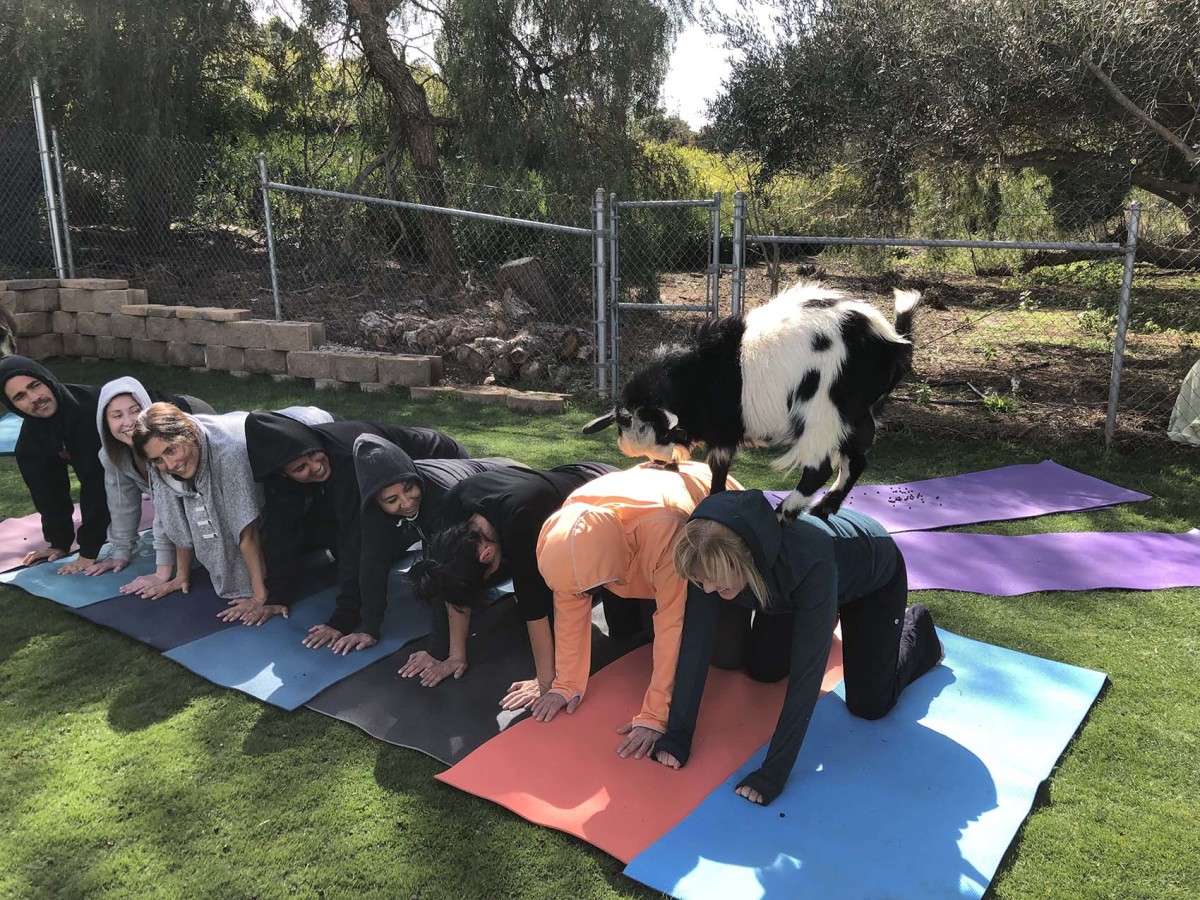 You've probably seen those photos from a goat yoga session where a furry friend is standing or laying on someone's back.
Goats love to climb, and they are going to want to climb on you. Depending on the type of goats the farm has, they could weigh as much as 60 (or more) pounds.
While some people are totally okay with this type of "deep tissue massage," others are probably thinking, "heck no." And that's okay, too.
The goat yoga farm should communicate these scenarios with you, and if you choose that you don't want a goat to climb on you, then there are techniques and strategies you can use, while still enjoying their overall company.
You're Not Going to Do a Lot of Yoga
They should really call this "goat playtime" or even "goat nap time" (Some of the goats are just sleepy, and want to post up on your mat).
You aren't really there for the yoga anyway, you are there to connect with nature in a cool, new setting, and get some serious snuggle time with the these little critters.
If you need a serious yoga session, then get it in before or after your time with the goats. But be forewarned, you may not need it; We spent so much time laughing at the goats' antics, that it almost constituted a full workout on its own.
Additional Quick Tips for Goat Yoga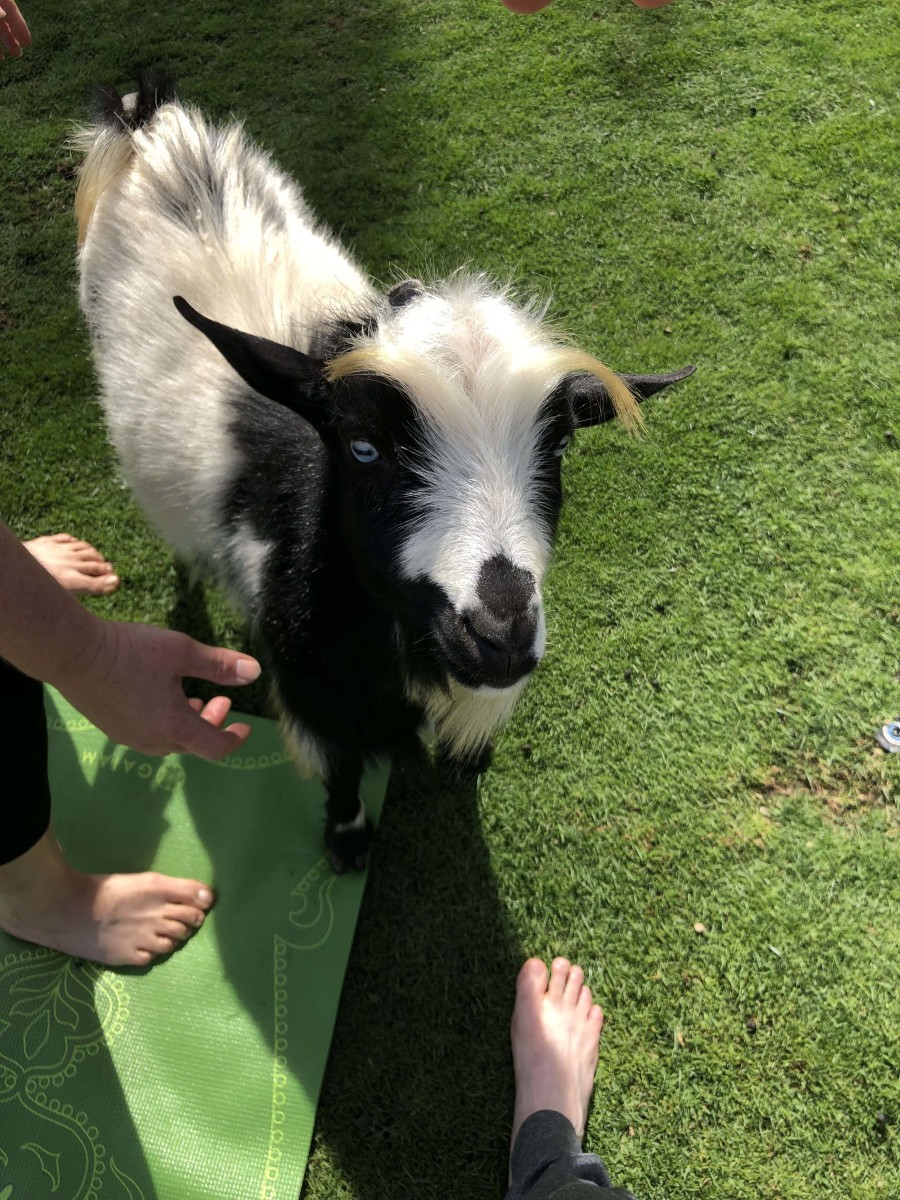 Bring your own natural hand sanitizing spray, especially if you don't like Purel or some of the traditional anti-bacterial gels that the farm might have on hand for you to use.
You can't catch anything from the goats, but our human germs can be transferred to them, so you have to clean your hands before petting them. Plus, you also might want to spray down your hands and feet once you are done.
And if you do opt to bring your own mat, bring a mat cleaning spray along with you. You'll want to scrub it down before tossing it in your car.
Goats are really incredible animals. You probably already know this if you are contemplating goat yoga, but it doesn't hurt to tell you again.
They each have their own, quirky personalities, are super "talkative" and love bleating at you and their peers. It's probably one of the most endearing parts of interacting with them. The only other thing that takes precedent over this, is when they choose you as their snuggle buddy and curl up on your mat.
After an hour with these furry creatures, you and your friends will feel so relaxed and ready to take on the world. That feeling alone is enough to guarantee another goat yoga class is surely in our future.
For access to exclusive gear videos, celebrity interviews, and more, subscribe on YouTube!