Part of the fun in camping is "roughing it" – making due with minimal essentials and cobbling together an odd few ingredients to create a meal over the fire.
Admittedly, throwing together a pizza while camping sounds a little over the top. But, this simple, under-10-ingredient (or less if you opt for store-bought dough) recipe is surprisingly easy to pull off.
All you'll need is a fire, a cast iron skillet or dutch oven, parchment paper and a little imagination with the toppings.
A few tips to consider before you take this recipe on the road:
Try making your dough ahead of time and popping it into a reusable storage container. This will make life easier when you reach your destination. All you'll have to do is grab everything from your cooler and get cooking.
Depending on what you're using (grill vs. open fire; skillet vs. dutch oven) the cooking process may take some trial and error.
You may need to spin your pizza from time to time to avoid any over-cooking in concentrated hot spots. Also, try tilting the lid, or whatever you are using to cover the pizza, to allow steam to escape – this will make the crust crispier and eliminate excess moisture, which could make your pizza soggy.
Lastly, before you get too far off the grid, make sure you have the proper beverages to accompany your meal – after all, pizza and a cold adult beverage go hand-in-hand, right?
Cast Iron Pizza Recipe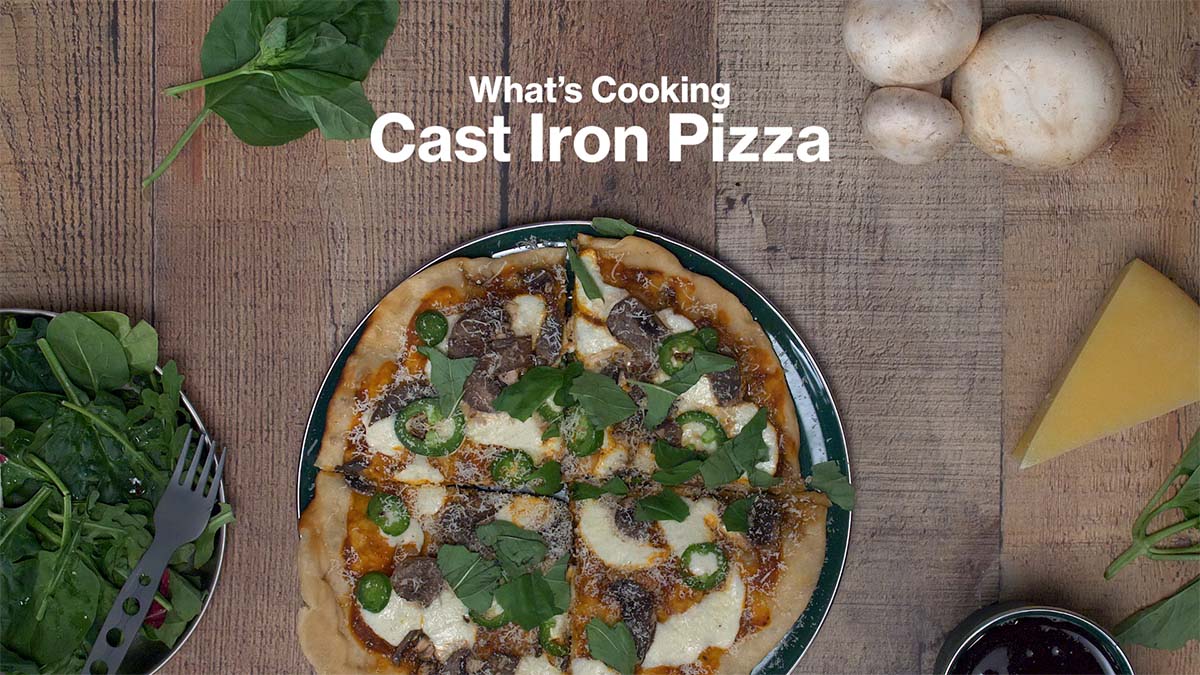 Prep time: 10 mins
Cook time: 25-30 mins
Gear Used in This Video:
Yeti Hopper Flip Soft Cooler
Lodge Camp Dutch Oven 6 qt./12 in.
Ingredients:
For the dough (Making your own dough is optional):
– 1 packet dry active yeast
– 2 cups bread flour and extra for kneading (We used Bob's Red Mill)
– 3/4 cup warm water
– 1 pinch sugar to activate yeast (We used coconut sugar)
Other Ingredients:
– 1 jar Pizza sauce
– 1 medium sized package mozarella cheese
– 1 piece Parmesan cheese
– 1 bunch fresh basil
– 1 jalapeño and 1 bunch mushrooms (or whichever veggies you'd like for toppings)
Directions:
To make the dough:
– Combine dry active yeast with warm water and a small pinch of sugar (to activate). Let sit 5 minutes until bubbling.
– Slowly sift in the bread flour, mixing to combine into a sticky dough.
– If dough is too wet, add more flour as needed 1 tbsp at a time.
– Turn out on floured surface.
– Knead for about 10 minutes, adding more flour if dough is tacky.
– Place in oiled bowl and turn dough to coat.
– Cover with a damp cloth and let sit for 1 hour at room temp.
– Cover in resealable container and refrigerate until ready to pack.
To make the pizza:
– Bring dough to room or outside temp.
– Slice jalapeno, mushrooms and any other veggies you'll be using.
– Slice or break apart mozzarella cheese.
– On floured flat surface, stretch and flatten dough into circular shape.
– Place stretched dough onto parchment paper.
– Add pizza sauce, about 2 tbsp or less .
– Add cheese.
– Add veggies and any other toppings.
– Place on grill or open fire. If cooking on a grill, turn heat to medium-high.
– Place parchment paper inside dutch oven or skillet.
– Cover by tilting lid slightly to allow venting.
– Cook for 25 to 30 minutes.
– Uncover and remove pizza on parchment paper.
Slice and enjoy!
For access to exclusive gear videos, celebrity interviews, and more, subscribe on YouTube!