Michael B. Jordan already got shredded for Creed.
He might be even bigger for Black Panther—and his co-star Chadwick Boseman is right there with him, matching muscle gain for muscle gain.
Jordan, the December 2015 Men's Fitness cover man, is starring in the highly anticipated Marvel film as Erik Killmonger, the main antagonist to T'Challa (Boseman), and they're both looking the part as super-powered characters.
Hot off the heels of the first action-packed teaser trailer for the film, Marvel released a set of photos on Entertainment Weekly revealing new looks at more of the movie's main characters: T'Challa's bodyguard, Nakia (Lupita Nyong'o); Okoye (Danai Gurira), the head of the Dora Milaje, Wakanda's all-female special forces group; C.I.A. agent Everett K. Ross (Martin Freeman); T'Challa's mother Ramonda (Angela Bassett); and Zuri (Forest Whitaker), a religious and spiritual leader.
Jordan's character is featured in the trailer, but the photos give an up-close look at his costume—and a major fight scene between Killmonger and T'Challa. (Here's a look at Boseman working on his fight training in behind-the-scenes footage.) The two face off in what looks like a water pit, surrounded by members of the Dora Milaje—and they're both jacked.
Boseman shared a post with a photo from the film showing how his and Jordan's hard work in the gym has paid off: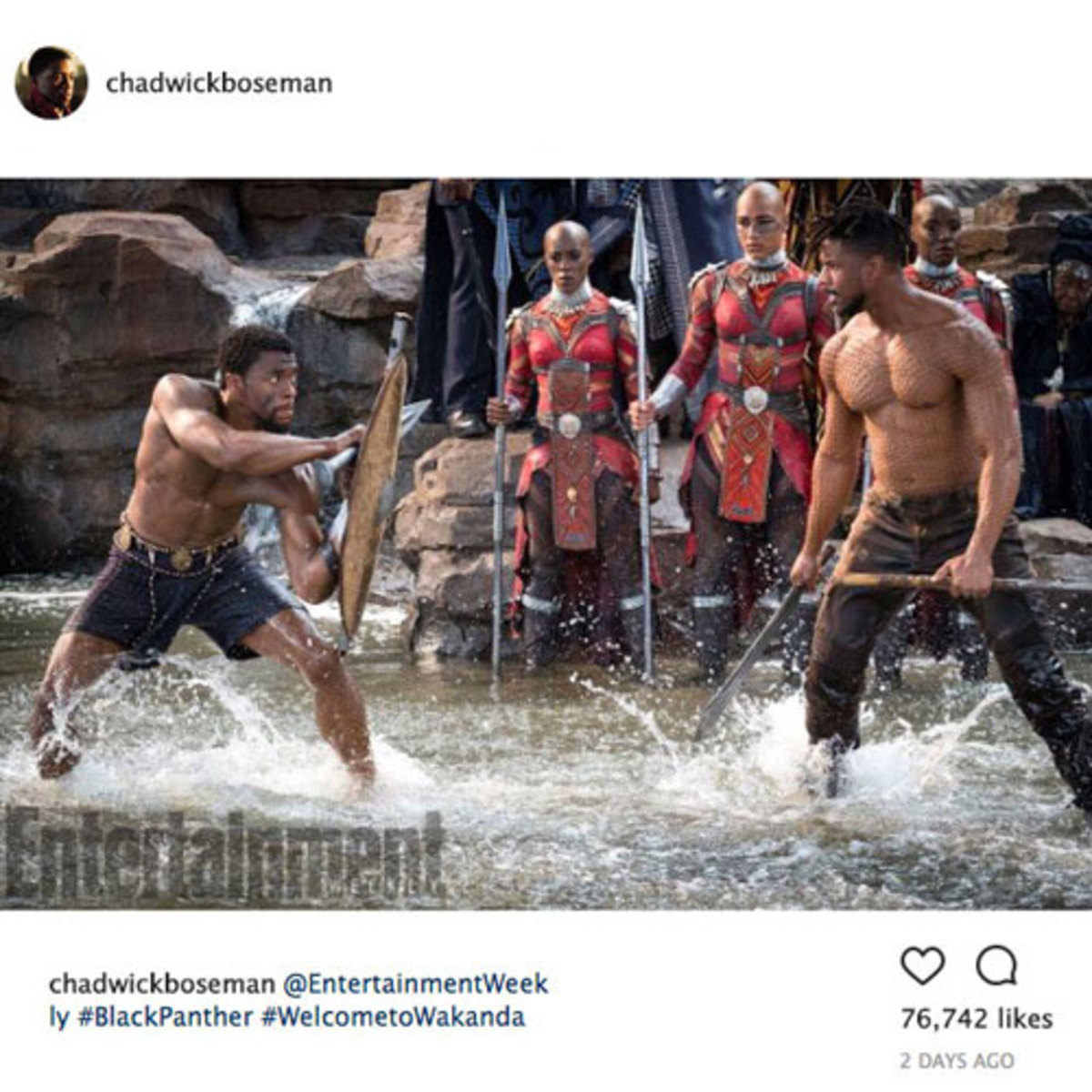 Instagram / @chadwickboseman / Black Panther
In Black Panther, T'Challa returns back to his homeland of Wakanda after the events of Captain America: Civil War, and must learn how to rule while taking the mantle of the titular hero. With multiple enemies coming from outside the country—and some, like Killmonger, from within—T'Challa must team up with Ross and members of the Dora Milaje to bring peace to the nation.
To get into prime shape for Creed, Jordan used this boxing-heavy workout that he detailed for Men's Fitness. While he may not have used as much boxing to get in shape for Panther, Jordan is definitely bulking up. Here's a look at a couple posts from his Instagram that shows it off:
After appearing in Black Panther, Boseman will make an appearance in the mega-event film Avengers: Infinity War.
Black Panther, directed by Ryan Coogler, will be released on Feb. 16, 2018.
For access to exclusive gear videos, celebrity interviews, and more, subscribe on YouTube!