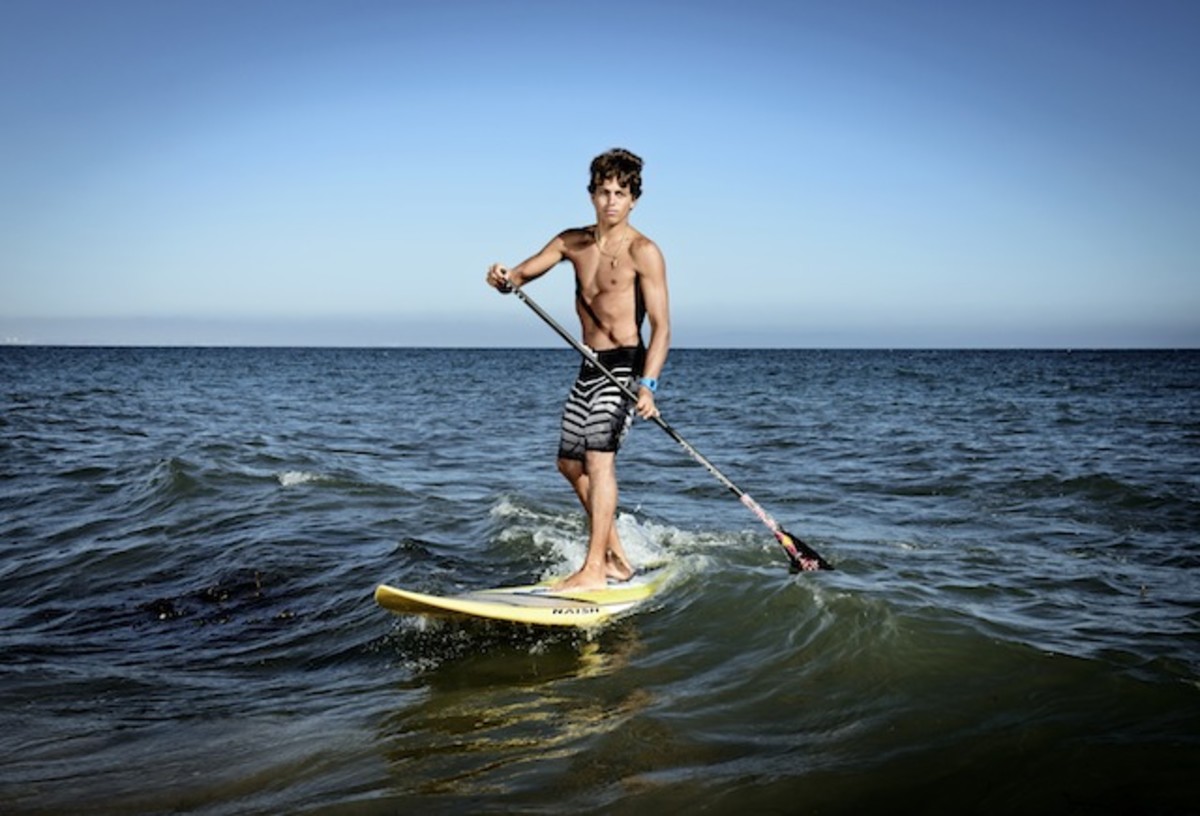 Hawaii native Kai Lenny is a beast. A four-time standup paddling world champion and the 2013 standup paddle race world champion, 21-year-old Lenny has been making a name for himself as a true Hawaiian waterman for years. With accolades in big-wave surfing, standup paddling, windsurfing, and kitesurfing, Lenny spends the bulk of his time in action—and in the water. He's got support from some of the biggest names in his sports with sponsorships from Contour, Naish Surfboards, Red Bull, Vertra Sunscreen, Turtle Bay Resort, and Oxbow. Not surprisingly, he trains like a madman, picking up at least one of his boards on an almost daily basis.
Because Lenny is always working to increase his fitness, strength, and stamina for whichever type of competition he has on the horizon, he's got a workout regimen typical of any elite athlete. GrindTV recently caught up with him to find out how he approaches his training, diet, and even the types of music he likes to listen to when he trains. And while much of his training may not be directly translatable to most of us, his approach to life and fun is awe-inspiring. In his own words, here is some of what he had to say.
How do you approach your training?
I am a huge fan of training hard and smart as I want to eliminate any doubt in my mind about being prepared for a competition or a challenge. I also have reached a point in my physical being that I want to raise my fitness to the highest benchmark that my mind and body will allow. For me, training is really fun, as my gym is the entire island of Maui. I work out in a physical gym three times a week and also on the beach doing runs in soft sand along with other exercises during the run. I also spend so much time on the water surfing, windsurfing, kitesurfing, standup paddling, canoe surfing—you name it. I do it all depending on what Mother Nature dishes out for the day.
This last year I started out really focused on just standup race paddle training, and just paddled—I didn't do any of my other sports. This lasted about a week as I missed my other sports so much. I went back to doing several sports in one day: surfing at dawn, windsurfing in the middle of the day, standup paddling down wind to my home (five miles away) then running back to get my truck, returning home to kite surf out in front of where I live. I still focused on my paddle training, but by continuing to do my other sports, I was able to build more endurance while having fun. When I complete my days I love to have that tired feeling, but still have thoughts of how much fun I had. I don't think anyone would disagree that I have the greatest job in the world that is all about having fun and staying in the best physical condition.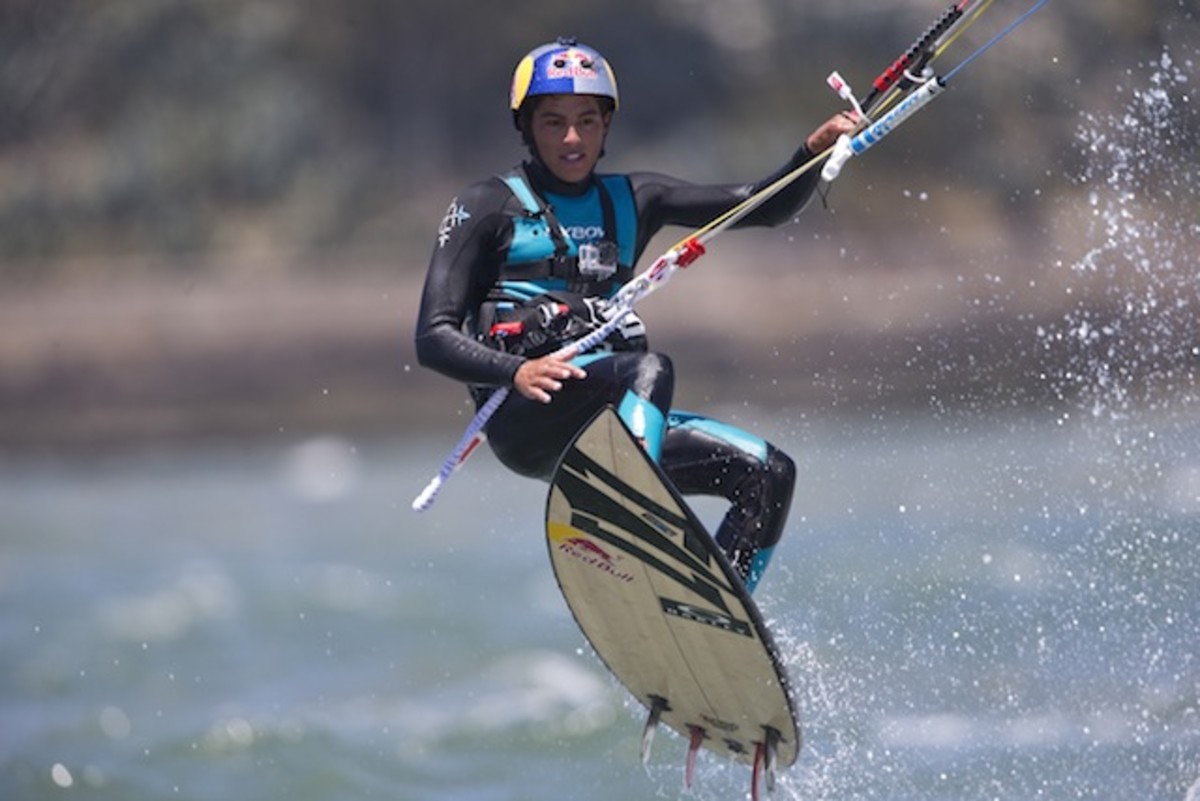 What is your favorite workout?
My favorite workout is being on the water doing one of my favorite sports. That being said, I know that I need to back up my training with other forms of working out that will give me the extra edge when I need it. I love being outdoors, so the closest way to implement a gym workout with being at the beach is to simply bring the gym to the beach! There is an awesome beach down the street where I live and it is perfect for a beach workout routine. The workout is awesome because you use the natural terrain to torture yourself—tree limbs for pull ups, soft sand hills for sprints, deep sand for running, and waist-deep water for sprints when you really want to push. The rule is to use everything the beach has to offer and adapt the workout to the sport that I am training for. This makes the workout different yet tolerable when turning my stomach upside down.
[Related: Kai Lenny accepts his male paddler of the year award at the SUP Awards]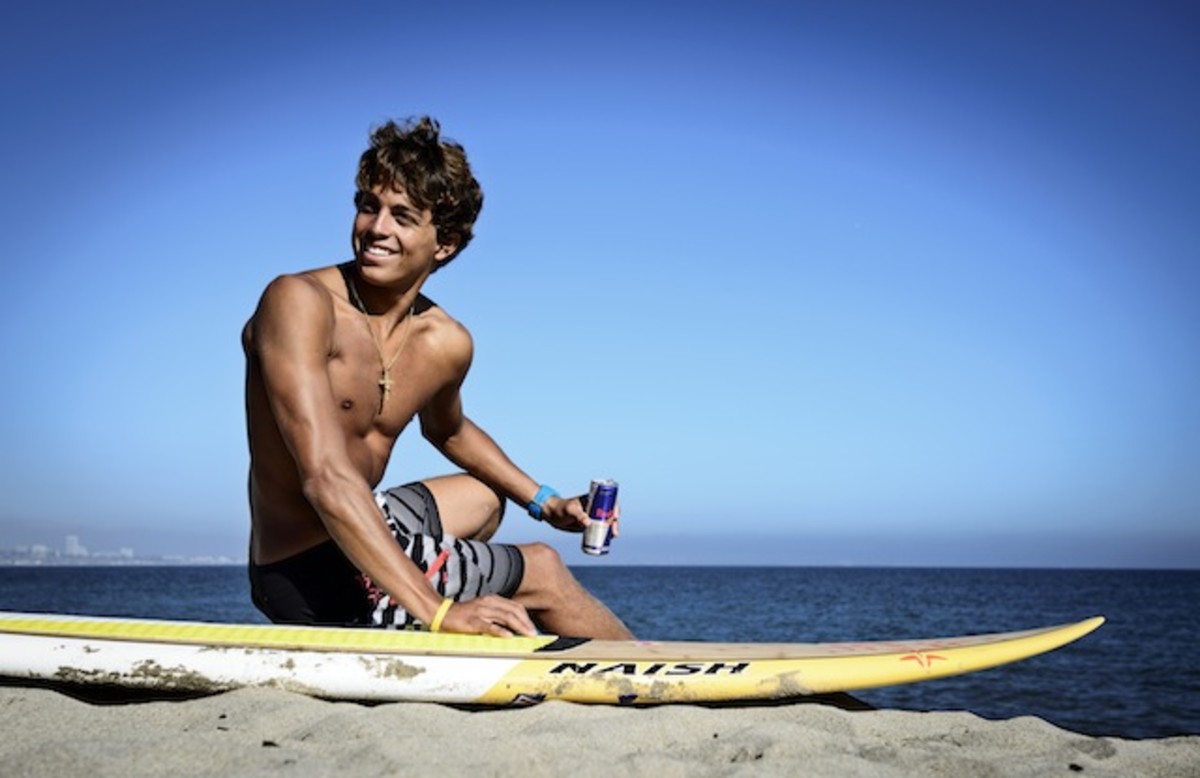 What does a typical training session consist of when you're getting ready for a standup paddle competition?
There are three types of competitions in standup paddling. All three are unique and require a different way of training. Wave riding competitions are similar to surf competitions in that we surf in 15- to 20-minute heats. These competitions require me to pick the right wave that has the maximum height for the conditions and that will allow the me to perform high-performance maneuvers. In the racing side of standup paddling, we have sprint races that include racing in and out of the surf. Then there is the third type—long distance races that are usually at least 8 to 10 miles long. The Molokai to Oahu race is 32 miles, and it also requires a specific routine for training.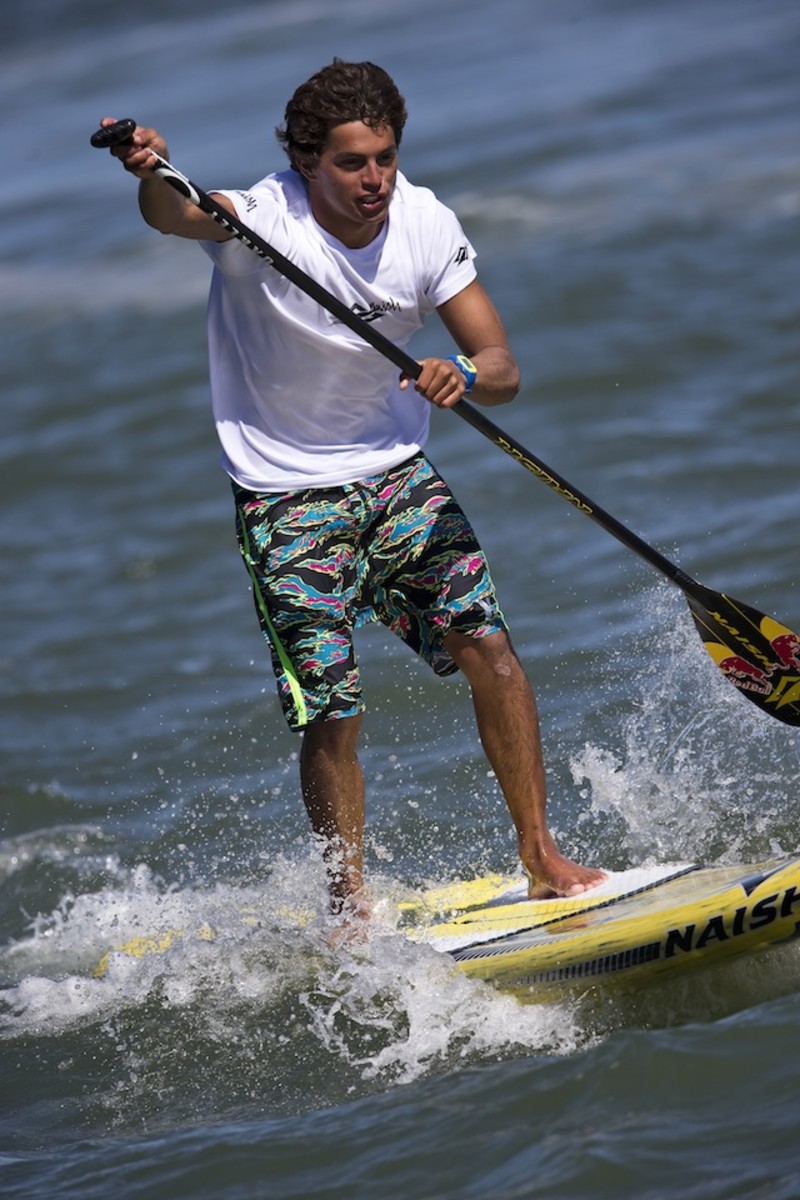 For wave riding you have to spend time in the water riding waves. For me, it doesn't just mean riding on my standup wave board; I can ride my conventional surfboard, windsurf board, and kiteboard as long as I train in the waves. I get to experience different speeds and conditions while wave riding on different wave-riding crafts. Spending time in different kinds of waves is super important as each contest location is held in unique wave conditions, so making sure that I train in as close to the same wave conditions where the contest is to be held is super important. The more knowledgeable rider is always going to be more prepared for whatever conditions are dished out. I have also found that because I do so much race training, it really helps me with my wave competitions. I am so fit that I can always out-paddle my competition.
For sprint racing like the Battle of the Paddle in Dana Point, California, that took place at the end of September, my training starts by waking up before the crack of dawn and going to a smooth water area. On Maui it is always windy, so I typically will train in the harbor because it has very smooth water. I will do 1.5 hours of sprint workouts and I also focus on my paddle stroke as it is really easy to pick up bad habits—especially when I get tired. At the Battle of the Paddle each lap includes landing on the beach and doing a beach sprint only to jump back on the board for another lap on the water. The race ends by sprinting up a soft sand hill, so it really pays off that I do my beach workouts. My coach since I was 12 years old has been Scott Sanchez of Maximum Performance Group, and he has trained many world champion athletes and has developed a great program for me to follow.
[Related: Kai Lenny is the future of standup paddleboarding]
For long distance training, I still do my sprint workouts in the mornings, but during the day it's about building a strong foundation of miles under my belt. The Molokai to Oahu race is 32 miles long and the last two miles are on flat water, paddling against a 20-knot wind. This is where the sprint workouts pay off. To get the distance stamina, I simply paddle far distances. This last year for Molokai the most I paddled was 50 miles in one day—starting at dawn and finishing up as it was getting dark. By the time I had accomplished this, I felt like 32 miles was a walk in the park. It is just like running or cycling; I had to build up my miles and rest was a major part of my training. I also monitored my heart rate every day several times a day to make sure that I was resting enough.
Besides all of the paddling, I continued to do my other water sports in between. I just made sure to listen to my body and not overdo it, but I did push and it's paying off.

What are some of the things you really try to focus on while in the water and cross training?
I always try to stay as positive as possible and I imagine myself in certain situations that I will be in while competing. For me, I believe that winning is a combination of being properly trained, having the right equipment, knowing my equipment inside and out, and having a strong positive mental state. I also gain lots of inspiration from other sports, whether I am working on a new move or I'm pushing my body to an extreme limit. I sometimes imagine watching Kelly Slater surfing while I am standup paddle surfing. Or, I focus on what cyclists do when I am SUP racing and motocross when I am windsurfing. I am a huge fan of incredible sports, and there is so much to learn from other sports and athletes.
My personal experiences also help me in my training. There are times when I am feeling weak and I will take my mind to surfing at Jaws and I automatically get inspiration. I remind myself that my wipeout there was way harder and gnarlier than what I am experiencing at that very moment. When I was training for my Molokai to Oahu race by paddling for 50 miles to train, I focused on my Patagonia survival trip that I did last spring, when a group of four of us would wake up at 3 a.m. and hike until 11 that night, just to wake up and do it again for a total of ten days. These experiences help me get through any workout and in competitions.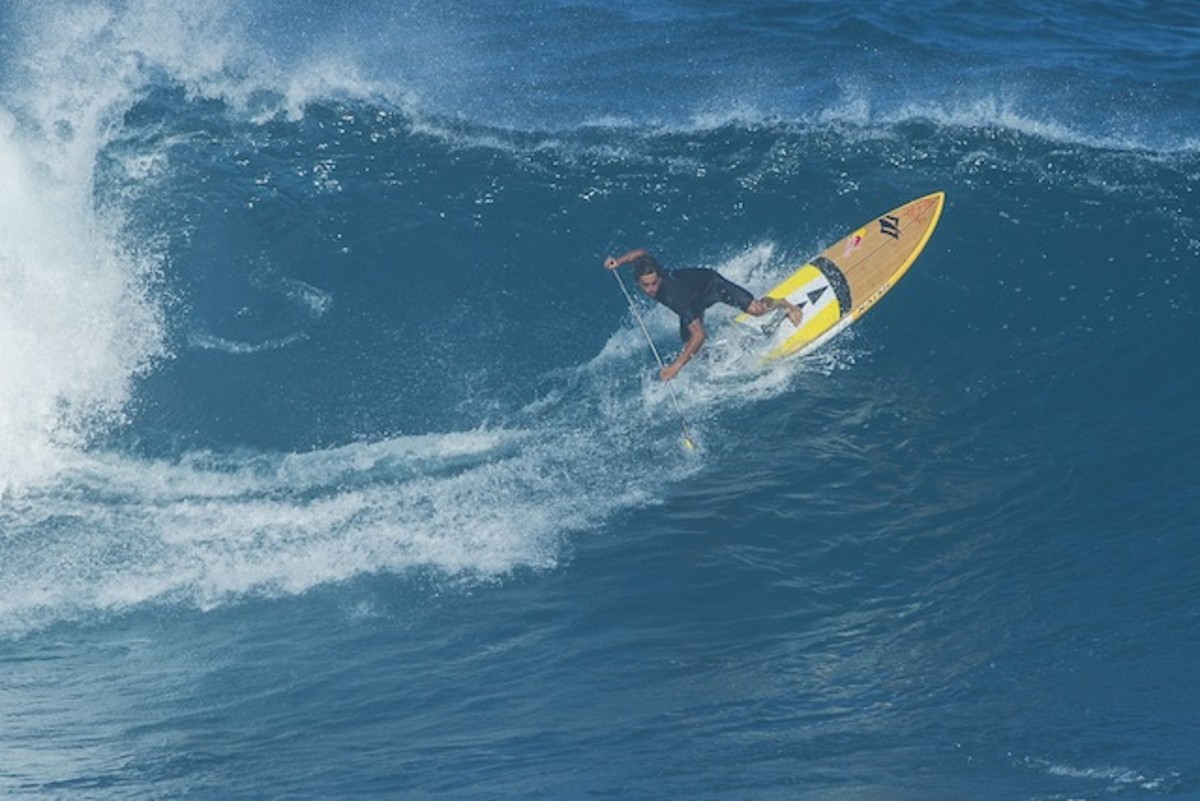 What part does diet play in your day-to-day life?
Nutrition is a huge part of my training, as I need so much fuel to keep me going each day. I have been working with my trainer and my positive eating habits have made a big effect on my performance; I can feel the nutrition working positively as it goes into my body. I burn 5,000 calories a day, so it's important for me to load up with healthy foods and also fattier types of food so that I don't lose weight. I try to eat as healthy as possible and try not to consume sugar—fortunately I don't like sweets. Two-and-a-half hours before races I like to eat two poached eggs, a chicken breast, brown rice, and vegetables; this is a perfect pre-race or pre-heat meal for me. In between trainings and in some competitions I will eat a massive burrito filled with healthy stuff inside, and everyone around me will be tripping out, but because my metabolism is so high, an hour later it's all gone. I also rely on an ice-cold Red Bull to help me get through my workouts and at key times during my competitions.
What kind of music are you listening to when you work out?
I am all over the place with my music; I love all types of songs and artists. As of lately, I'll listen to the list below.

More standup paddling on GrindTV
Annabel Anderson riding atop the SUP wave
Laird Hamilton honored at SUP Awards
Fitness tips from one of standup paddling's biggest names
For access to exclusive gear videos, celebrity interviews, and more, subscribe on YouTube!