Tampa Bay Rays pitcher Blake Snell had a breakout season in his third year in the major leagues. The lefty proved he was the ace of the Rays rotation, leading the American League with a 21-5 record and a 1.89 ERA, making his first-career All-Star game in the process.
Now, Snell is up for one of the biggest awards of the year as a finalist for the AL Cy Young. Snell will be facing off against Justin Verlander of the Houston Astros and Corey Kluber of the Cleveland Indians for the award. Snell worked hard this offseason to get into his best physical shape, and it paid off with his performance this year. (UPDATE: Snell has won the American League Cy Young award for 2018. Read more here on the win.)
"I took the offseason more seriously and my training, and going into Spring Training I was locked in," Snell told Men's Journal. "I knew that the month and a half of spring was really going to help me for the season. I needed to make sure I was the best 'me' before Game 1, and I was very confident. It took a lot of focus and determination and not wavering from that path."
Snell joined a special club with his performance this year, becoming just the seventh pitcher since 1920 to win 20 games, have an ERA lower than 2.00, and do that at 25 years old or younger—Snell will be 26 in December—according to MLB.com. Snell also ranked in the top-5 in the American League in strikeouts/per 9 Innings (11.01) after putting up 221 strikeouts in just 180.2 innings pitched.
Senior Editor Matthew Jussim spoke with Snell for a video interview about his Cy-Young winning season. Watch it below:
Matthew also spoke with Snell about how he grips his pitches and the secrets behind his 2018 success:
On top of that, Snell's league-leading amount of wins didn't just come against bad teams. Snell went 9-2 with a 2.00 ERA against the teams with the five highest-scoring offenses in baseball: the New York Yankees, Houston Astros, Oakland Athletics, Boston Red Sox, and Cleveland Indians. Not bad for a 25-year-old.
Snell's strong play helped the Tampa Bay Rays—who were predicted by most in the baseball world to finish near the bottom of the American League East—in the wild card race until the end of the season. The team finished as the first team left out of the postseason, something that Snell is using to motivate him into next year.
(See more of Snell at his Instagram page at @Snellzilla4, on Twitter at @Snellzilla4, and on Twitch at ClassiclyFamous.)
Snell spoke with Men's Journal about his breakout season, pitching against the best in baseball, his friendship with Odell Beckham Jr., and becoming the first "Blake" to win 20 games in MLB history.
Fastball 1: How do you feel looking back on your breakout season and being in the running for the Cy Young?
Blake Snell: It was a long time coming, it was cool to see it all happen. It took a little longer than expected. It felt like a long time, but it was actually quick in a way, to do this good at the level that I was at this season. It took a lot of focus and determination and not wavering from that path. I think what really helped was that I had a solid first half of the season. When I got off the DL, and started the second half, after that first game I felt really good, really in control, and I think that's when I really took off.
Any time you set a goal and you achieve it and you go above what you expected in some aspects, or you achieve what you were trying to accomplish, it's always going to feel good and rewarding. It's good to look back and see everything I put into it, and then now to know what I need to do to be that much better for this next year. It gets me that much more excited to push to be even better.
Fastball 2: You guys weren't expected to make the playoffs, and you stayed in the race until close to the end of the season. How did it feel to play above expectations?
It sucks looking back and knowing we had such a slow start, and that hurt us. But knowing we had that slow start and still won 90 games, that shows how locked in this team was. We could really made a shot to make the playoffs. There's a lot mixed emotions missing the playoffs, and now I'm looking forward to what I'm going to do this offseason to be better. It's going to push us into this offseason all the way to spring to become that much better, because we know we can compete in the AL East.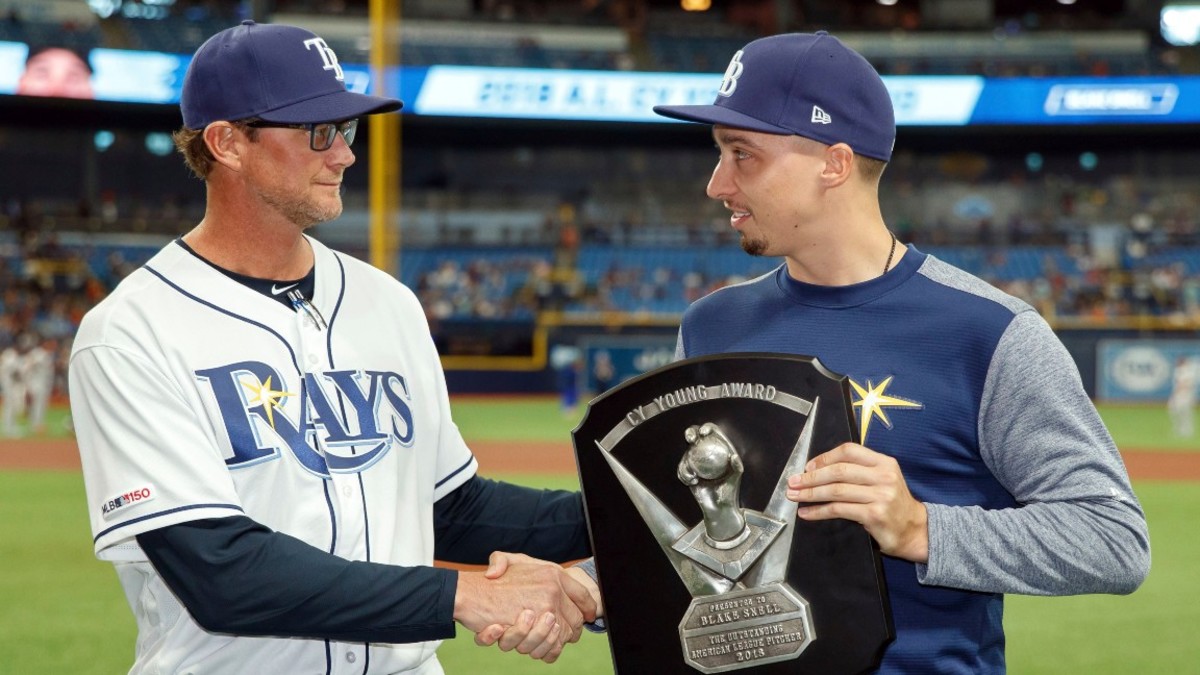 Fastball 3: What were your favorite starts of the 2018 season?
The five innings in Toronto. 47 pitches through five innings is pretty amazing, I was very happy about that one. Another one was pitching in Seattle, my hometown against the Mariners. That was special because my friends, family and everyone I care about was there. That meant a lot to me.
Fastball 4: How does it feel to be the first player named Blake to win 20 games in MLB history?
Blake's a good name! I don't know why I'm the first one, but I hope I'm not the last one. It feels good, it's awesome. Winning 20 games feels great, but to be the first Blake to do it? That feels better.
Fastball 5: You faced off against a lot of top teams this season and pitched well against them. How does that feel that you had success against those teams?
Being able to face the best—I get to do it a lot in the AL East. The Yankees, Boston Red Sox, Toronto's going to have a good team, Baltimore's going to get better. Being able to face it every day, it's only going to make you better. When I play those teams I get excited, it's a challenge I'm looking forward to. It only makes me better. Being able to beat those teams is that much better, and facing those teams helps me be the best I can be.
Fastball 6: Who would be your dream player to face off against?
Probably Barry Bonds—that man can swing it. He's probably the best that I've seen with a bat. He's a lefty, so I feel like I'd have the advantage, but he's that good, that I really don't have the advantage. I'd love to face him in his prime and see what I could really do. Bonds was a special player, and that's someone I wish I could face and challenge and compete against. When he was in his prime, there wasn't anyone better.
Fastball 7: What was it like facing your childhood idol Alex Rodriguez in your MLB debut?
One thing I do remember is that he almost took me deep. I was surprised he got to my inside fastball, but I realized that's what he was hunting for the whole time. Then the second at-bat, to be able to strike him out, a guy that I idolized as a Mariners fan as a kid, to be able to do that meant a lot, especially in my debut. And then I got to see his last game played, we were playing against him and Chris Archer was pitching, and to be a part of that was cool as well.
Fastball 8: You're a big Fortnite fan (Blake's Twitch channel is at ClassiclyFamous). Who would be on your Fortnite dream team?
I just want to play NICKMERCS—please let's play, I'm sick of waiting on it, let's get this thing going. I don't care about any other celebs, it would be me, my friend Chris, and then my older brother, that would be my dream team. That would be my dream team—I already have three of them, we're waiting on Nick. So NICKMERCS, it's time to come play, we have to play it's been too long. I think that would be a lot of fun, I like the way that he goes, I watch his Twitch stream all the time, I think he's awesome. Nick, it's time to come play, let's do it and have some good conversation.
Fastball 9: You've said you have over 350 pairs of sneakers. Which ones are your favorites?
I like the Louis Vuitton, just the regular shoes, I really like the Nike Off-Whites that I have. Yeezy's you can't go wrong with, and my Air Jordan 11's and my Air Jordan 1's, those are my go-to for any causal fit. They go with everything. When you have that many shoes, you really have unlimited options.
Fastball 10: Who would you have as your ultimate dinner party guests?
I'd have to go with Clayton Kershaw and Chris Sale—those are my baseball guys. Odell Beckham Jr., that's my football guy. LeBron James—and that kid who says 'LeBronnnn James.' Just because that would be a comedy hour I want to be a part of. So for me, it would be Sale, Kershaw, Odell, and LeBron, I think that would be a great time. They're all successful and it would be cool to learn from all of them.
Fastball 11: What's the first big thing you bought with your MLB paycheck?
I didn't really spend any money until last year when I bought my house. That was probably the coolest thing I've done. Having your own house, getting away from your mom and dad, saying 'I'm good, I'm on my own, leave me alone…no I'm not doing the dishes, you can do 'em, at your house, because I'm at my house now' [laughs]. That was a great moment.
For access to exclusive gear videos, celebrity interviews, and more, subscribe on YouTube!