In sports, injuries are inevitable. Even when athletes are in peak physical form and specifically train to stay fit and mobile, a single errant step, awkward landing, or violent collision can bend joints and limbs in ways they aren't meant to move.
When those serious injuries happen to athletes, it makes the return tougher—but the injury comebacks are amazing to watch. Athletes like Peyton Manning, Tiger Woods, Odell Beckham Jr., Victor Cruz, Tom Brady, and Paul George have all dealt with serious injuries before making inspirational comebacks.
With the way technology, medical care, and advancements in surgery have developed, many of those breaks, sprains, and tears aren't the career-enders that athletes fear anymore.
With the right recovery and a lot of mental toughness, athletes can return better, faster, and stronger. These famous athlete injuries are some of the best comeback stories in sports.
Here's a look at athletes who came back from serious injuries and still managed to kick ass:
BONUS: Tiger Woods in 2018 and 2019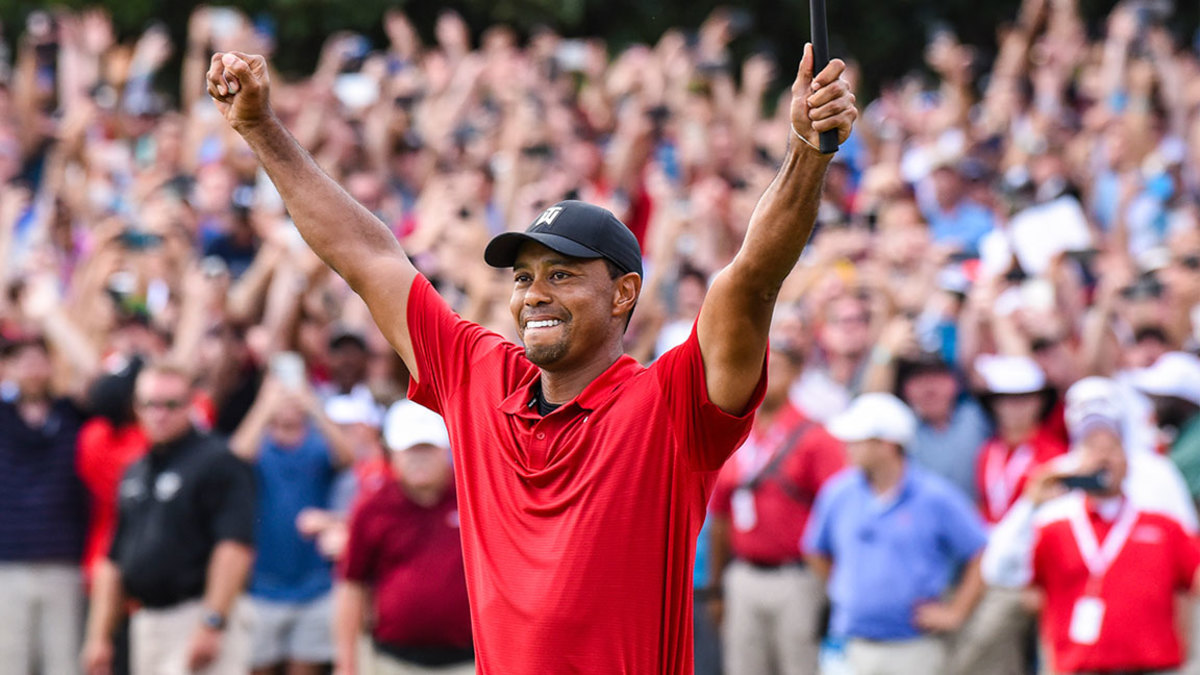 Tiger Woods is already on this list from the time he played the 2008 U.S. Open after suffering a double stress fracture of his left tibia. But after dealing with numerous back issues and surgeries—and wondering if he'd ever play on the PGA Tour again let alone win—he gets another entry after his win at the Tour Championship in September 2018 and then his win at the 2019 Masters.
Woods dealt with injuries and back issues over the previous two years, but rounded into form in 2018, winning for the first time since 2013 to take his 80th PGA Tour win before coming back and winning the 2019 Masters for his 15th career major.
Here's the moment Woods sealed the win at the Masters:
"THE RETURN TO GLORY!"

Tiger Woods wins the Masters for the 5th time. pic.twitter.com/u3cNdQm6MG

— CBS Sports (@CBSSports) April 14, 2019
1. Peyton Manning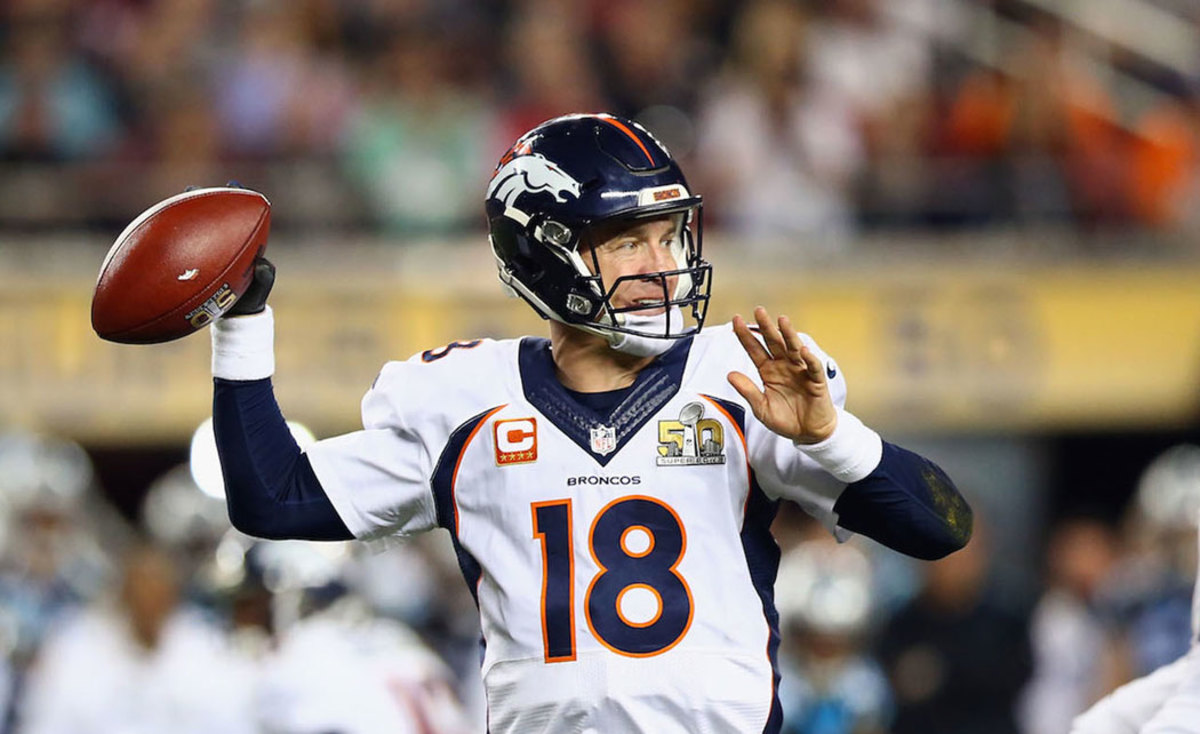 Manning underwent multiple neck surgeries along with spinal fusion surgery ahead of the 2011 season, which forced him to sit out for the entire year for the Indianapolis Colts.
There was talk that the quarterback would never play another game in the NFL, but Manning dismissed all that and rehabbed extremely hard, and by the end of the season he was throwing passes again in practice.
The Colts did not play Manning in 2012 and went 2-14 on the season, setting themselves up to draft Andrew Luck the following year.
With those plans in mind, the Colts cut Manning, leaving him to sign with the Denver Broncos. Plenty of sports commentators questioned whether Manning could play at his usual high level.
And while Manning had his ups and downs to start with the Broncos, he quickly returned to his old form—and at times exceeded it—throwing for 4,659 yards, 37 touchdowns and just 11 interceptions in his first season back from surgery.
The following year in 2013, Manning shattered offensive records while throwing for 5,477 yards and 55 touchdowns for the Broncos. Manning's injury recovery is one of the most significant ones in NFL history, and he capped off his Hall of Fame-caliber career with a Super Bowl win in 2016.
2. Adrian Peterson
When the star NFL running back tore the ACL and MCL in his left knee on December 24, 2011 in a game against the Washington Redskins, some wondered if Peterson's career would ever be the same—or if he even would have a career anymore.
At the very least he'd likely miss the start of the following season. Instead, he had a superhuman recovery and was in the lineup for the Vikings in Week 1—just 10 months after suffering two tears that often end careers.
Even more remarkable than Peterson's return was how incredibly well he played after it. In 2012, he absolutely dominated the league, running for a career-best 2,097 yards while averaging 6.0 yards per carry with 12 touchdowns (and a Pro Bowl performance) in one of the best statistical seasons for a running back in NFL history.
3. Paul George
The Indiana Pacers star suffered one of the most gruesome injuries in recent memory during the summer of 2014 while taking part in a scrimmage with U.S. national basketball team.
George hustled back on defense to contest an open layup by James Harden—but his leg landed directly on the base of the basket stanchion, completely buckling and causing a compound tibia-fibula fracture.
George's injury looked like it would be career-ending, or at least career-changing. But George rehabbed hard, and ultimately returned to play six games toward the end of the 2014-15 season.
Then, in 2015-16, he showed off how his recovery went by putting together the best statistical season of his career to that point. George averaged a career-best 23.1 points per game and started all 81 games that he played for the Pacers.
Be advised: This is a graphic video clip.
4. Brian O'Driscoll
A standout rugby player for Ireland, "BOD" is as famous for his ferocious playing ability as his ability to play through pain. O'Driscoll suffered a murderer's row of injuries though the course of his career—including hits to his elbow, knee, calf, back, and hip—but the shoulder injury he suffered in 2005 was one of the most devastating.
O'Driscoll was hit hard with a spear tackle against New Zealand and dislocated his right shoulder so severely that it required surgery and 16 stitches, after which the International Rugby Board outlawed those types of tackles.
5. John Orozco
The U.S. Olympic gymnast has faced a number of serious injuries in his career, but each time he's come back stronger and hungrier. A famously tough Bronx native, Orozco tore his Achilles in 2010, his ACL in 2012, and his Achilles for a second time in 2015.
All three could have been career-ending injuries—but not for Orozco. The gymnast won the U.S. Championship in 2012, competed in the London Olympic Games, and—even while suffering from Achilles pain—rehabbed his way into contention for a spot at the Rio 2016 Games.
6. Buster Posey
The San Francisco Giants catcher suffered a brutal injury on May 25, 2011 when he got into a home plate collision with the Miami Marlins player Scott Cousins. Posey suffered a fractured fibula and torn ligaments in his ankle, ending his season after just 45 games—a crushing fate for the returning NL Rookie of the Year and World Series champ.
Instead, Posey returned the next season fully healthy, winning the National League batting title with a .346 average in playing in 148 games. In the four seasons following the injury, Posey played in at least 147 games each year, including a career-best 150 games in 2015. The incident inspired a new rule, coined the "Posey Rule," that eliminated home plate collisions in baseball.
7. Tiger Woods
The golfer came into the 2008 U.S. Open after suffering a double stress fracture of his left tibia. He played anyway.
Woods gritted his teeth through five days of golf and 91 holes, defeating Rocco Mediate in a playoff. The championship win is one of the most legendary performances by Woods in his career.
8. Laquon Treadwell
Treadwell suffered a devastating knee injury in 2014 while playing at Ole Miss after being brought down from behind by an Auburn Tigers defender. Adding insult to injury—literally—the play would have given Ole Miss a lead with less than two minutes in the game.
Instead, Treadwell fumbled the ball inches short of the goal line when his knee bent backwards, leaving Auburn to pick up the loose ball and hold on for the win.
Treadwell returned and had a fantastic junior season—82 catches for 1,153 yards and 11 touchdowns—and went on to be a first-round pick for the Minnesota Vikings in the 2016 NFL Draft.
Be advised: This is a graphic video clip.
9. Tom Brady
In 2008, Brady was coming off of an MVP year and a Super Bowl loss to the New York Giants when he suffered a season-ending injury in Week 1 against the Kansas City Chiefs. Brady tore the ACL and MCL in his left knee, ending his streak of 111 straight starts for the New England Patriots.
Brady came back the next season and looked as good as ever, passing for 4,389 yards and 28 touchdowns—and he hasn't missed a game since. The NFL star played in all 16 games each season for the Pats in the six years prior to the injury, and he has done the same from 2009 to 2015.
10. Giancarlo Stanton
Stanton got hit in the face with a pitch against the Milwaukee Brewers in 2014 season, leaving him with facial fractures, lacerations, and dental damage. Stanton, one of baseball's most valuable players, did not return for the Marlins the rest of that season.
Taking a heater to the face would make most people reluctant to step into the batter's box again—but not Stanton.
The next season the Miami Marlins slugger got off to one of the best starts of his career with 27 home runs and 67 RBI in 74 games before a hand injury ended his season prematurely.
Be advised: This is a graphic video clip.
11. Kerri Strug
The gymnast had one of the most legendary performances ever in the Olympic Games while competing for the United States in 1996. With the U.S. gunning for a gold medal, Strug landed awkwardly on her first vault attempt and tore ligaments in her ankle.
For the team to win the gold, Strug needed to make another attempt on the vault—and, even with torn ligaments, stick the landing. After getting a pep talk from coach Béla Károlyi.
Strug pulled off the unbelievable feat, helping the United States win the gold. Károlyi carried Strug to the podium to receive her medal, which has become one of the defining images of the '96 Olympics.
https://youtube.com/watch?v=7ZRYiOa5lM8
12. Victor Cruz
Cruz broke out for the New York Giants in 2011 and helped the team win a Super Bowl while salsa dancing his way into the hearts of NFL fans.
The wide receiver had an infectious smile and an A-plus media personality, which is why people all around the league—not just Big Blue supporters—teared up a bit when Cruz suffered a torn patellar tendon while playing against the Philadelphia Eagles during the 2014 season.
Cruz rehabbed with some major determination and hoped to return for the start of the 2015 regular season, but another injury to his calf kept him sidelined for the entire year.
The time off must have been helpful for Cruz's knee, because he was able to participate in drills for the first time in eight months during June 2016 minicamp practice.
Cruz looked crisp running routes and the Paterson, New Jersey product had no trouble making cuts while doing drills. The training camp return was no mirage.
Cruz was back to full strength for the Giants in 2016, helping the team win in Week 1 against the Dallas Cowboys with a touchdown reception.
His first TD catch since 2014, and he had a fantastic grab against the Saints in Week 2 to help set up the game-winning field goal for Big Blue.
"It was such a long process, but it feels great to be back," Cruz told Men's Fitness in an interview.
https://youtube.com/watch?v=k0npikU7SSM
13. Jamaal Charles
The Kansas City Chiefs running back has proven to be one of the most productive players in the NFL since entering the league in 2008. But after suffering his second-career ACL injury in 2015, it left many people wondering if those days were over.
The play of Charcandrick West and Spencer Ware created some trade talk around Charles, but head coach Andy Reid was having none of that—and it looks like he made the right call.
The former Texas Longhorns running back was able to get back on the field for the first time since October 2015 when the Chiefs took part in minicamp practice in June 2016—looking as healthy as ever.
For access to exclusive gear videos, celebrity interviews, and more, subscribe on YouTube!