Before Graham Zusi became one of the faces of the USMNT's great World Cup soccer victory over Ghana, we had marked him out as one to watch in Brazil. Our very own Noah Davis (Noah is down in Brazil right now, so follow him @noahedavis for your USMNT updates) visited the team's training camp in Los Angeles in January and Zusi was already putting in the work that is paying dividends now. The Kansas City midfielder did not make the starting 11 against Ghana, but he certainly made an impact when he came on as a replacement. However, the challenge is even bigger this weekend against Portugal, so we're going to make a case as to why Zusi should make the starting team this Sunday.
The World Cup's 25 Fittest Players>>>
The World Cup's 25 Fittest Players
1. Fitness
The game against Portugal is taking place in Manuas, a venue so humid that it saps the energy from your soul. The heat is so bad there that Italian midfielder Claudio Marchisio reportedly told media after the match versus England last Saturday that he felt as if he was having hallucinations during the game. In our feature on Zusi in our July/August issue, Noah reported that the Kansas City star had a VO2 max of 71ml/kg/min during his physical test, which he put into context by saying that Zusi's body is able to use oxygen as efficiently as a pro rider in the Tour de France.
With Jozy Altidore hamstrung, team USA is going to be under a lot of pressure and will need players in peak condition. Portugal, though humiliated by Germany in the first round, is excellent on the counterattack, so the ability to have the engine to track back for the full 90 will be critical. Zusi, who came on as substitute, will not be as tired as the the guys who started, which could be a significant factor in team selection should Klinsmann opt to play an extra midfielder in the absence of his number one striker. Zusi also, by his own admission, has one of the best engines on the roster. "I take great pride in being one of the fittest guys on the team," he says. "When you can take that factor out of the game and you don't have to worry about it, then you can worry about other things on the field—the soccer aspect of the game." Which brings us to the next reason…
2. The Final Product
Check out this clip of John Brooks' winning goal against Ghana. While we give the big man who plays his club football with Hertha Berlin a tip of the hat, we're more interested in the sublime assist from Zusi:
Kids, take note on how to deliver the perfect corner. First, Zusi puts some pace on the ball and sends it over curling away from the goal. Note how the keeper did not have the option to attack the ball as it was too far away from him. Now, note the spot of the delivery. Zusi recognizes that Brooks will start his run from just outside the box. He crosses (to repeat) curling away from the keeper and at pace, but in the line of Brooks' run. Result? Brooks gets his chance to attack the ball at full flight and power it into the net to set off scenes of joy among all American sports fans.
9 WAGs to Watch Out for at the World Cup>>>
None of that happens without good service from the corner, and that is where Zusi brought his talents to show again. The USA will probably be chasing Portuguese shadows for a lot of this game, much as they did against the Ghanaians, and taking advantage of every set piece will be crucial to their chances of getting something out of the game. Zusi has shown that in the moment of truth, he can deliver.
Zusi came off the bench to make an impact, and that is exactly what he did. Will it be enough to get him in the starting 11 on Sunday? He can't do much more to further his case, but if all else fails, check out our bonus reason…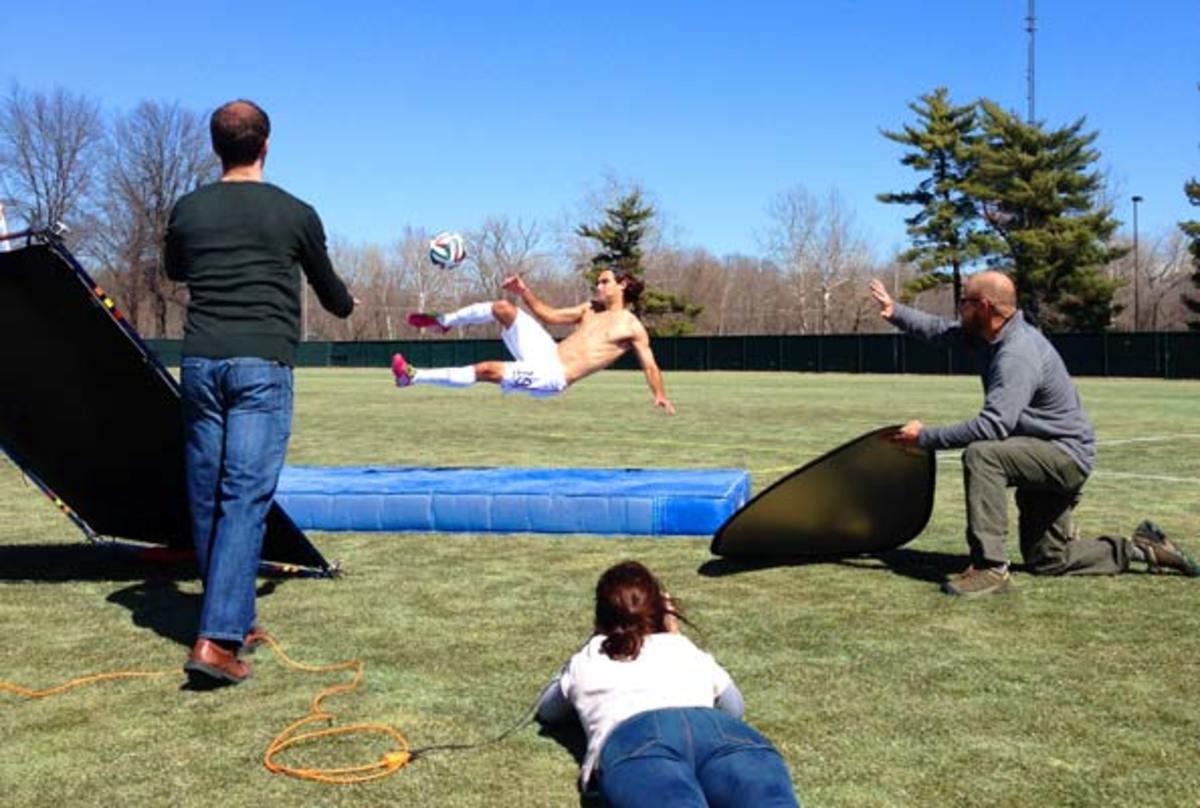 3. Zusi Can Go Real CSI/Cute Puppy Love on Their Asses
Do you know that Graham Zusi has a major in criminology? So, we know now that he has the forensic skills to take the Portuguese defense apart. If he starts then he will have more time to study the opposition and make the adjustments on how to unlock the defense based on the clues and evidence he will pick up during the game.
Beats by Dre Nails Its World Cup Ad>>>
Beats by Dre Nails Its World Cup Ad
And if that doesn't work, then he can flash the adorable photo of him and his black lab pup below. How could any Portuguese defense not curl up in a ball of happiness and allow him through to score once they see this symbol of pure cuteness? This guy has got every angle covered. He's got the fitness, he's capable of delivering the final product, and he can forensically take his opposition apart and/or kill them with cuteness. Best of luck to Graham and our team this Sunday against Portugal!
Check out Zusi in his own words:
For access to exclusive gear videos, celebrity interviews, and more, subscribe on YouTube!