New York Yankees shortstop Derek Jeter is easily one of the most respected players to ever don the famous pinstripes. He's approaching 3,000 hits (he has 2,926 through the 2010 season) and already holds the record for most hits by a Yankee. Add to that a copious amount of other Hall of Fame resume padders—five World Series titles, 11 All-Star game appearances, and five Gold Gloves—and it's easy to see why he's idolized in New York.
UPDATE: Derek Jeter is now an actual Hall of Fame member. Jeter was voted in with 99.7 percent of the vote in January 2020.
Editor's Note: This article was originally written in 2010.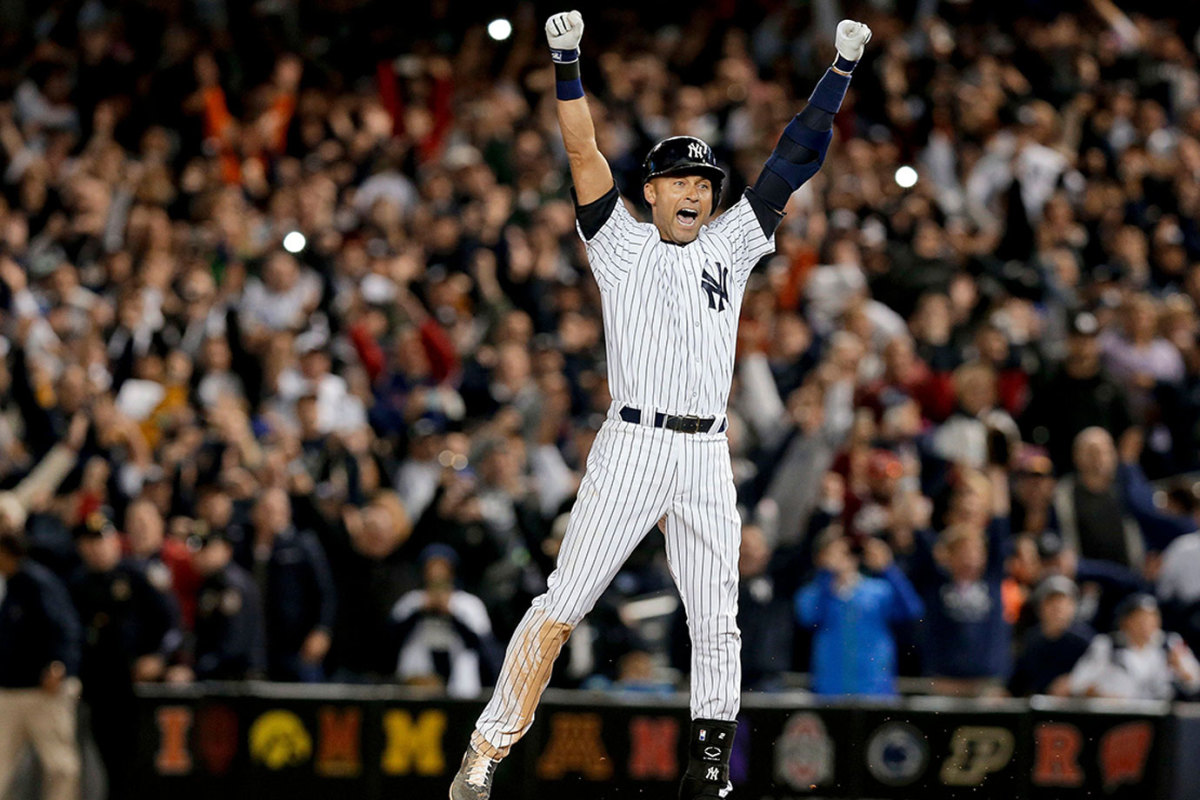 Jeter dropped by his special edition 24 Hour Fitness gym in Manhattan to go over how his approach to working out has changed since he entered the league in 1995.
We're at one of your 24 Hour Fitness gyms, so a logical first question is what's 24 hours of fitness like for you right now?
Right now I'm not doing a thing [laughs]. Usually, when our season is over, we take three or four weeks off. I let the body heal and rest a little bit. Then I'll probably start a month after the season ends.
When you do get going, what is the typical day like in terms of your workout?
When I first start, I usually start off slow just to get back into the swing of things. It's pretty simple. I won't start working out with my trainer until the first week of December. The first week I'm just doing a little movement on the treadmill. It's light. Last year I attempted to just go in the first day without going in the week before, and it didn't turn out too good. So it's a little light lifting, a little running on the treadmill, then we get started.
How long has working out been a part of your life?
The first time I got in the weight room I was with the Yankees in the minor leagues after I was drafted. I didn't really ever lift in high school.
So was that a big change to your daily approach to the game?
Yeah. I think sports now are a little bit different than they were when I was younger. Now you have people specializing in sports from 7 or 8 years old. When I was younger we played everything. We didn't really lift weights. We just went outside and played all the different sports. When I first started lifting it was all new to me.
What was the toughest thing starting out as far as lifting and being in the weight room?
Getting over the embarrassment of not being able to lift a lot of weight [laughs]. I'm being honest with you. We had a strength coach, and I was going to school in Michigan. He sent me the charts, and I had to fill in these charts with the weight we were using. When I sent them back he called me and said, "Derek, you got to start trying to increase these weights!"
How has your approach to fitness changed since you entered the league in 1995?
It's pretty much you workout year-round. You take three or four weeks off then you go right back at it. You talk to a lot of the ex-players, they didn't really lift weights or do anything until they got to spring training.
What are you trying to improve in the off-season or around spring training?
The off-season up until the end of spring training you're just really trying to get stronger. You're trying to put on a lot of strength, lifting heavy, and doing a lot of running for your cardiovascular. When the season starts you tone it down a little bit because you can't really lift because of the grind of the season.
What type of workouts do you do to improve your strength?
I do a lot of agility stuff. The strength stuff is working out with weights and getting your legs together. Legs are probably the most important thing to focus on in all sports. I do a lot of different lunges (front, side, back) and squats.
Once you get going with training, what does your diet consist of?
Right now I'm pretty much eating anything I can. Next week is when I got to start eating a lot better.
So what's the vice right now?
Ice cream. Gold Medal Ribbon from Baskin Robbins. You've got to try it, man!
Take me through your meals. What's the regular breakfast, lunch and dinner for you?
For breakfast it's something like an egg-white omelet and oatmeal. I actually tend to sleep a lot during the season. I take a quick nap then try not to eat anything too heavy for lunch. We're on a weird schedule, so I'm not eating dinner until 11 p.m. sometimes.
You've always been a guy who could cover a lot of ground out on the field. Do you use the treadmill to work on that?
First off, I hate the treadmill. I hate it. You really don't have to be on it that long, something like 20 or 30 minutes. It's all about getting your heart rate up. It's usually a minute walk and then 15 or 30 seconds sprinting as fast as you can go. Then you walk again and repeat.
Who are some of the guys on the Yankees that are also really into the weight room?
Besides me being a beast in the weight room? Alex (Rodriguez) lifts a lot. Most catchers like Jorge need their legs, so he does a lot of leg strengthening. Most of the guys work out pretty good.
What about guys from your past 15 years in the league? Were there any players that were really health conscious?
Joe Girardi. When he played he was working out all the time and eating healthy. He's similar to Mark Teixeira.
You've been in the league for a long time and accomplished a lot on the field. What keeps you motivated at this stage of your career?
It's wanting to be the best you can be. The last thing you want to do is finish playing or doing anything and wish you would have worked harder. When I'm done, the last thing I'll be able to say is I cheated myself.
For access to exclusive gear videos, celebrity interviews, and more, subscribe on YouTube!