Barry Switzer and I are driving through the University of Oklahoma campus in his black Mercedes on a sunny day in September. He slows the Benz, lowers his window, and calls out to a coed in a miniskirt and high heels: "You wearin' some beautiful shoes, girl." She smiles and says, "Thank you, Coach." I ask if he knows her. He says, "Hell, no!"
Traffic is backed up downtown because of tonight's game against Tennessee. A skateboarder darts out from behind a parked car. Switzer yells at him, "Get outta the fuckin' way!"
We finally park and step into Louie's Too, an OU dive bar. It's deserted at noon, except for a young woman wearing an impressively tight-fitting black T-shirt with Louie's Too written across her chest. She's sitting at the bar, her legs thrown over the legs of some guy, her arms around his neck. Switzer says, "You workin' here, or you just workin' on him?" The woman blushes and hustles behind the bar.
We sit at the bar, chatting up the barmaid, whose name is Lisa. She says she works nights in a hospital giving ultrasound tests. Switzer grins and asks her how old she is. "Thirty-two!" he says. "You damned near too old for me, girl." Switzer is 78.
Lisa laughs, then notices the Super Bowl ring on Switzer's left hand. He takes it off and hands it to her, saying, "We goin' steady now." Lisa puts the ring on her finger and strikes a pose, placing the flat of her hand against her cheek, flashing the ring with a coquettish smile and a flutter of eyelashes. Then she gets us two more drinks.
"I dunno, girl," Switzer says. "One more drink and I'll need a nurse."
"I'm not a nurse," Lisa counters.
"You're close enough," Switzer says.
Lisa goes down the bar to show the guy the ring, leaving us to talk. When I ask Switzer about his coaching career, he suddenly grows serious. "I had a great run," he says. "College was my game. I liked my pro players, but I didn't have relationships with them. You don't recruit pros, get to know them, their parents, their personal problems. If they can't play, you get rid of their ass. You recruit a kid in college, he's yours for life."
Switzer pauses. When he continues, it's with uncharacteristic modesty. "Hell," he says, "I was just as good a college coach as the other guys. The magic is always in the players."Switzer is one of only three football coaches to win both an NCAA championship and a Super Bowl. Between 1973 and 1988, his Oklahoma Sooners won 157 games, lost 29, and tied four. Until this year Switzer held the highest winning percentage, .837, of any major college coach of 150 games or more. He won three championships, and he would have won more if his teams hadn't been constantly flirting with NCAA probations. Then, in his four years coaching in the pros, he led the Dallas Cowboys to a Super Bowl victory over Pittsburgh in 1996. And he did it all on his terms. Switzer spoke his mind and played by his own rules. He was described as the coach in the black cowboy hat, the outlaw coach who played it fast and loose. NCAA rules were for the other guys, stiffs like Penn State's Joe Paterno, Texas' Darrell Royal, Nebraska's Tom Osborne. Switzer didn't have many rules for his players. He treated them, he says, like "grown men" who could "carry their own water."
Stories about Switzer's drinking and womanizing were legendary, maybe apocryphal. The $100,000 bar tab during Super Bowl week of 1996. The stewardesses he banged two at a time. The Sooner coeds whose cars were parked outside his house in the morning. The very public affair he carried on with the wife of one of  his assistant coaches. These stories endeared Switzer to Sooners fans. Even the school president told him he could smoke dope as long as he won national championships.
Switzer never shies away from the peccadilloes of his past. "You bet that damned bar tab was the truth," he says. "I kept getting the damned bill for three months. Hell, there was a $3,500 bottle of Louis XIII cognac on it. I was worried gangsters would come after me." Jimmy Johnson, the Cowboys coach whom Switzer replaced, told him to give it to the team's owner, Jerry Jones. "But wait until he's in a good mood," Johnson said. Finally Switzer handed the bill to Jones, who was less than happy — but, says Switzer, "I never got another bill."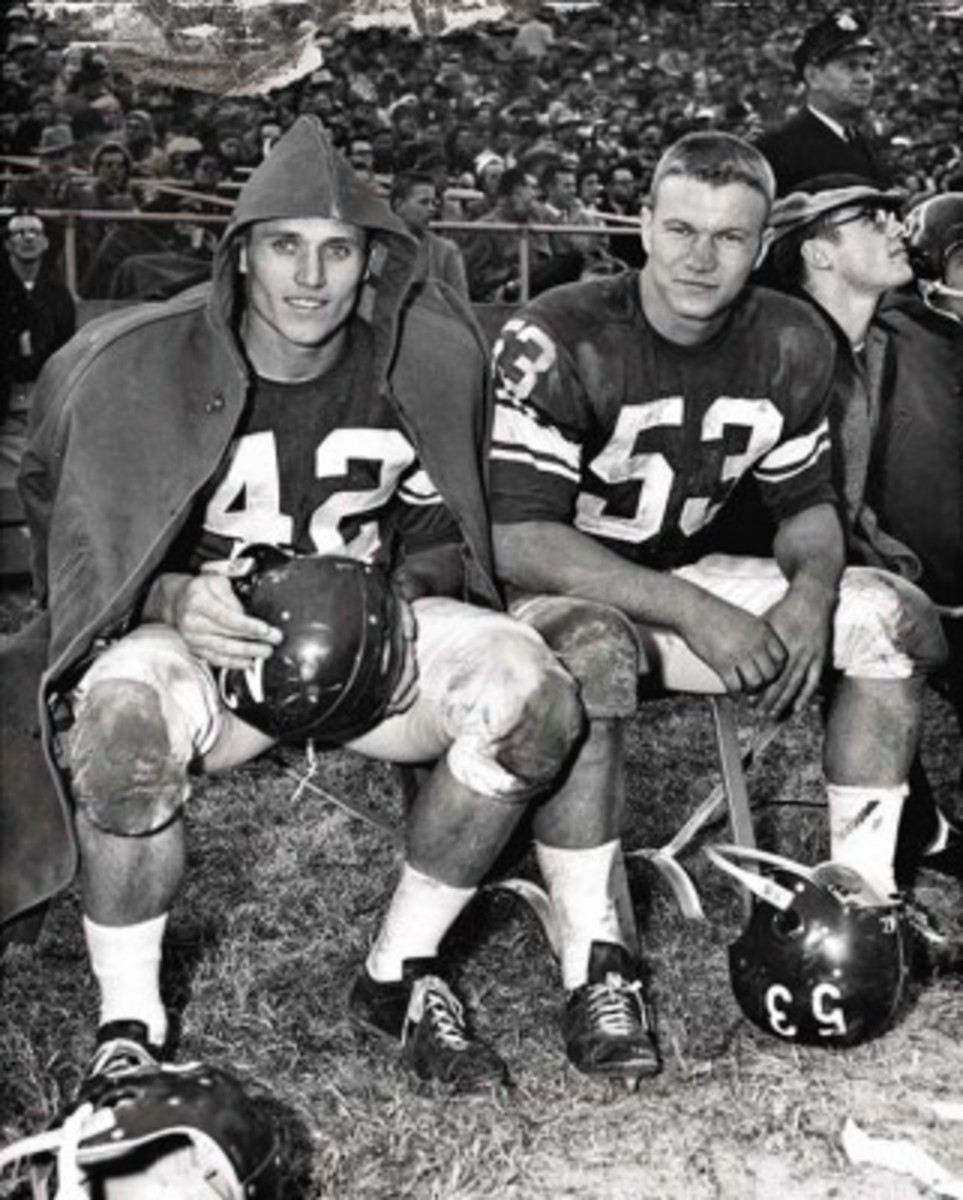 (Switzer, No. 53, during an Arkansas game against Ole Miss in 1957. Courtesy Barry Switzer)
After his pro career ended, Switzer moved back to Norman, Oklahoma, where he is treated as a kind of coach emeritus, an éminence grise. Parents bring their kids to his house to meet the legendary coach, sometimes by appointment, sometimes unannounced. Switzer will tousle some youngster's hair while regaling them with stories of some legendary Texas-Sooners game. Before home games he stands on a stage on campus to have his picture taken with an endless line of fans. In restaurants women take selfies with him, and men sit down and propose business deals.
He doesn't really drink anymore, not heavily, anyway. As for the women, he plays his flirtations for laughs now, the harmless old lech. One night at dinner, he says to our young blonde waitress, "You look familiar."
"I use-ta be a Sooners pom-pom girl, Coach."
"Use-ta?" Switzer replies. "How old are you?" Twenty-two, she tells him.
He smiles and says, "That's about right."
"When Barry was coaching the Sooners, his moral lines were broader than most other coaches'," says Brian Bosworth, or "The Boz," who played linebacker for Switzer in the mid-1980s. "To his players he was the lord of lords. We idolized him because he loved to have fun. Even now his fuel is meeting people. He needs that. It's his life's purpose. Coach was always the prettiest girl in the room."
Switzer drove moralistic, straight-arrow coaches to distraction. He broke all the rules and still beat Darryl Royal's Longhorns like a drum. Royal accused Switzer of paying his players and demanded he take a lie-detector test. Switzer told him, in essence, to go fuck himself. College coaches liked to say that Switzer's players had to take a pay cut when they went to the NFL. Joe Paterno, who treated his players like his children, considered himself the moral conscience of college sports until, of course, the world learned differently. When asked in the 1980s if he'd ever retire, Paterno said, "I can't leave the college game to the . . . Barry Switzers of the world."
Before I headed to Norman, Switzer and I spent an hour on the phone. It wasn't long before we began strutting our bona fides. He works out every day. So do I. His sport is football, mine baseball. He drinks scotch. I drink bourbon. We both smoke cigars, carry guns, love dogs, and women, too. We both have been arrested in airports with guns in our bags. He was fined $75,000 and shortly afterward lost his job with the Cowboys. I spent eight hours sleeping on a concrete floor in the Broward County, Florida, felony holding tank.
It gets deeper. Both of our mothers died of their own free will: His shot herself, mine pulled the feeding tubes from her arm in a hospital. My father was a gambler, con man, and grifter. His father, he tells me, was a "rounder, womanizer, drinker, bootlegger, and atheist." And Switzer carried on the tradition — "a rogue who lives on the edge," he says. "Just like my daddy."Louie's Too is crowded now. We're constantly interrupted by students and alums who want their pictures taken with Coach. He obliges them all. It becomes impossible to talk, so we hop into the car and drive to Switzer's house.
Along the way, Switzer makes a business call. He has his fingers in a lot of pies: oil, banks, real estate, a Napa vineyard, and storage units called Switzer's Locker Room. He says into the phone, "You gotta get the governor to get that guy off that commission so he can appoint our guy and the deal will go through." He hangs up as we pass the liquor store he owns, Switzer Wine and Spirits, the only one close to campus. The parking lot is filled with cars whose owners are stocking up for tonight's game. Switzer grins and says, "I always thought that if I ever needed a job, I could become a bootlegger like Daddy."
Frank Switzer sold his liquor mostly to African-Americans in the tiny town of Crossett, Arkansas, where Switzer grew up in a ramshackle house that lacked, until the 1950s, glass windows, running water, a telephone, and electricity. As a young boy, Barry led his mother through the backyard at night to the outhouse. He carried a flashlight to light the way and a pistol to shoot copperheads.
In high school Switzer was a handsome, rawboned football hero, 6-foot-1, 180 pounds, yet no respectable white girl in town would date him, a bootlegger's son. "So I hung with blacks," he said. "I identified with them. I'd get on my school bus and wave to them waiting for their bus. When their bus broke down one day, I told them to get on our bus. Our driver said, 'Sit your ass down, boy, and shut up.' " Switzer was raised by the same black nanny who had raised his father, because his mother, Mary Louise, lacked the will or the energy to raise Barry and his younger brother, Donnie. She preferred to escape from her loneliness and despair into a fantasy world of novels, liquor, and barbiturates.
In 1954, when Barry was 16, Frank Switzer was sentenced to five years in the Arkansas State Penitentiary for selling untaxed liquor. He was released five months later on a legal technicality, just in time to watch his son pack his jeans and T-shirts into an empty Early Times box and head to the University of Arkansas on a football scholarship.
In August 1959, the summer before his senior year at Arkansas, Switzer came home for a visit. As usual, Frank was gone, who knows where, and his mother was sitting in her favorite chair, blissed out on booze and pills, reading a book.
"My mother had no life," he tells me. "She was deep in the country, alone, no phone, no car. It was a terrible existence for a woman who had been the valedictorian of her high school class." Then one night Barry was asleep and Mary Louise woke him. Her eyes were glazed over and she was smiling her blissed-out smile. He said, "Mother, I would rather not ever see you again than see you like this." When she leaned over to kiss him, he turned away. Moments later he heard a shot.
"For 30 years I felt her suicide was my fault," Switzer says now. "I should never have said what I said. Then years later my brother showed me a suicide note she had written. I asked him why he never showed that to me before. He said Daddy wouldn't let him." His mother, it turned out, had come to say goodbye to her oldest son. "I realized she'd had a plan that night that had nothing to do with what I'd said to her," he says. "It finally removed my guilt."
Thirteen years later Frank Switzer died at 64. "He was shot and killed by his 28-year-old girlfriend," Switzer tells me, "when she caught him with another girlfriend."After his playing career, at Arkansas, Switzer became an assistant coach at his alma mater. Then, in 1966, his former defensive coordinator at Arkansas, Jim MacKenzie, was named the head coach at OU. The first assistant he hired was Switzer. In 1973, he took over the top spot.
Unlike many college coaches, Switzer got close with his players. When one got married only to have all his wedding gifts stolen from his apartment, Switzer personally replaced the items. It was in violation of NCAA rules — "but that's the way Barry was," says former coach Merv Johnson. When a running back's mother died, Switzer bought the kid an airplane ticket home — another NCAA rules infraction, but to Switzer it was the right thing to do. His players never forgot his kindness, and years later, when their parents died or they died, Switzer did not forget them, either. "He doesn't just remember me," says Jon Phillips, a former offensive lineman. "He knows my telephone number, my parents' names." Adds Merv Johnson, "Not a soul in Oklahoma has given more eulogies than Barry Switzer."
Switzer was an outstanding recruiter of talent, especially when it came to young African-American players, with whom he had no problem connecting. In the South of the 1970s, this was a rare quality. Switzer would walk through the hallways of black high schools, "flashing his big, long fur coat and all his championship rings on his fingers," said Charles Thompson, a former quarterback from Lawton, Oklahoma, who was recruited by Switzer in 1987. "Texas and Oklahoma were full of great black players, but the Longhorns didn't recruit them," Switzer says. "So I did." No wonder he was known by his players as "the Sooners' first black coach."
I ask Brian Bosworth if Switzer was as close to his white players as he was to his black ones. "Barry put a lot more effort into the problems of his black players," Bosworth says. Still, athletes of all races loved playing for Switzer because he played it loose, with few rules. "I never muzzled them," Switzer says. "I let them have their own personalities." Thomas Lott, a quarterback who went on to play for the Atlanta Falcons, wore a goatee and a do-rag; running back Little Joe Washington wore silver cleats; Bosworth cut his hair into a Mohawk and painted his uniform number on his scalp. Other players wore earrings, Afros, had gold teeth and tattoos. Some were black militants; some, like The Boz, were just white-boy egomaniacs. Says former offensive lineman Terry Webb: "People didn't come here to play for the University of Oklahoma. They came to play for Barry."
Not all players responded to Switzer's flamboyant style. When Troy Aikman came to Oklahoma in 1984, he was a serious, disciplined quarterback who was discomfited by Switzer's style. A drop-back passer, he left the Sooners for UCLA after only a year. He was replaced by Jamelle Holieway, who took the Sooners to the NCAA championship, something Aikman never did. Curiously, 10 years later Aikman would be Switzer's quarterback with the Cowboys, leading the team to the 1996 Super Bowl victory. Holieway, meanwhile, was cut after just one year with the Oakland Raiders.
This was not uncommon for the Sooners, largely thanks to Switzer's wishbone offense. In four years with the team, for example, Holieway completed only 117 passes but ran for 2,713 yards and 32 touchdowns. Unfortunately, NFL coaches weren't looking for running quarterbacks. They wanted drop-back passers like Aikman. Switzer's players did not make the transition easily. "Even our offensive linemen were at a disadvantage," Bosworth says. "They weren't prepared to be pass blockers, because all they'd ever done in Oklahoma was run block."
Bosworth, for example, was considered one of the greatest linebackers ever in college football, a two-time All-American. In 1987, he was drafted by the Seattle Seahawks, who awarded him the largest rookie bonus ever — $11 million over 10 years. But in the pros, The Boz was unable to back up his outrageous persona with accomplishments on the field. Before one game against the Raiders, Bosworth told reporters that he was going to shut down star running back Bo Jackson. The first time he hit Jackson, Bo carried The Boz over the goal line. Bosworth was cut after just two years. ESPN called him the sixth worst NFL flop ever.
Bring up the spotty NFL performance of former Sooners, and Switzer gets defensive. Bosworth's career, he says, was cut short by a shoulder injury, not by any coaching deficit. He turns the conversation toward players who excelled in the NFL — and later in life. "Lee Roy Selmon was an NFL Hall of Famer," Switzer says. "Billy Sims was a Heisman Trophy winner, a college Hall of Famer, and an NFL Rookie of the Year. Little Joe Washington was his team's MVP. He's now a financial adviser for Wells Fargo, for chrissakes."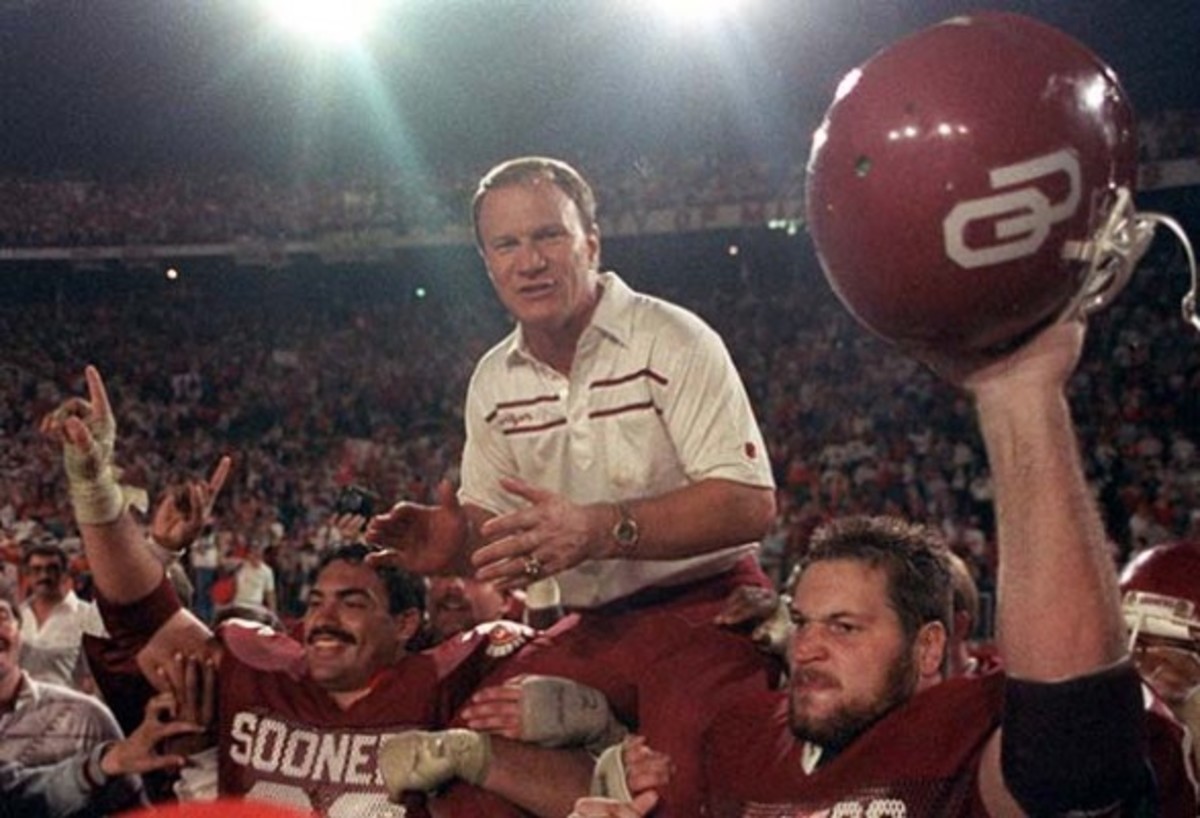 (Switzer gets a ride from jubilant players after winning the Orange Bowl over Penn State in 1986. Photograph by Mark Foley / AP)
Still, by the late Eighties, Switzer was becoming an anachronism. The college game was changing, from a plodding, four yards off-tackle running game to a wide-open passing game more like the pros. The University of Miami's Hurricanes became the NCAA's alpha dog, winning championships under coaches Howard Schnellenberger and Jimmy Johnson. Miami players like Michael Ervin and Vinny Testaverde, rather than Sooners, went on to dominate the NFL. "The program began unraveling," Bosworth says. "The new players were less disciplined. It all happened so fast. Coach didn't see the disease spreading."
In 1988, the NCAA began investigating the Sooners program for 16 NCAA violations. Most were typical, picayune charges. Somebody had bought a player dinner, loaned a player a car, gave him a few bills to buy clothes. Others were more substantial, including recruits being offered cash to come to Oklahoma and no-show jobs once they arrived. The Sooners program was accused of lacking institutional control. In 1989, quarterback Charles Thompson was arrested for selling cocaine, set up by a friend. That same year a player shot a teammate, and two Sooners raped a woman from Oklahoma City. Then the coke-dealing quarterback convinced his friend the snitch to rob Switzer's house of his championship rings — and then ratted him out.
Switzer says this kind of behavior snuck up on him. "You have to understand, the early Eighties is when the drug culture hit," he says. "When I played it was beer. Then, in the Seventies, you had marijuana. But in the Eighties it was street drugs, cocaine. When that hit everything changed. I had four kids who committed felonies in a very short time. Hell, I didn't think I had to tell my players, 'Don't rape anyone, don't shoot each other, don't sell drugs.' "
Thompson spent 17 months in a federal prison on the cocaine charge, where he wrote a book, Down and Dirty: The Life and Crimes of Oklahoma Football. In it he celebrated Switzer as a coach who "identified with his black players," and "had a good heart," and couldn't "say no to kids from a broken home." But at the same time, he wrote, Switzer was "a supreme bullshit artist who let his coaches be the bad guys." The coach, Thompson wrote, supplied his players with "beer and booze. He [Switzer] was always high on booze and primo [cigarettes sprinkled with cocaine]. He drank us all under the table." When I asked Switzer about this, he denied it.
By the spring of 1989, everyone with an interest in Sooners football — players, fans, alumni, administrators, the media — had had enough. On June 19, 1989, Barry Switzer resigned from the "only job I ever loved," he told me. He'd never coach college football again.
Switzer always said he had no interest in coaching in the NFL. But in 1994, a bitter and longtime feud between Dallas Cowboys owner Jerry Jones and head coach Jimmy Johnson came to a head, despite two Super Bowl wins. Switzer had been out of the game for five years, but Jones, who played for the Razorbacks while Switzer had been an assistant coach, gave him a call. "So just before Jerry and Jimmy got divorced, Jerry calls me and asks if I want to coach the Cowboys. I said, 'I didn't know the job was open.' He said, 'It's fixin' to be.' The next day he fired Jimmy. Why me? He wanted to have people around him who were loyal, who he knew. I'm the guy he turned to."
His mandate was not to overcoach, not to fuck up a sure thing. Switzer ditched his vaunted college wishbone offense and ran Johnson's passing offense behind quarterback Troy Aikman. In his second season, the Cowboys won the Super Bowl.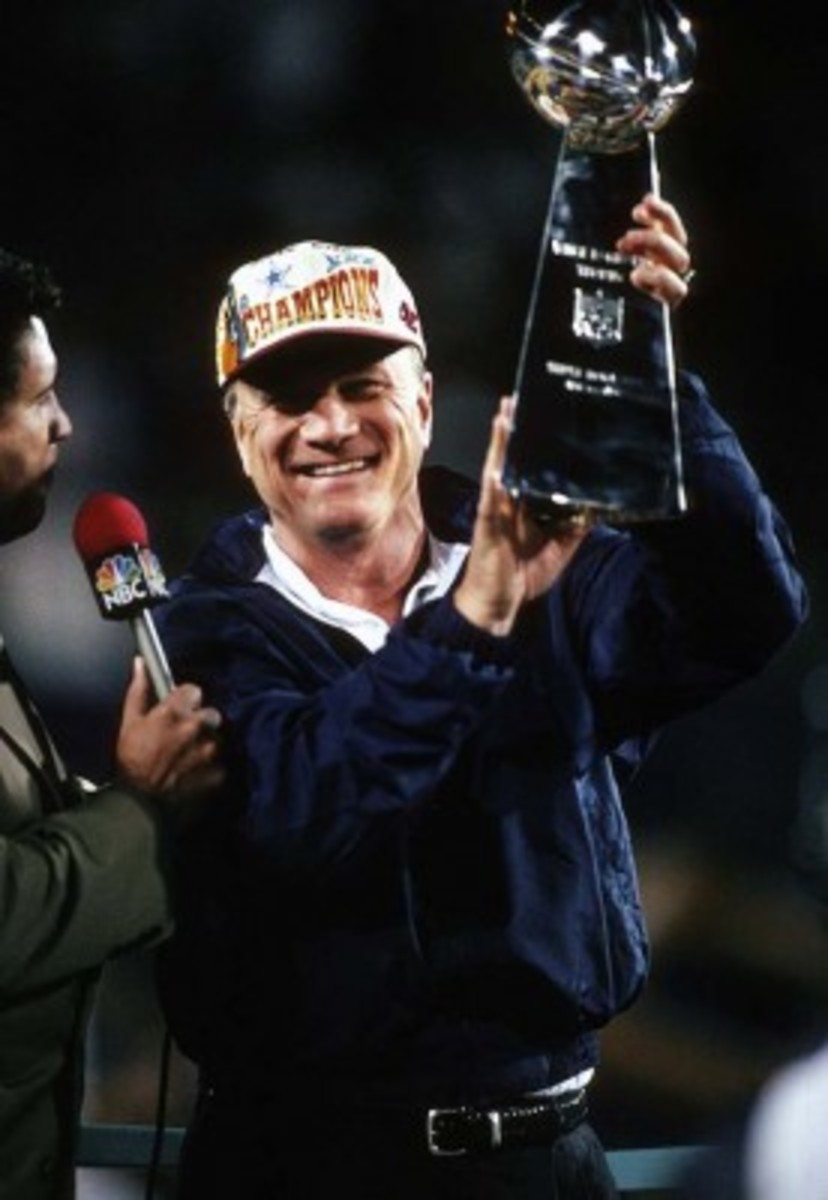 (Holding the Vince Lombardi trophy after his cowboys beat the Steelers in the 1996 Super Bowl. Photograph by Getty Images)
But Switzer resigned after only four seasons in the pros. His heart, he says, just wasn't in the pro game. "I liked the kids, you know?" he says. He could never get close to the pros like he could his college players. What's more, at OU Switzer was the star of Sooners football. In Dallas the players were the stars. "I quit," he says. "It wasn't fun anymore." Two years later Switzer came back to Oklahoma and assumed his new role there: elder statesman, lovable anachronism, the Grand Old Man on campus.Switzer pulls the Benz into the circular drive in front of a big, faux-stone Tudor house that is a shade short of a mansion. We go into the garage, where he keeps three German shepherds in wire kennels. One of them snarls at me and bares his teeth. "Don't go near him," Switzer says. "He'll tear your ass up. He was abused. They kept him in a kennel for his first eight months. So I adopted him. He didn't know how to socialize, but I turned him around. Now he loves me and my wife."
We go to the backyard. Unreal green grass, swimming pool, a big cabana open on one side. "Watch out for dog shit," Switzer says. "He'll only shit on concrete 'cause that's all he knows." Switzer gets a pooper scooper and picks up dog shit on the tile around the pool. I tell him he has a beautiful lawn. "AstroTurf," he says. "When it snows I just sweep it off."
Inside the cabana are sofas, easy chairs, and a circular bar with stools. This is where Switzer does his weekly webcast, Coaches' Cabana, streaming live every Saturday during the games. His guests are usually retired players and coaches, Sooners from the glory years of the Seventies and Eighties. They watch the game on television and chitchat in that way of ex-jocks in a bar.
We go inside to the kitchen, where Switzer introduces me to his wife, Becky, a petite blonde of 60 who looks younger than her age. She is Switzer's second wife, a former gymnast, trained by Bela Karolyi, who went on to coach the Sooners. His first wife, Kay, the mother of his three children, divorced him in 1981, after 18 years of marriage. When I ask Switzer about the divorce, he just says, "Kay left me for the right reasons. I was an asshole." When I press, he explains what he means. "I made mistakes," he says. "I was undisciplined, immature. My daughter says I was a great father but a terrible husband."
On game day I drive to Switzer's house at noon. Becky is carrying in groceries from her car. I help her in an awkward silence. Finally I ask her how she deals with all the people who want her husband's time. "We have eight beds upstairs," she says. "On game days most of them are occupied. Barry loves it."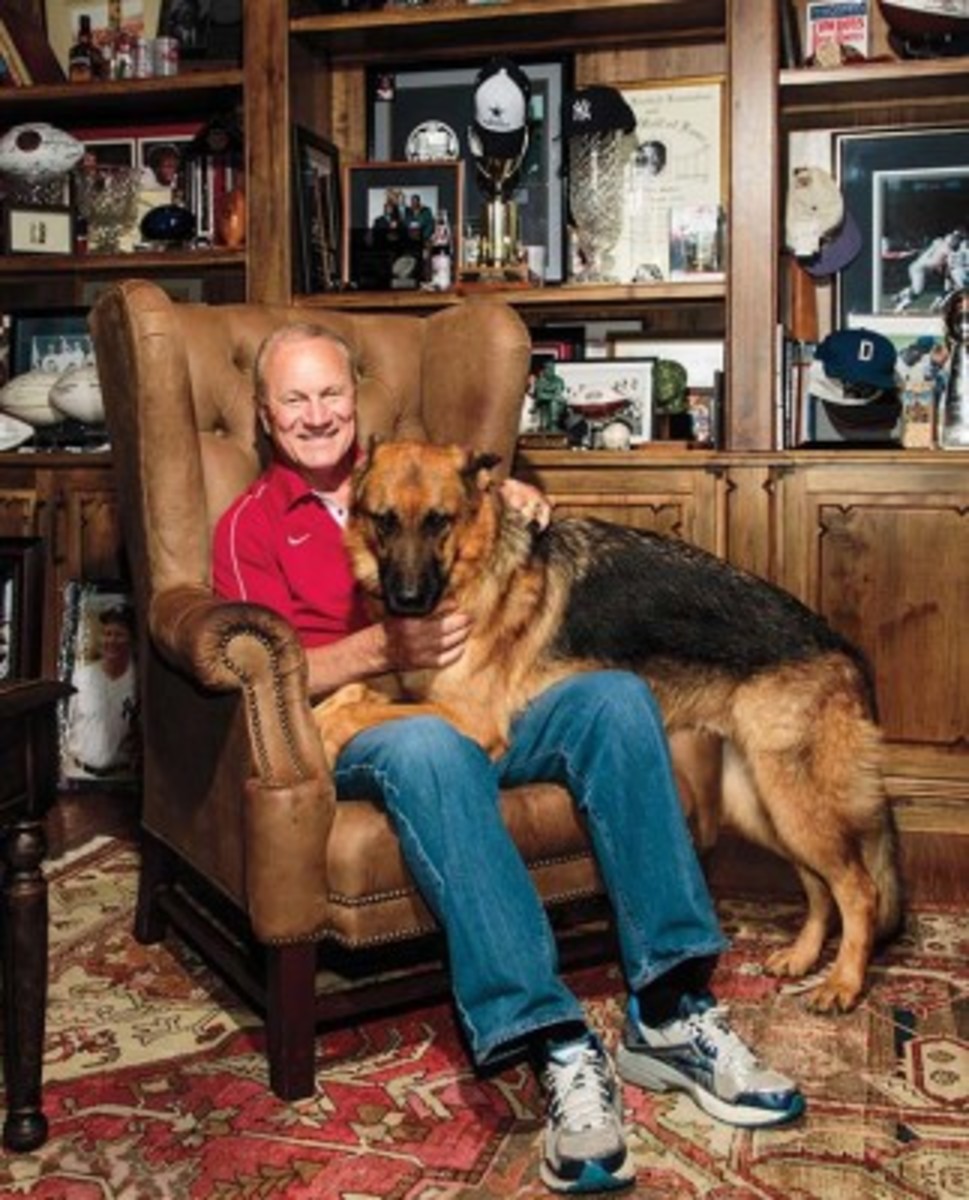 (Switzer relaxes at his home with his German shepherd Sieger. Photograph by Andrew Hetherington) 
I go outside to smoke a cigar at a small table overlooking the front yard and the street that leads to the campus. Cars pull into the driveway and people come over to me to ask if ? "Coach is home." I say no. They are sure to tell me their names — a fan, an alumnus, a player from 35 years ago — and add, "Tell Coach I stopped by to say hello."
When Switzer gets home, he sits with me outside in the cool afternoon sunlight. Soon we are talking again about our fathers. I tell him of the time my dad took me on a fishing trip: Two blocks down the street to a golf course with a water hazard, a stagnant pond. I sat there for hours with a stick and string and a safety pin for a hook, hoping to catch — what, a Titleist? — while the old man was booking bets in the bar across the street. "At least your father took you hunting," I say. I had seen an old photo of a four-year-old Switzer with a dead squirrel in one hand and a rifle over his shoulder. His father kneels beside him, smiling.
Another car pulls into the driveway. A handsome young man wearing sunglasses comes over and sits down. Switzer introduces him as "Ryan, my computer guru."
Ryan is holding an envelope stuffed with hundred-dollar bills. He counts out 45 C-notes and hands them to Switzer. "Not in front of the old fiction writer," Switzer says. "He'll think I'm a bookie." Then he grows serious. "Are you sure you don't need it?"
Ryan hesitates. "I said I'd pay you back."
"You were gonna use it for a down payment on a house."
"Well, my granddaddy passed a while ago and he left no money for his funeral. I was grateful I could pay for it."
"Now you can't buy the house?" Switzer asks. Ryan nods. "How much do you need?" Ryan says $3,000. Switzer counts out 35 bills. "You always need extra," he says.
"I can't be in your debt again, Barry."
"Take the money and buy the fucking house. It'll come back to you."
"I don't know how long it'll take me to pay you back."
"I don't care! But the next time I see you, you'd better own that fucking house."
Ryan takes the money and gets up to leave. "Barry, you bring tears to my eyes."
After Ryan leaves we sit in the sun, not talking, a little embarrassed. Switzer checks his messages. "Come on," he says. "I gotta make an appearance at this guy's house." We drive through campus, passing flocks of people walking toward the stadium. Switzer finds a small ranch house and we go inside. There are more than 30 people partying inside and out by the pool. The redneck crowd is drinking beer, eating nachos and wings, singing Sooner fight songs, cheering, and yelling at one another already, four hours before the game. Switzer works the room like a Vegas shill, shaking hands, slapping backs, hugging women, posing for selfies, telling stories — another ancient Longhorns-Sooners game, which, in his telling, always ends the same, with a Sooners victory.
A short man smoking a cigar, belly protruding from his T-shirt, approaches. Switzer introduces me. The man pumps my hand and asks if he can take a picture of Barry and me with his daughter. "We'd be so proud," he says. His daughter is a pretty blonde in a tight miniskirt. She stands between Switzer and me, with our arms over her shoulders. Her father, beaming, takes the picture.
Back in the car, Switzer says, "He's a good ol' boy — a millionaire 200 times over, yet he's not pretentious. I like him."
By 7:30, back at Switzer's house, about 50 people crowd the pool area and cabana, eating from a buffet of chicken wings, drinking at the bar. Switzer tells me to enjoy the party and heads to the cabana to host his show. Tonight's guests are former players Billy Sims and Thomas Lott. The two men look prosperous and a good distance from their playing weight. In fact, Sims' life after football was a series of catastrophes: failed business ventures, bankruptcies, divorce, jail time, charges of domestic violence. In 2001, he was forced to sell his Heisman Trophy for $88,000. Now he's back on his feet with a chain of 46 Billy Sims Barbecue restaurants. Lott, meanwhile, hosts a sports radio show.
I watch the three men from a chair by the pool, but it's hard to hear much over the noisy crowd. They're hunched together almost conspiratorially, oblivious to the pool party. It's a bond often seen among veteran athletes, as well as cops and soldiers — men who have fought together and know things the rest of us do not.
After a couple of hours, I get up to leave. I look back at Switzer, sitting with his former players on the sofa, gabbing about the game. No one, I notice, seems to be paying attention to them. Their voices go unheard, except by one another. It's the coach and his players — all Barry Switzer ever needed.
For access to exclusive gear videos, celebrity interviews, and more, subscribe on YouTube!