Professional baseball games usually plod along at a methodical pace, and it's not uncommon for players to seem fairly bored over the course of nine innings.
But with long-running regular seasons and so many meetings between teams, rivalries can develop and tensions can simmer beneath the surface.
Usually, all it takes is an errant pitch and a retaliatory strike from the other team before both benches clear. 
The brawls that we'll talk about for years to come (like what we've presented here) need to present the kind of brutality, chaos, and confusion that makes everyone watching say, "What the hell just happened?"
These are the biggest, baddest, and most infamous brawls in the history of Major League Baseball.
15. Bryce Harper (Nationals) Charges Hunter Strickland After Getting Plunked With 98 MPH Fastball, 2017
As the saying goes, "an elephant never forgets." Well, apparently that extends to Major League Baseball pitchers, too.
 
On Memorial Day 2017, Nationals star Bryce Harper stepped up to bat in the eighth inning against the San Francisco Giants with his team up 2-0 and reliever Hunter Strickland on the mound. Harper and Strickland were facing off for the first time in over two years—the first since the 2014 MLB playoffs, when Harper lit up Strickland for two home runs.
 
Even though the Giants later won that series and the World Series that year, clearly Strickland didn't forget about Harper's home run jacks, because he hit Harper on the hip with a 98 mph fastball that looked as close to intentional as one can get. Harper was not pleased. The outfielder pointed his bat at Strickland and then decided to charge the mound, throwing his helmet (wildly and off target) before landing a couple blows on Strickland. The teams exchanged punches and words until it all eventually died down, but it sure made for some entertaining baseball.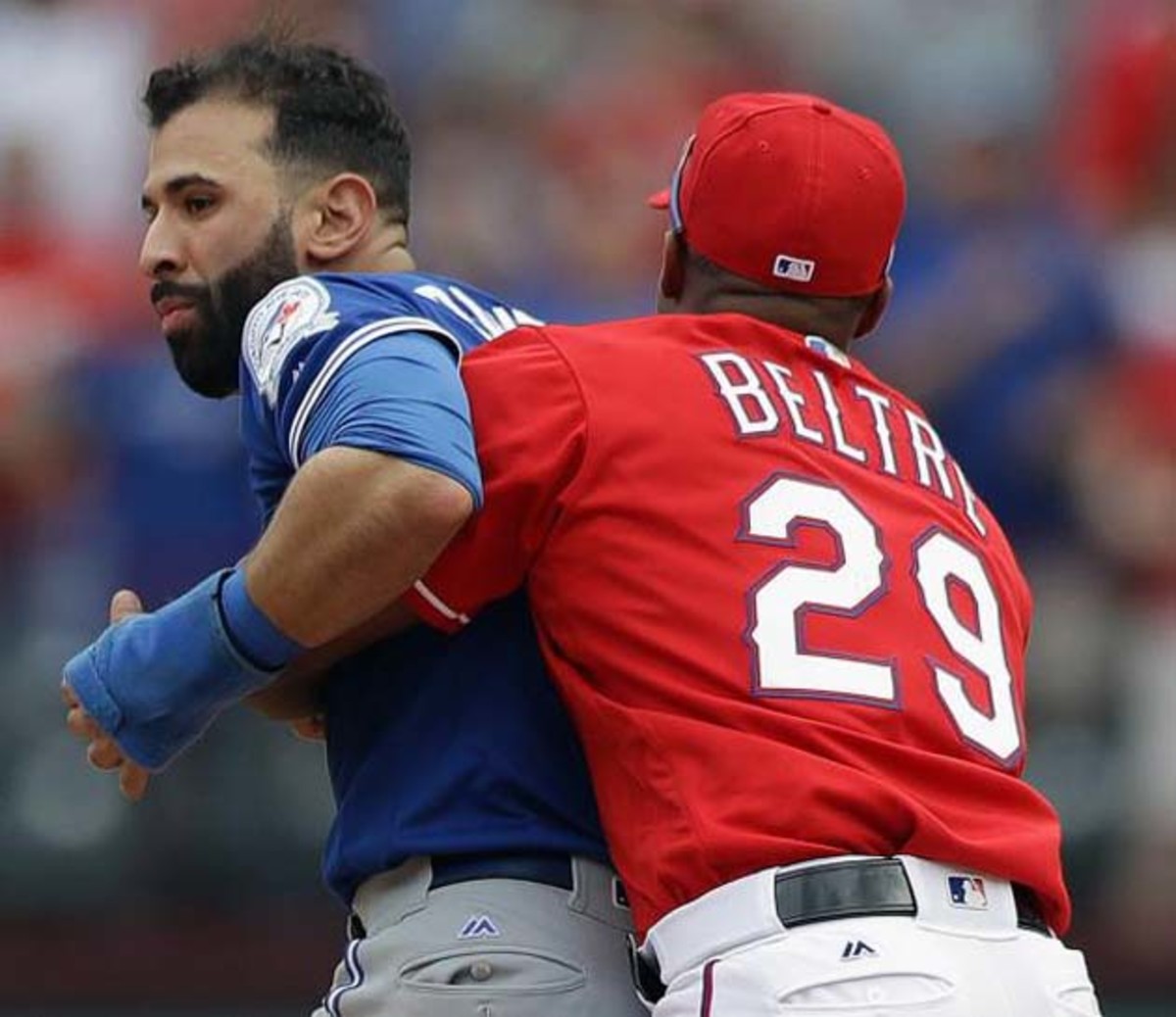 14. Rougned Odor (Texas Rangers) Punches Jose Bautista (Toronto Blue Jays) After Hard Slide, 2016
Well, that escalated quickly. Texas Rangers infielder Rougned Odor took major exception following a rough slide into second base by Toronto Blue Jays outfielder Jose Bautista and took matters into his own hands—shoving Bautista before hitting him directly in the face with a powerful punch. The swing sparked players from both benches to spill out onto the field, including Blue Jays third baseman Josh Donaldson—who ended up taking another punch from Odor in the melee.
The bad blood between the Rangers and the Blue Jays had been simmering for quite some time before this battle—Bautista's epic bat flip following a go-ahead home run in the 2015 playoffs left the Rangers furious and looking for some revenge. Texas pitcher Matt Bush took care of that by plunking Bautista with a fastball, and that is how the outfielder ended up on first base before his rough run-in with Odor.
The combination of violations to baseball's "unwritten rules" and the perception that the Blue Jays play with too much flair ended up sparking one of the most memorable baseball brawls of all time. Odor was suspended for eight games, while Bautista received a one-game suspension. 14 players and coaches overall were suspended for taking part in the brawl.
13. Manny Machado (Baltimore Orioles) Puts Yordano Ventura (Kansas City Royals) In His Place After 99 MPH Bean Ball, 2016
Manny Machado finally had enough of Kansas City Royals pitcher Yordano Ventura. When Ventura beaned the Baltimore Orioles star in the back with a 99 mph fastball, Machado charged the mound—still limping from the hit—and took some clean shots at the pitcher before being pulled away.
MLB's Most Athletic, Gravity-Defying Diving Catches >>>
Ventura has a history with Machado and also is known around the league for throwing at players. He hit Machado during the 2015 regular season, and prefaced the 2016 beaning by throwing inside twice at Machado and nearly hitting him in the second inning, leading to some words being exchanged between the two players.
12. St. Louis Cardinals, Cincinnati Reds Brawl Early After First Inning Insults, 2014
As National League Central division rivals, there's no love lost between the Cardinals and Reds, but in this game from 2014, things really escalated quickly. Things were already heated between the two clubs coming into the game after Reds second baseman Brandon Phillips called the Cardinals "little b*tches" that "b*tch and moan about everything."
 
Cards catcher and de facto team captain Yadier Molina didn't take long to respond to Phillips, jawing at him once the second baseman came up to bat in the first inning. After words were exchanged, both managers, Tony La Russa (Cardinals) and Dusty Baker (Reds), got on the field and started yelling too, then a huge brawl broke out. The mass of players rushed towards the netting behind home plate like one of those zombie hordes in World War Z before everything calmed down.
11. Nolan Ryan (Houston Astros) vs. Dave Winfield (San Diego Padres, Playing for Yankees In Above Image), 1980
Ryan's first well-known fight pitted him against another eventual Hall of Famer, Dave Winfield. Ryan drilled Winfield but wasn't prepared for a fight. Winfield charged and managed to land a punch on Ryan before tackling him to the ground. Both teams rushed to the mound, but by the time they arrived the bout was finished, with Ryan on the losing end.
10. The All-Out Brawl: Atlanta Braves vs San Diego Padres, 1984
This game was absolute mayhem from start to finish. The benches cleared four times and 13 players were ejected, along with both managers. As you might expect, the bean balls started early, as Braves starting pitcher Pascual Perez nailed Padres leadoff hitter Alan Wiggins to lead off the first inning. The Padres looked to retaliate in the second inning when Perez came to bat, resulting in the first bench-clearing incident. That got the bad blood flowing, and it never stopped. Even fans got involved with some of the fighting, jumping on the field and joining the action, and police at the event had to work hard to make sure the chaos didn't spread to the stands.
The 5 Most Intense Rivalries in Major League Baseball >>>
9. Bert Campaneris (Oakland A's) Hurls Bat at Lerrin LaGrow (Detroit Tigers), 1972
This one came about under somewhat bizarre circumstances. Not only did it involve a player getting hit on a low pitch (clearly not a bean ball), but the batter, Bert Campaneris, decided to use his bat as a weapon in retaliation. Knocked to the ground by the pitch, Campaneris immediately got up and hurled his bat back at pitcher Lerrin LaGrow's head. LaGrow ducked in time, avoiding what could've been a serious injury.
The Hardest-Throwing Pitchers in Baseball >>>
8. Nolan Ryan (Texas Rangers) Beats Down Robin Ventura (Chicago White Sox), 1993
One of the most famous, well-known brawls in MLB history went down in the hot Texas summer of 1993. This turned out to be the last high-profile moment in Nolan Ryan's illustrious Hall of Fame pitching career, which would end only a couple of months later. At 46, he was not only tossing near-100 mph fastballs—he was also ready to beat up any kid dumb enough to challenge him to a fight. A pitch got away from Ryan and hit the 26-year-old Robin Ventura, who hesitated a moment before deciding to charge the mound on the veteran pitcher. Ventura tried to lead with his shoulder, so Ryan wrapped him up in a headlock and gave him a royal beat down, until both teams mobbed the mound and put a stop to it. The takeaway: Respect your elders, kids.
The Best Tommy John Surgery Comebacks >>>
7. Chan Ho Park's (Los Angeles Dodgers) Kick, 1999
Against the crosstown rival Anaheim Angels, L.A. Dodgers pitcher Chan Ho Park laid a sacrifice bunt up the first base line and bolted for first. The ensuing tag by opposing pitcher Tim Belcher, however, was a bit too enthusiastic for Park's taste, and he went after Belcher with a rarely seen drop kick. Both benches cleared, but the real damage had been done.
6. Armando Benitez (Baltimore Orioles) Drills Tino Martinez (New York Yankees), 1998
After giving up a three-run homer in the eighth that gave the Yankees the lead, hotheaded reliever Armando Benitez looked to bean the next batter, Tino Martinez. Martinez got nailed in the upper back, and both teams poured of their respective dugouts. This basically turned out to be a Yanks vs. Benitez brawl, as several Yankees looked to break through the wall of Orioles players to get some payback.
First, it was Australian reliever Graeme Lloyd rushing in from the bullpen, taking some wild cuts at Benitez, along with some involvement from third baseman Scott Brosius and reliever Jeff Nelson. The most memorable moment came from Darryl Strawberry, who somehow managed to break loose and land a well-deserved cheap-shot punch to Benitez's face. Torre had to restrain Strawberry and escort him back to the Yankee dugout, bringing about huge cheers from the home crowd. The '98 Yanks would go on to win the World Series that year in historic fashion, winning an all-time high 125 games in total.
The 15 Biggest Steroid, PED, and Doping Scandals in Sports History >>>
5. Mo Vaughn (Boston Red Sox) Takes Down Charging George Bell (Chicago White Sox), 1993
George Bell charged the mound after an errant pitch by Red Sox pitcher Aaron Sele sailed behind his head. Bell threw a wild punch at Sele and missed, only to be leveled by Red Sox first baseman Mo Vaughn. Vaughn's momentum slammed Bell to the ground, ending the fight before the rest of the players could join in.
4. An Old-Fashioned Yankees–Red Sox Slugfest, 1976
This fight was the culmination of years of Yanks–Red Sox animosity, or, to be more specific, Yanks–Bill Lee animosity. Three years earlier, the often-inflammatory Lee had described the Yankees lineup as a "bunch of hookers swinging their purses." The Bronx Bombers never forgot, and Lee never stopped running his mouth. The brawl came about after a huge home plate collision between the Yanks' Lou Piniella and Sox catcher Carlton Fisk. Fisk held onto the ball for the out, but the intense impact brought about a scuffle between the two players. Everyone else got involved right after, including Lee, who was punched by Mickey Rivers, and later smashed to the ground by Graig Nettles, resulting in a left shoulder injury that sent him to the disabled list for a few months.
The Most Incredible Athletes Over 40 in Sports History >>>
MLB's Most Athletic, Gravity-Defying Diving Catches >>>

3. Pedro Martinez (Boston Red Sox) Throws Down Coach Don Zimmer (New York Yankees), 2003
Emotions ran high in this playoff brawl between the Yankees and Red Sox, tipped off in the top of the fourth inning by a bean ball thrown by Sox pitcher Pedro Martinez. The Yankees' Karim Garcia took a fastball to the back, apparently due to Pedro's frustration at having just given up the lead. Trying to avoid an immediate brawl, the home plate umpire warned both benches, but a hard take-out slide at second base only a few minutes later brought both teams out.
How Mets Pitchers Noah Syndergaard and Jacob deGrom Train For MLB Domination >>>
Even so, the most bizarre occurrence came about in the bottom half of the fourth after Yankees pitcher Roger Clemens threw up and in to Manny Ramirez, again clearing the benches. This time, enraged Yankees coach Don Zimmer charged at Pedro Martinez, forgetting the fact for a moment that he was 72 years old. Martinez sidestepped Zim, grabbed him by the face, and tossed him to the ground.
The 5 Most Intense Rivalries in Major League Baseball >>>
2. Mike Sweeney (Kansas City Royals) Runs Down Jeff Weaver (Detroit Tigers), 2001
Speaking of those "wait, what the hell happened?" sort of fights: Everything looked totally normal during this Tigers-Royals game, when suddenly Mike Sweeney charged at Jeff Weaver like a linebacker trying to pancake a quarterback. Apparently Weaver had said something insulting to the Royals first baseman after the Royals asked the umps to examine his resin bag for the second time in the game. Sweeney charged immediately at an unsuspecting Weaver, hurling his helmet at him and ripping him down with a tackle before the rest of each team joined the fray.
1. Alex Rodriguez and Jason Varitek Spark Wild New York Yankees-Boston Red Sox Brawl, 2004
The New York Yankees and Boston Red Sox have brawled quite a few times over the years, and one of the most memorable involved MLB superstar Alex Rodriguez in his first season in pinstripes. After driving in the winning run against Boston in the game the previous day, Rodriguez stepped to plate in the third inning and was drilled by starter Bronson Arroyo with a pitch.
A-Rod gave Arroyo a staredown and had some harsh words for the pitcher as he started to move towards first base. Just as that was happening, Jason Varitek got in front of Rodriguez and that's when the fun really started. Varitek smashed Rodriguez in the face with his glove and the two started scuffling before both benches rushed out onto the field. By the end of the melee a few players were left bruised and banged up, including Tanyon Sturtze, who had blood dripping down his face after it was over.
The fight turned out to be only one chapter in a wild game that day—After going down 10-8 entering the bottom of the ninth inning, the Red Sox came back and won 11-10 after scoring against legendary closer Mariano Rivera. The brawl gave sports fans an exciting moment and one of the most iconic sports-fight images of all time: Varitek smashing his catcher's mitt into A-Rod's face.
[RELATED7]
For access to exclusive gear videos, celebrity interviews, and more, subscribe on YouTube!