The city of Los Angeles has a new superstar in town—and his name is Todd Gurley. The L.A. Rams running back broke onto the NFL scene in 2015, winning the Offensive Rookie of the Year award while being voted to the Pro Bowl. He is an electrifying talent, with the speed, strength, and size (he's 6'1", 227 pounds) to dominate in the new NFL.
Editor's Note: This piece was written in 2018.
But while Gurley's natural ability is hard to match, even among NFL running backs, it's his focus on training, nutrition, and staying in shape that makes him the new face of football in L.A.
"I never skip leg day," Gurley told Men's Journal. "We go hard, day in and day out. We mix it up quite a bit—upper body, lower body, leg workouts." Gurley's workout routine includes a range of exercises and drills, including box jumps, squats (his favorite), leg curls, bench press work, power cleans, and dumbbell lifts.
And while Gurley makes the gridiron heroics look natural, bordering on easy, it hasn't been easy for him to become a bona fide NFL hero. The running back tore his ACL late in his junior season at Georgia, knocking him out after just six games and putting his draft stock in jeopardy. Gurley rehabbed hard from the injury and impressed the Rams enough to take him tenth overall in the 2015 NFL Draft.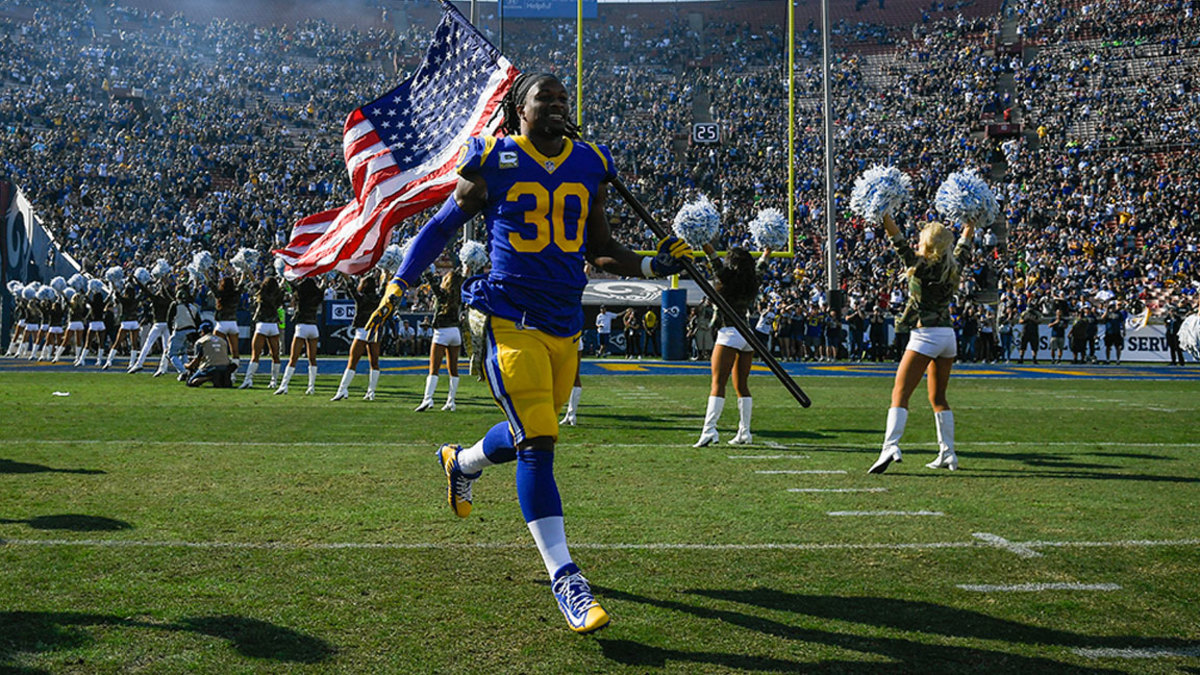 Smart bet: Gurley rushed for 1,106 yards and 10 touchdowns in his first NFL season, good for third in the NFL, proving to nine other teams exactly why they shouldn't have passed on him.
Gurley has plenty of off-the-field interests too. He's a big fan of movies like Scarface and "anything with Seth Rogen," plus he's very into fashion. Gurley was named one of the NFL Men's Lifestyle Ambassadors for the league clothing collection and being in L.A. has him elbow-to-elbow with some of the top celebrities and luxury companies in the world.
Gurley spoke with Men's Journal about his training routine, how his diet keeps him in shape, and his favorite movies.
(Editor's note: This interview has been edited for clarity.)
Men's Journal: What is your daily training routine like? What are the most important areas of focus for you in the gym?
TODD GURLEY: We'll do upper body, then lower, then a combo of both. We also have a workout we call the "gun show" lift, which works the biceps and triceps. Lower body, leg workouts are so important. Squats are my favorite exercise.
What are some of the exercises, moves, and drills you use in your training that you feel help most on the field?
Squats are big for us. I'm always squatting. Hamstring work, quad exercises, leg extensions, squats, shrugs, deadlifts, and hamstring curls too. We also do a lot of bench and try to switch it up every other week.
When you're looking to build muscle, what types of workouts and drills do you focus on?
We do supersets of squats, and lots of box jumps. I also like doing power cleans and glute raises. Upper body stuff is my least favorite to do.
What's your daily diet and nutrition like? What are your favorite foods to eat to help support your training?
The Rams do a pretty good job of feeding us two or three times a day. Whatever they have for us is usually great for me. I eat a lot of grilled chicken breast, sushi, salads, and soups.
What's your perfect cheat day meal?
Wings are my go-to.
You're one of the NFL's Lifestyle Ambassadors for the men's clothing collection. What are some of your favorite pieces?
I really like the Levi's Trucker Jacket. It's a great piece that can be layered with a t-shirt or dressed up with a button down. Denim jackets are hot right now, so pairing that with your favorite NFL team is a win-win.
When you aren't on the field, what are some of the ways you represent your team?
There's a lot of excitement around the Rams in LA, so I try to wear my team gear around the city as much as I can. The new NFL Men's Collection has styles that I can sport to dinner in Hollywood, or to a workout at the Coliseum—the wearing occasions are endless.
What do you enjoy doing in your downtime?
I'm always watching The Simpsons and SpongeBob when I'm at home. [Editor's note: Yes, Todd Gurley told us he watches Spongebob.] For movies, I like anything funny—Superbad is a classic, and I love anything with Seth Rogen or Jonah Hill in it. When I'm in the mood for a longer movie, I put on Scarface.
For access to exclusive gear videos, celebrity interviews, and more, subscribe on YouTube!