Far down the right-field line at Tradition Field, the New York Mets' Port St. Lucie, FL, spring-training ballpark, a yellow, buff-colored cement blockhouse sits tucked beneath the grandstand.
This is the Barwis Methods Training Center, run by Mike Barwis, the team's strength and conditioning adviser. It's a utilitarian, warehouselike space: The ceiling is black, the walls unadorned, the constant beat of the hip-hop loud and forceful. It's a serious place, meant for work.
Only a handful of clients are here at 9 a.m. one chilly February morning, a week before the Mets pitchers and catchers are due to report to camp, and one of them is the team's captain and third baseman, David Wright. Decked out in Nike, he seems to be in prime physical condition—pecs hard, lats firm, calves taut. Ready for baseball?
He's not.
There's a reason that Wright, a 12-year veteran and one of the game's best-known superstars, has been putting the work in here four days a week since the center reopened just after the holidays in early January. The 33-year-old missed four months of play last season after being diagnosed with lumbar spinal stenosis, a narrowing of the spinal canal that compresses and inflames the nerves running through the spine, causing sharp, immobilizing pain in the lower back that in some cases extends to the legs. He hasn't had a pain-free day since—and won't, for however long his career lasts. To play at all, during the season he must put himself through intensive two-to three-hour workouts every day.
The fact is, Wright, who in person is open-faced, generous, and disarmingly down-to-earth, will deal with back pain for the rest of his life.
Spinal stenosis generally affects men and women over 50 and is usually the result of either arthritis or the wear and tear of aging. And though unusual in younger people, it has cut short several prominent sports careers. Former New York Yankee Don Mattingly retired because of it. Former Phillies and Mets star Lenny Dykstra tried to correct his condition with surgery, but he never played again. Cooper Manning, the eldest of the football Manning brothers and an all-state high school wide receiver, never made it onto the Ole Miss gridiron because of his stenosis. Last year, Oregon State sophomore defensive back Dashon Hunt retired after being diagnosed with it after an on-field injury.
"The doctors told me I could play and have a very long, successful career and never have a neck injury or I could go out on the first day of contact at practice and risk paralyzing myself or dying," says Hunt, in a phone interview from campus. He quit the team, he says, because "no sport is worth dying over or getting paralyzed from the neck down over."
Wright, though, is determined to continue playing. His neurosurgeon, Robert Watkins, M.D., a preeminent Los Angeles spinal physician whose patients have included former major leaguers Dave Winfield, Reggie Jackson, and Mattingly, is confident that, through a targeted and intensive physical therapy and rehab regimen, Wright will continue to return to the field safely and with full mobility.
But he cautioned Wright last year it would require enormous amounts of work—resulting in a comprehensive, three-part routine involving untold hours of stretching, core work, and resistance training—more than in any program he'd ever attempted.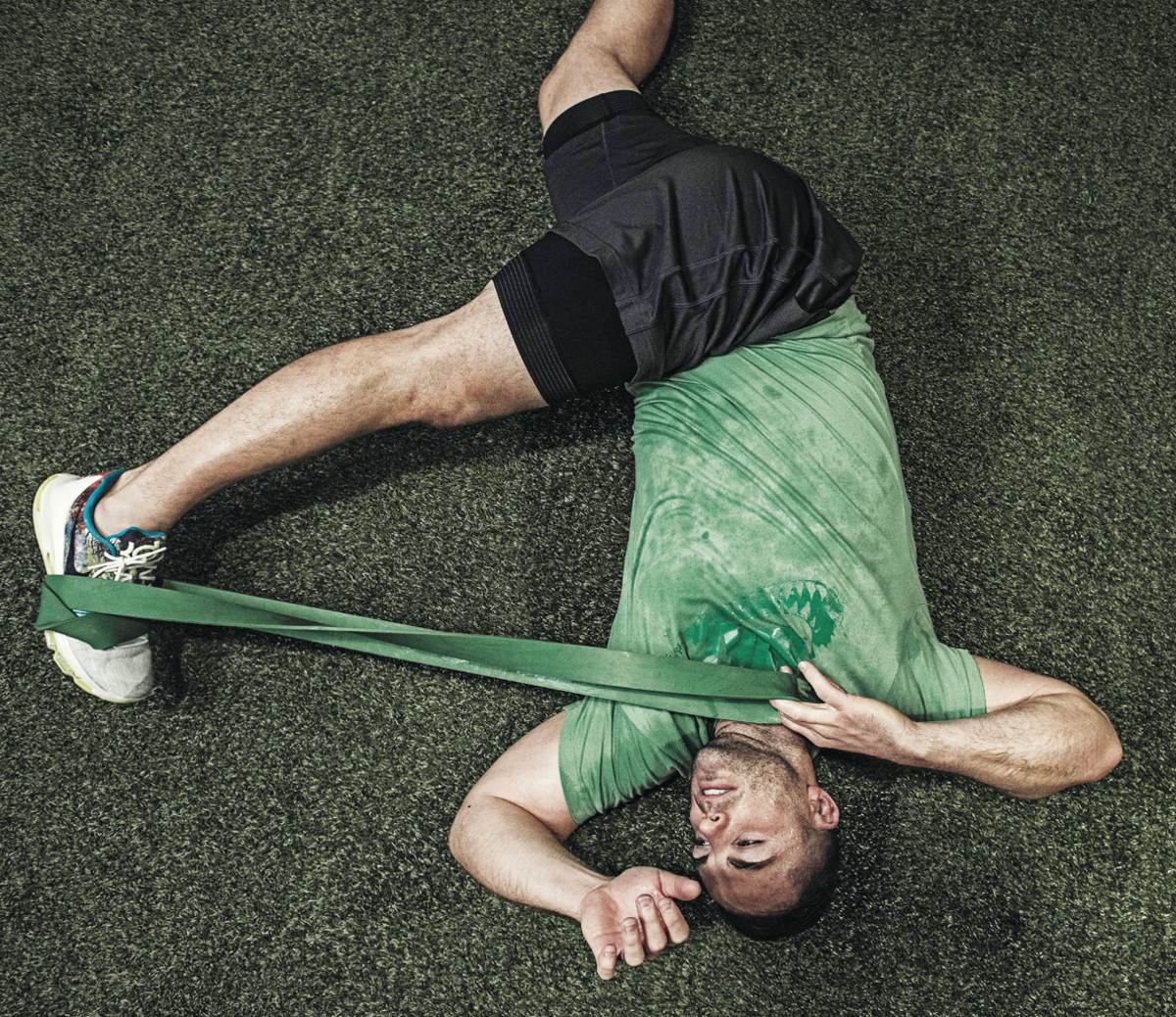 When Wright wakes up this February morning, his back feels, he says, "a little cranky."
Simply standing up straight can trigger pain. It's how his back feels most mornings—somewhat stiff, with limited rotation and flexibility through his core. He arrives at the Barwis facility around 8:30 a.m., eats a light breakfast, and climbs aboard a stationary bike set to low resistance. It's the first step in a 30-minute warmup to prep for his subsequent 21⁄2-hour rehab workout. When he breaks a sweat, he dismounts and further loosens his back and limbs in a stretch cage. A series of general arm, leg, and core stretches follow.
At this point, Lucas Duda, who, at 6'4″ and 250-plus pounds, is the Mets' current mountain of a first baseman, ambles by, flush with good health. "You are so pale!" he jokes. Wright merely shrugs and keeps working, and Duda heads out the door.
There's nothing Wright can point to—no collision, no awkward slide, no violent swing—that triggered his condition. When he reported to Port St. Lucie in early January 2015, he felt fine. Within weeks, though, his back began to bother him. He attributed it to normal spring-training soreness and played through it, not missing any time. "But by the beginning of the season," he recalls now, "it just hadn't gone away and I didn't really know what it was." He didn't tell the team trainers or physicians, he says, because he was desperate to stay on the field. He'd missed parts of three of the previous four seasons with a stress fracture to a spinal vertebra, a strained right hamstring, and a jammed right shoulder and was determined not to lose playing time again—particularly now, with a Mets team that seemed poised to win.
The 2015 season began, the Mets were off to a good start, and Wright, the face of the franchise—a seven-time All-Star in the middle of an eight-year, $138 million contract—was playing well, batting .333 with a .371 on-base percentage. Then, on April 14, in the bottom of the eighth inning against Philadelphia, Wright led off with a single. A few pitches later, he stole second base. He had trouble getting there. "A couple of feet before the bag, I just felt my hamstring grab," he told reporters afterward. He pulled himself from the game. The next day the Mets placed Wright on the 15-day disabled list. Wright was despondent but saw in it a potential silver lining: "I thought the two-week rest would help my back," he said.
It didn't. Once the hamstring had healed, the club sent him to Port St. Lucie to resume baseball activities, the final element of his rehab. His first day on the field, the trainer asked him to run at 50% effort. Immediately he felt stabs of pain in his lower back and legs. He couldn't continue.
An MRI revealed the spinal stenosis. The team doctors told him he had a storm track of symptoms, including a smaller-than-normal spinal canal he'd had since birth that had been further compressed by a series of calcium deposits accumulated from his fractured vertebrae. Until that moment, Wright had never heard of the condition. "Don't Google it; it's going to scare you," advised David Altchek, M.D., the Mets' medical director. Wright did anyway and instantly regretted it. He asked when he could return to the field. "Not anytime soon," Altchek told him.
"I moped around for a few days," says Wright. "And then I decided if I wanted to play again, I had to get to work."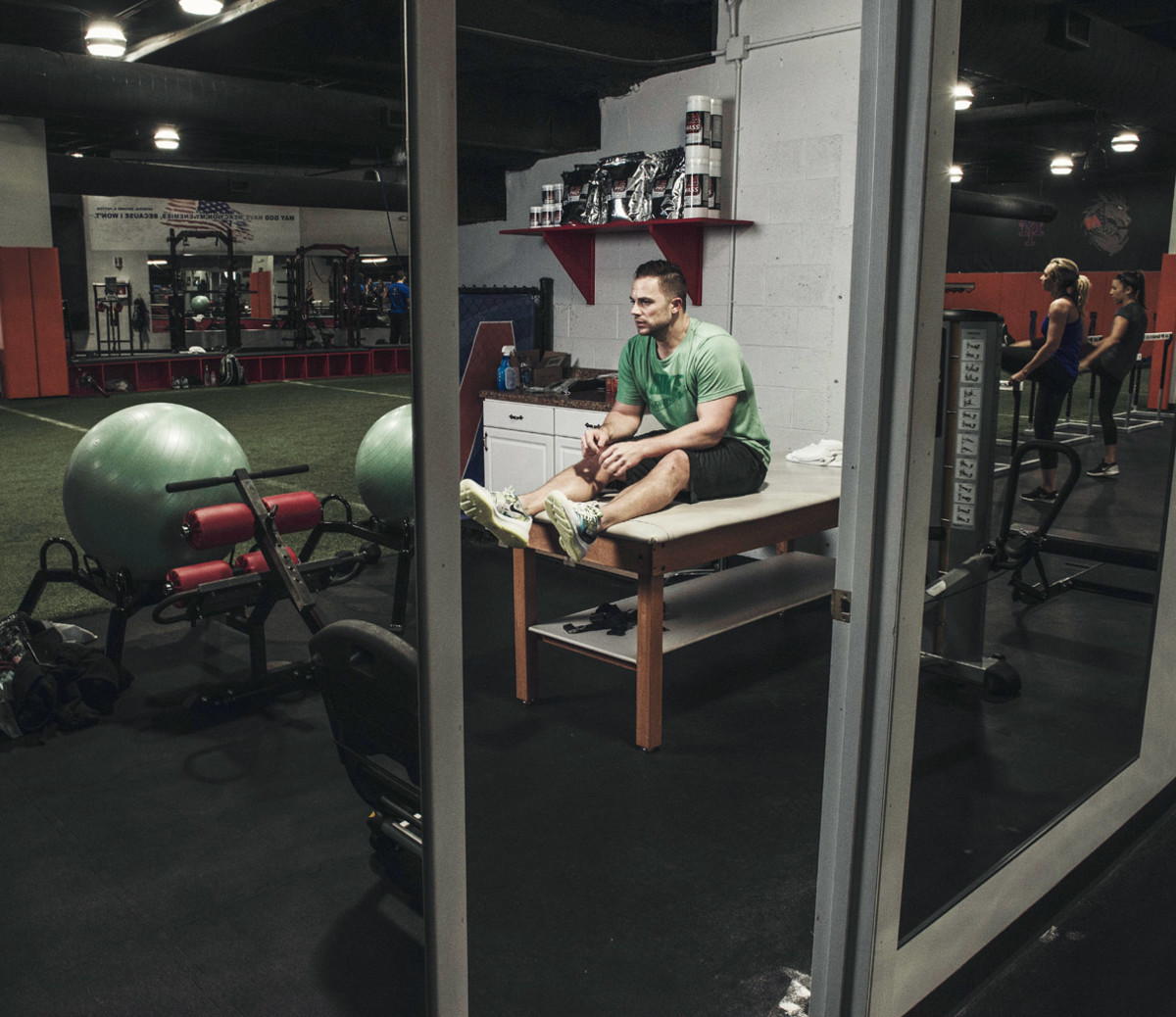 Watkins, the spine expert, believes in an aggressive treatment approach to spinal stenosis.
He also believes that Wright's condition is ultimately less about his smaller-than-normal spinal canal than the two decades he's spent constantly twisting and torquing on the baseball field. "He injured the L4, L5 discs," Watkins says. "You injure a joint in your back—it doesn't need to be a massive herniation—and that affects everything you do. As soon as you bend forward, the weight of your body times the distance back to that joint is huge leverage forces." In the days following his April 2015 diagnosis, he gave Wright a series of six bilateral steroid epidural injections to quiet the compression on the nerves that ran through his spinal column into his legs.
Less than a week later, Watkins had him working with Michael Schlink, P.T., O.C.S., an L.A.-based physical therapist whose expertise is spine-related core stabilization and strengthening. Schlink treated Wright daily for a month, then two to three times a week the following two months, teaching him a series of four minutely choreographed lower-back-strengthening exercises that proved critical to his main 21⁄2-hour exercise regimen. Called core- stabilization exercises, they address the six planes of lumbar spine motion—forward and back, side bend left and right, and rotation left and right—to create a better balance between the muscles in front of and behind the pelvis, which relieves spinal pressure. "What I did," Schlink says, "was neurologically wake up abdominal, multifidus, and gluteus medius muscles that weren't properly firing."
The exercises didn't solve Wright's stenosis, but they did reduce his back pain. Without them, he would have been unable to complete his rehab workout.
Eric Young Jr.'s Speed and Agility Workout >>>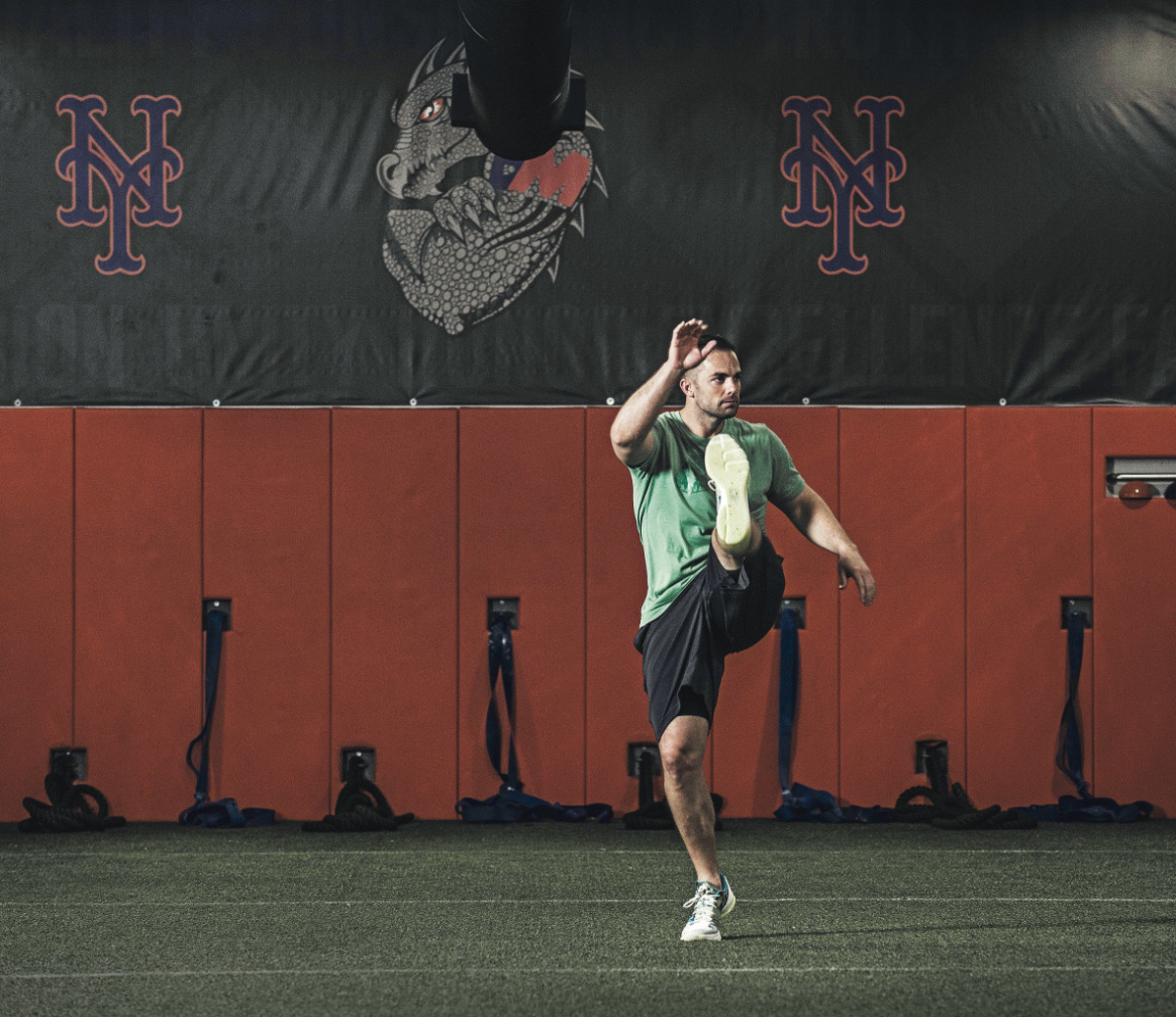 In the Barwis facility, Wright is ready to begin a version of that workout.
On Mondays and Thursdays, he concentrates on his upper body; Tuesdays and Fridays, his lower body. (Wednesdays, Saturdays, and Sundays are rest days, with light stretching and massages.) Today is a lower-body day, and what Wright conspicuously doesn't do is lift heavy weights. In fact, except for one stretch he does several times with 15-pound free weights, he doesn't use weights at all. "I can't get under a squat rack with 300 pounds anymore because it would just crush my back," he says.
During the workout, Wright maintains a tight, workmanlike focus, taking brief pauses between exercises—but only one break. About two-thirds of the way through his regimen, during a set of military presses, he spots a wheelchair-bound man trying with difficulty to enter the facility. Wright jogs quickly over to the door to help, then resumes his routine. (If the man realizes he's been assisted by a ballplayer whose New York fan base is exceeded only by that of Derek Jeter, he doesn't let on.)
Wright's routine, created by Watkins and John Meyer, P.T., D.P.T., a physical therapist and USC professor, is founded on balance and coordination exercises. "Coordinated strength is stronger than uncoordinated," Watkins says. "A starting pitcher, for instance, has a reproducible pattern of activity. There's a coordinated, muscle-firing sequence for his core muscles. Where the throwing arm determines which muscles in the trunk are firing. We want to train an athlete so his muscles fire in a coordinated sequence."
So Wright focuses on exercises like facing the side of a track-and-field hurdle with his back perfectly still and raising each of his legs slowly, in turn, over the hurdle—an effective exercise for strengthening his core and improving his rotation. Or doing the Dying Bug: lying on his back, arms and legs in the air, mimicking fast crawling. "This is hard work," Watkins says. "You have to isolate out your trunk muscles and mobilize your spine, then do these techniques designed to throw your spine off balance, and you're resisting that and keeping it up for 15 minutes, with excellent technique throughout. It's athlete's work."
Back when he was first introduced to this rehab work—during his 2015 comeback—the Watkins-and-Meyer routine eventually expanded to include more baseball-specific skills executed in a more spine-friendly way. Near Meyer's office were two city-run artificial-turf football fields where Wright did running and throwing drills, making as few as 20 throws from 40 feet in early July, but by month's end managing 60 throws at 120 to 150 feet. Not far away was a dirt-and-grass baseball field where Wright did fielding drills. Meyer slowly got Wright to concentrate on using his legs, his core, and his upper trunk more when he threw.
Wright did his hitting at a nearby batting cage, starting with 20 swings off a tee. Soon after he started hitting, he felt the familiar pain in his back. Together, he and Meyer made a subtle change in his stance. "We had him sit back into his hip more and feel his weight more centered through his feet and core," Meyer says. "This adjustment allowed his hips and trunk to explode and rotate left through the hitting zone. Clearing his hips properly during the swing allowed his back to be more upright and decompressed. It's the kind of adjustment you might make in a golfer's address." The pain subsided. Soon Wright was taking 50 swings a day.
His first game back was an Aug. 24 night game in Philadelphia against the Phillies, where he put into practice his new pregame routine—a variation of his rehab workout designed to loosen him up without wearing him out.
He arrived 1 p.m. at the ballpark for a 7:05 p.m. first pitch. "John [Zajac, the Mets' physical therapist] started working on my back, loosening it up, and from there I went on the [stationary] bike, then to the stretching cage. Then I did my back exercises and my warmup—skipping exercises, baseball movements, and all the exercises I did in rehab. From there I went to warm up batting- wise, hitting off a tee, first at 50% and gradually getting to 75%, then 100% so I'd be ready for batting practice." The entire procedure took nearly three hours, after which he ran onto the field for the pregame practice. But where he used to take 50 or more warmup grounders, he now took 10 or 15. He used to take 60 batting-practice swings; that was cut by half or more. "I have to be more efficient, more purposeful in my work," he says.
Wright's first at-bat came in the second inning. In storybook fashion, he blasted a home run deep into the left-field stands. It was as gratifying a baseball moment as Wright has had in his 12-year career. After circling the bases and being mobbed by his teammates, he raced to the clubhouse, where he found Zajac. "You did it!" Zajac yelled, and Wright thanked him while they hugged.
With Wright's workout at the Barwis facility complete, he relaxes in the sun, in a grandstand seat beside the Mets' Tradition Field dugout. He doesn't think about how long he'll be able to continue playing or how his condition will affect him long after retirement. His goal right now is just to remain healthy and stay on the field throughout the coming season. Terry Collins, the Mets manager, hopes he'll be able to play 135 of the team's 162 regular-season games. Given the periodic rest his back inevitably will need, some feel that's optimistic.
Wright says his only regret is that he wishes he'd adopted this core-work and stretching program years ago. "I live by it now. I like to think that I'm a walking example that when something like this happens, if you put in the effort and the work, you can rebound and keep persevering. When you do something you love, you'll do anything you possibly can to get on that baseball field." 
This feature is from the April 2016 issue of MEN'S FITNESS on newsstands now. You can download the issue here.
RELATED: Stay Injury-Free With David Wright's Pre-Workout Routine >>>
For access to exclusive gear videos, celebrity interviews, and more, subscribe on YouTube!