Brandin Cooks keeps proving why the Rams traded for him this off-season and then signed him to a five-year contract extension. Previously with the Patriots, who he'll now face in Super Bowl 53, Cooks has been a speedy deep threat for the Rams this year, setting a career-high in receiving yards with 1,204 yards, while putting up 80 receptions and five touchdowns. 
The Rams needed someone to step up after wideout Cooper Kupp went down with an injury, and Cooks has taken advantage of the opportunity. Cooks put up some of his best numbers in receiving yards, yards per catch average, and receiving yards per game this season and has become a stalwart of the Rams offense. He's done that through speed, speed, and yeah, more speed. 
How does he stay so fast? When he's training with drills on the field or in the gym, Cooks focuses in on building muscle in the areas that help him stay fast.
"I do some type of speed training during every workout, even if it's something small," Cooks tells Men's Journal. "To keep my legs strong, I use the leg press and sled workouts, and over the summer before camp, I'll do a lot of beach workouts and agility drills on the sand. When I train, I'm not looking to be the biggest guy on the field, but I know how to work to make sure my body is as strong as it needs to be."
Cooks is now a Reebok ambassador alongside big-name stars like J.J Watt, Aly Raisman and Gigi Hadid. The Patriots wideout has been using Reebok Flexweave gear in his training and is part of the Reebok x Huntsman Partnership, which has come together to create "a one-of-a-kind men's suit using Reebok's latest innovative footwear material."
"After wearing the Flexweave shoe and experiencing how comfortable it was, I'm excited to get into the Flexweave suit, which I'm expecting to feel the same," Cooks said. "I'm hoping to wear the Flexweave suit when I'm either traveling to an away game or showing up to a home game."
Cooks hopes to keep burning cornerbacks—while showing his versatility and speed in the process.
Cooks spoke with Men's Journal about his training routine, playing for the Rams, and what it feels like to connect for a "big-play" touchdown.
MEN'S JOURNAL: What's your daily training routine like during the off-season?
Waking up in the morning, eating, then going straight to a workout, whether it be some type of run or agility workout. After that, I'll take a break, and then do it again in the afternoon. Sometimes I'll do some boxing, I like to box throughout the off-season as part of my training. It helps with keeping me quick on my feet.
What are your favorite exercises and workouts to use in your training?
When I'm working my upper body, I like hitting it with cable workouts, row moves, resistance-band pushups, and I'll also do sled pulls and pushes. I use med ball workouts for my core, and to stay flexible, I'll use Pilates and yoga, and some resistance-band workouts. When I'm doing weights, I'll work out on the bench press, and dumbbell workouts. I also do a lot of pullups and drills to keep my hands strong.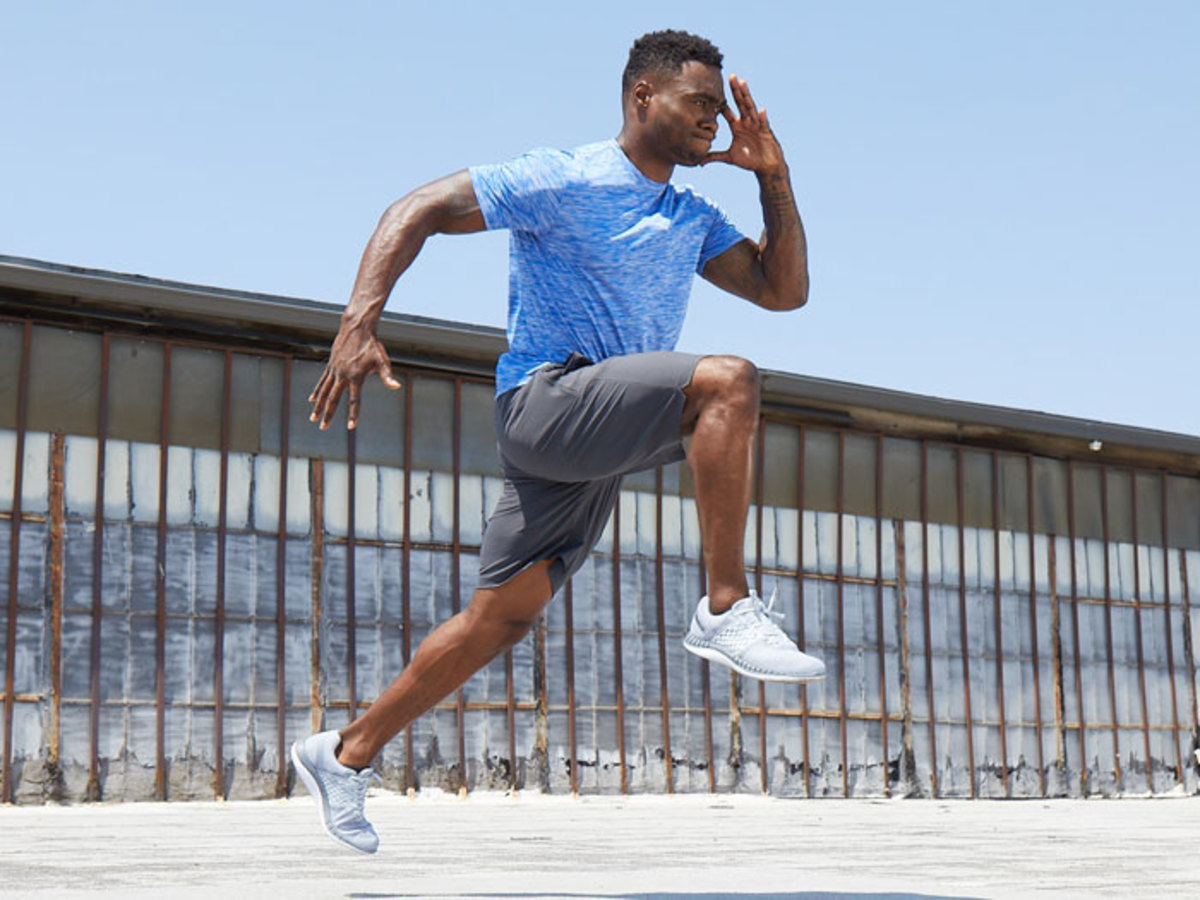 What advice do you have for guys looking to build speed like you when they work out in the gym?
Be consistent, work hard, do some type of speed training every single day. Doesn't have to be a lot but as long as you do it every day and be consistent with it you should see gains.
What's your favorite part about making a big play—like a 70-yard touchdown catch-and-run—what do you enjoy most about those moments?
I would have to say the blood rushing through my veins, knowing that I'm helping my team win. There's nothing quite like pulling a good fake-out on a corner.
Do you ever watch anything or listen to music to get hyped up before games?
Yes, Michael Jackson gets me into the mood every time.
What are some of your favorite off-field activities to do?
I love to travel, I love to hike. Being from the Pacific Northwest, there are a lot of beautiful hikes through waterfalls. I would say I tend to hike a lot during my home time—that's my hobby.
What are your expectations for yourself and the Rams for the rest of this season?
Continue to play ball, come together as a team and pay attention to details and take it week by week. I feel like if we can continue to do that we can do something special.
For access to exclusive gear videos, celebrity interviews, and more, subscribe on YouTube!