Eating clean and essential for athletic success—especially for football players. So whatever NFL wide receiver Brandon Marshall's been eating over the years of his football career—it's working.
Sure, Marshall owes his on-field success to hitting the gym hard—Marshall spoke to Men's Fitness and Men's Journal about his intense training regimen—but it's also because he's been putting just as much attention on his diet.
"One of my main pillars is training, and the other pillar is nutrition," Marshall says. "Every time we put something in our body, we have a chemical reaction and either it's a good reaction or a bad reaction. It's a weapon for us—it fuels us, gives us energy, it helps us control inflammation, it attacks illnesses. These last couple of years, I've really focused on those pillars. I really notice a big change—not only on my play on the field but also in my mental and overall well-being."
At 6'4" and a typical playing weight of 235 pounds, Marshall is one of the most physically imposing receivers in the NFL.
In 2016, though, Marshall came into offseason workouts at 244 pounds, so his former head coach with the Jets, Todd Bowles, challenged Marshall to whittle down his frame to 230 pounds for the season by going on what he called "The Bowles Diet," which would help increase his agility and speed.
That's where Jets team nutritionist Glen Tobias, M.S., R.D., C.S.S.D., came in. Marshall worked closely with Tobias on creating a specific meal plan to ensure that he would lose weight, while still being strong enough to dominate cornerbacks on gameday.
"I think a lot of us eat for entertainment and for comfort—but for me, it's business," says Marshall. "I look at food as part of the process of being healthy and achieving my goals on the football field. It's no different than seeing a doctor."
Marshall's professional commitment to his diet produced some strong results. He got himself down to 225 pounds with a meal plan of lean protein, vegetables, and fruit—specifically grouper, chicken, salmon, broccoli, blueberries, shrimp, peaches, and avocado. The combination of clean and lean foods with complex carbs helped Marshall stay energized throughout his days of practice. He also found himself running faster than he had in years on the treadmill, getting up to 23 mph.
#toddbowlesdiet menu tonight is Chicken with a dab of sea salt, steamed broccoli dessert is blueberries and peaches pic.twitter.com/eVAG71AGOg

— BEAST (@BMarshall) June 27, 2016
"Everyone reacts to different foods differently," says Marshall. "I've pretty much figured out the way my body reacts to the foods that I put in. For example, kale and broccoli work really well with my system, but cabbage, just plain cabbage, really just throws me all off. It was almost like it de-energized me. I tried it, it didn't work, and threw it out. I started with fish, blueberries, and avocado, and then built my menu from there. I'm not putting anything in my body that's going to be counter-productive."
Marshall gave Men's Fitness and Men's Journal a detailed look at the meal plan he uses to help him dominate on the field. We also spoke with Amy Shapiro, M.S., R.D., C.D.N., director of Real Nutrition in New York, about the nutritional benefits of the plan.
Here's Marshall's meal rundown:
Breakfast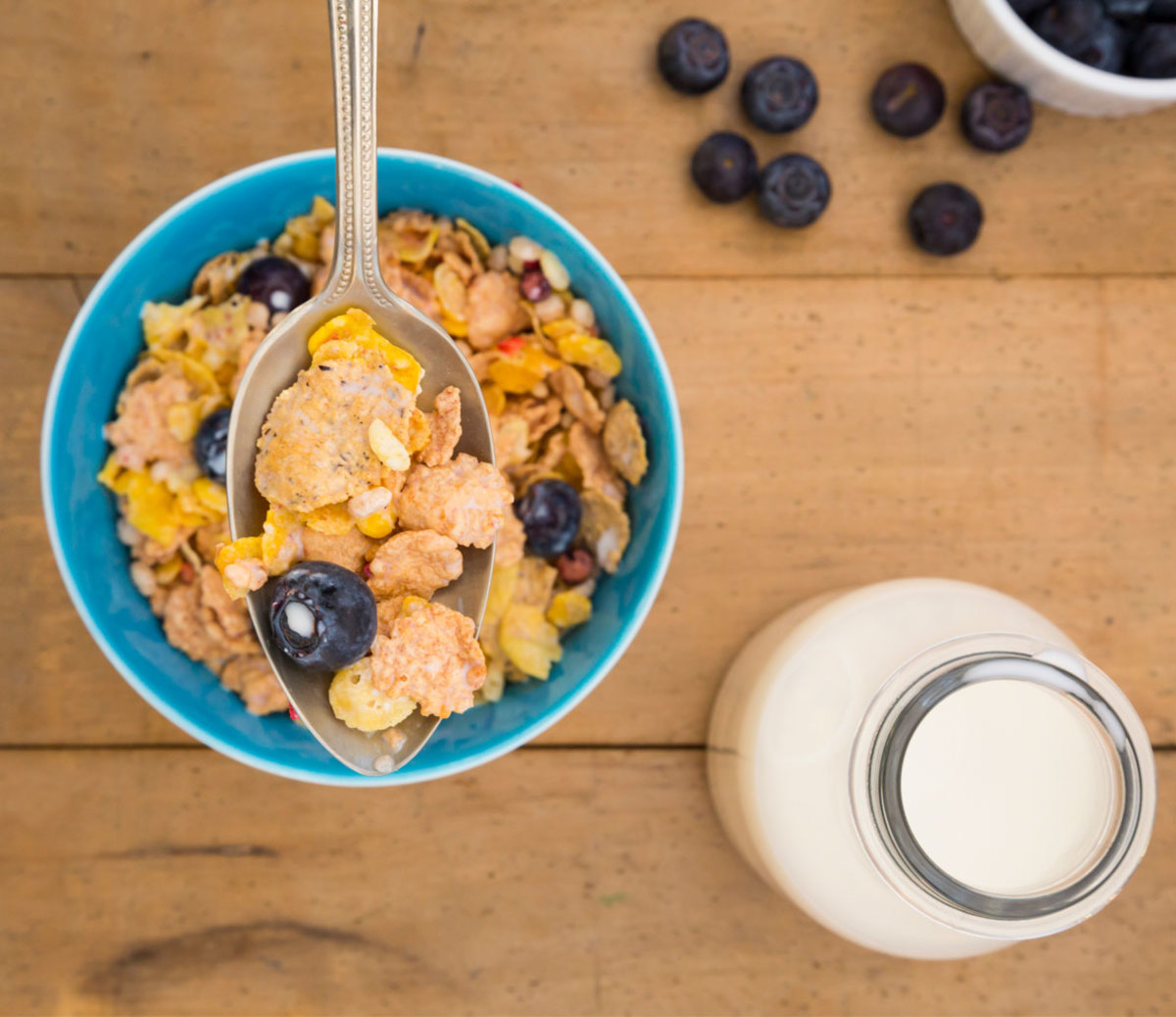 7 Egg whites: 25.18g of protein, 120 calories
2 Slices (1 oz.) of Monterey cheese: 13.71g of protein, 16.96g of fat, 209 calories
1 Orange (2-5/8″ dia): 16g of carbs, 65 calories
2 cups Blueberries: 42g of carbs, 165 calories
1 cup Cereal or Instant corn grits: 36g of carbs, 167 calories
Breakfast Total: 726 calories
"Egg whites work really well for me," says Marshall. "When I have egg whites, I'll put in some chicken sausage for some extra protein for a boost."
Shapiro: "This is a well-balanced meal mostly of lean protein and complex carbohydrates. The combination of macronutrients with a small amount of fat from the cheese will help to maintain energy levels early in the day without getting hungry. This meal helps get you to lunch. All of the food included in this meal are whole foods that are unprocessed and the grains/carbs are gluten-free likely to prevent inflammation in the body. The blueberries and orange provide sugar for fast energy, while also providing antioxidants and vitamin C to keep your immune system rocking and to prevent illness."
Lunch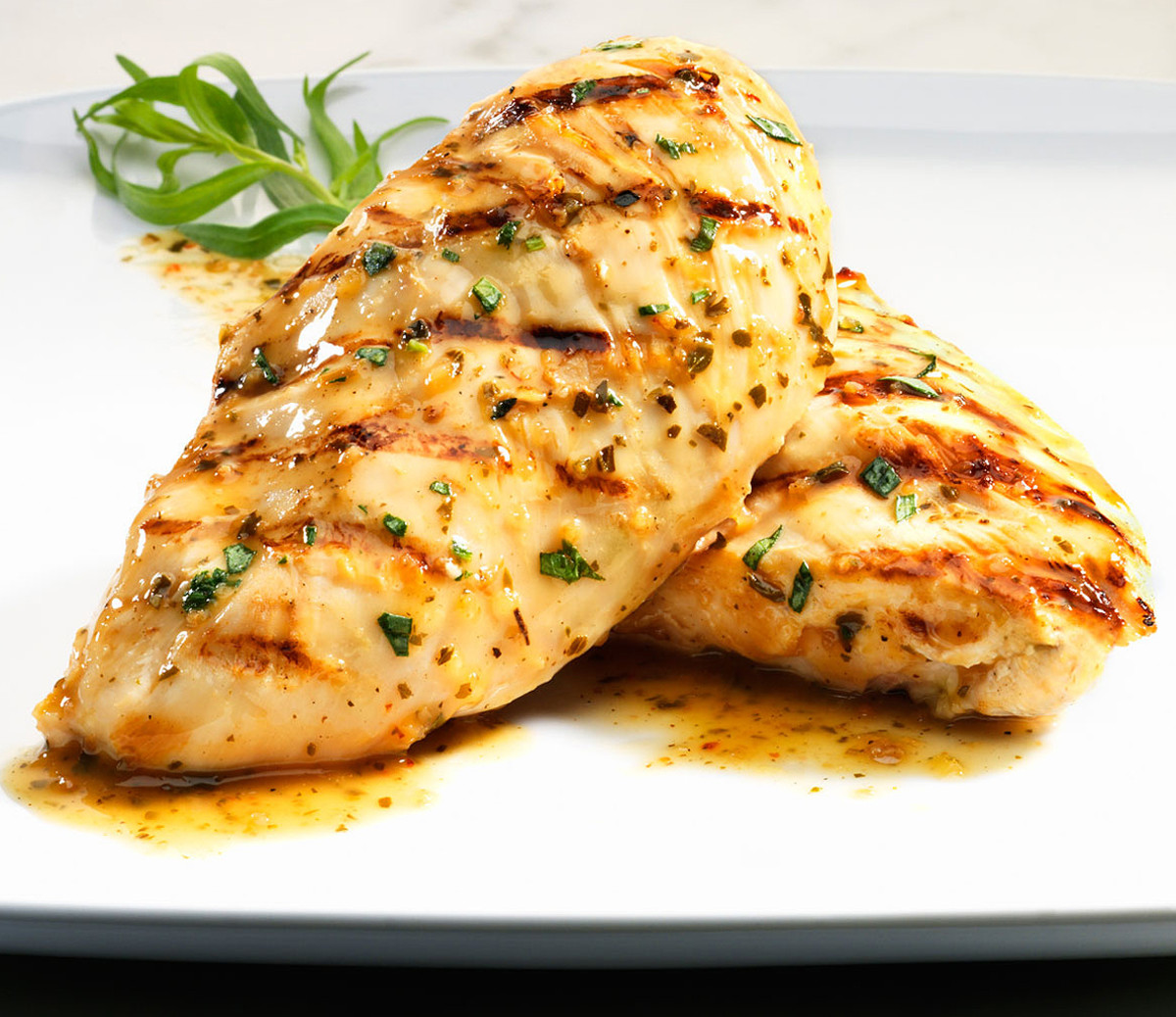 2 cups chopped Broccoli: 12g of carbs, 5g of protein, 62 calories
1.25 cup Brown rice, long-grain, cooked: 55g of carbs, 6g of protein, 271 calories
6.0 oz. chicken breast: 52g of protein, 6g of fat, 282 calories
1.0 tablespoon olive oil: 13g of fat, 119 calories
Lunch Total: 734 calories
"This well-balanced meal provides a nice mix of macronutrients, while the focus is on complex carbohydrates and protein," says Shapiro. "The protein in this meal will help your muscles recover and maintain, or gain in size. The carbohydrates will allow for your muscles to refuel their glycogen stores to allow for activity without energy slumps in the afternoon. This meal contains veggies instead of fruit, so it's lower in sugar. The olive oil is a healthy fat that will allow you to absorb many of the vitamins in the broccoli, as well as stay full through afternoon activities and training."
Mid-Day Meal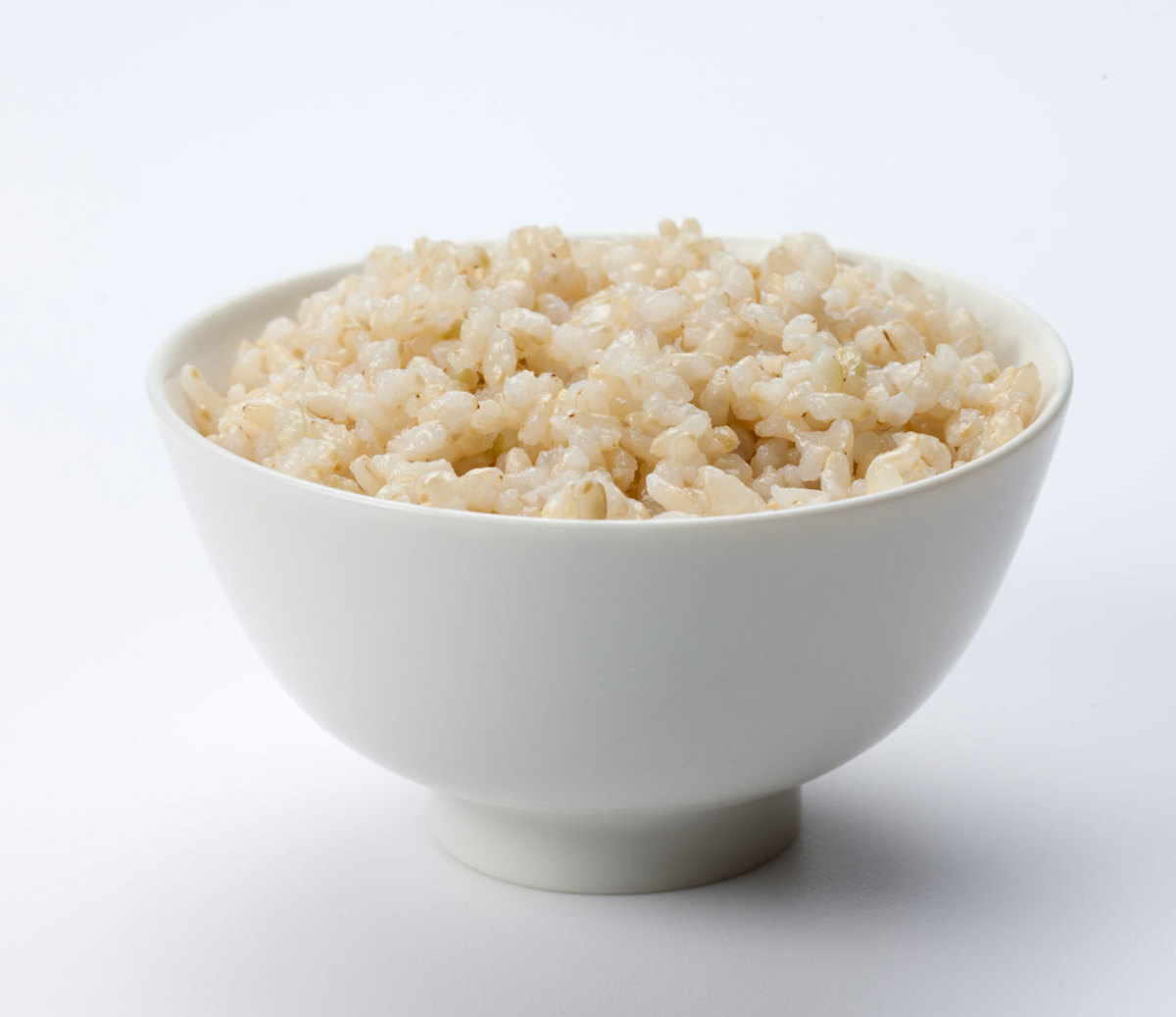 1 cup Brown rice, long-grain, cooked: 44g of carbs, 216 calories
4.0 oz chicken breast: 35g of protein, 4g of fat, 188 calories
1.0 slice (1 oz.) Cheese: 6.85g of protein, 8.48g of fat, 104 calories
2 large  (2-3/4″ dia) peaches: 29.96g of carbs, 2.86g of protein, 122 calories
Mid-Day Meal Total: 631 Calories
"I love this addition as part of the meal plan," says Shapiro. "It allows for a later dinner and is bigger than just a snack, which likely wouldn't be enough to get Brandon through the late afternoon without cravings and/or excessive hunger that may cause a derailment of diet later on. This is a very lean meal, higher in complex carbs than the other macronutrients, and is likely to help his muscles rebuild their glycogen stores to prepare for the next day's game or workout. The protein is kept very lean to prevent excess saturated fat, which is provided by the cheese, which also allows for some calcium to help with bone strength. Peaches are not as high in fiber as the blueberries, so the sugar will be absorbed quicker, which is what is needed for glycogen production. Peaches are also high in vitamins A and C, both of which can aid in immunity."
Dinner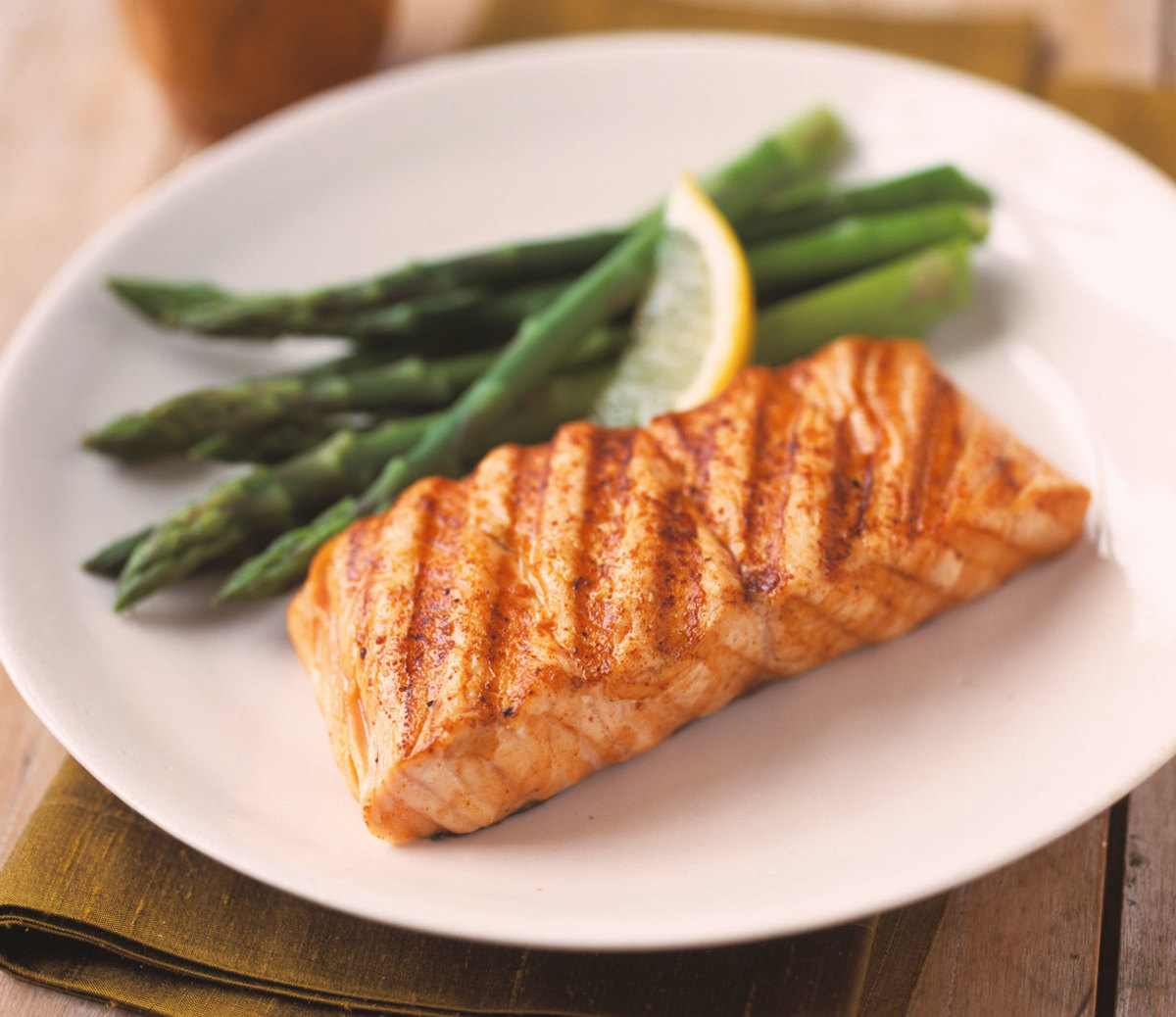 2.0 cup chopped Broccoli: 12g of carbs, 5g of protein, 62 calories
1 cup Brown rice, long grain, cooked: 44g of carbs, 216 calories
6.0 oz Fish, Atlantic Salmon: 33g of protein, 10.78g of fat, 241 calories
1.0 tablespoon olive oil: 13g of fat, 119 calories
Dinner Meal Total: 639 calories
"This meal is high in complex, gluten-free carbohydrates to allow for sustained energy and muscle prep for the next day," says Shapiro. "It's also low in sugar to prevent excessive calories and fat storage. Wild salmon is high in Omega-3 fatty acids that are important for muscle, cell and brain recovery and repair. Olive oil is heart-protective and void of saturated fats. The two later meals are smaller and allow his body to easily digest and to prevent sleep disruption and fat storage."
Snack
1 Quest bar: 24g of carbs, 20g of protein, 6g of fat, 170 calories
1 cup Blueberries: 21.01g of carbs, 1.07g of protein, 83 calories
Snack Total: 253 calories
"A light snack that is naturally sweet can help tame any sweet tooth," says Shapiro. "Plus, this is very low in carbohydrates and helps to prevent insulin spikes and fat storage. The blueberries are high in fiber and low in sugar, and are loaded in antioxidants to help with illness and inflammation."
Before Bed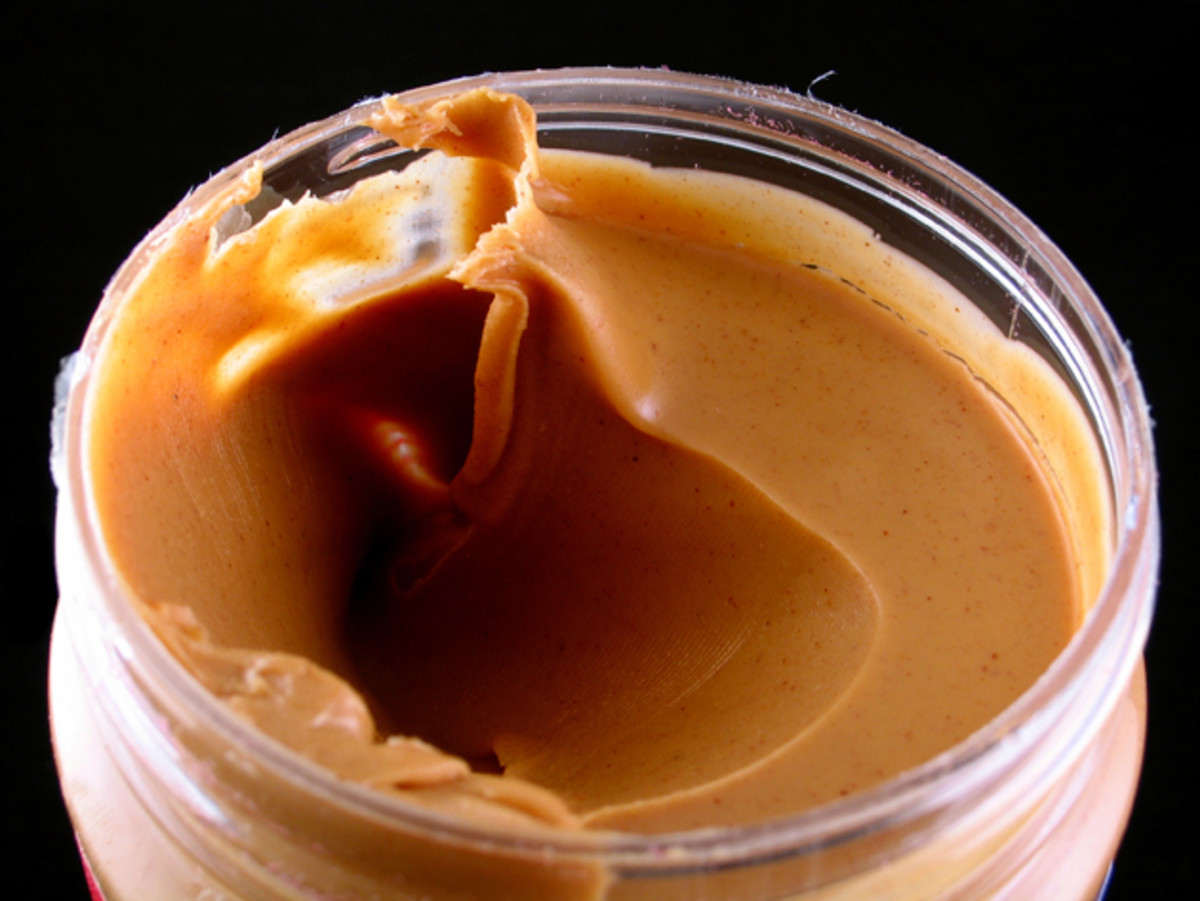 1.0 tbsp Peanut Butter, smooth, w/o salt: 3.13g of carbs, 4g of protein, 8g of fat, 94 calories
2.0 Whey protein scoops: 15g of carbs, 44.01g of protein, 9.06g of fat, 208 calories
Snack Total: 302 calories
"This late and light meal is very high in protein and low in carbs, which allows for muscle repair overnight," says Shapiro. "It also helps tame the appetite to prevent hunger while sleeping, which can disrupt sleep. Another naturally sweetened 'dessert' to quench a sweet tooth but also prevent poor diet choices. Peanut butter is a great source of plant protein and healthy fat. Almond butter is also recommended, since it's higher in calcium and lower in saturated fats. "
Full-Day Total:
3285 calories
357g of carbs
269g of protein
99g of fat
For access to exclusive gear videos, celebrity interviews, and more, subscribe on YouTube!