Golfer Brooks Koepka found a great way to cap off his week after winning the 2018 PGA Tour Player of the Year award: He won the CJ Cup tournament to become the No.1-ranked golfer in the world.
Koepka's 2018 season was filled with a number of incredible achievements, and he's already started off this year with another milestone by making it to the top of the rankings for the first time. The American golfer won his second and third career majors last season at the U.S. Open and then at the PGA Championship, where he went head-to-head with his childhood idol Tiger Woods.
The win at Shinnecock Hills over the summer made Koepka the first back-to-back winner of the U.S. Open since Curtis Strange back in 1988-89. Koepka just the fifth player in golf history to win the U.S. Open and PGA Championship in the same season. Not bad for a 28-year-old. To hear Koepka tell it, he wasn't expecting to do any of this in 2018, he just wanted to play some solid golf.
"Any time you have your name mentioned with Jack Nicklaus, who won this award five times, is an incredible feeling," Koepka told Men's Journal. "Looking back on where this year started when I had my wrist injury and missed a few months, it's crazy; I was not even thinking of this. I was thinking I'd just play some golf and get back to playing well, and it's just turned into an incredible year."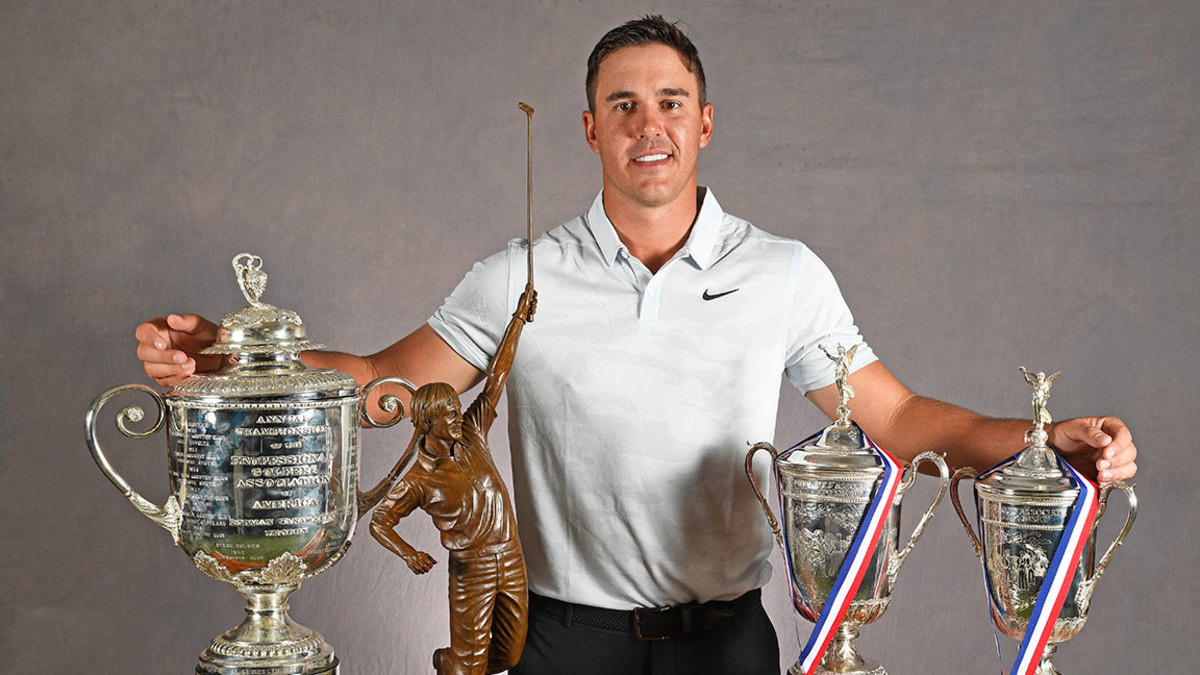 Koepka has gained attention over the years for his built physique and strength training routine that's made him one of the fittest guys on the tour, but he's been turning heads much more for his play on the course this year. Koepka won the PGA Tour Player of the Year Award over fellow golfers Bryson DeChambeau, Dustin Johnson, Francesco Molinari, Justin Rose, and Justin Thomas.
Koepka had a great 2018, and he's ready to do it again for the 2019 season. Fans can catch Koepka and all of the action on the PGA TOUR on the all-new 2018-2019 PGA TOUR schedule, which can be found here. One thing to note for this year, one tournament that has moved up to March is THE PLAYERS Championship, commonly recognized as the fifth major on the PGA TOUR.
Koepka spoke with Men's Journal about how it felt to beat his childhood idol Tiger Woods to win a major, how he trains to stay in such great shape, what it meant to go back-to-back at the U.S. Open, and who he'd have at his ultimate dinner party.
Men's Journal: Congratulations on winning the PGA Tour Player of the Year Award. What are some of the memories and moments for you that stand out from this year?
Brooks Koepka: It's really just an incredible feeling. Coming back from my injury in April, I just wanted to try and get back into my groove. To go back-to-back at the U.S. Open and win a second major this year was amazing. A big highlight for me was walking off the course at Bellerive and have Tiger [Woods] right there to congratulate me; that is something I'll never forget. Anytime your idol can be there to congratulate you after winning a major tournament, especially when you're up against him—that was something I'll cherish for the rest of my life.
You're one of the fittest guys on the PGA Tour. Did you do anything different in your training that helped you have such a strong season?
I've kept my routines pretty much the same for the last few years. It's been mostly the same thing for every week. I've got a chef that's with me, the same crew is with me, and I train with Joey Diovisalvi, who also works with Dustin Johnson and some other guys. We'll hit the bench press, back squats, a lot of stability and rotational workouts, deadlifts, and we'll also do hip thrusts and moves like that. Working out before and after almost every round or practice day. There's nothing that changes during those major weeks and for the off weeks, I'm trying to make sure to do a little better job but there's nothing that's changed in the last two years.
Joey knows what he's doing. He knows how to push me. He's pretty intense, and I like that, when somebody's yelling at me. Pushing me to the limit, and he can get up in my face, and tell me what's going on, and trying to get that extra little push, or extra little rep, whatever it might be. I enjoy what he does. He's an intelligent guy. He's obviously good at what he does, and everything that he's done, has been a big part of my success. Now the goal is just to make sure we're healthy for a full year. It would be nice to be healthy and play a full season.
What workouts do you love and hate doing the most?
I really enjoy the weight training, even when it gets tough. And I hate running [laughs]. We're on those three to five mile runs, and they suck. I mean, the views are really pretty because we're running on the beach, but those are rough. I remember thinking when I won the U.S Open, that's part of the reason why I did it. I was like, "Man all those awful runs made it worth it." It makes it a little bit more enjoyable at the end of it all.
What's your diet and nutritional routine like?
A lot of it is based on my tee times. Sometimes if I'm in the late session, I'll try and get in a heavier meal because it'll be awhile before I play. I make sure I've got the right energy for when I'm out on the course. I always eat pretty clean. I'm not a big steak person, so it's a lot of chicken and fish for me, that's something I love. I'll put together some quinoa, chicken, and then throw some vegetables in there and I'm a happy guy.
You get to play at some of the best golf courses in the world. What are some of your favorite to play and do you have one you think every man should try and play in their life at least once?
As far as tournaments go, I really enjoy going to Phoenix for the Waste Management Open. I just think the atmosphere there, when people are actually yelling at you, booing you, I think that's fun as an atmosphere for an athlete. Obviously you're not going to get that as the average guy going out to play golf, you're not going to get that, but it's still a cool experience out there in Phoenix. My favorite place to play in the entire world is St. Andrews. You can walk that golf course ten times, and it seems like every time you're going to find a new bunker.
You'll walk along the course and think, "Why is this bunker here?" Then all of a sudden the next day the wind's blowing in a certain direction, and you realize, "That's exactly why that bunker's here. 'Cause I'm in it now." It's just fun little things like that. You're always trying to work on a different angle, where the pin is. You never play that golf course the same way, and I think that's so interesting. I think it's such a fun place to play, and obviously all the history behind it is incredible.
If you could have a dinner party with other golfers, athletes, or celebrities out there, who would you love to have at your table?
Oh wow, who would I ask? I'd love to sit down with Kobe Bryant. I've never met Kobe and he's one of my favorite basketball players. I'd love to sit down with him. I think Conor McGregor would be fun to sit down with. I just want to hear him talk the smack talk [laughs]. Especially right now with what's going on with him, I think that'd be interesting. Another guy I would love to sit down with is Mike Trout. I love Trout, I think he's a good guy. I met him earlier this year, but it'd be cool to get to know him a little better. I mean he's a stud a too in his sport so it would be awesome to learn from him and speak with him.
For access to exclusive gear videos, celebrity interviews, and more, subscribe on YouTube!