Two years ago, on a tree-lined basketball court on the outskirts of Port-au-Prince, Haiti, Jim Bostic got in a fight. Still reeling from the 2010 earthquake that killed an estimated 300,000 people, Haiti's top basketball coaches and players had gathered to run drills beneath the Caribbean sun. Tip-off for the country's first semi-professional league game was a few days away, and Bostic, a former 1970s NBA power forward who had volunteered to help, shouted suggestions on a trap defense. When one of the Haitian coaches dismissed the American's defense, Bostic, a normally soft-spoken 61-year-old, took charge. "You pick your five best players," he told the coach, "and I'll take five random guys." After a few minutes, Bostic's team schooled the best players in the nation. "They never scored one time," he says. "Some of the coaches asked for my autograph after that."
Teaching defensive fundamentals to a skeptical coach is one small step toward Bostic's ultimate goal: To help build a national basketball program in Haiti from scratch. The poorest country in the Americas — about 80 percent of its 10 million citizens live on fewer than $2 a day — Haiti is still recovering from the 7.0-magnitude earthquake that caused $13 billion in damage and left its capital in ruins. Yet amid the devastation, a surprising sport has taken hold in the otherwise soccer-mad nation. "Basketball's becoming very popular in Haiti," says Samuel Dalembert, a center for the New York Knicks and the NBA's only Haitian-born player. As a child growing up in Port-au-Prince, Dalembert fashioned hoops with bent hangers and practiced his game with a tennis ball, inspired by highlights of Julius "Dr. J" Erving he saw on a black and white television. "But they don't have the infrastructure," he says. "Even though there is skill and talent, it's raw."
That raw talent has produced a few prospects hoping to follow Dalembert's path. After barely surviving the 2010 earthquake, Skal Labissiere earned a scholarship to play high school basketball in Memphis and is now one of the top college recruits in the U.S. Pierre Valmera, a Port-au-Prince native who taught himself basketball by nailing a bicycle wheel to a wooden post, competed in a Swiss pro league and now runs a scholarship program bringing young Haitians to play basketball in the States. Valmera was a standout player at Union University in Tennessee, which has become a training ground for top Haitian players. "I learned English in the coach's office," he says.
The country's best young player may be Alex Elicin, a tall and quick 22-year-old nicknamed "Little Garnett." He learned basketball on a cracked court often strewn with goats in Delmas 2, one of Port-au-Prince's most violent neighborhoods — he often misses practices because of gunshots on his street. Elicin wants to be an accountant when he finishes university, but right now lives and breathes basketball. "I'm a superstar," he says, smiling. Antoine Joseph, a power forward who lost a cousin and several friends in the earthquake, played last season in the American Basketball League and is currently in Haiti training for a crack at the NBA. "This is the year I make or I don't," he says. Joseph, who helped translate at Bostic's clinics, hopes to one day play for a national team: "I want to be an inspiration to kids in Haiti."
Bostic, a former college coach, is working to help make that happen — but it's going to take a while. The country's top players are currently the equivalent of a competitive Division I college team — a bottom-rung PAC-12 team, such as USC or Oregon State. Playing international competition against the likes of LeBron James and Kobe Bryant wouldn't end well. The sport came late to Haiti, arriving in the 1990s when local television began broadcasting games featuring Michael Jordon's Chicago Bulls. Then, in 2002, a young Haitian named Robert Joseph, a senior at Union, broke David Robinson's single season college shot block record and was named NAIA Player of the Year. Joseph, who is a hero in Haiti's basketball world, went on to play pro ball in Spain for 12 seasons (at 35, he currently plays in Uruguay) and showed Haitian youth where the sport could lead.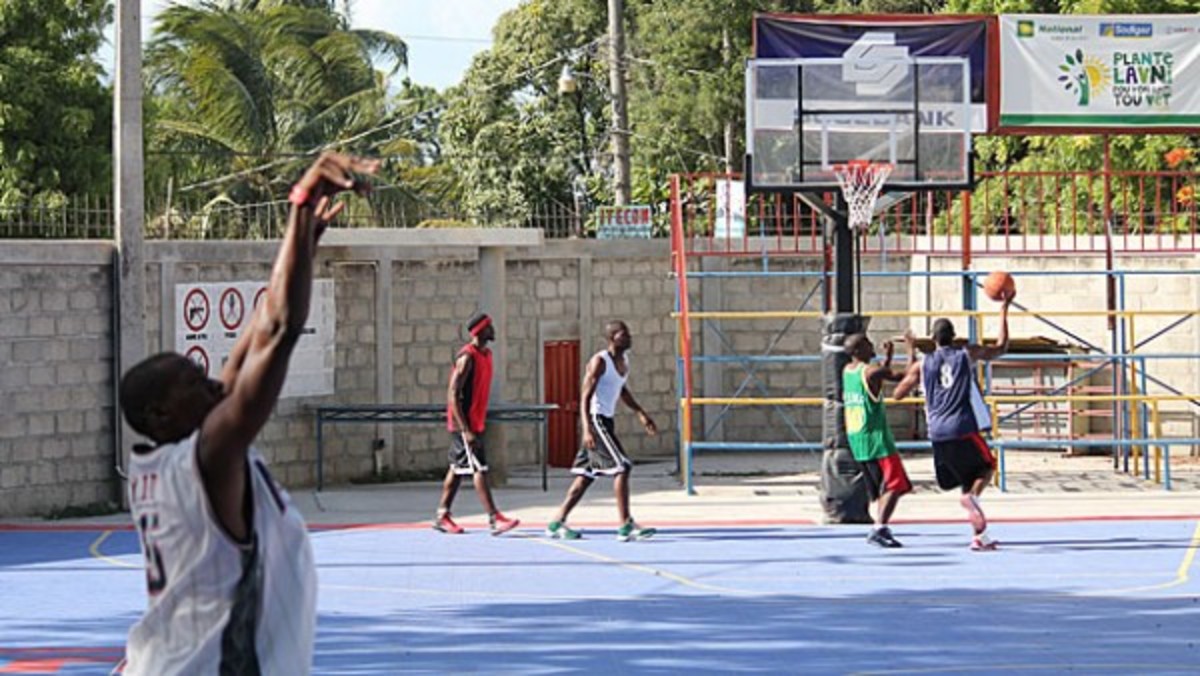 Today, NBA games — especially those featuring local favorite Miami Heat — are regularly shown on TV, and kids play street hoops across the country. A thriving corporate league, whose players are paid employees of local companies, completed its sixth season, and an elite semi-professional league — the Senior Basketball League (SBL), for players 19 and up — launched in 2012. "Right now, people are crazy about basketball in Haiti," says Jasson Valbrun, the SBL's founder and one of the leading basketball figures in the country — the man who recruited Bostic to help build the national program. "The kids want to play. They dream of the NBA."
Before the earthquake, Bostic never intended to go to Haiti. In 2010, he was watching television with his wife when he saw images of Port-au-Prince in ruins. A basketball journeyman who had played in the NBA, in Mexican leagues, coached at the college level, and was then running a gang prevention group in Yonkers, New York, Bostic felt compelled to help with the rebuilding efforts and immediately hopped a plane. "It was like a call to action," he says. Haiti's former Minister of Finance, whose son had an office in Yonkers, led Bostic on a tour of the city. During the trip, Bostic remembers seeing children playing basketball amid the devastation "as if they were oblivious to what had just happened," he says, and later decided that his love of the game could translate into meaningful change for Haiti.
While there, Bostic was introduced to Valbrun. A former director for a Haitian oil company and lifelong basketball fan, Valbrun, 44, wanted to create a national program in Haiti — and asked Bostic for help. Valbrun would be the man on the ground in Haiti, creating a basketball foundation, while Bostic would lend his years of experience and U.S. connections. Bostic has since returned twice to host development clinics with SBL players and coaches. He prepared coaching manuals, taught offensive and defensive structures, ran drills, and preached fundamentals — his goal is to have a competitive team formed by 2017.
The next step is to prepare a team to represent Haiti in the Caribbean Basketball Confederation (CBC), which consists of 23 member countries and is affiliated with the International Basketball Federation (FIBA). The path to the Olympic Games, however unlikely, runs through the CBC. For Bostic's part, he plans to mentor players and coaches and help raise up to $2 million for a national training facility with a court, track, and weight room. By comparison, the U.S. national basketball program is building a $350 million facility in Tempe, Arizona, featuring five courts, 500 residential apartments, and a 330-room luxury hotel. "You can't expect guys to be able to compete," Bostic says, "if you have no facilities at all." With any luck, he believes ground will break on a training facility in 2015. During his most recent visit, the program was given a boost due to a chance meeting with former President Bill Clinton. "He said he felt that sports was a major way to bring back solidarity in a country that had gone through what Haiti had gone through," Bostic says, "and that he would support any endeavor that we do through sports in that country."
An unlikely voice for Haitian basketball, Bostic was drafted in 1975 by the NBA's Kansas City Kings, spent most of his early years in the now-defunct United States Basketball League, and played one season with the 1978-79 Detroit Pistons under coach Dick Vitale. He saw action in just four NBA games, a total of 48 minutes, but shined in Harlem's legendary Rucker Park summer tournament that drew some of the best players in the country. In short shorts and an Afro, Bostic competed against legends like Wilt Chamberlain, Dr. J, and Kareem Abdul-Jabaar. "It was a flashy game," Bostic says. "The more razzle dazzle on the court, the more electrified the crowd would become." After games, the players donned high-collar shirts and bell-bottoms — "like out of Soul Train" — and went to clubs in Manhattan like Leviticus, Pegasus, and the Palladium. "It was ridiculous," Bostic says, "literally ridiculous." At 6'7", an aggressive player who often led the tournament in rebounds, Bostic won six championships in Harlem and was inducted into the Rucker Park Hall of Fame in 2007.
After leaving basketball, Bostic returned to Yonkers to help with community work. The level of violence shocked him. "How this street culture came about, of violence and gangs and stabbings and kids being prisoners of their own neighborhoods, I couldn't fathom it," Bostic says. In 2006, he founded the City of Yonkers Violence and Gang Prevention Coalition, which works with at-risk youth in the city — an experience Bostic believes he can apply directly to Haiti. After the earthquake, gang activity exploded in Port-au-Prince, and although the violence has subsided in recent years, many of the poorest neighborhoods continue to be plagued by crime. "You have to have constructive programs to keep children occupied and away from gangs," he says. "The solution is the same wherever you are." That, ultimately, is the point of a national team — not Olympic gold, but a source of inspiration for Haitian youth. "If you love the game of basketball," Bostic says, "you find yourself on a basketball court instead of a street corner."
For access to exclusive gear videos, celebrity interviews, and more, subscribe on YouTube!