Being the starting quarterback for the Dallas Cowboys is one of the most high-profile jobs in sports. From being the leader of "America's Team," to having the enigmatic Jerry Jones as your boss, and dealing with some of the most passionate fans in the world, it's not an easy position to be in. But for Cowboys quarterback Dak Prescott, he wouldn't have it any other way.
Prescott broke onto the scene in 2016, putting together an incredible season that earned him a Pro Bowl appearance, the Offensive Rookie of the Year Award, and a playoff appearance for the Cowboys. Even with all the pressure, Prescott is right where he wants to be.
"I grew up a Cowboys fan, so I feel really privileged and fortunate to be in this position," Prescott told Men's Journal. "So to not only put on the uniform and play, but to come in and know the history, and see it every day, it really makes you want to get better all the time. As you walk in, you see the five championships, so you know what the expectations are here."
For all the attention Prescott gets as the starter for the Cowboys, he also knows what he needs to do to get his mind and body relaxed when he's away from the field.
"In the offseason, and even during the season, you have to be mentally and physically prepared," Prescott says. "It's a long season and you have to make sure you're taking care of yourself. One of my favorite things to do for that is fishing. I love to be on the water, I love the calmness I get from it. I love being out there and just fishing, it gets me ready no matter what's going on."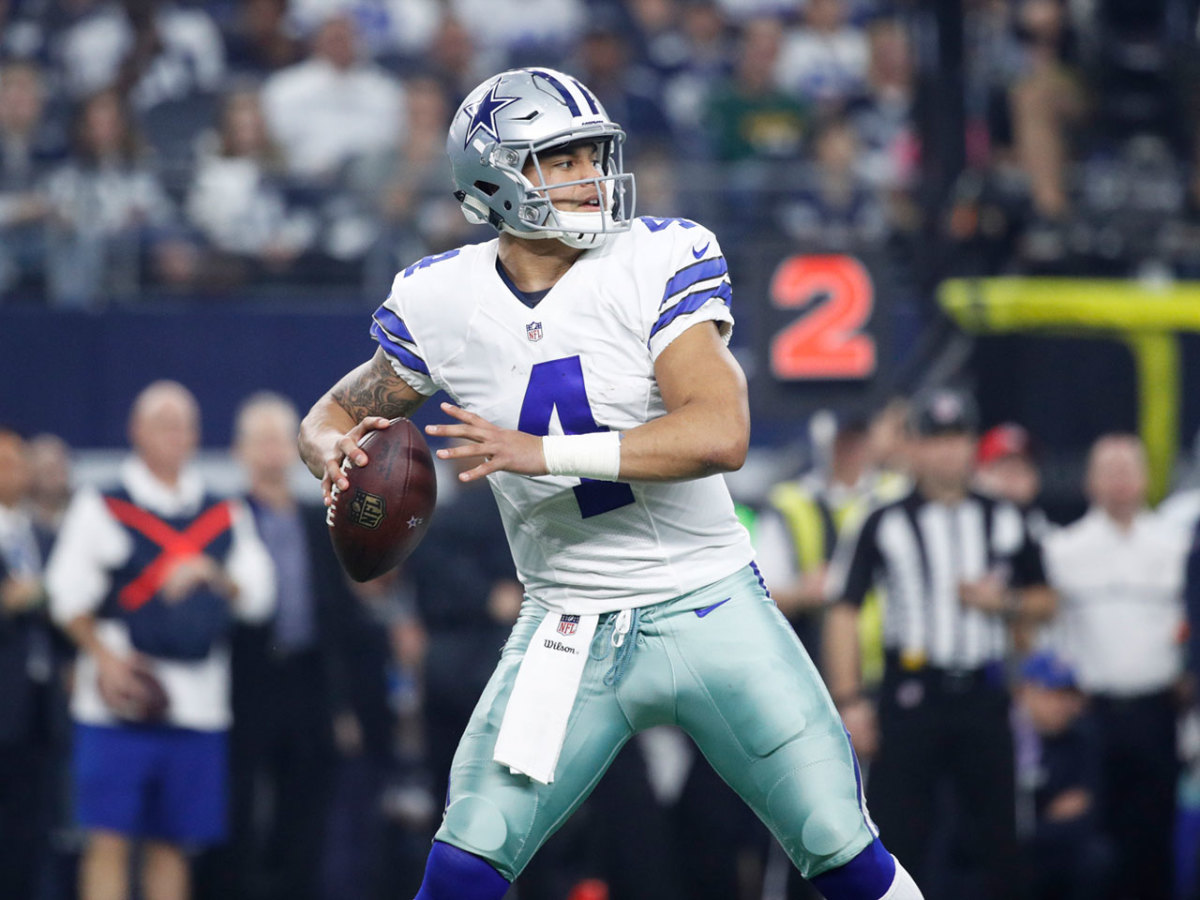 After missing the playoffs in 2017, the Cowboys quarterback is ready to try and lead his team to a postseason return. Prescott also spent part of the offseason working with Campbell's Chunky Soup as the brand. Prescott signed a new deal to stick with the brand through 2020, following in the footsteps of fellow NFC East stars Michael Strahan and Donovan McNabb, who each made some classic Chunky Soup commercials in the past.
This NFL season, Campbell's Chunky Soup is honoring hardworking coaches in their local communities and relieving them of their duties at practice to take a break and fuel up on soup. Dak recently surprised and honored coach Jeffrey Rayburn of Frisco Lone Star High School and his team, helping run practice and drills so Coach Rayburn could fuel up on Chunky Soup.
Prescott spoke with Men's Journal about how he trains, his secret to finding the best food in Louisiana, trying to knock off the Super Bowl-champion Eagles, and the craziest fan moments he's had in the NFL.
What's your training routine like during the offseason?
I really like to focus on general football workouts, throwing drills and stuff on the field. When I train, I like to push myself, almost to exhaustion. I want to be the hardest working person there is in everything that I do. So when I'm working out, it's not a success to me unless I'm exhausted, unless I push myself to those limits. Because I know if I do that, when game time comes, I'll never get exhausted. That helps me always be prepared, be well-conditioned into the fourth quarter of games, and helps me keep my mind where I want it to be. That's how I get myself physically ready for the season.
What are some of your favorite workouts to do when you're working on speed?
I'll do a lot of work on my legs, I'll do a lot of jumps and a lot of quick movements, explosive things. I enjoy doing squats and things like that, but I always feel that anytime I'm jumping, I'm really getting my legs going. I have a big stride, a long stride, so it's about stretching my legs and hips and getting on the field and running a good bit where I'm almost stretching the length of my strides and trying to get more out of it. So when those big guys get behind me, I can run and get out of their grasp.
What's it like for you to follow in the footsteps of Strahan and McNabb and for you now be the face of Chunky? What have you enjoyed about working on these spots?
Seeing the guys who have done it, and now for me to be on this side and be in the funny commercials, it's a blessing and an honor. Campbell's has been great, and all the commercials have been fun to do. I've been able to come in and be myself and fall into the role they want me to play. If there's a line or if there's something I want to say, they've always been great in letting me do it, giving it a try, and we've always had a good time. This new commercial was probably my favorite and I've done a few different little things with Campbell's, but this new one, I had a blast. I think it came out great.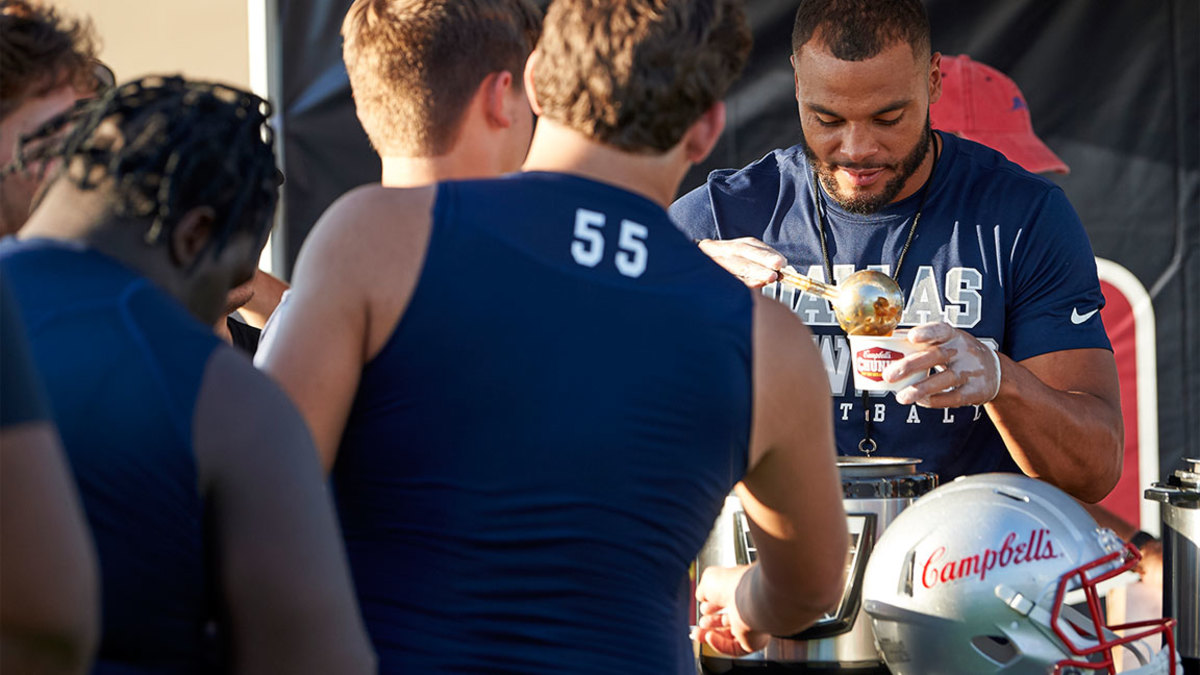 Your division rivals, the Eagles, won the Super Bowl last year. Does that motivate you guys to try and knock them off their perch this season?
It's more important for us to respond to ourselves. We know how good the Eagles are, we know how good our division is. So those are tough games, year in and year out. It doesn't matter if one team's coming off a Super Bowl, those are rivalry games, and none of that stuff matters when you get into those games. So it's important for us to come back and get revenge for ourselves, not revenge against the Eagles, not even revenge against a certain team, but to show our team, show the organization, show our fans who we can be, and how good we can be. That's important for us this year.
How do you feel the team is coming together this season?
We're a young team, I think the youngest team in the NFL right now. For us, it's about getting better each and every day, and realizing how far off we are, and what things exactly we need to do to get to where we want to be. It's strengthening that gap of where we are and where we want to be. So it's about coming in and every day with the right mindset, the right attitude, creating a brotherhood that we're all proud of.
The Cowboys have one of the most incredible facilities in the NFL. What's it like having that as your office you go into almost every day?
It's honestly incredible. On any day you're going to pass by groups of 15, groups of 30 tourists, coming by you as you're going to lunch, as you're going to meetings. So that all comes with it as a member of the Dallas Cowboys. My favorite thing there is probably the hot tub and the steam room, which is state-of-the-art. It can fit a bunch of guys and it's so great to always be able to have that when I need it and always get my body right. The food is incredible as well. To come in and have a full breakfast, being cooked by chefs, to go to meetings that are held in rooms that are almost auditoriums, I feel blessed. When you walk in the facility, you see the trophies of the different championships we've won, and it's really inspiring. It's motivating to have all that history and to have such rich history here. We've got to go out there, and we've got to produce and bring some more history back for the fans now.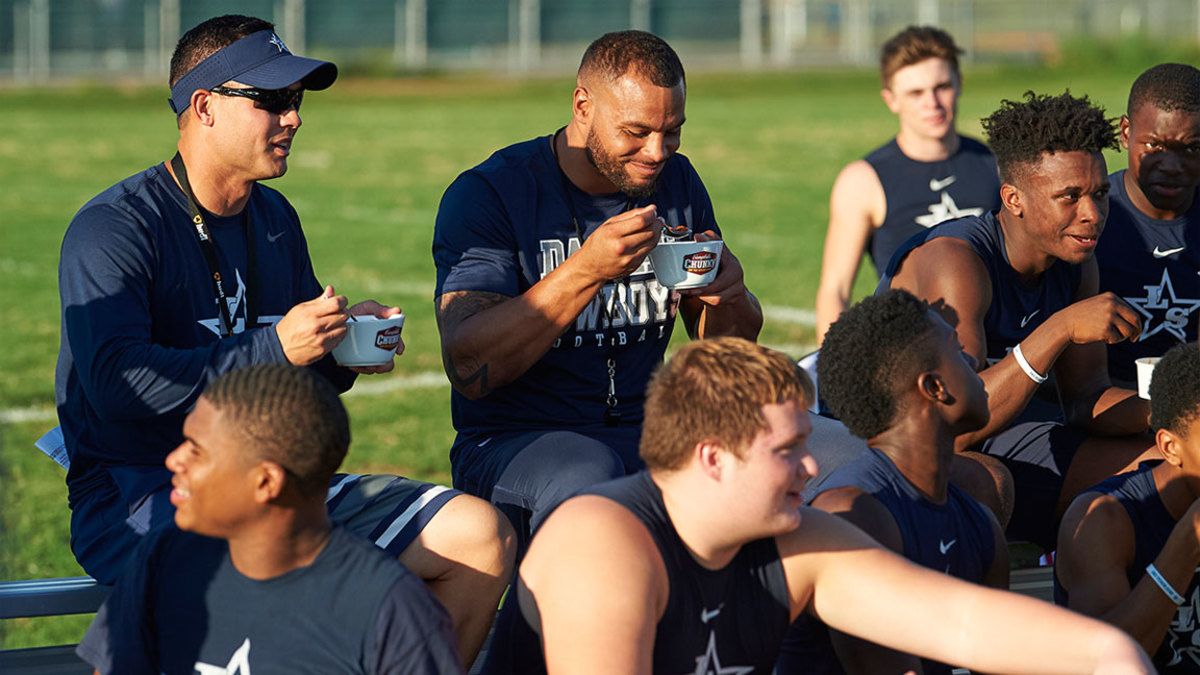 What are some of your favorite things to do off the field when you're on vacation or trying to wind down?
For me, vacation is just fishing, which is something that I love to do. I've taken a couple of little trips, nowhere crazy. If I'm with friends, we'll play dominoes, we'll play cards, things like that, and then just fish, get away and put everything to the side. Fishing's one of my favorite things to do. I love the excitement of being out on the water and not seeing land. I love how big the world is when you get out there and you look around and you see in perspective how small you and your boat are in that water. It's a thrill, it's a rush, and it's something that gives me peace, I love it. Then when you start to fish, I mean it's truly a game. Depending on what you fish, you have to know exactly how to do it, and how to hit the fish. It's a sport at the same time, allowing me to compete with the water, and compete with myself. That's why I love it so much.
You're from Louisiana. What're some of your favorite foods and what do you recommend for people when they go down there to eat?
The best way to find the real food, the best stuff down in Louisiana—it's simple: So when you're driving in New Orleans, and you're going through those small towns, and you see that the gas station has food, just stop there. In my opinion, those are some of the best places. The hole in the wall places, the place where you can barely understand what they're saying because their accents are so rich—that's Louisiana, that's where you're going to get the most authentic food. It's always great coming off the water from fishing, stopping at one of those places to get a bite to eat, and there are great food options and good music, that's the real Louisiana to me.
Food-wise, I love fried boudin, that's my number one food to eat. I also really love some smoked or grilled, crawfish, jambalaya, stuff like that is the best. Whenever we have a crawfish boil, the next day, my dad will take what's left and make some more of other stuff with it, like gumbo and then you just have that for days. All the food down there is great, and if you're looking for the really good stuff down there, make sure you stop at those places that are the holes in the wall and you can't go wrong.
What's the craziest or funniest fan moment you've had since being in the league?
I've had a few surreal ones. This one fan had a whole Dallas tattoo on his chest and had a picture, and one had me tattooed and Zeke tattooed, on each side of his chest. So that guy ran up to us, and one of my buddies gets my attention, to notice the guy with the tattoo, and we saw him on Instagram or Twitter. I'm looking at his chest, he's like, "Here man, here's a marker, sign it." And I signed it, and literally, later that night I got on Twitter and Instagram and he had gone and got the signature tattooed. Another girl that was at one of my camps for the women's clinic, she actually asked me to sign her arm, and then went and got it tattooed. So those are just surreal moments, people put my name on them like literally. It can be wild.
For access to exclusive gear videos, celebrity interviews, and more, subscribe on YouTube!