Junior is back.
After missing the final 18 races of the 2016 NASCAR season with concussion-like symptoms, Dale Earnhardt Jr. is gearing up for his first race in over six months: the Daytona 500.
But if "Junior" has is feeling any nerves ahead of his return to the "Super Bowl" of racing—and after a long rehab regimen of reflex training and eye-coordination exercises—he's not showing it.
"I feel great, health-wise," Earnhardt told Men's Fitness. "Getting back in the car has helped give me more confidence. We want to get in there and race every single race this year."
The legendary driver also had a strong support team helping him train for this season, including his wife Amy, who Earnhardt married on New Year's Eve. And he's off to a good start by placing second in the pole for Daytona, meaning he'll be in front row alongside teammate Chase Elliott when the green flag drops on Sunday.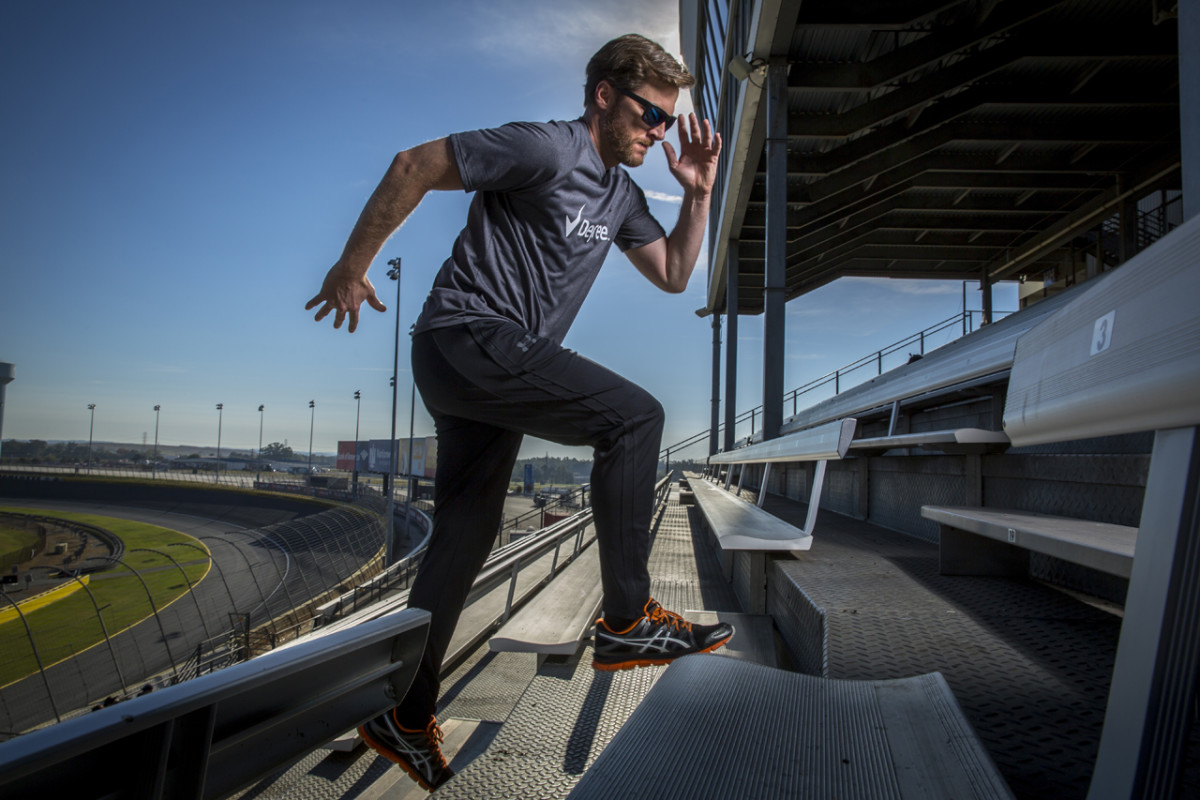 Earnhardt spoke with Men's Fitness about making his return to the Daytona 500, the training and exercises that helped him recover, and his favorite cheat-day meal.
(Editor's note: This interview has been edited for clarity.)
MEN'S FITNESS: After dealing with your injury issues in 2016, did you do anything differently in your training and preparation to get ready for this season?
DALE EARNHARDT JR.: It sounds funny, but I joined a campaign with Degree that's about redefining what's possible, and that resonated with me during my training and recovery. We're in there sweating our guts out—the race car gets to about 120, 130 degrees, so it works for me. During recovery, we did a lot of hard, physical workouts. We had to stress the system to get it re-trained.
With the mental and physical issues I was facing, you really had to push hard to make some gains and see improvement. It was a long road, and a lot of work, and I had good support around me. We started seeing some improvements over time, and we continued to work hard until we were beyond healthy and cleared to race.
What are some of your favorite exercises to do?
I like the bench press. I do a lot of core training with a weight ball, dumbbells, and all kinds of free weights, too. I like to use a spin bike or get on a stationary bike indoors—that's probably my favorite cardio. I like to lift weights, and I do strength training several times per week.
My teammate Jimmie Johnson rides a road bike quite a bit, and he's trying to get other teammates to do it—that might be something in my future I'll do a little bit more of.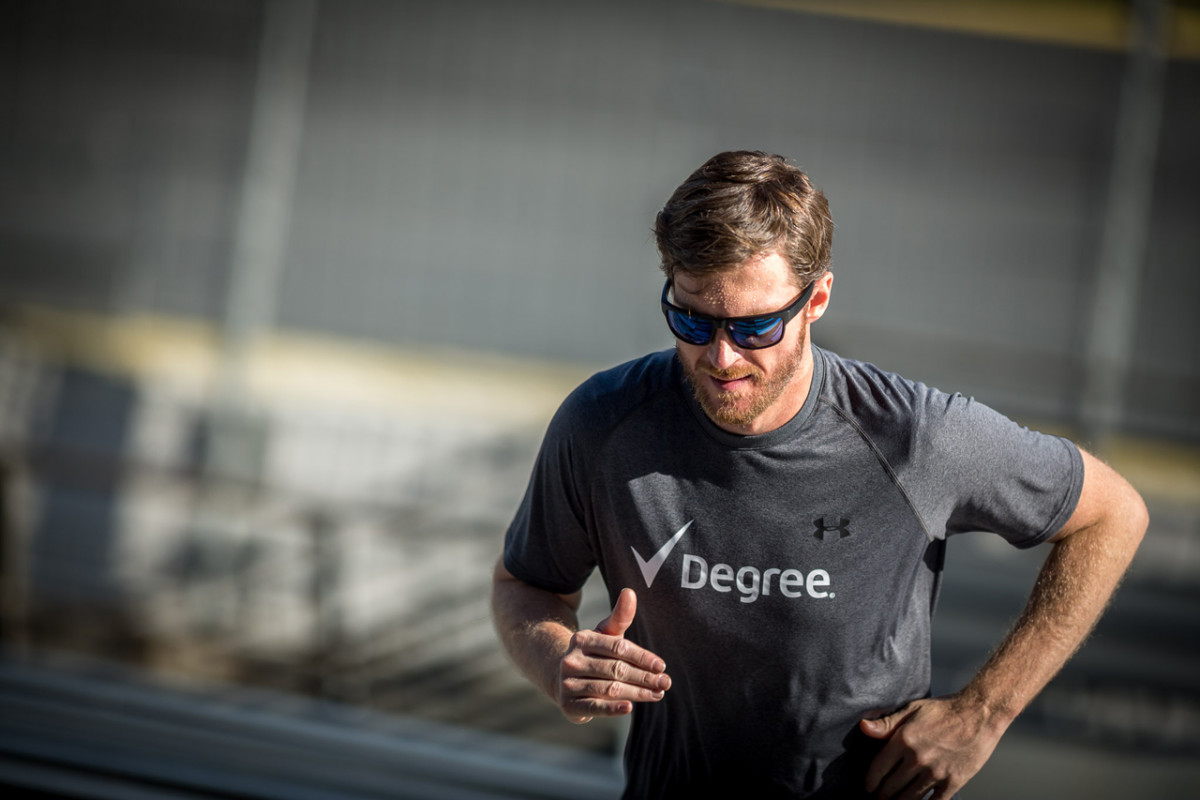 What's a typical training day like for you?
For this season we did a lot of mental exercises, memory work, and reflex training to sort of re-train my mind and get it back up to speed to do all the things it needed to do. Some of the homework the doctors gave me was very basic physical exercises, but with a lot of movement. Anything that created a lot of movement with my neck and head really put me in some challenging situations and helped with the training as well.
How do you feel about yourself, your car, and your team heading into Daytona?
Overall I feel great. Being in the car has helped give me more confidence and we haven't had any setbacks or hurdles to jump over, and no setbacks with our equipment either. Physically I feel strong, doing a little exercise here and there each day. They have a great gym at the Daytona track. They got everything: bikes, treadmills, ellipticals, weights, all that stuff. It's by the drivers/owners parking lot, too, so it's easy-access and quiet.
What are some of your favorite foods to have to supplement your training? Favorite cheat day meal?
I eat a lot of salads, and sushi too, which is great for a healthy meal. It's usually egg whites in the morning with some fruit—I really like bananas. For cheat day, it's really anything with buffalo sauce. That's my ultimate cheat meal.
During the season what's your training schedule like?
I gotta go with the flow, honestly. With our schedule, you just work out when the opportunity presents itself. I have a gym at home and some racetracks have access to a gym at the track, so any chance you have, you work out. You may not feel like it, it might not be the best time of the day, but if you have some time and access to what you need, you gotta push yourself to go and get it done.
You've had lots of success through your career. Do you feel any pressure to keep winning as you get older?
When I was younger I probably put more pressure on myself because I had a lot to prove, but at this point in my career I'm pretty satisfied with what I've done. Anything I can add to it would be icing on the cake. There's not quite as much pressure as there used to be when I was younger, but you still love to win and have success on the track.
How do you keep yourself motivated on the track?
I actually get a lot of motivation from interacting with fans on social media. If you want some motivation, you can go on Twitter and get a ton. The access that the fans have these days is instant, and it's great motivation to me. If you have a bad day, they're the first ones to get you up and dusted off for the next race. It's great to interact with them.
For access to exclusive gear videos, celebrity interviews, and more, subscribe on YouTube!