Denver Broncos linebacker Von Miller is a beast. At 6'3", 250 pounds, the defensive star combines strength, speed, agility, and power like no other player in the league. Miller has been on the rise since coming out of Texas A&M and he credits his dominance at the linebacker position to his work ethic off the field.
"I've always worked hard, but now I have more resources and train smarter," said Miller, who was the second overall pick in the 2011 draft behind Cam Newton. "Most importantly, I have a solid recovery routine as well and that's helped me get where I need to be to help my team win."
Winning is exactly what Miller has helped his team do.
Since Miller was drafted, the Broncos have won the AFC West each year, culminating in a championship victory against the Carolina Panthers in Super Bowl 50 following the 2015 regular season. Miller earned the MVP award in that game after being a constant thorn in the side of Newton, the league MVP. Miller finished the game with 2.5 sacks, six tackles, and two forced fumbles.
That performance helped Miller become the highest-paid non-quarterback in the history of the league with his six-year, $114.5 million contract ahead of the 2016 season. Part of the reason for Miller's rise among the NFL's great defensive players—his high-intensity training, which he detailed for Men's Fitness and Men's Journal here.
Miller stats over his first five years are staggering: In 76 games he's recorded 61 sacks, 260 tackles, and 17 forced fumbles—but in reality, what Miller does is bigger than numbers. Miller's ability to line up all over the field makes him a matchup nightmare—and it opens up lanes for his teammates on defense, allowing the unit to shut down any offense, no matter how productive they are. That's why the 2015 Broncos were ranked as the third-best defense of all time by former NFL executive Gil Brandt.
A lot of Miller's success can be attributed to his commitment to training and nutrition—the linebacker loves hitting the gym so much that he doesn't even have a least favorite exercise: "I love it all," Miller says. When it comes to his diet, Miller relies on lean protein, clean carbs, vegetables, and fruit—"I am big on nutrition and always make sure I'm fueled properly," he says. "I love fresh fruit for breakfast too, it really helps to fuel my workouts."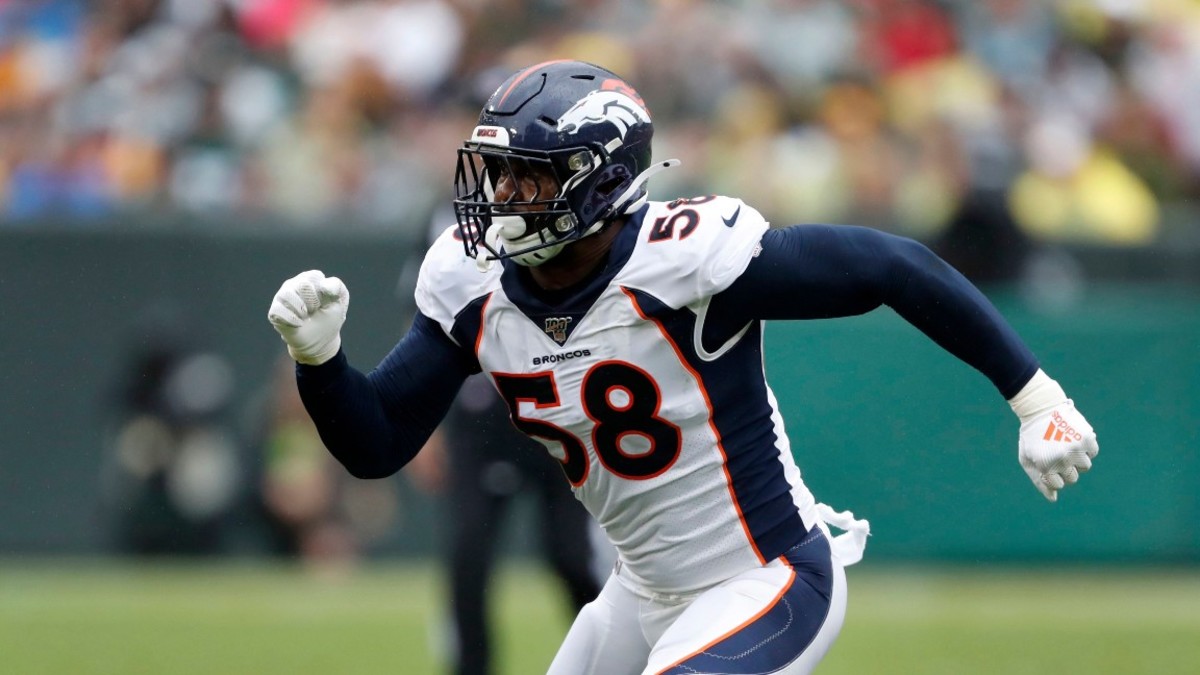 Miller's personality also sets him apart from the traditional NFL player. A self-proclaimed geek, Miller enjoys watching nature shows and nerding out on Game of Thrones. The Dallas, Texas native is also into fashion—he's a fan of big cowboy hats, shiny shoes, and outlandishly oversized glasses. He was also named an NFL Men's Lifestyle Ambassador for the NFL's clothing collection. "It's important to rep your team and show your pride outside of Game Day," says Miller. "The new NFL Men's Collection is really versatile so you can dress the clothing up or down for a variety of occasions."
Miller's physical prowess and overall domination at his position makes him the blueprint of what NFL teams want in the middle of their defense. Now Miller gets to go out and prove why he was worth the money.
Miller spoke with Men's Journal about his hardcore offseason training, what he eats to fuel his success, and why he loves investigating extinct animals.
(Editor's note: This interview has been edited for clarity.)
MEN'S Journal: What is a daily training day like for you when you're in the gym? How long do you usually workout?
VON MILLER: The training varies depending on the time of year, but my constant is always intensity. I love training. I usually train anywhere from three to five hours per day in the offseason, and it's broken up into two or three workouts.
What are the most important areas of your body to focus on in the gym when you get close to the start of the season? How is your training different during the offseason?
Core and legs are always the priority for me. Those get me where I want to be. Offseason is a lot more volume than during the season, but the intensity of my work is always consistent.
What are some exercises, drills and workouts that you feel help you most on the field?
When I train in Southern California I train most often at Proactive Sports, and we do a lot of different speed and explosive work broken down into stations on the field. One of my favorites is pulling a tire—I also enjoy the different explosive jumping movements into acceleration and deceleration drills.
What is your daily nutrition like? What are some of your favorite meals for breakfast, lunch, and dinner?
Nutrition is crucial. My chef, Virginia Davis, makes sure I am always fueled for what I need to do. A typical breakfast might be cashew-oat protein waffles with chicken and poached eggs, or a veggie and egg scramble with turkey sausage, some breakfast potatoes, and sautéed spinach. Lunch is probably the biggest meal, consisting of dark leafy greens, clean carbs, and lean protein, for example. Virginia makes a bomb massaged kale salad that I love with some steamed brown rice and 3-pepper grilled chicken skewers, they've got a little kick to them. Dinner is protein and veggies like a cedar plank salmon and bok choy, or seared ahi tuna salad Niçoise or something like that.
What's your perfect training meal? What do you eat when you're fueling your training?
For quick-burning fuel I love this duck "fried" rice with loads of veggies that my chef makes. All the veggies are roasted so it's not actually fried rice, but a healthier version without all the oil. My other favorite is this almond meal pasta with shrimp and garlic and a spinach salad. Some complex carbs and protein gets me going. I also always have some organic fruit with me or a clean dessert like my chef's cashew créme with berries.
What is your favorite cheat day meal?
I don't normally have cheat days, but if I did, it would be a homemade meal featuring fried chicken, mac and cheese, collard greens, and yams.
What's the best advice you've been given regarding your training?
Ryan Capretta, owner of Proactive Sports, always tells me to always focus on mobility in my hips and hip flexors as that is one thing that will help keep me explosive.
What's your favorite exercise to do? When you're looking to build muscle and lower body strength, what types of workouts and drills do you focus on?
I like doing single-leg exercises. I feel they translate to the field the best. Overload and moving weight around is always important, but functional movement is key at this level. Everyone is strong, but if I can move better and activate the right muscles at the right times that gives me an advantage. I rely on my leverage a lot, and I train that in the gym and the field in the offseason.
What did it mean to you not just play in the Super Bowl, but to win Super Bowl MVP?
It was an awesome experience, but it was all about this team. We needed everyone to do their individual assignments in order for us to have a chance to succeed. For me, I put it all out there for the guys in this locker room. It's a brotherhood.
If you could give your younger self-training advice, what would it be? What advice do you have for younger athletes looking to emulate your fitness?
It's not all about how much weight you can move. Work hard, but don't lift weights that are too heavy for your body to handle.
What types of things do you enjoy doing in your downtime?
I love watching movies, watching the nature shows, and investigating extinct animals—I love nature, it's so interesting. I enjoy Xbox One S, looking for vintage eyewear, and listening to music on my Muzik headphones. I am a big fan of all types of music, all according to my mood. My favorite show is Game of Thrones. Movies are my thing and I watch all types of genres.
For access to exclusive gear videos, celebrity interviews, and more, subscribe on YouTube!