Making it to the Winter Olympic Games is a near impossible feat even when you have a dedicated team of trainers, ample equipment, and resources. Which is why Michael Edward's remarkable journey to the 1988 Winter Olympics in Calgary is an inspiring tale of perseverance and fortitude.
"Some day I may be able to find the way to describe what it was that drove me through those more difficult times," Edwards told Men's Journal as he sat unrecognized in the cafe of New York's Crosby Hotel. These include spending nights in a car through subzero temperatures, working odd jobs to pay for gas, and sometimes scrounging garbage bins for food. "I'm still searching for the words."
From his impractical aspirations to become a world-recognized athlete as a child to finally stepping through the gates of Calgary, and even up until the final jump that earned him worldwide infamy, there were naysayers telling Edwards that he would "never make it." Many onlookers, including his own teammates, considered his earnest efforts to be a joke, but instead of becoming demoralized, he used their insults as the inspiration that drove him to accomplish the inconceivable, becoming the first British man to represent his country in Olympic ski jumping. Now, with a new movie coming out based on his life, the joke is on those doubters, because the legend of Eddie "The Eagle" Edwards is soaring just as high as ever.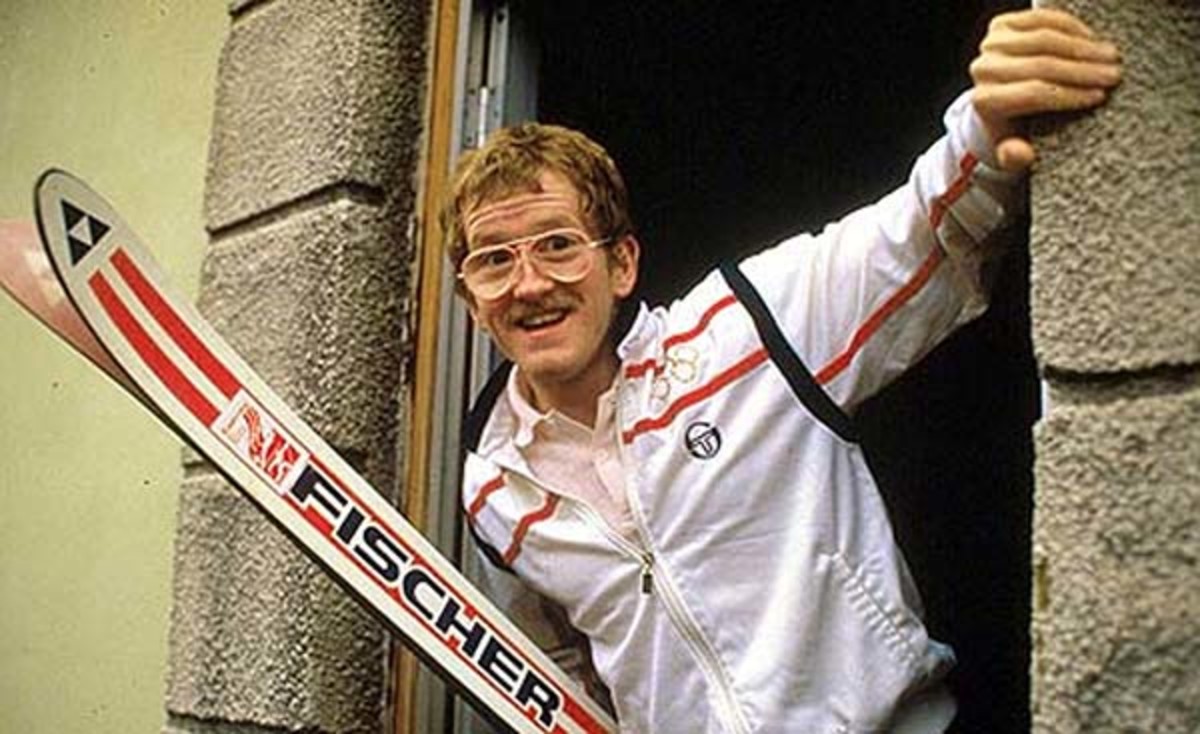 What was it like to watch the movie?
On January 3rd this year they let me have a private screening for my family, friends, and I in Cheltenham, where I was born and grew up. To be honest I was very nervous about it, but it was just fantastic. Even when I saw the trailer back in December, that just brought tears to my eyes. I had a box of Kleenex by my seat when I watched the whole film, and I cried through the entire picture. I think they really captured the heart of my story. I was just a lowly little insignificant little skier from our local slope. Who would have thought I would even make it to compete in Calgary, let alone make a movie about my life all these decades after?
What was it like to deal with all the people trying to stop you from your dream?
I was constantly getting people coming up to me asking, "What are you doing? Why are you even bothering?" It could be in the gym, in the middle of my workout, or coming up next to me while I was on a morning run, or the other jumpers I happened to be training with on any particular day. "You'll never jump more than 20 meters. You'll never jump off anything bigger than a 50-meter jump. Why are you doing this to yourself?" But every time somebody said something like that, it was like a red rag to a bull, it just made me want to prove all those people wrong. Even as a kid, when I was told I couldn't do this or that, it became impossible for me not to. I've always been like that.
How did you make it without funding?
I was sleeping in a car. It would be 20 below as I was traveling through Switzerland, Austria, and Germany. And the car wasn't even mine; it was actually my mum's car. I asked her if I could borrow her car and she said yes, but I didn't tell her that I was driving to Switzerland. I just threw my bags in her Vauxhall Carlton and vroom, I was gone. Eventually I rang her to tell her, "Hey mum, I'm in Switzerland." She screamed, "What are you doing? Where's my car?" But it was too late. Even though I was cold and hungry, none of that mattered at all because I was out there doing what I was destined to do. I would find ways to eat. Sometimes there would be an orchard off the road, and I'd run in there and grab a couple of apples. I didn't care if they were sour or not. I made friends with the chefs in town when I arrived and would do work for them in exchange for a meal or a bed for the night. I cut grass. I shoveled snow. I did whatever it took.
Even after you did get to the games, you were still getting insults from your teammates?
I was very proud to represent my country, to fly our flag at the games; all the attention was really less significant than that to me. Computers were in their early stages, but you got a pin number when you were at the games where you could talk to the other athletes in the stadium, and I was getting thousands of messages throughout. Some of them were great, and they were saying they loved what I "represented." Others were really nasty, and would claim that I ruined their experience of being at the games. Some of the journalists during those games in Calgary were completely respectful, and others were taking the mickey out of me. Some were downright nasty, they were calling me a "laugh" and a "joke," but I couldn't control any of that. I never really let it get to me.
Tell us about that final jump.
It was surreal to be up on top of the 120-meter jump, there were 89,500 people watching from the stadium. About three jumpers before I was even up, the crowd started to chant, "Eddie! Eddie! Eddie!" I know that there were a lot of people who were excited to see me crash, and maybe break my neck. Calgary had been quite windy during the last couple days, and they had kept canceling the training for my jump, because it was dangerous. But I had gotten a tip that there was a smaller jump just a few miles away in Banff, at a ski resort called Norquay. So every time that they cancelled it, I was jumping in a car, driving up to Banff and practicing on their 60-meter jump. The crowd in the stadium had no idea about this, though. They thought I hadn't jumped in a week and was completely unprepared. I was actually in really good shape, and having that crowd shouting, I wanted to jump as well as I could for them. They truly inspired me to go for it, and I did. I jumped 71 meters, the farthest I had ever done, which was spectacular because I never thought I was going to win any medals, but I had made a new personal best. And I achieved what I went there to achieve, which was to actually do it.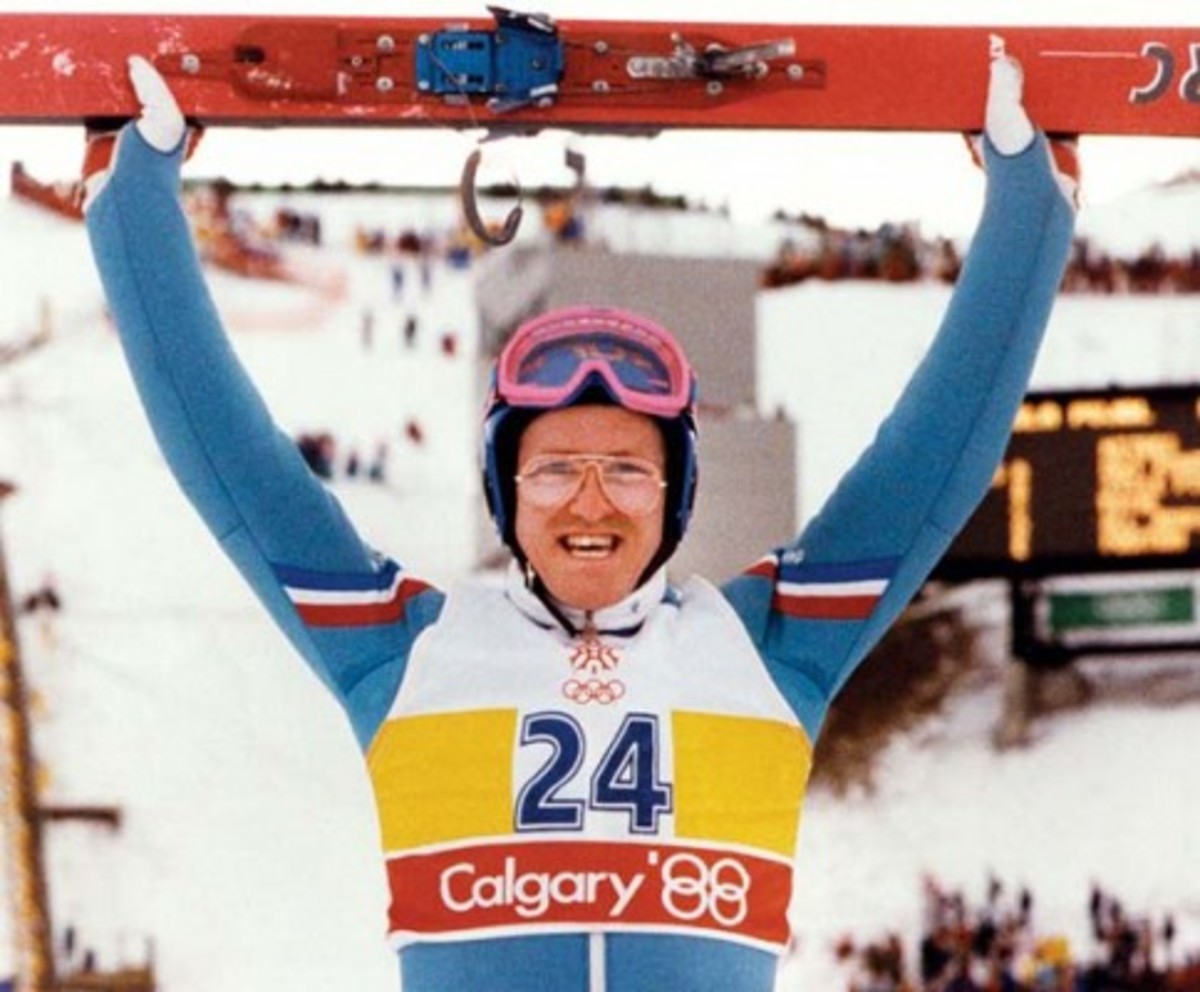 Being at those games. Making that jump. Was it everything that you imagined it would be?
All I knew is that I was going to enjoy every moment of being there. Being at the Opening Ceremony, watching the torch being lit. I mean, I was there! And then I was so shocked when they mentioned me during the closing ceremony. I was like, "Oh my God!" My teammates pushed me up from my seat; they were saying, "Get up there!" It was 28 years ago but I remember it like it was today.
What do you think people could learn from your story?
You know, this is a sports movie, but it's not about winning the gold medal. It's about success of another kind. Hopefully people will take that message to heart, that success is not always taking the top prize. Sometimes it is about conquering a fear or making a single step in a new direction.