Editor's Note: Currently nearly all ski resorts are closed due to COVID-19, so if you're wanting to get out into the snow, but still maintain good social distancing, having a backcountry setup is essentially the only way you can do that right now.
The snow is falling. You've been waiting all season to hit your favorite ski resort on a powder day. You gear up, wax your snowboard, make the drive, and shell out the staggering 150 bucks for a lift ticket, only to find…what? Lines as long as a city block. By the time you get through it, a thousand people have already come down turning your perfect run into a chunky mess. Worth it? Probably not.
Unfortunately, situations like these are becoming all too common. You will regularly see these horrors on Instagram feeds like @jerryoftheday. But there is a way to avoid all of that. To get back into the peace and quiet of nature, with just you and a few friends, and to very likely get the best turns of your life. It's called splitboarding, and for all the reasons above it's been exploding in popularity these last few years. Today we're going to tell you everything you need to try it for yourself.
What Is Splitboarding?
A splitboard is a snowboard that, you guessed it, splits. It breaks in half long-ways, effectively turning it into a pair of short skis. Why would anybody want to do this? It's for going uphill, not down. You stick a pair of skins to the base of the board, which gives you traction, and you essentially cross-country ski up a mountain. Then you remove the skins, snap the two pieces back together, and snowboard down.
The advantages? It uses far less energy on the way up than, say, hiking or snowshoeing, and on the way down, well, it gives you access to great fields of untouched backcountry snow, where you can draw your own lines and feel like you're starring in a Warren Miller movie. But it's not exactly easy to get into. Not only do you need a ton of gear, you need a lot of knowledge and training, and that latter part is crucial for ensuring that you come home alive. Thankfully, several companies are currently banding together to make all of that more accessible.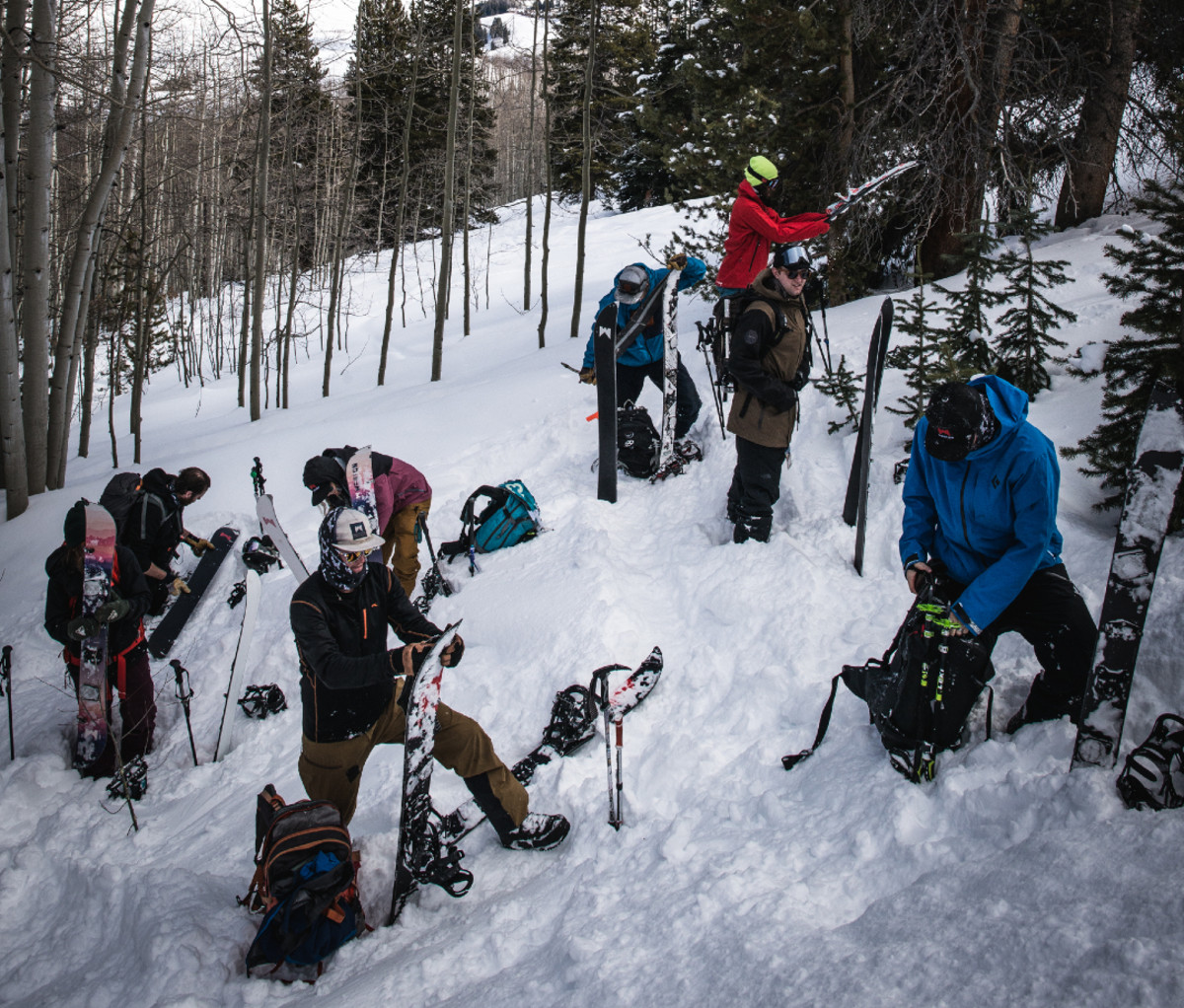 Education Pipeline
Weston Snowboards doesn't have the same name recognition as Burton, but it's the No. 2 manufacturer of splitboards in the U.S. (behind Jones). As they saw demand growing, they realized that one of the biggest barriers to entry was not merely that people needed specialized equipment, but that they didn't know how to use it. Not only is there a lot of technique that goes into using this stuff, but safety is a major factor.
Backcountry areas are not patrolled, and their steep, untouched slopes are more likely to slide. The risks are very real, and death is most certainly on the table here. So Weston has been working with local guide outfits around the country to develop a three-stage educational pipeline: Splitboarding 101, then an On-Snow Intro to Splitboarding Class, which ultimately leads to AREIE 1. Each step should be considered mandatory. I've personally been wanting to get into splitboarding for years, so I traveled to Crested Butte, CO, this January to finally get my feet wet. Here's how the process breaks down.
Step 1: Splitboarding 101
The 101 course is your informal overview for all things splitboard. It generally happens at a bar, beer flows, there's a detailed slide presentation with videos, and it gives you a chance to ask any questions you might have. They will cover all of the gear that you're going to need (and often provide recommendations), and why you're going to need it. They also delve into online tools that you might want to use for your own expeditions, from route-planning to avalanche forecasting, and tools that combine both.
My own 101 was held at The Public House in Crested Butte and was led by some of Weston's crew along with local operation Irwin Guides. There was a detailed presentation that included videos to entice us to get into splitboarding, as well as videos to scare us a bit. A lot of time was dedicated to discussing avalanche safety, and how to use some of their go-to forecasting tools. Avalanche.org is especially useful for finding up-to-date information about conditions where you're going to be, and they also told us how to interpret the information we'd get there, like how to read a compass rose, as well as talking about the levels of uncertainty (since there's always some) and what the different hazards mean.
Last but not least, a large amount of time was devoted to discussing the gear you're going to need. It's not trivial, or inexpensive. I came out of the course feeling that I knew more or less what to expect for my on-snow class, and I was excited for it. I also knew the gear I was going to need. As promised, here is that list. My disclaimer is that, obviously, I am not an expert splitboarder. The list is a compilation of recommendations from guides and what I went with personally.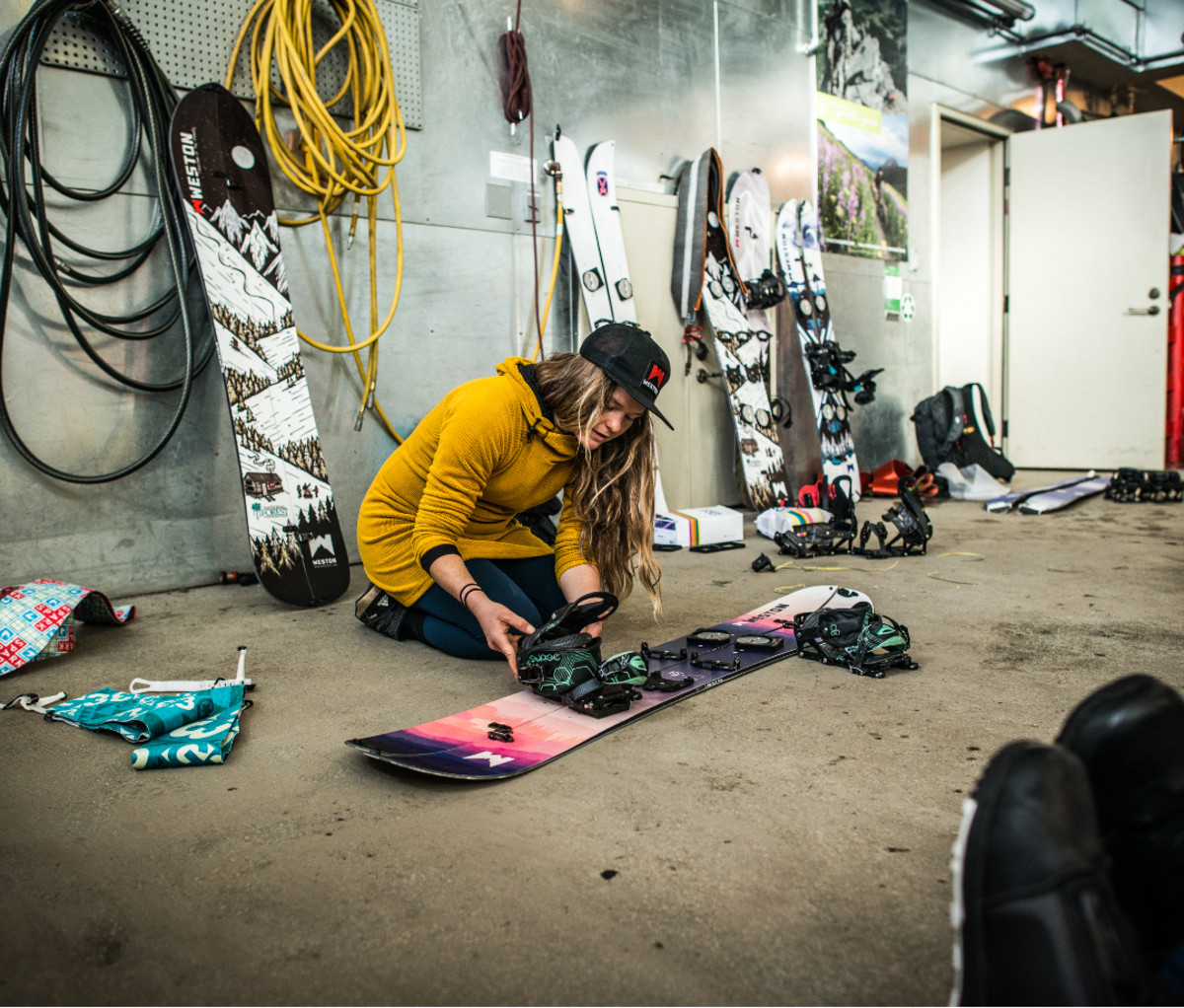 Gear Checklist
Splitboard

It might sound obvious, but the board itself is the first thing you should buy once you know you want to get into this (more on that in the next section). Unfortunately, they're generally more expensive than your standard snowboard, due to the extra hardware and work that goes into them. Do not merely attempt to saw an old snowboard in half (yes, people really do this), as you will very likely end up with a broken board when you're out in the middle of nowhere. Size up a little from your normal resort board, and look at the different shapes on offer. Some are built for deep powder, whereas others are designed to take on basically everything. I went with the Weston Backwoods Split, because I knew I would be riding it in a lot of variable conditions, and I was told its more traditional shape is better for skinning than the powder-boards with their swallowtails. It has been great in everything from thigh-deep powder, to crud, to hard-packed groomers at Crested Butte Mountain Resort.
Boots
If you already have snowboard boots, just start with those for now. There's plenty of other stuff to spend your money on. Ideally, you'd be using a stiffer snowboard boot because it will give you more lateral edge control when you're skinning (and when you're riding). Some people even modify ski boots and they absolutely love it (and swear it's faster when transitioning between ski and board modes), but it's an expensive and time-intensive experiment, and it's not for everybody. For starters, stick with the boots you've got. I used an old pair of Ride boots called The 92, and they worked just great, though I wouldn't have minded something stiffer.
Splitboard Bindings
Unfortunately, you can't just use your standard snowboard bindings. Split bindings are very different and have a million pieces to them, but that's because they have to act as both your ski bindings and your snowboard bindings. When you buy split bindings make sure you get them with all the hardware (the ski hardware in addition to the snowboard pucks). They come with a guide to use during setup, but it's really pretty involved and you may need help, which is all the more reason to go to the on-snow class. I went with the Spark R&D Surge bindings.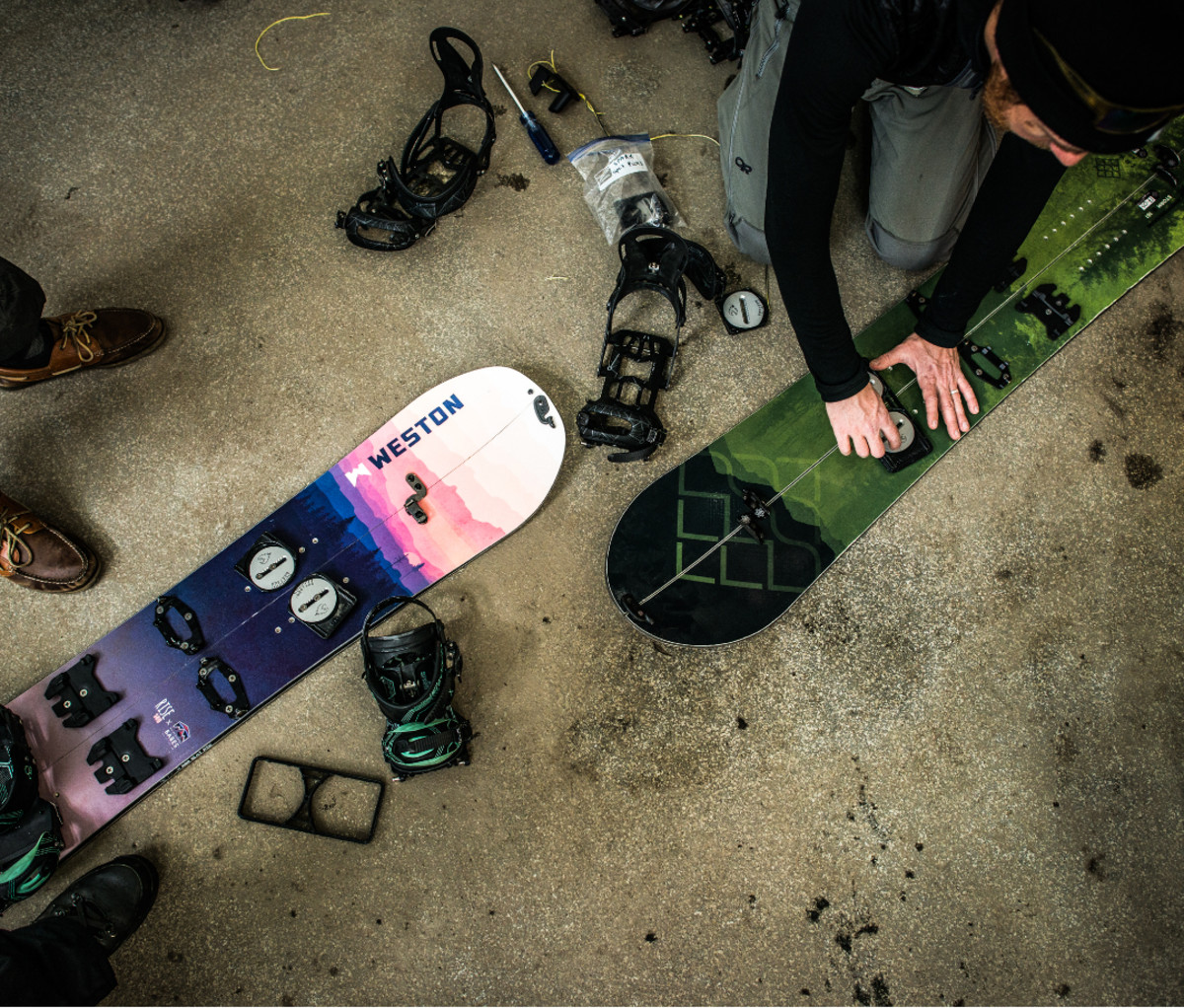 Skins

Skins are what give your skis traction on the way up. You know how animal fur is typically directional? Well, these used to be made of buckskins in the olden days. The idea is that the "fur" lays down flat when you're pushing the ski forward, so it glides nicely, but then the hair catches the snow so it can't slide backwards when you're trying to take a step. These days skins are typically made from mohair or nylon. My guides recommended a mix of the two. Make sure you buy the right length for your board, and then you will cut them to match the outline of your split skis using a cutting tool you'll get from the skin company. I went with the Pomoca Climb 2.0 and felt they had a nice balance of traction and glide. Make sure you get the necessary splitboard accessories (tip and tail clips and straps) when you buy.
Backpack
You're going to be carrying a lot more gear than you're used to, with a lot of avalanche safety stuff that isn't small, and you want a backpack specifically designed to keep it organized so you can access it quickly in case of an emergency. You're also going to want it to be big enough to stash extra layers, food, water, and everything else you might need. Because of this, it's recommended that your pack be at least 30 liters. I always like a pack to be hydration compatible, and I think that's especially important when skinning. I went with the BCA Float 32. It has everything I mentioned above, plus a lot of pockets, external helmet carry, and a newly refined airbag system. If you actually get caught in a slide, the airbag increases your surface area and should help keep you from getting buried. The airbag is by no means mandatory at this point, though.
Poles
When you're going uphill you're going to need ski poles, but you probably don't want them in your hands while you're snowboarding back down. Collapsing or folding poles are the way to go. I went with the Black Diamond Carbon Compactor poles, which are super lightweight and fold in three pieces, making them very easy to stow inside my backpack (or strapped to the outside).
The Avy Gear: Beacon/Shovel/Probe
When you go into the backcountry, you absolutely need to have a beacon, a shovel, and a probe. The beacon is how you will be located (or how you will locate your friends) in the event of an avalanche burial. The probe is how you will pinpoint your friend's location, and the shovel is how you will dig them out. For the beacon, make sure it has three antennae, and make sure you know how to use it. I went with the BCA Tracker S because it's super simple to use. It's basically designed for people who are new to this, or for those who don't get tons of practice in and might be prone to forgetting. For the probe and shovel, go with aluminum (for strength) and something compact. I'd recommend BCA's Avalanche Rescue Package, which includes the Tracker S as well as a nice shovel and probe.
Two-Way Radio

While the beacon, shovel, and probe are absolutely mandatory, guides these days are also recommending you carry a two-way radio. This lets members of your group alert each other for hazards, find each other if they get separated, and quickly communicate with rescue workers should the situation require it. I went with the BC Link 2.0 which has a lot of power (2 watts for longer range), is easy to use, and is about as snow-proof as it gets. (Yes, I know this is a lot of BCA stuff. This isn't sponsored, again, I just went with what the guides told me to get).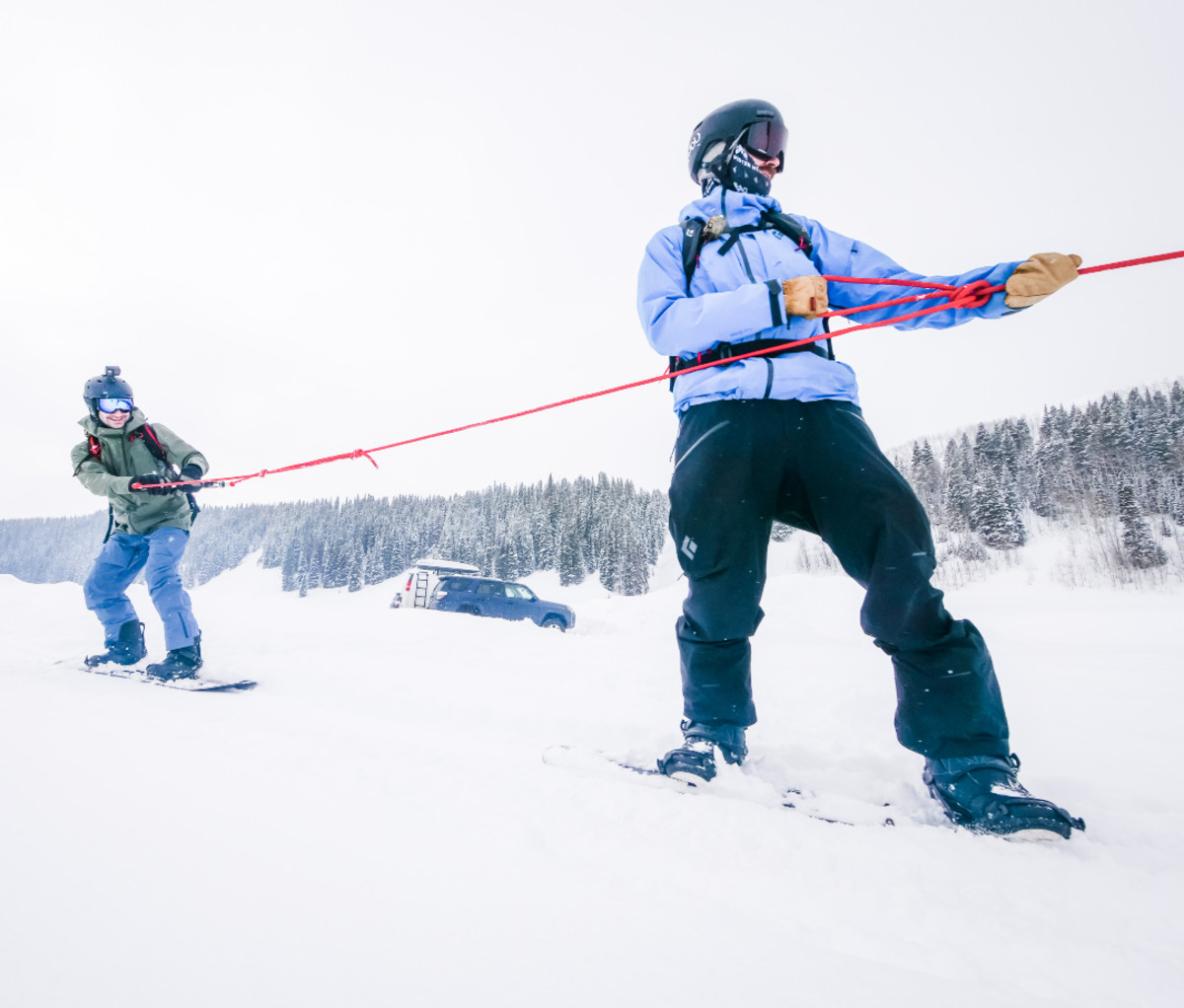 Helmet
You should be using a helmet even at resorts, but it's absolutely required for splitboarding where rock falls, avalanches, and tree branches are far more common. I wore the Smith Quantum, because it's light, it's MIPS certified, and it has a ton of vents (which are closable), so I was actually able to hike in it without overheating. Most other people just hike in hats.
Goggles/Sunglasses
Generally you can just use whatever goggles you already have and then you'll switch to sunglasses when you're hiking up so your goggles don't get all hot and foggy. If you want to be fancy like me, though, I'd recommend Julbo Aerospace goggles. The lens pops forward so they don't overheat or fog, and it has a photochromic lens, so it gets darker as the sun gets brighter, and lighter when you go into the shade. They aren't cheap, but they're killer.
Apparel
You can pretty much use your typical resort wear, as long as it's just an uninsulated shell and pants or bib. The key here is ventilation. You're going to want lots of it, because sweat is the enemy. You'll also want a good mid-layer (ideally merino wool), and a puffy jacket, which you'll mostly keep stuffed in your backpack. Make sure you have good socks that are comfortable and won't cause blisters. I really like Darn Tough's stuff (which include a lifetime guarantee), and for touring I appreciated the padding and breathability of the Outer Limits line, but the most important thing is to go with wool or synthetic, but never cotton. You're also going to want a balaclava and a hat with a brim to provide extra sun protection. You may want to go with gloves with liners, so you have options as you heat up or cool down.
Other Stuff

Above is the main stuff, but man, there's still so much more that comes in at varying degrees of necessity. Sunblock, water, a multi-tool/repair kit, food that won't freeze, skin wax, toilet paper, map, compass, first aid, a lighter, and on and on. I really recommend taking the class and getting the list down for yourself. Just make sure you have the main stuff at the very minimum.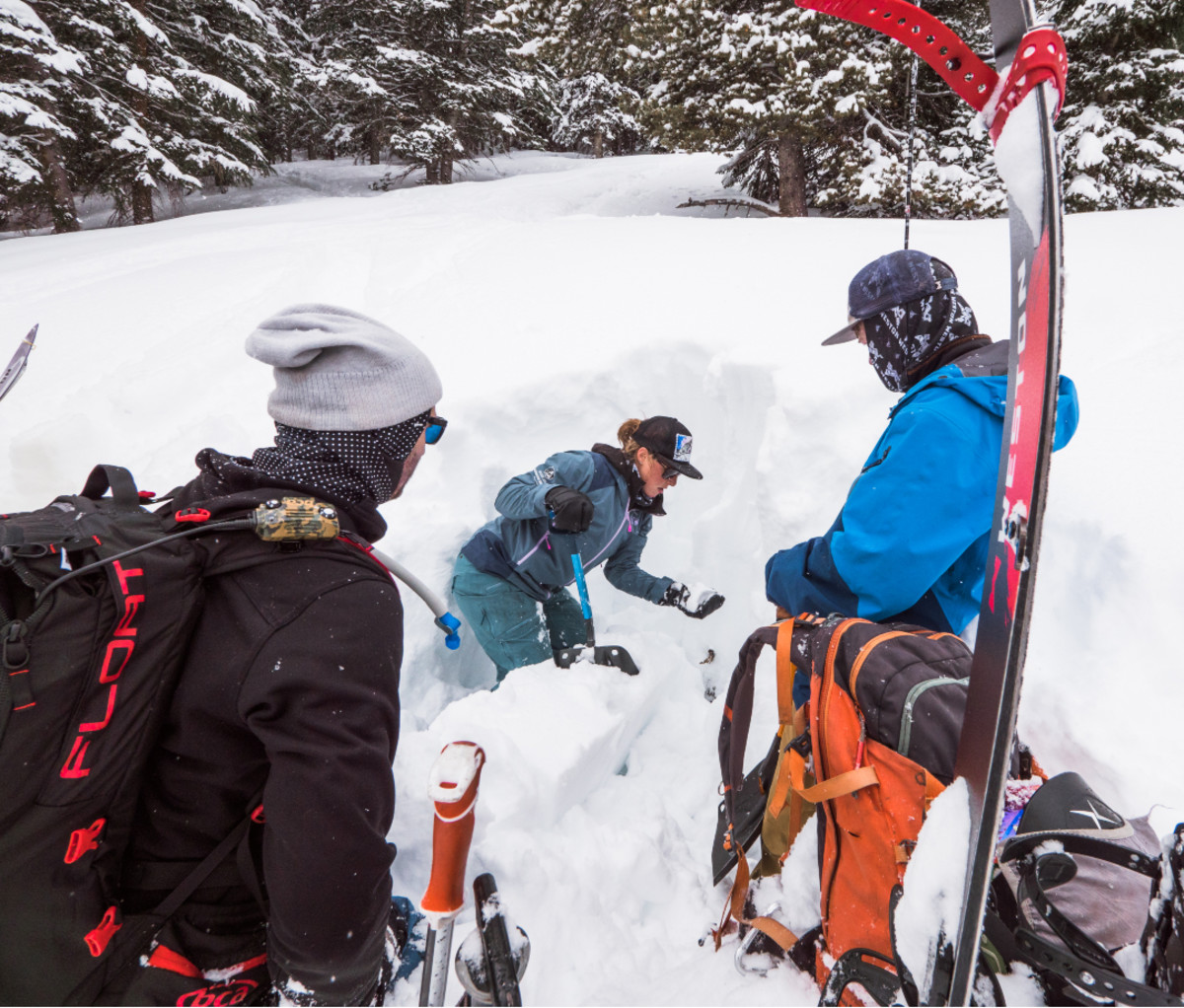 Step 2: On-Snow Intro to Splitboarding
One of the biggest advantages to taking an on-snow intro to splitboarding is that you don't have to buy all of that stuff I just mentioned. You'll probably bring your usual resort kit (outerwear, boots, etc.), but you'll be provided with a splitboard, split bindings, poles, skins, avy gear, and everything else you'll need. My class was led by Irwin Guides, based out of Crested Butte, and it's hard to express how much I learned in a single day.
For starters, the guides took us through our gear and made sure we understood how to use everything, and they helped get everybody's bindings set up, which is no small task. We also ran through the game plan for the day, and reviewed the current avalanche conditions. From there, we headed out into the snow. Having guides helping you troubleshoot common mistakes (e.g. putting your left skin on your right ski) was invaluable, but so were the smaller tips. Things like how to line up the skins just right, keeping your weight on your heels instead of your toes when climbing, and too many other details to count.
Once on the snow we learned the different types of turns to use while climbing, like the AVA turn, and the trickier kick-turn. They dug a snow pit to show us what we'll be looking for when we get into our AIARE 1 course, and it was crazy seeing they layers change as they dug down. Once we finally got to the top we did our first slow, awkward transition into snowboard mode, but this would get better throughout the day. We'd ride down, transition back into touring mode, and head back up again. It was incredible, and it was exhausting.
Another big advantage to the on-snow intro course is that you don't need to have the avalanche safety training yet (discussed in the next step). This is your low-commitment way to try it and see if you actually like it before you invest all the time and money in the education and gear. Classes are typically under $200 (some are even free), and you can find a list of upcoming courses and events here.
Step 3: AIARE 1
The big daddy. AIARE stands for the American Institute for Avalanche Research and Education, and AIARE 1—sometimes referred to Avy 1, Recreational, or Rec 1—is the course you need to take before you start splitboarding without a professional guide present. The class typically takes three days to complete, and it isn't cheap, but you will learn a ton of information that could save your life. It is HIGHLY recommended that you take the on-snow intro to splitboarding course before you take AIARE 1, because the last thing you want is be fumbling around with equipment you don't know how to use when you're learning something as important as this (and you'll just slow your group down).
AIARE 1 teaches you how to identify the signs of avalanche danger, and how to avoid them. This includes learning some snow science, and will also hone in on rescue techniques. It will delve into route-planning in avalanche territory, too, but if you're going to be doing a lot of leading it would be best to take the more-advanced AIARE 2 as well. While it sounds serious, and it is, it can also be a lot of fun. AIARE 1 courses are often offered at hut trips, and you might just score some of the best powder turns of your life. There are splitboard-specific AIARE 1 courses, too. You can learn more about AIARE 1 and find providers here.
Conclusions
That is a lot of stuff, I know. You may be looking at that and wondering, "Is it worth it?" Well, here's a 30-second video of my very first turns ever on a splitboard:
Yeah. I'd say it was worth it.
But the real answer to that question depends on who you are, what you enjoy, and how you'd like to spend your time/money/energy. I would say that splitboarding really epitomizes the concept of quality over quantity. You may get 15 lift-access runs in at a resort, where you'd only get three runs in on your splitboard in the backcountry in that same amount of time. That said, you may get 10 times more powder in those three backcountry runs than you would in those 15 at the resort. Splitboarding is also great exercise and it gets you into nature and away from the crowds, but by the same token, it's more tiring and there are more hazards to watch out for.
Basically, there are trade-offs, but personally, I'm hooked.
For access to exclusive gear videos, celebrity interviews, and more, subscribe on YouTube!