Victor Cruz is back. After injuries kept him off the field for nearly two years, the New York Giants star is back to his salsa-dancing ways, running routes and scoring touchdowns for Big Blue. But coming back was no easy feat—NFL insiders and fans openly wondered if he'd ever play for the Giants again after a nagging calf injury sidelined him for the entire 2015 season.
But instead of letting doubt sideline him too, Cruz used it as motivation.
"It was such a long process, but it feels great to be back," Cruz tells Men's Fitness. "Lower-leg and single-leg workouts were key [during rehab]—the most important. Whether it was it was lunges, single-leg squats, leg raises, calf raises—all of that really built that foundation of strength I needed for the long haul."
Cruz's return to the field also marked his return to the fashion world—something he's proven to know quite a bit about. While catching passes is his main occupation, the wide receiver has had a foot in the fashion world as well, especially since breaking out in 2011 and helping the Giants win the Super Bowl. When Cruz isn't on the field, he's front row at Paris Fashion Week at the Dior show, starring as the face of Givenchy, getting his own signature sneakers with Nike, and creating the Young Whales clothing line. As if that wasn't enough. Cruz is now designing Hublot luxury watches too.
"My style is another part of my personality," Cruz says. "I like that clean aesthetic—I always want to do less with more. I want to be simple, but my top may be something that might be the focal point."
So when Swiss watch brand Hublot signed on as the official watchmaker of the New York Giants, it was only natural that Cruz stepped up and helped design the new Giants edition of their Classic Fusion Aerofusion watch. The special edition Aerofusion is a self-winding 45mm skeleton chronograph featuring a pebbled foobtall strap-inspired band, Giants blue color on the case back and dial, and it comes in a case signed by Cruz. (But you'll be lucky to get one of these on your wrist—Hublot is only making 40 of the Titanium model and 10 of the King Gold model.)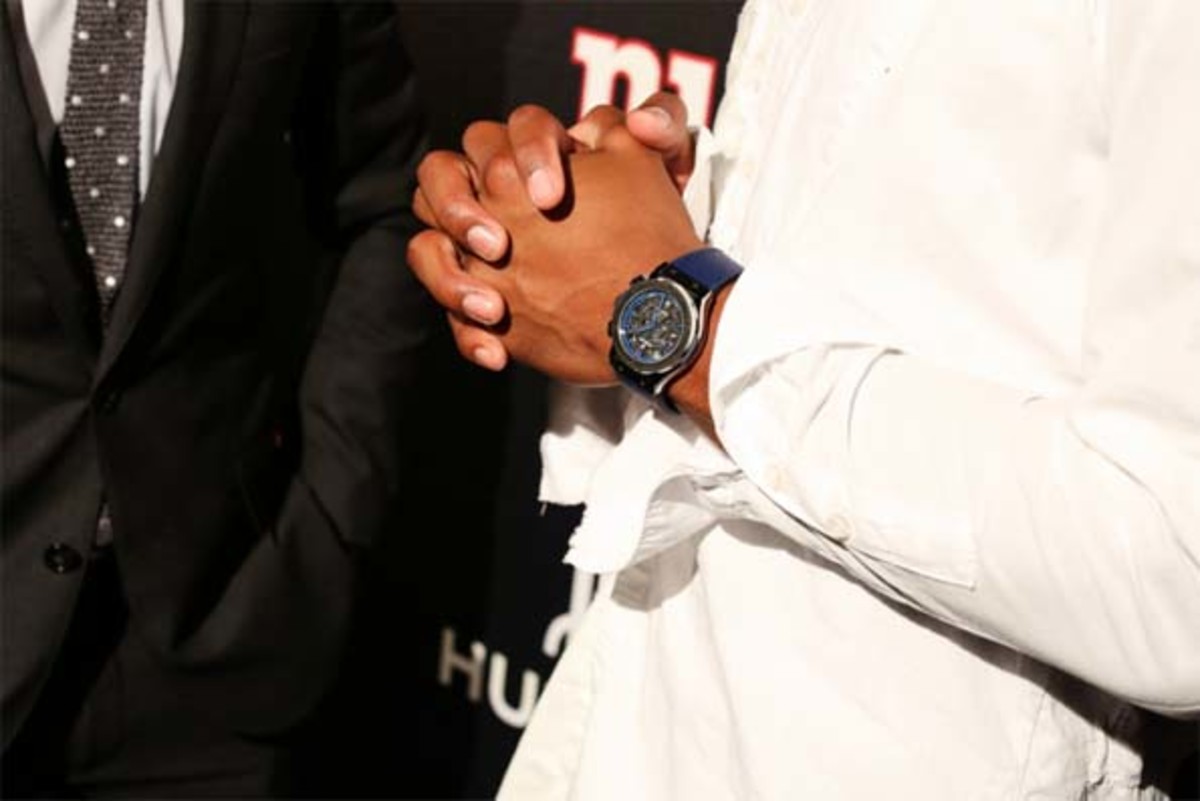 The titanium edition is made with a satin-finished case back with the engraved text of "SPECIAL" + "EDITION" + "XX/40," plus it has Sapphire glass, a polished titanium crown, and blue and red lacquered second hands to represent the colors of the Giants. "We are thrilled to announce our collaboration with the iconic New York Giants – an exciting addition to our long-standing history with the world of professional sports – especially global football," said Jean-François Sberro, Managing Director, Hublot of America. "We are thrilled to be the first luxury watch brand to partner with the New York Giants."
The watch and Hublot partnership were officially revealed at a "luxury tailgate" party in New York City's Flatiron District and featured Cruz being interviwed by former NFL player and current ESPN analyst Jesse Palmer about the watch. The party saw Cruz's teammates Damon Harrison and Devon Kennard come out to lend support, plus it had some amazing food prepared by award-winning Executive Chef Jean-Paul Bourgeois of Danny Meyer's Blue Smoke barbecue, like ribs, lobster rolls, shrimp, and roasted oysters.
"I felt honored to be part of the process," says Cruz. "When I look for a watch, I want a clean design that stands out. For this watch, it was inspired by New York City itself and the history of the Giants."
Cruz spoke with Men's Journal about his style, what guys need to know when it comes to fashion, and how he came back from his serious knee injury.
MEN'S Journal: What did it mean to you to step out on the field for Week 1 after almost two years away from football?
VICTOR CRUZ: It felt fantastic just to get back out there with my teammates. Not only to get back out there but to make some plays, catch the football, get things going on the right track for the team. I'm just excited to be here and contributing.
How does it feel to be part the partnership with Hublot and the Giants?
It feels fantastic to take part in this. For them to call on me to be on the design team for the launch, it was extremely humbling. We've come up with a great piece, it honors football, it honors the team, and it's a great watch. I'm excited to be a part of the brand and part of the family.
What do you look for in a watch?
Like my general style, I like a clean aesthetic for a watch. I don't like anything gaudy, big or oversized. I like it clean, that fits my wrist, that fits what I'm looking for, how I'm looking to wear it and dress with it. I've been a fan of Hublot for a long time. They stand out to me for their subtle excellence.
How are you feeling about the season? What are you hoping for yourself and the team in 2016?
We're trying to keep it going—everything is going well leg-wise for me now. We're playing with a lot of confidence. Now it's a matter of sustaining that confidence over a full season. We know there's going to be a lot of ups and downs, a lot of back and forth, but we're excited about our opportunity right now.
How do you describe your own style? What do you think should guys be looking to do with their style when they go go out?
It really is about that clean aesthetic for me—I never want it to be loud and gaudy. When men are dressing and trying to figure out what to wear to go out, one thing to remember is that less is always more.
What fashion advice do you have for guys out there looking to emulate your style? What's one tip you want them to know when it comes to style?
Make sure your clothes are tailored to perfection. It's not only about what you wear, but how you wear it. How do your clothes look on you? How do they fit your body? That's what's going to tell the tale of how you go about your business. When people see you—before they even speak to you—they notice your outfit.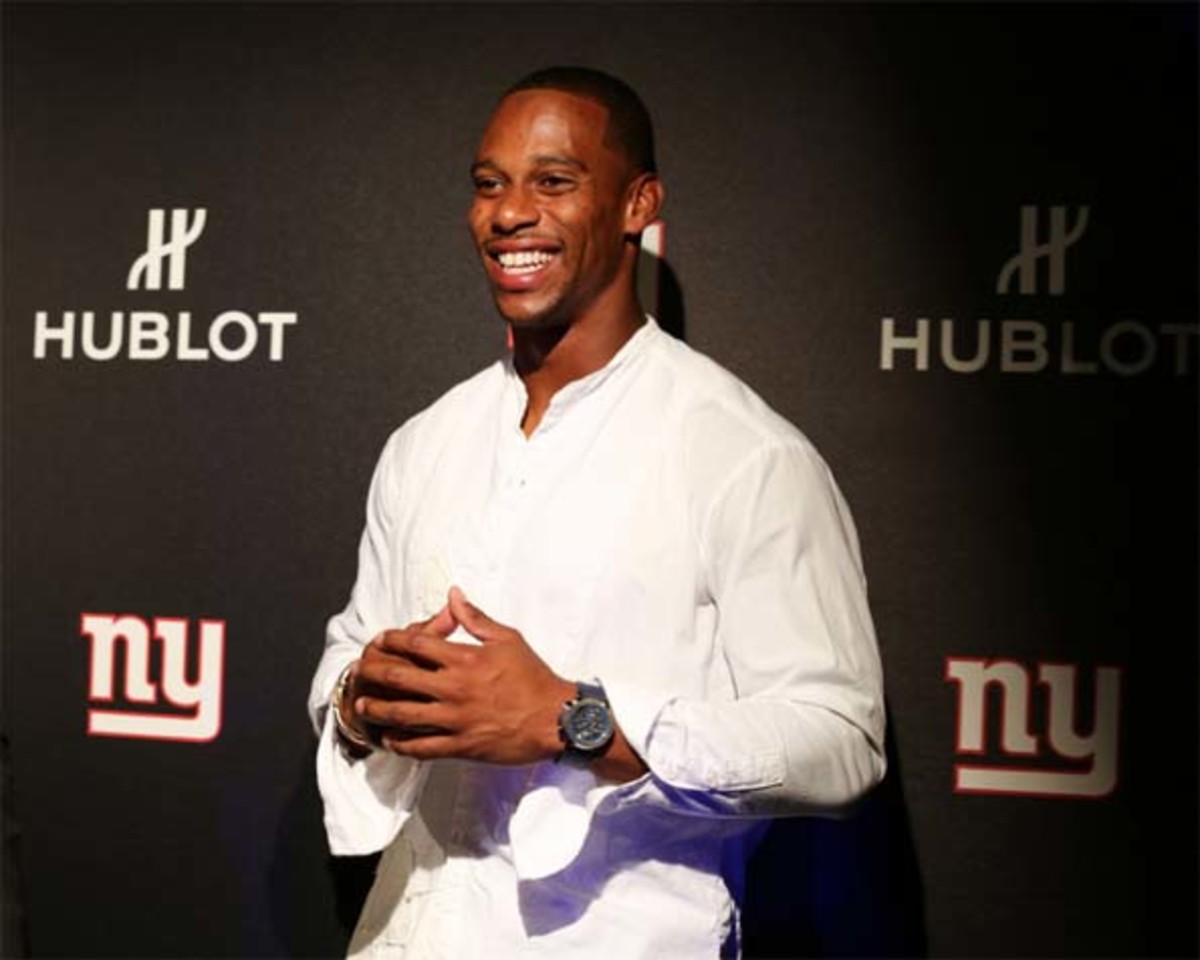 For access to exclusive gear videos, celebrity interviews, and more, subscribe on YouTube!