Golfer Billy Horschel knows how to make a fashion statement, perhaps better than anyone else on the PGA Tour. At the 2013 U.S. Open, Horschel got everyone's attention with the octopus-printed pants he wore during the final round, and since then, he's continued to be one of the most fashion-forward golfers hitting the greens. So it's no surprise that Horschel has become the first-ever athlete to collaborate with Ralph Lauren on a clothing line.
The 2014 FedExCup winner is collaborating with the 50-year-old American brand on a capsule collection for men and women, the RLX x Billy Horschel Collection, which includes summer and fall lines of pants, knitwear, layering pieces, outerwear, polos, and shorts—the latter inspired by Horschel's attention-grabbing octopus pants.
"It's pretty humbling to be the first, especially when you look at the actors, celebrities, athletes, and other people who have worn Ralph Lauren over the years," Horschel told Men's Journal. "It's an honor to have my own line, and it was great to be a part of the process. I've become someone on tour who is known for his fashion and gotten attention for it, and I it was exciting being part of the design process."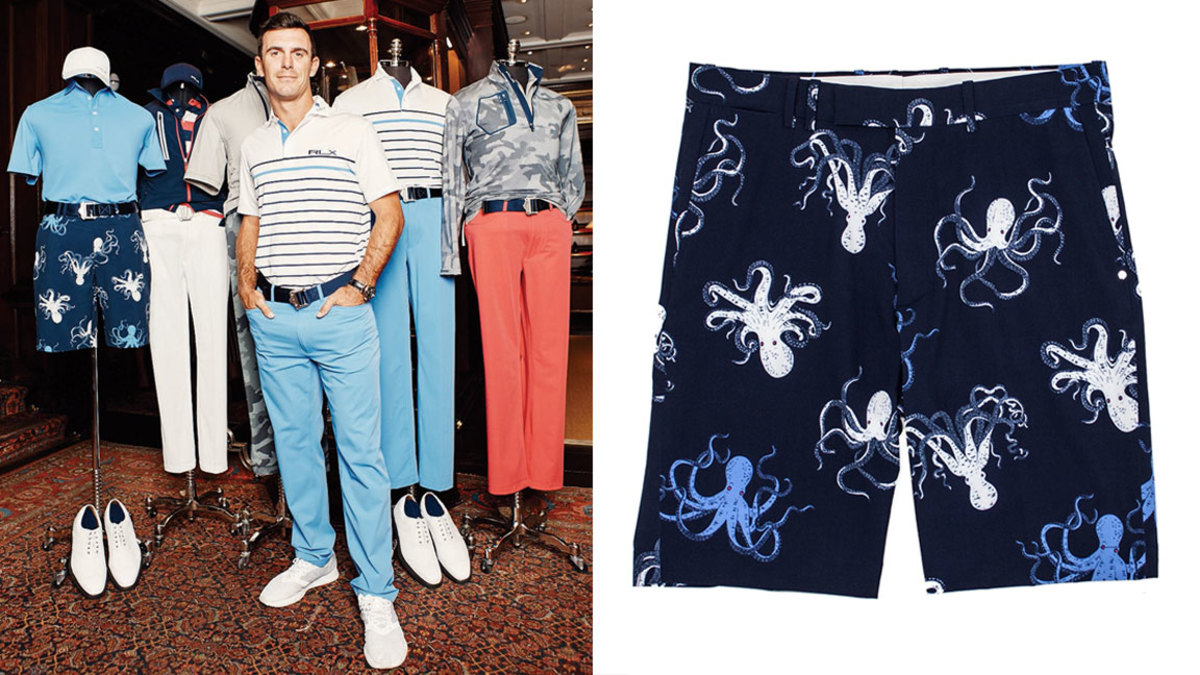 Men's Journal caught up with Horschel to speak about being the first-ever athlete collaborator with Ralph Lauren, how he trains, his favorite pieces from his new line, and why he picked Jay Z as his tee shot walk-up music.
What does it mean to you to be the first-ever athlete to collaborate with Ralph Lauren? What was the process like?
It's an honor to have my own line. I've been part of the process a little bit, mostly with working with them on how the clothes fit, and with certain style and design ideas. It was so exciting for me, being with it from beginning to end, helping select the colors to use, and style of pants that we wanted, the stripe patterns, and working on how the little details to certain shirts helped make them stand out a little more. Obviously, everyone knows me for wearing some crazy pants, but I'm a really big proponent of the little things and how they can make things stand out a bit more. To even think about that, that I'll have my own line with the logo on the back of the shirt, and people wearing stuff that I designed—that's exciting.
When will the line be available? When are you debuting the line on tour?
People can get it on July 15, it'll be at RalphLauren.com, the PGA Store website, and available at clubs around the country as well. I'll be debuting them at the PGA Championship in August. I designed a five-piece line, so I'll wear something from Wednesday to hopefully Sunday. I don't want to get ahead of things, but I've thought it would be really amazing to win the championship in my own clothes that I designed. That would be pretty special
What's the piece of the line you're most excited for people to see?
When I first wore the octopus pants at the 2013 U.S. Open, that kind of put me on the map with fashion, so we pay homage to that with the shorts. I'm going to wear that version on Wednesday, since we're allowed to wear shorts for the PGA Championship practice round. It has a little different color, but an updated version of the old style. We also have a rain jacket, and you don't see this a lot in golf these days, we have a similar type of jacket, but short sleeved. It's a waterproof-type design and it's great to wear when it gets a bit nasty out there. Without the long sleeves, you can stay a little cooler and swing a little easier.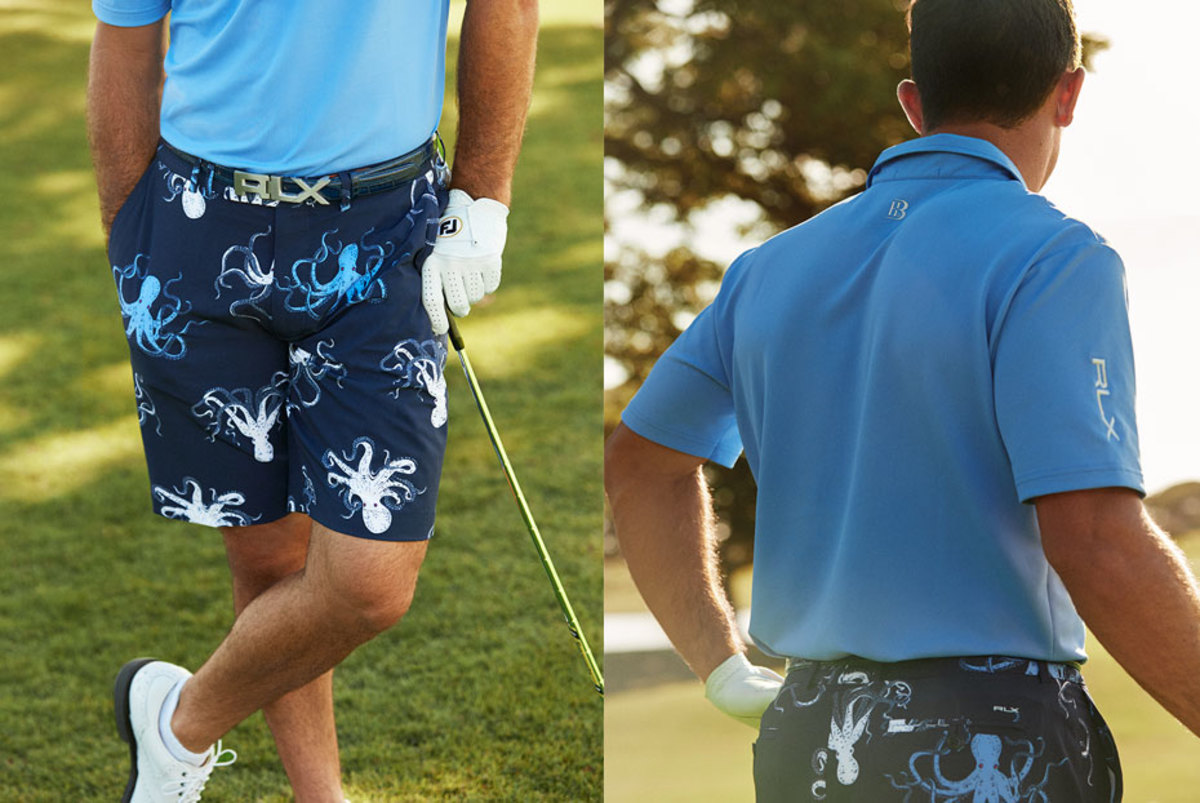 The PGA Tour gave players the chance to use walk-up music at the Zurich Classic of New Orleans—which Horschel won along with partner Scott Piercy. How did you pick your walk-up music?
I picked Jay Z because my partner at the tournament, Scott Piercy, we're both Jay-Z fans, and that song "Forever Young," we both like the beat and the rhythm. It's calming and pumps me up at the same time, and it was great to use when we were going to tee off. I was going to suggest using Warren G, "Regulate" on Sunday, but we were playing so well all weekend I didn't want to change it up [laughs]. It's cool to see that the tour is having some fun, and kind of show that you can have fun out here and still be respectful to the game at the same time. The majority of guys listen to music before a round of golf or when they're at home playing golf, so to have that on the first tee is fun and the fans enjoyed it.
How important is stretching and flexibility to your game? How often do you use the Massage Envy Player Performance Center?
I have my own trainer and a physiotherapist, and we've worked on getting my body more flexible; I've leaned out a lot. I do use the guys on the trailer once in a while, I'll sometimes get massages and get stretched out after rounds. If there's a day I wake up and something feels off in my body, I'll go see the guys if my physio isn't on the road with me. It's vital now for guys. I hired a physio a few years ago, and I've seen the added benefit, and you see a lot of guys doing that and getting worked on. There's like 10 physios that travel now on tour, and of those guys, it's like 60 players out there that they treat. You're seeing a lot of guys hiring their own physios. So people are embracing doing stuff in the gym correctly, but also embracing that recovery part as well.
What do you love most about playing at the PLAYERS Championship? What's so great about that tournament?
Over my first two days at the PLAYERS Championship, I played really well for how bad I hit it [laughs]. I putted really well, and I missed it in the right spots. Living here and playing this course a lot, I know where I can miss and still get up and down the hole, so that was helpful. I love being here. The Ponte Vedra fans and Jacksonville fans are amazing and always come out here, and me living here for about nine years, they've been great to me. This place is great. I love this event, it's the Tour, it's our tournament, I do think it's the fifth major when you think of how guys prepare for it, they really do take it seriously. I say to people, you know it's a fifth major because our practice rounds take about three hours to play nine holes, and any other week it's less than that. Guys here are hitting more chips and more putts on every hole, they're being more diligent about their practice. It's a great event and I love it.
Does momentum and playing well in one tournament leading into the next carry over for you? 
For me it does. If you look at the history of me on the PGA Tour, once I get some momentum building it continues for me for a while. I can't say that's the case for everyone, but for me it is. It puts me at peace; when I'm playing well, maybe I'll hit a couple bad shots, but I can bounce back and you have some good stuff fresh in your memory to go to if you're in a tough spot and you can stay on track.
As a golfer, what areas of focus are most important to you when you're training?
For me, it's keeping my legs strong. Legs are vital for golfers. When I work, I'm doing a little bit of strength, a little bit of flexibility, and also mobility. My lats, hips, and shoulders can get really tight, so I try and maintain that flexibility. When I get tight, I can't move as well, so I really have to keep those flexible if I want to hit well. With my training, I went back to what I was doing a little earlier in my career.
After winning the FedExCup, I wanted to put on a little bit of muscle, and it was great, but it hindered me a little bit since I didn't take care of my flexibility, so now I've been doing a lot of mobility, and keeping my core strong. If I can have that strong core and be really mobile, it helps me create a lot of speed in my swing. If I want to work on leg strength or core stability, I like to do a lot of lunges. Split stance lunges with a row, or a split stance with a chest press at the end. It about really allowing the weight to pull you back, and get a deep turn, and then explode into the chest move.
For access to exclusive gear videos, celebrity interviews, and more, subscribe on YouTube!