Khalil Mack wants more than just greatness. Even when the now-Chicago Bears star was coming off of his best professional season—the one in which he was named the best defensive player in the NFL and led his Oakland Raiders team to the playoffs for the first time in more than a decade in 2016—the linebacker wasn't satisfied. Not yet, at least. Mack wants to bring a championship to the Bears—and that starts with preparation and training.
"Even with all the accolades, I'm always trying to improve and get better every year," Mack, told Men's Journal. "I always preach this to people, even my teammates and family: 'Always know someone's working harder than you, trying to get that spot you have.' That's what drives me."
If someone's working harder than he is, we'd like to see it. The 6'3", 251-lb linebacker recorded 36.5 sacks over the 2015-17 seasons with the Raiders, and he was a force with the Bears, recording 12.5 sacks in his first season with the team in 2018. After generating 96 total pressures during the 2016 season, Pro Football Focus rated him as the top-overall pass rusher in the NFL.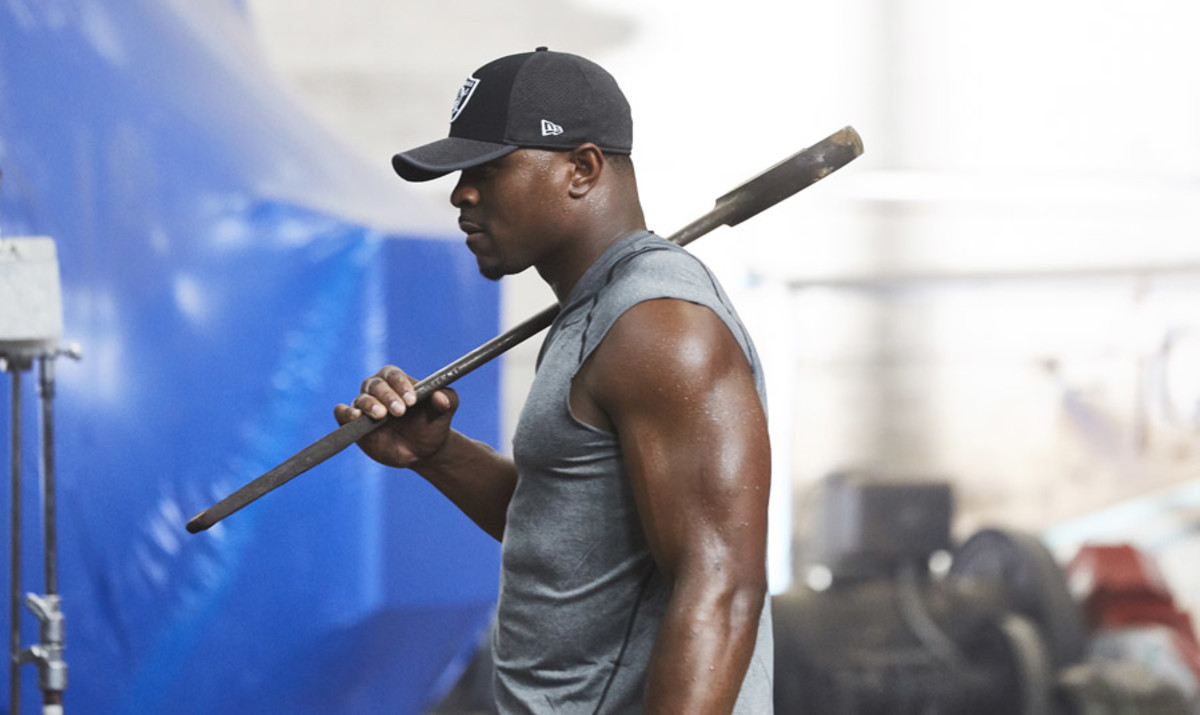 How does Mack get so dominant? It's all about consistency.
"Over each offseason, my training is mostly the same stuff, but I try and tweak it with a different approach," Mack said. "I'm always looking at film, studying myself, comparing and contrasting with film of the great linebackers to see what I need to work on."
For example, after recording four sacks during his rookie season in 2014, Mack spent the 2015 offseason focusing on getting faster and strengthening his lower body. Ahead of training camp, he ran up and down hills near his training facility to help improve his speed. It worked: In 2015, Mack had a career-high 15 sacks and made his first Pro Bowl appearance.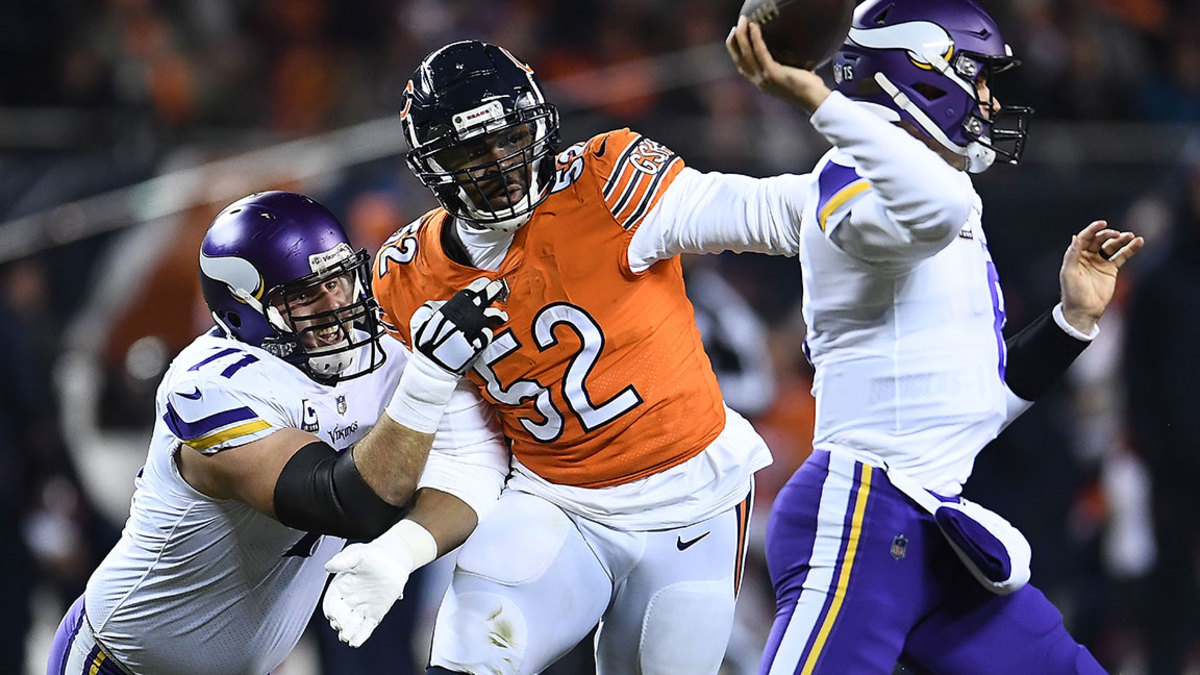 During the 2017 offseason, Mack said he's focusing on strengthening his core and increasing his explosiveness off the line of scrimmage.
"My workouts start with a really good stretching session," Mack said. "After that, I fire up some of my smaller muscles to get them ready for the next part of my workout. I love kettlebell workouts and pushing the sled—I've been doing a lot of that this offseason—along with heavy sets of pushups and situps."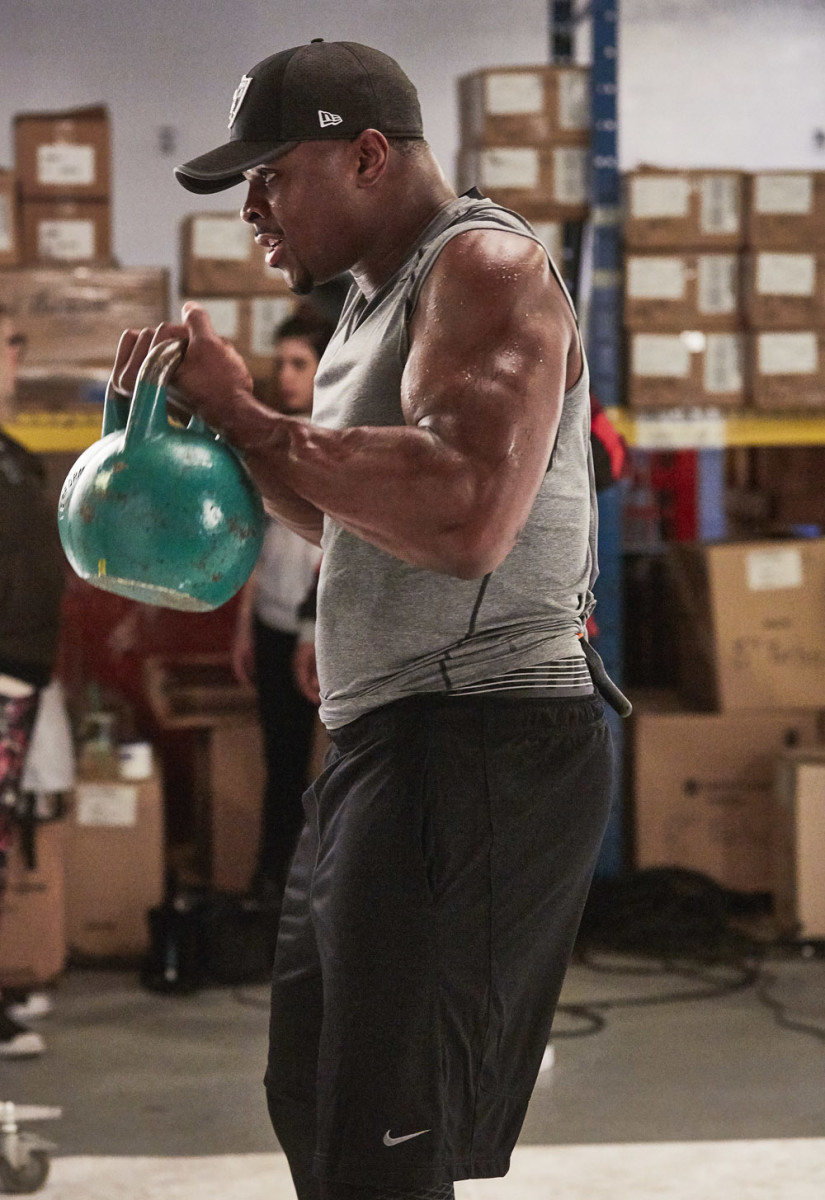 Here's a look at some of the workouts Mack uses to stay in such great shape:
Mack builds his upper body:
 

View this post on Instagram

 
Mack doing sand workouts and agility drills:
 

View this post on Instagram

 
Mack getting in some dumbbell workouts:
 

View this post on Instagram

 
Mack also upped his style quotient by teaming up with New Era for their 2017 collection, including the hats that each college player will wear when his name is called at the 2017 NFL Draft. Even though putting on the hat is just one small part of NFL Draft day, Mack's experience was one that made a big impact on him. "It was a surreal feeling, and it still feels like that to me," Mack said. "It was amazing—you hear your name called, you kiss your mom on the cheek, and everyone else at the table gets excited. From that moment on my life completely changed, it's been a blessing, truly a blessing. Putting on the hat is a moment I'll never forget."
Mack knows a thing or two when it comes to headgear: "I have a big head, so I can appreciate a good hat," Mack said. "The hat accents everything that you have on and that's a big part of my style. It's one of those things where you can mix and match and make it your own, whether it's comfortable or casual. Plus, you can cover up a bad haircut when you need to."
If you want to up your style game with a new hat, the caps go on sale Monday, April 17, and are available at NFL Pro Shop, Lids.com, and NewEraCap.com.
For access to exclusive gear videos, celebrity interviews, and more, subscribe on YouTube!