The MLB shortstop revolution is here—and it's being led by Carlos Correa.
The Houston Astros star, along with players like Addison Russell, Corey Seager, Francisco Lindor, and Xander Bogaerts, are changing what it means to be a shortstop. Teams are no longer satisfied with defensive wizards whose glove skills make up for less-than-average offense. Instead, clubs want a heart-of-the-order hitter who can handle the most important infield position—and Correa completely fits the bill.
The 6'4″, 220-lb Correa has quickly become one of the most exciting players in baseball, blasting home runs, playing Gold Glove-caliber defense, and leading his team to the top of the American League.
Now, he's helped his team win the 2017 World Series over the Los Angeles Dodgers. Just a few years ago, the Astros were losing 100-plus games per season—one reason why they were able to draft Correa with the top pick in the draft—and now they are champions. Correa played a major part in making that happen, putting his team in position to keep winning for years to come.
How did he do it? Countless hours in the gym and hard work in the batting cage.
"Core strength is so important, it's my favorite workout," Correa told Men's Fitness. "A lot of baseball moves come from your core—a strong core helps you to hit, play defense, dive for the ball, to throw, to do it all. I work hard on keeping my legs strong too. I use squats, split squats, hamstring workouts to build muscle and make sure my legs have the strength to stay healthy for all 162 games."
Correa will load up 3-4 plates on each side of the barbell when he does back squats, and he'll push things up to 500 lbs on his deadlift. "I'm not trying to kill myself in the weight room or hurt my knees," Correa said. "But make sure I'm strong and ready to go. As a shortstop, I'm on my legs and moving a lot for nine innings, so I need my body to be ready. I work on my lower body a lot."
Correa made his MLB debut when he was just 20 years old in 2015, going on to win AL Rookie of the Year and become the youngest shortstop to hit a home run in the playoffs. Even though Correa is young, he carries himself like a veteran and understands the preparation it takes to succeed at this level.
"In the offseason, I'll spend two hours in the gym each day, lifting and working out on upper body or lower body," Correa said. "Then, after that, I'll go straight to the field and work in the cages for at least an hour and a half. As a player you've got to work on your baseball side, too. During the offseason I'm trying to get more powerful, faster, stronger, and more explosive. My workouts are more intense in the offseason—during the season it's more maintenance—but if you already put in the work, during the season you'll keep your body healthy and in shape."
Correa also has no problem bringing some extra data and analytics into the conversation, too. The shortstop has worked with Blast Motion, using their swing analyzer technology to study video, looking at his bat path, speed, and swing angle, helping him with his mechanics and honing in on the specific adjustments he needs to make at the plate.
"When you're trying to get better, having the data is so important," Correa said. "A lot of baseball is about 'feel.' Sometimes you think you're doing the right thing, but then you look at the data, and see something is not clicking. It helps you find it faster and you can make the adjustment, which is what baseball is all about. Blast Motion helps give players the right data. The bat path and bat angle for me are really important. You can be a little late, but you can still hit a line drive the other way if the path and angle are right."
Correa isn't afraid to critique himself—he spends hours watching video to refine his swing, and makes sure his mechanics are sound.
"When I look at my swing and I see if my bat angle isn't right, or if I'm dropping my hands, it helps me be able to make the adjustments," Correa said. "I can look at what's wrong, I can see if I'm dropping my hands and what I need to fix. I use the tech every day to make sure I'm consistent with my swing. Looking at the data, it increases the chances of me getting a hit. It can really help as a young player when you're trying to figure out your swing and your approach."
Correa has had high expectations following him his entire life, and at every stage he's delivered.
The Puerto Rico native started playing organized baseball when he was five years old, graduated from high school as valedictorian, and entered the MLB draft at just 17.
The Astros made him the first overall pick after he left scouts "blown away" during a team workout.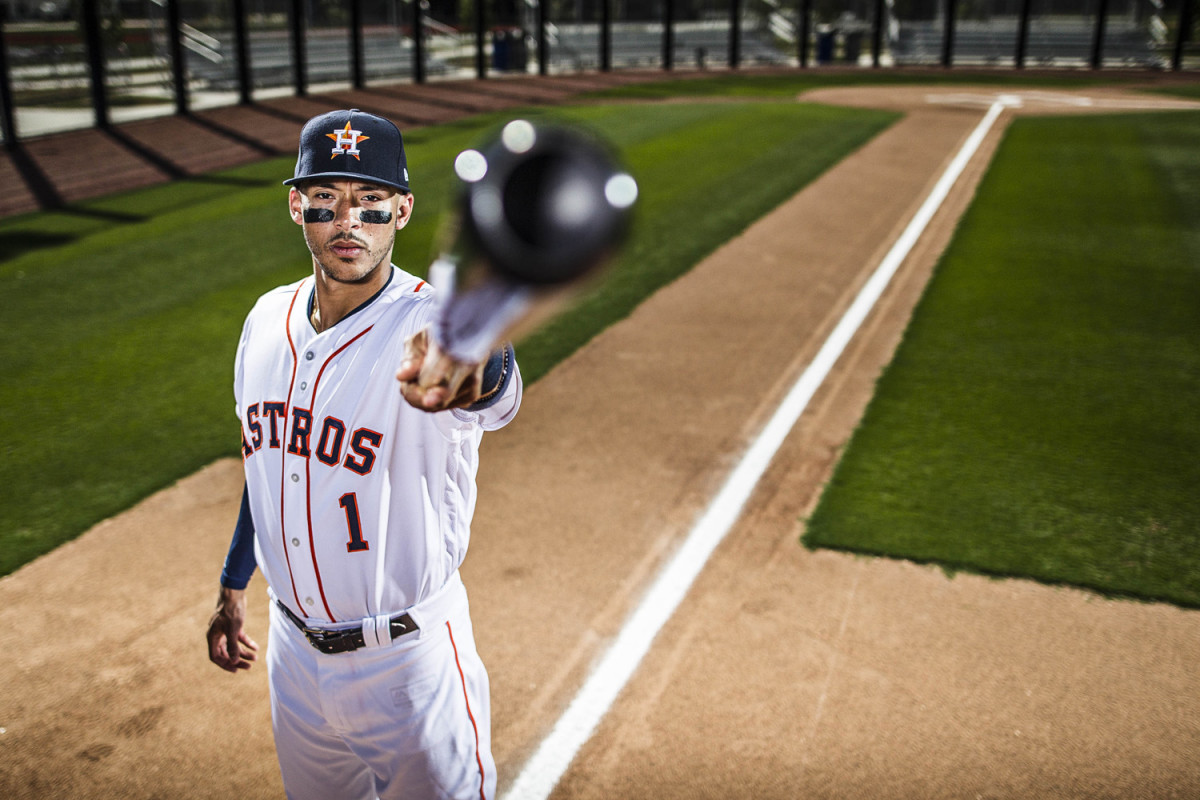 Before the 2017 season, Correa experienced some newfound attention while playing in the World Baseball Classic for Puerto Rico. The team made an undefeated run through the tournament before losing in the finals to the United States, gaining fans from around the world with their brash, exciting style of play, and, of course, their matching blond-dyed hair.
"It was an amazing experience, we had a blast, we were making baseball fun for those eight games," Correa said. "It was incredible being on the field with Yaddie (Yadier Molina, Cardinals catcher) and Carlos Beltran (Astros outfielder), and to learn from all those great players."
With the way his career has started, Correa soon enough will be the one teaching young players the right way to play the game.
"The other day I saw some kids come into the ballpark with the eye-black under their eyes like I wear, and that was really cool," Correa said. "I want to play hard every day and give them someone to look up to. Show kids there can be more Carlos Correa's in baseball."
For access to exclusive gear videos, celebrity interviews, and more, subscribe on YouTube!