Now that the 2017 NBA Finals have taken a bow and the 2017 NBA awards have been dished out, the time has come for pro basketball players to either fall devastatingly out of shape or improve their game.
You can probably guess which option nine-time All-Star point guard Chris Paul has decided to take.
Now that he's heading into his thirteenth season, the 6′, 175-lb floor general isn't just dedicated to maintaining his body and skills, but rather improving them. The Wake Forest product has shown little to no decline in his game throughout his career. Want proof? He finished the 2016–2017 season with a 41% three-point percentage, the best of his career.
And while 6′ is hardly small for the average guy, Paul needs every aspect of his game—both on and off the court—to be at a heightened level to match up with the goliath physical specimens in the league night in and night out. In a conversation with Men's Fitness, Paul revealed how he does it.
Men's Fitness: How has your training changed over the years?
Chris Paul: I'm more in tune with my body. I know what I need to have in, I know what I need to fuel it, I know what I need to put in it to recover. There's no such thing as an offseason.
How do you treat your body differently during the offseason—that is, when you're not in the regular season?
So even though I'm not on the court playing five-on-five all the time, I still usually work out and train daily, whether it's SoulCycle for two or three days a week. I might hit Orangetheory[fitness]. I've got a gym at my house, and I'm just always constantly keeping my body active. Why get completely out of shape, only to have to do all that work to get it back there?
How big a factor in your training is lifting weights?
For me, I'm not always lifting for bulk, cause you also gotta know your body type. If I get too much on that bench I'll start looking way too big. So for me, it's all about toning and keeping up strength.
How is your diet different in the offseason?
My diet during the season is a lot different than it is during the summer. One thing I learned from Grant Hill—he was telling me about it during the summer—is to focus on 70% healthy food, 30% "cheat." Try to eat as clean as possible during the week, during the weekends I may cheat a little bit, but when I'm in season it all stops.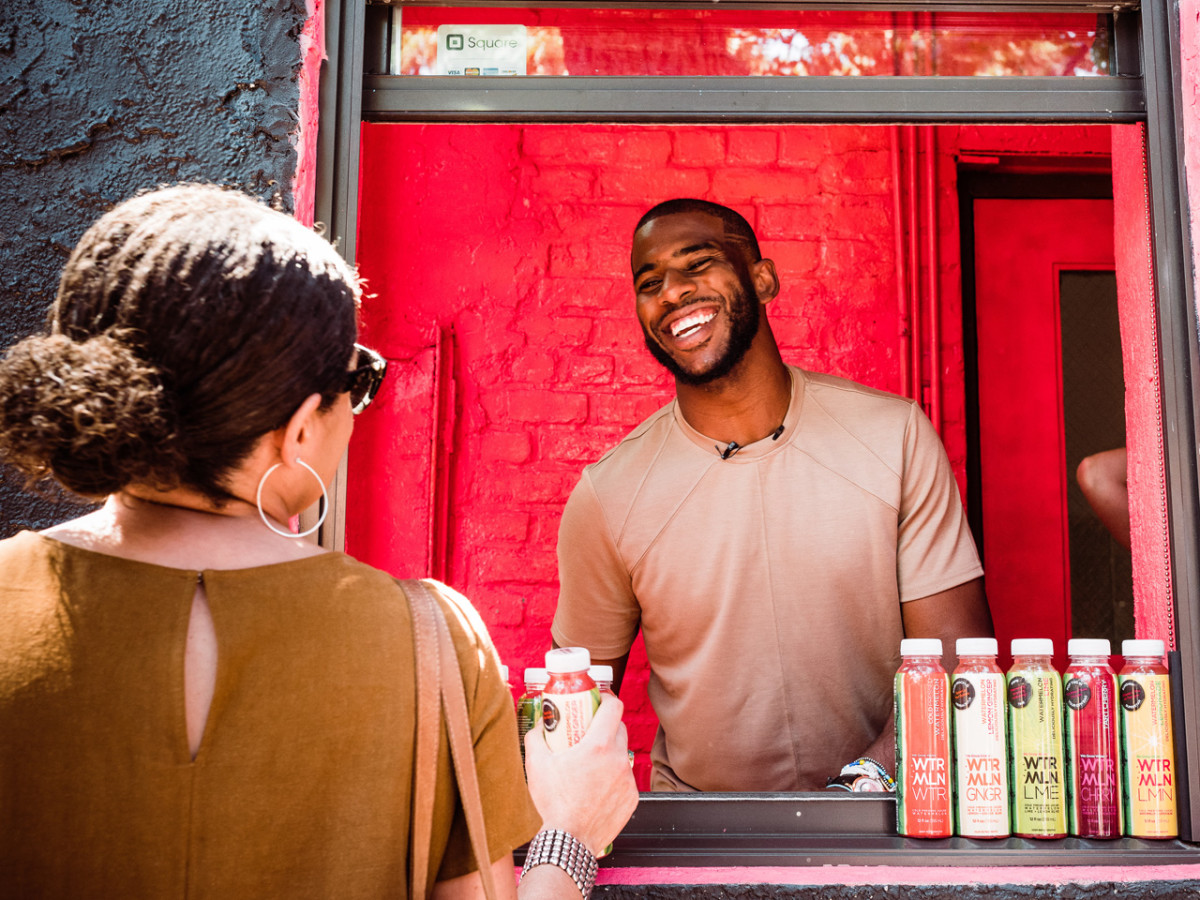 How do you manage to stay on the same level competitively as the league rapidly gets younger?
I love competition. I don't believe in the logic that, because I'm 32 now, I'm supposed to give way to [younger players]. It's all about lifestyle, and training, and eating right. That's why it's been cool with this partnership with WTRMLN WTR—it's more potassium than a banana, less sugar than an apple. [Paul recently invested in the company and is leading the brand's "Drink Clean" initiative.]
You're big into on-court analytics. Do you do the same for your diet?
This past season, my blood test told me that eggs were making me tired and making my muscles tighter, so I went the entire season with no eggs. I like to find out that type of information, because if it's gonna give me an edge, I will do it.
How do you manage to eat clean on the road?
That's the toughest part, and I know how fortunate I am because our team has a nutritionist. She actually emailed me my different options when we're on the road. If you want to live a healthy lifestyle, it really takes planning—and I mean we plan everything else in our life, so you have to plan your food. If not, when you get hungry you're just gonna stop at the fast food joint.
For access to exclusive gear videos, celebrity interviews, and more, subscribe on YouTube!