Rashad Greene, a 6-foot, 180-pound speedster from Albany, GA, may very well end his collegiate career as the greatest wide receiver in the history of Florida State University football.
No humble feat, of course. FSU is a perennial powerhouse and gridiron talent factory that in recent years has churned out top NFL receivers like Kelvin Benjamin—a first-round draft pick this year—as well as big names like Peter Warrick, Laveranues Coles, and three-time Pro Bowler Anquan Boldin.
In 2013, Greene caught 76 balls, the second-highest total ever in a single Seminoles season, and snagged nine receptions for 147 yards in the 2014 national championship game against Auburn. The Seminoles won. This season, Greene is primed to break FSU's all-time records for total receiving yards, career receptions, and receiving touchdowns—the first two are records that have stood since 1968.
But, for all his accolades, promise, and well-earned swagger around FSU's practice field, today the 21-year-old nursing major with the quiet temperament is just another player who's slacking his way through a workout.
And there's no way he can hide it.
Greene, along with the rest of the Seminoles "skill guys"—speedy wide receivers and defensive backs—is going through a series of grueling conditioning sprints on the turf at FSU's new $15 million indoor facility, near the end of the team's spring practices in Tallahassee. Vic Viloria, a stout former linebacker who's now the team's head strength and conditioning coach, oversees the drill.
Instead of focusing solely on the players, however, his staffers are glued to an array of computer monitors that display a constantly updating stream of colorful numbers, bar graphs, and pie charts. Some of the numbers indicate that Greene might be dogging it a little.
The information comes from a sensor about half the size of an iPhone 4, which Greene—along with every other player—wears on his back under the uniform, held in place by a triangle-shape "sports bow" secured at the neck and under the armpits.
Developed by an Australian sports science company, Catapult, the sensor tracks more than 100 metrics, including distance, speed, acceleration, deceleration, and heart rate. It also monitors change in direction using 3-D accelerometers, 3-D magnetometers (essentially digital compasses), 3-D gyroscopes, a GNSS antenna for GPS, and a processor with a memory unit. As it collects data, the sensor transmits numbers wirelessly to the coaches' sideline command center. There the computers use algorithms that factor in the players' vitals and other biographical info, then elegantly format the information into readable—and actionable—graphs and charts.
At Florida State, the data is sacred. This is a football program that finished in the top 5 of the Associated Press poll every year from 1987 to 2000, routinely steamrolling its opposition in the Atlantic Coast Conference. But it struggled through a slump in the 2000s, in the twilight of the tenure of long-running head coach Bobby Bowden.
Recently, though, the team has surged back to prominence under new head coach Jimbo Fisher, a longtime Bowden acolyte who took over the top job in 2010. The data never lies, argues Fisher, who credits it for helping guide the Seminoles back to their rightful place atop the world of college football. "It's helping me manage the team in terms of where we want to peak during the year," he says, speaking at the pace of a hyperactive child.
On the practice field, Viloria notices that Greene is slowing up a few yards before the end of each sprint. In the past, Viloria would've had only his eyes and intuition for such a split-second observation, but now the sensors offer figures to back it up.
Greene, like the rest of his teammates, knows not to question the data; so when Viloria shakes his head and tells him the last sprint didn't count—he slacked off in the final stretch—Greene doesn't argue or hang his head in complaint. He merely lines up and does another 100-yard gasser, running full-bore to the very end.
He looks over at Viloria, whose readout confirms the effort. Greene hits the showers as the coach smiles, another training session altered slightly but significantly, another national championship a fraction closer. 
Welcome to the new age of football, where real-time information influences a head coach's practice decisions on a daily basis, and every athlete gets an individualized training program intended to maximize potential and reduce injury. And the Seminoles, headed by the irrepressible Fisher, are leading the way.
"FSU football was the first major college football program to really adopt the Catapult technology," says Ethan Owens, a sports scientist for the company. "We created it, but they had to figure out how to take it and use it to benefit FSU football."
The Seminoles became Catapult's first U.S. client in 2011, a year after Fisher took over the team. Viloria and his then assistants, Erik Korem and Joe Danos, pitched him on the Catapult devices after seeing them in action at a practice of an Australian rules football team, the Greater Western Sydney Giants.
Catapult was founded in 2001 by engineers Shaun Holthouse (now the company's CEO) and Igor van de Griendt. The duo developed a unique athlete-tracking microtechnology, and eventually found themselves working with several Aussie pro football teams.
Viloria and Korem, fascinated by what they learned from watching the Catapult system in action, brought the idea back to their head coach. Fisher, always searching for an edge in the hypercompetitive world of elite college football, approved the program.
The first year, FSU used 30 GPS sensors for the entire team. Initially, Viloria says, the data was little more than noise, what with the small sample size and the fact that the Australian sports scientists who designed Catapult didn't know what stats to cull for an American football team. Each sport, they argue, comes with sport-specific movements and conditioning drills that produce wear and tear on the body in different ways.
But as FSU gathered more data—adding additional sensors each year, topping out at 80 this season (at the cost of more than $100,000 a year)—they began to develop profiles for different types of players. Previously, Viloria could only theorize that a series of sprints or route-running drills would have a different effect on Greene (6′, 178 pounds) than on Benjamin (6'5″, 234 pounds).
"If I take two guys with different body types out on the field, well, shit—the same workload is going to be a lot more stress on one than on the other," Viloria says. "We knew it before, we just couldn't prove it."
NFL Fit: Cincinnati Bengals>>>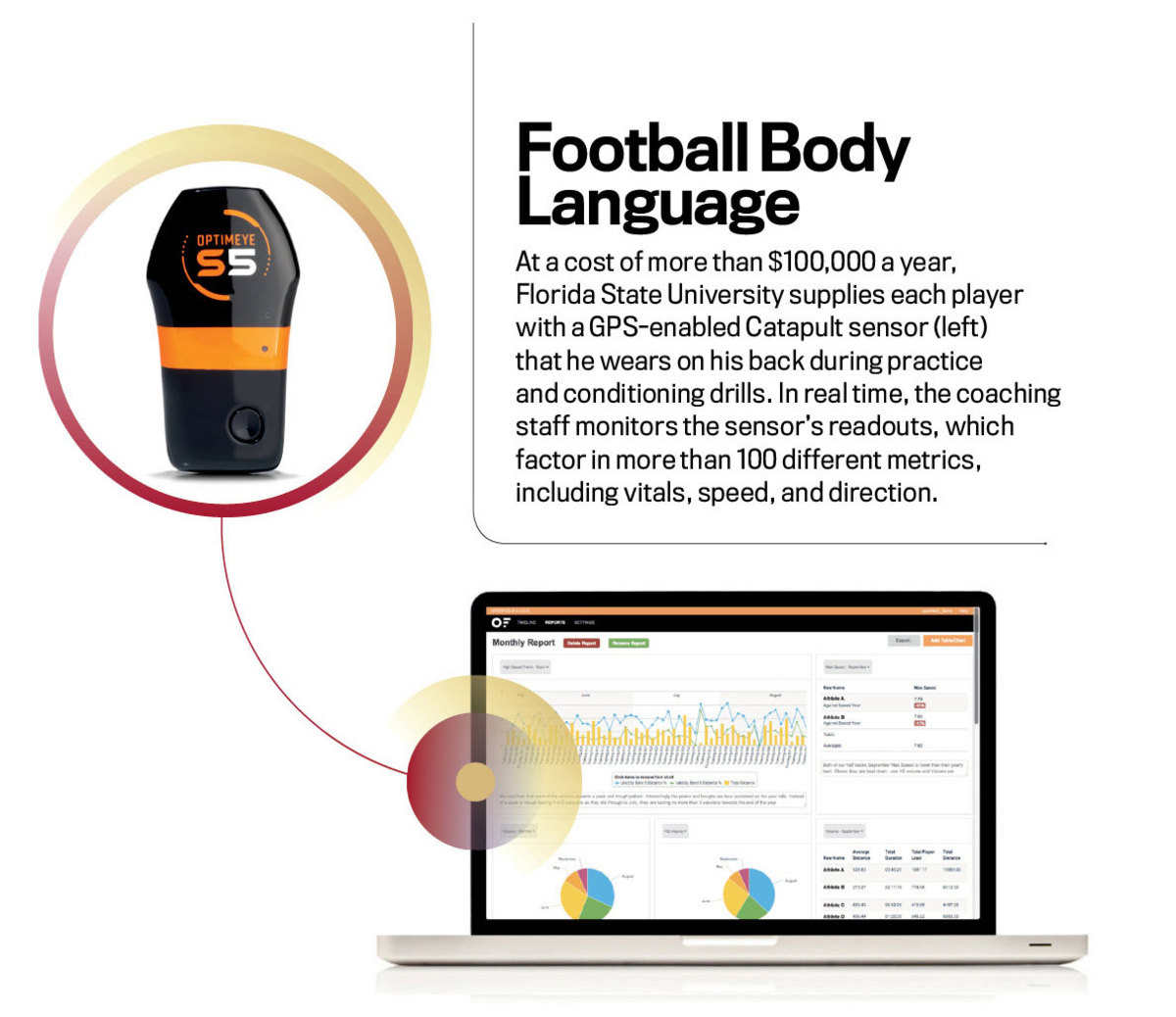 So last year, the much heavier Benjamin ran shorter conditioning sprints (90 yards) than the lithe Greene (a full 100 yards). Big offensive linemen, meanwhile, went 60 yards.
"Each individual player can only sprint for so long," Viloria says. "Beyond that, it's no longer speed. It's not cardio or endurance either, because they're exceeding the heart-rate zone you want them to be in. At the end of the day, if you get rid of that, you get rid of a lot of potential injury."
Viloria now establishes benchmarks at the beginning of the season for each player—similar to a weight room max-out figure—that can be followed all year. "It's been a total culture change," he says. "Everyone used to run the same distance. But in the weight room, we wouldn't ask a  190-pound guy to lift what a 300-pound guy lifts. That would just be stupid. The only reason we know that is because we get baseline numbers. We do the same with the sensors on the field."
The data also provides a way to cut through the obstacles of player personality and stubbornness. For example, if Greene can sprint at 20 miles per hour for 100 yards without slowing down, the coaching staff can tell him to run at 80% for a training session and observe if he's following through or not.
"It takes all the guesswork out of it," Fisher says. "Some guys don't show how tired they are. Others do. This lets me have correct data so I can make direct decisions. We know over a period of time where each guy performs his best at the end of the week, so we can adjust each practice specifically for him. Players aren't cattle. You can't train them all the same. They all have different parts."
The Catapult sensors aren't your average Garmins or Jawbones, either, delivering only basic information like heart rate and speed. The system relies on proprietary algorithms that vacuum up several metrics in real time and assemble them in easily digestible ways.
Russell Wilson: "I Eat A Ton Before Games">>>
The most important metric for FSU, for instance, is the all-encompassing "PlayerLoad" variable, which takes into account sagittal, frontal, and transverse planes of motion—basically, movement in every direction—as well as other factors like age, weight, high-intensity running, time spent walking versus running versus sprinting, and the number of accelerations and decelerations.
PlayerLoad crunches the numbers to provide a single figure that represents how hard a player's working.
Call it the Holy Grail number, the figure that "turns all this fancy verbiage into football talk," says Viloria.
Based on those PlayerLoad numbers, Fisher, Viloria, and the rest of the staff may keep a practice going, end it a couple minutes early if the entire group is overworked, or instruct individual players to take a rest if their workload gets too far over their benchmark.
When practice ends, Fisher studies a printout detailing the workload of every single FSU player who was "mic'd up"—team lingo for wearing a sensor. If the team was supposed to go 80% but went 85%, he'll dial back the next day to give his troops some rest by increasing repetitions but lowering the intensity, or reducing the amount of physical contact between players.
This, he says, keeps players in football condition while simultaneously giving their bodies and muscles a bit of a rest so they can peak in time for the games.
For all the data program's success, Fisher was initially skeptical about the role of data in monitoring and maximizing cardiovascular fitness.
"It really was hard for me to adapt, because it's against everything I've ever been taught in sports," he says. In football, he points out, players are supposed to go 100% all the time. Anything else runs counter to the sport's "religion"—that melodramatic, Rudy-esque belief that players should always be pushing themselves, painfully, to some metaphysical limit in hopes of improvement.
But, according to Fisher and Catapult scientists, that mindset is not only rapidly becoming obsolete, but has possibly been dangerous all along.
"You wouldn't drive a car in a race without a dashboard, so why do we do that with our athletes?" says Gary McCoy, Catapult's senior applied sports scientist in the U.S. He argues that we all have different-size engines that can operate at full speed for only so long—and no two are the same.
Fisher's opinions on the benefits of data changed as he saw its effects. In 2013, when the team's data-monitoring program was in full swing, the Seminoles began the season ranked 12th in the USA Today poll—and never stopped winning. They won nine straight games by at least 27 points, including four against ranked opponents. FSU finished a perfect 14–0, defeating Auburn 34–31 in the national championship game on a dominating drive during which they looked as fresh as they had in the first quarter.
"We were able to peak damn near every week because we had all the data coming back," Viloria says.
The team also dramatically reduced injuries. Soft-tissue injuries—muscle, ligament, and tendon issues that arise from overstretching, lack of strength, and, most important, fatigue—are down 88% over the past two seasons, primarily because FSU is limiting overtraining.
"Most soft-tissue injuries are preventable," says sports scientist Michael Regan. "We're giving them a tool to measure the movement of their athletes, and, therefore, their fatigue and load. By building up benchmark data, you're understanding the risk of soft-tissue injuries and can be proactive in reducing them." Not a single player missed a game in 2013 due to one. That's a remarkable statistic for such a high-level NCAA football program. (The University of Florida, meanwhile, suffered 10 season-ending injuries during the same stretch.)
Conditioning drills are safer as well. "We've been able to stop five or six heatstroke situations by monitoring players' heart rates during practice," Fisher says. "We'd go grab a guy, get him cooled down, then get him back out there." Viloria, the man overseeing the cardio training, put it even more simply. "I don't have to wait until the guy passes out to sit him down," he says.
It's an about-face for Viloria. "The first year, when the data didn't really make sense, I was the typical bonehead. I began to think that I didn't need the fucking computer to tell me how to do my job. The second year, I thought it was OK. Now, I really feel bad for the teams that don't have it. It's gonna extend careers—and save kids' lives."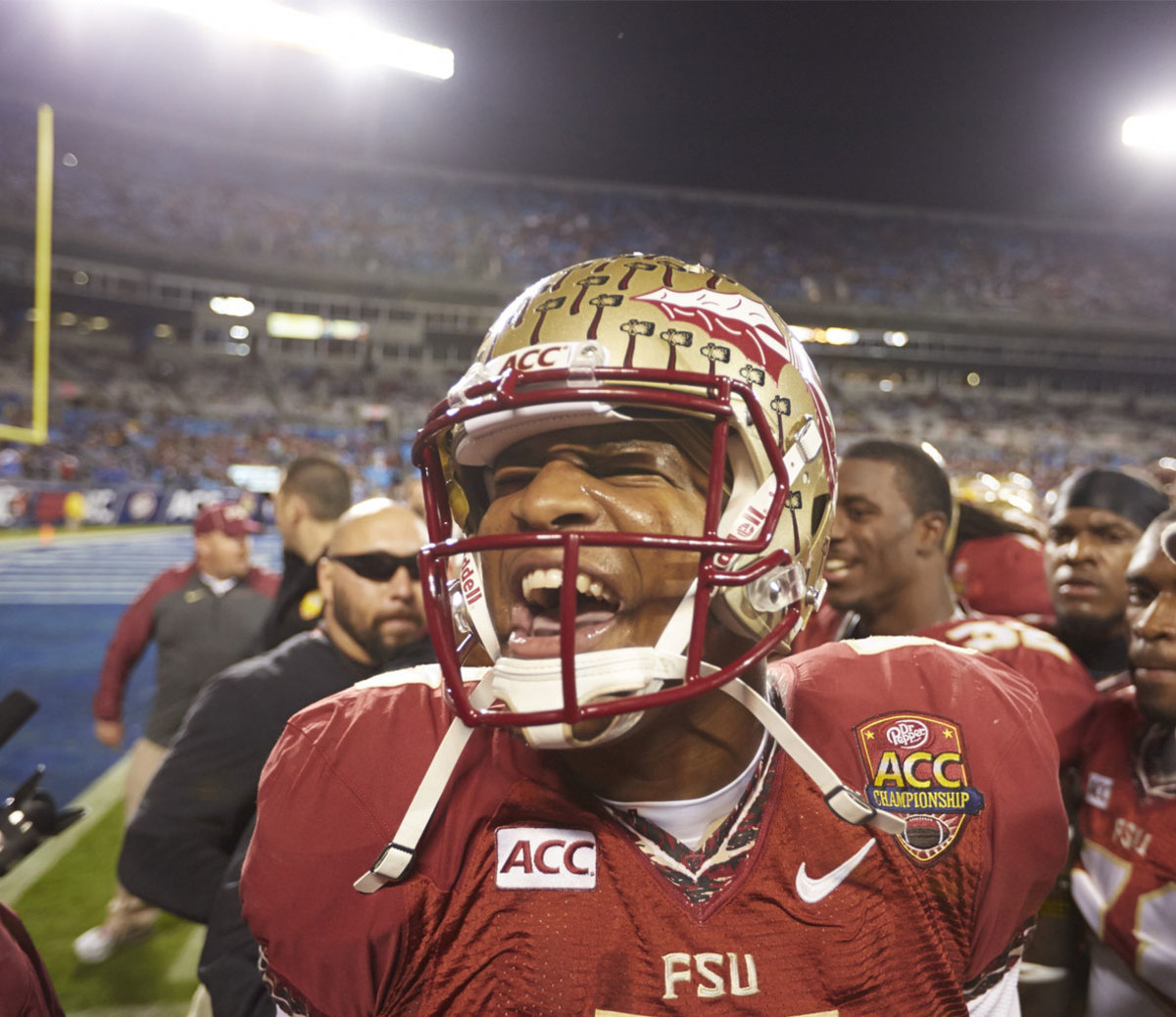 Catapult has also been a boon for recruiting. Fisher uses the data-monitoring program not only as a selling point for the university, but also as a means of better preparing  players for a pro career. He argues that the data will help deliver them to the sport's highest level in the best possible shape.
In 2011, Kelvin Benjamin arrived at FSU as the eighth-best high school wide receiver in the country, according to rivals.com. And though he caught 30 passes in 2012, the coaching staff felt he was relying on his physical gifts during games, content to glide through training sessions. Given his massive size and quickness, he should have dominated. Viloria believes that providing real-time feedback to Benjamin helped convince him that he needed to work harder on the practice field.
"There's no more arguing," says Viloria. "I don't have to be the typical strength coach. I give them a number and show them where they should be. It gives them some ownership. It's their body."
Other teams are catching on. Oregon and LSU use Catapult's trackers for their programs, though they have nowhere near FSU's 80 sensors. The University of Kentucky's football team hired away former Viloria assistant Erik Korem to run its GPS program, while Viloria disciples Joe Danos and Alex Hampton now work as strength and conditioning coaches with the NFL's New York Giants and Jacksonville Jaguars, respectively. In total, Catapult has contracts with 19 college programs and 14 NFL teams.
Skinny LeBron Hits Instagram>>>
Catapult doesn't offer a consumer product yet. That's coming in the future, according to CEO Shaun Holthouse. He believes that it will lead a new wave of wearable, high-performance devices that not only measure your outputs but also run them through algorithms and help do your thinking for you. For example, if you're a long-distance runner, you'll have your own version of the PlayerLoad variable, which will incorporate your heart rate, weight, and age, and be able to tell you if you're slacking or going too hard. The same will apply to all kinds of endurance activities.
"You could compare it to Formula 1, where great high-end technology is developed and proven at the elite level, then over time makes it down to production cars," Holthouse says. "The great thing about our technology is its strong scientific pedigree and the fact that it has such a demonstrable performance benefit for the world's most elite athletes. It's very different from 'bottom-up devices' like Fitbit and the Nike+ FuelBand, which are focused more on sedentary lifestyles and obesity problems."
Fisher agrees. Winning isn't about going 100% all the time, he says; it's about peaking at the right time.
"The last two years are when we've really been able to use it," he says, "and we're 26 and 2. Injuries are down. We've had two ACC championships and a national championship."
And, he'll tell, FSU is just getting started.
NFL Fit: Jacksonville Jaguars>>>>
For access to exclusive gear videos, celebrity interviews, and more, subscribe on YouTube!