After missing all but 18 games of the 2016-17 season with a shoulder injury, Miami Heat star Justise Winslow is back to full strength.
That is to say: Winslow is feeling stronger than ever.
As he starts his third year in the NBA, the forward is ready to build on the potential he showed as a rookie in 2015-16.
"It feels great to be back," Winslow told Men's Fitness. "I had to go through some trials and tribulations last year with the injuries, but everything happens for a reason. With my rehab, I always understood that it was part of a bigger picture, and that the smaller steps and smaller pieces would add up in the end. It feels great to be back on the court and with the team."
As a rookie, Winslow established himself as one of the best young defensive players in the league, making the NBA All-Rookie Second Team after coach Erik Spoelstra called on him night after night to guard NBA dynamos like LeBron James, Paul George, DeMar DeRozan, and former Lakers great Kobe Bryant.
But all that development came to a grinding halt after Winslow was shut down after he tore his right labrum, necessitating surgery in January 2017.
"The rehab went better than I expected," Winslow says. "I pretty much treated it as I would any other workout—always trying to compete and give it my all. I was always working to get my shoulder better, but also working on other aspects of my body and my game. I leaned out this summer and got more athletic. It was a great learning step for me in my career, just learning the discipline and patience of doing the rehab, not necessarily seeing progress every day, but knowing you're going in the right direction."
Winslow spoke with Men's Fitness about the rehab process, expectations for the NBA season, and his favorite TV shows.
MEN'S FITNESS: How does it feel to be back after missing so much of last season with an injury?
Justise Winslow: For me, it's been a long journey, pretty much since January 1. So I've been looking forward to this season for a while. But I also have been paying attention to every detail on how to be better and how to become a true professional player. I had a pretty long off-season, but it just feels great to be back on the team bus, seeing everyone every day, all the little things you take for granted. It just feels great to have it back in my life.
What was the rehab process like for you?
The rehab was tough, but it helped me get stronger and more athletic with everything I had to do. I had to work a lot on the shoulder with our physical therapist, obviously, but it also allowed me to focus on the other areas of my body that weren't injured. It really helped me understand importance of details, the importance of self-discipline, and holding myself accountable. It was a great challenge for me just as a young man, a young person in life. I felt like I grew a lot as a man and as a player, but also becoming better with the little things in life and not taking anything for granted.
What are some of the workouts you used during your comeback? How did you keep yourself motivated?
I always tried to keep the big picture in perspective. Whether I was riding the bike, or doing therapy workouts, or doing my rehab for the day, I always told myself: "This is the right plan, I'm on the right track." I made sure to follow the instructions of the experts. Making sure I was understanding the bigger picture and that these little things would add up, that all kind of kept me focused, kept me motivated. Seeing a little progress each day really helped me and inspired me to keep pushing through.
What's your workout routine like? What are some of your favorite workouts to do?
When I'm working on my lower body—whether it's a hip circuit I'm doing every day, or working on footwork with different drills—there are a multitude of different exercises that I can do. One of the biggest things for me is my hips. Whether it's making sure they're still mobile and have a good range of motion, or strengthening them, it's so important. I'm always making sure that they're ready to go, warmed up, loose, and flexible.
I like to do a lot of ball-handling drills, and keep things going at game speed. Sometimes I'll have a couple of my buddies help with my drills, keep things realistic. I try and stay away from the bland drills. Coming off the injury, you don't want to do too much—just lots of drill work. You want to have some type of live activity. So I made sure I had people out there guarding me, or having to guard other people—having other bodies around me on the court.
You've established yourself as a strong defensive player. What are some of the ways you work on improving your defensive skills?
I do a lot of cardio. I'll hit the VersaClimber or the bike and get myself going. Anything to try to burn out the legs and then push yourself mentally to keep going, keep fighting through. Whether it's sprints, climbing the hill, anything that really gets the legs burning—that's what you need to keep up with guys in this league. During the season you don't want to do too much pounding with sprints on the courts. Stuff on the treadmill, maybe, but the pool is good, too.
What was the adjustment like for you getting back onto the court after being out for so long?
It was an easy adjustment, especially with a great organization like the Heat behind me. I was excited about everything. The bus rides, hanging out on the plane, the late arrivals, all of it. Building that chemistry back with my teammates, getting used to how they play, how they want the ball, defensively communicating—everything that comes with being a player in the NBA. I'm just happy to be a part of it again. I feel ready, and I'm going to try to come out here this season and help my team win as much as I can.
What are some essential things you need to have in your gym bag?
I always try to have my resistance band to warm up my shoulders and my hips. I'll do my hip surges when I work out, and usually I'll have a roller to try to get any soreness out. Maybe a jump rope, plus a buddy, or two to help me rebound [laughs].
What's your diet and nutrition like?
I've been eating a lot of fruit. I love fruit, and that's been great for me. A lot of rice, a lot of pasta, I'm also big on nuts—almonds, peanuts. Just anything really healthy. No junk food though. For a cheat meal? That has to be chicken and waffles.
What are your expectations for yourself and your team this season?
For me, just going out there and getting back in the flow of things. But it'd be great to win Most Improved Player and just go from there individually. Collectively, we want to take that next step and hopefully get home court in the playoffs. The East is wide open top to bottom, so hopefully we can do that and get things going.
What advice do you have for guys looking to get motivated in the gym, or stay focused coming back from an injury?
Just to keep putting in the time. The more time you put in, the more natural and instinctive the game becomes. Really just that idea of the time and muscle memory, and being able to block out all the distractions—that's really it. Just the amount of time you put in, those are the results you're gonna get.
You recently held a basketball camp for kids in the community. What do you hope they get from participating?
The camp was supposed to be earlier, but unfortunately Hurricane Irma happened. It was only one day, but it was all free. We gave out a bunch of gear for the kids. It's just a fun time. It's a chance for me to get away from the structured professionalism of the NBA and just have fun being around kids who just want to smile and laugh with their buddies.
What are some of your favorite TV shows? Do you watch anything before games to get pumped up?
I've been watching House of Cards and I've been watching Game of Thrones. I love Jon Snow. Those are probably the top two right now, but before the game I kind of like the hype videos with the music in the background. Right before the game, I just try to be peaceful and block out any distractions, and just try to find my center.
Here's a look at Winslow during his camp: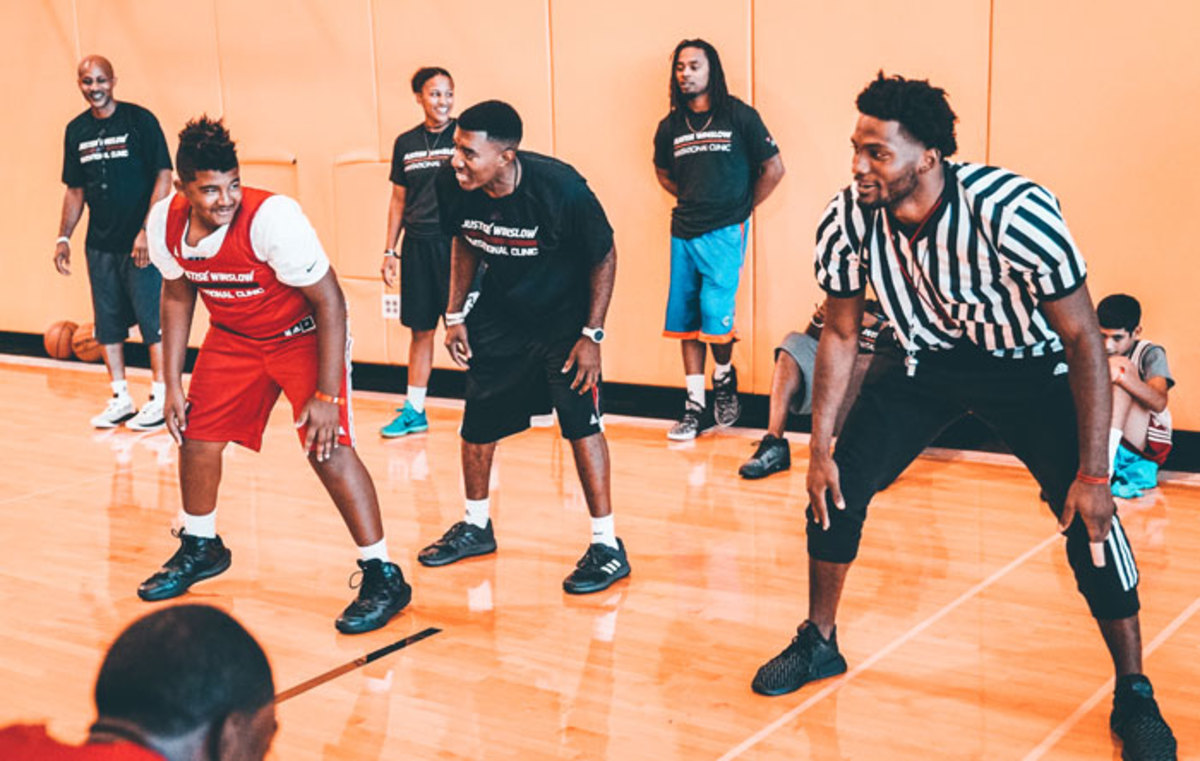 Courtesy of Justise Winslow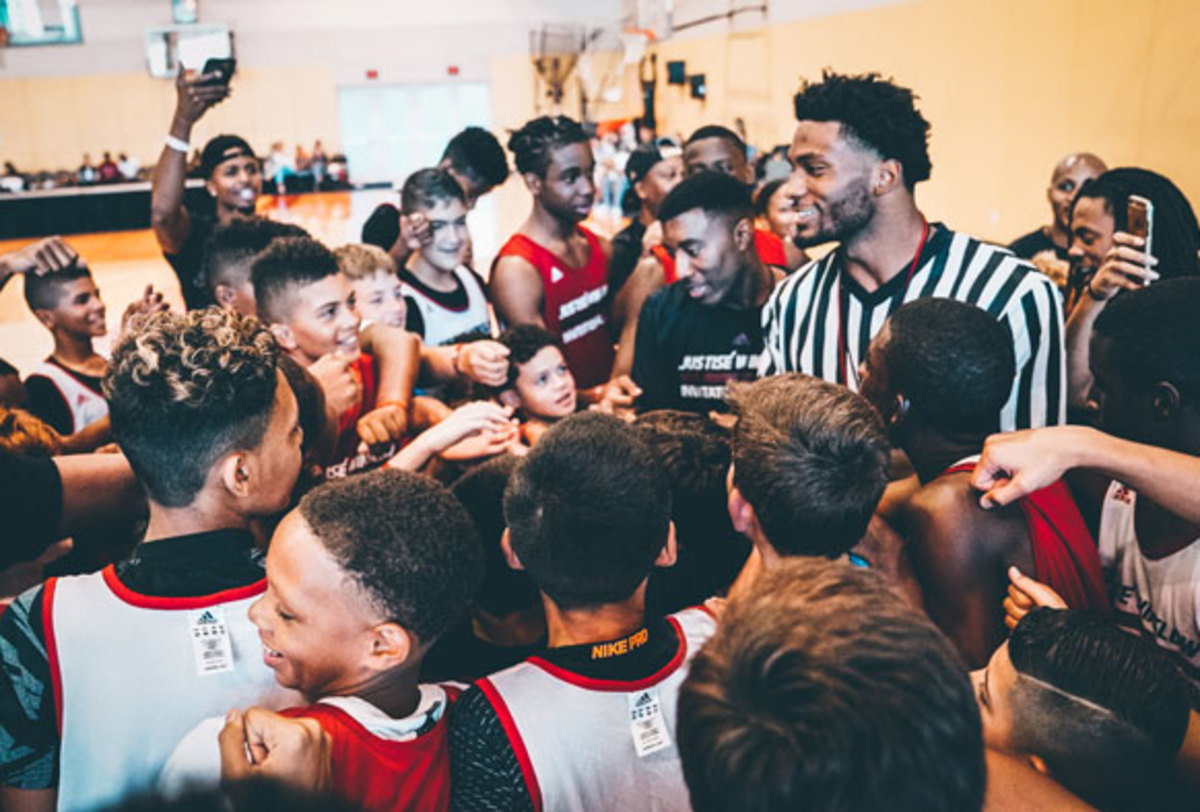 Courtesy of Justise Winslow
For access to exclusive gear videos, celebrity interviews, and more, subscribe on YouTube!