Houston Texans defensive end J.J. Watt knows what it takes to be an elite player.
And while it would be easy to dismiss the four-time Pro Bowler's rise to defensive dominance as the product of sheer talent, Watt himself would credit another factor: dedication to all-around fitness.
When the former Wisconsin Badger trains six days per week, he doesn't just hit the weights, but rather grinds through a range of functional workouts, including box jumps, sprinting drills, squats, and tire flipping. And those workouts have already paid dividends: Watt has personal records of 61″ on the box jump and 1000 lbs for tire flips.
The big man—he's 6'5", 289 lbs—doesn't skimp when it comes to nutrition, either. Watt keeps a strict diet, combining clean proteins like steak and chicken with complex carbs to stay in top shape through the season. (Vegetables, though, are another story: "I hate vegetables, so I get my vegetables through a shake," he says.)
That dedication to fitness has paid big dividends: He hasn't missed a game in five seasons in the NFL. Even in 2015, when he played with multiple torn muscles, Watt put up 17.5 sacks and helped the Houston Texans make the playoffs.
So where does all that motivation come from? Watt says that he is looking to maximize his potential: "If you're not waking up trying to be the best athlete in the world," he says, "you're not hunting greatness."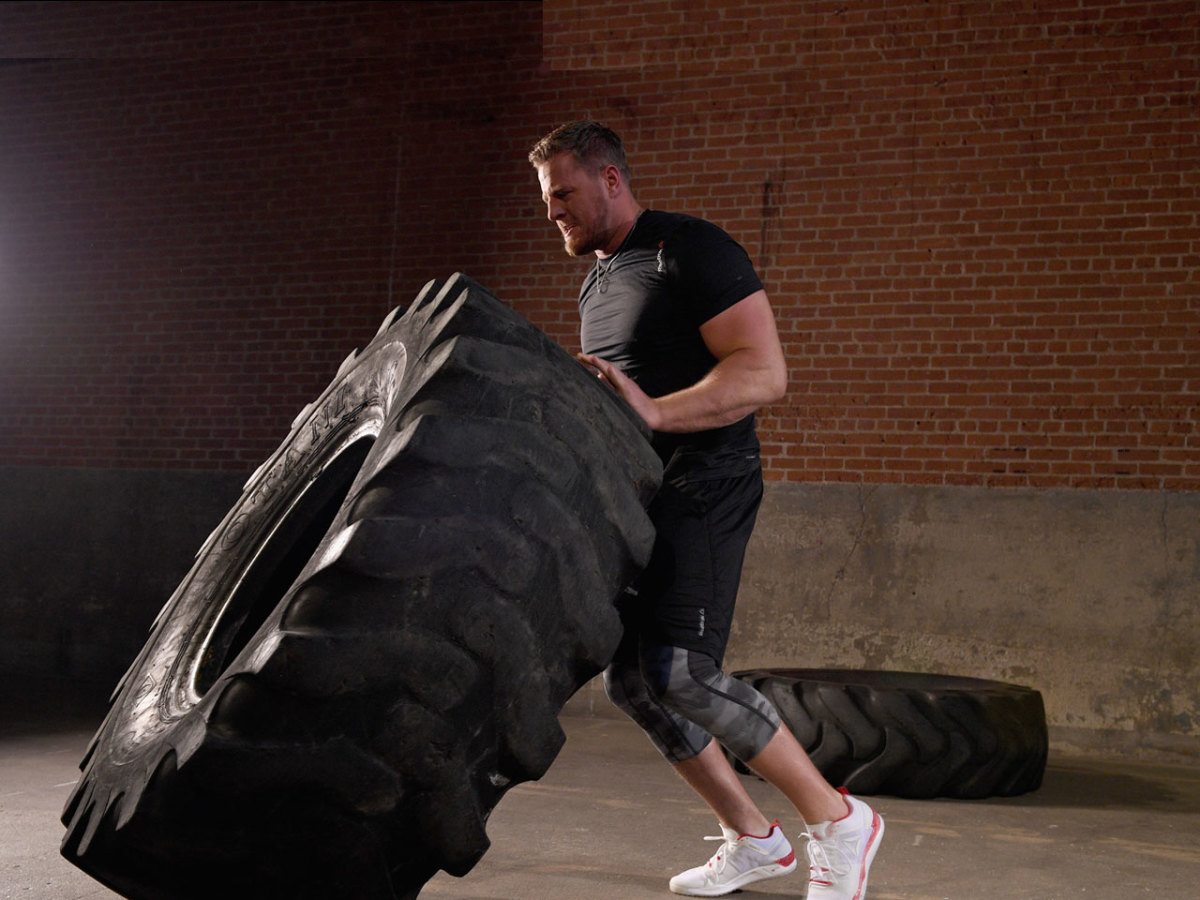 Bryan Bedder / Getty Images
That theme is central to the campaign that Reebok built around the Texans star for his training sneaker, the JJ I, which will be released on July 15. "It means going hard every single day, committing yourself to being the best—that's why I hunt greatness," Watt says.
Normally, it's the quarterbacks and basketball stars who get their own signature footwear—not defensive linemen. But Watt's been anything but ordinary throughout his career, winning three NFL Defensive Player of the Year awards in his first five seasons.
He worked with Reebok for over a year to design the sneaker, which was made to reflect Watt's training style—meaning flexibility to move from one surface to another without any issues. "I do a lot of different workouts," Watt said at the sneaker unveiling event in New York City. "Lots of box jumping, sprinting drills, bench press stuff, weights, shuttle runs, agility drills—it goes all over."
The best training shoe in the world. pic.twitter.com/mAiqfmBiDZ

— JJ Watt (@JJWatt) June 23, 2016
The JJ I marks the debut of Reebok's "Liquid Foam" technology, which to the company says gives the sneaker a "rapid reaction" to every impact. The company also used "FlexCage" technology to help with transition power through the shoe, and to add protection to the foot for jumping and pushing exercises.
"I've worn a ton of training shoes in the past," Watt says. "I've tried everything, but I've never found a shoe that fit exactly what I needed. I don't want to change shoes when I work out—I want a shoe that's good for everything."
In 2017, Watt released the second version of the signature trainer, the JJ II, set for $99 and in a black colorway:
400 dollars less than some shoes on the market and 100% more effective.

Available tonight at midnight for $99.https://t.co/sU39iHQfcv pic.twitter.com/tHarE6JIfK

— JJ Watt (@JJWatt) July 13, 2017
Watt doesn't want the shoe to just be for people in the gym either—he's hoping that athletes of all ages and levels will use it, which is why he pushed to keep the price below $100.
"It's not only for football players, it's not only for professional athletes," Watt explained. "You can definitely wear this outside. It's for the parents who go home after work and then go to the gym. It's for people who are going to the gym in the morning before the office—it's for everybody. I wanted to create something that could help anybody train in any situation."
Watt is ready to take his game to an even higher level into the 2016 season and he spoke with Men's Fitness about his daily training, his nutritional secrets, and the release of his signature training sneaker, the JJ I.
(Editor's note: This interview has been edited for concision and clarity.)
MEN'S FITNESS: What is your training and eating schedule like during the offseason?
J.J. Watt: We just finished up our OTAs [organized team activities, which are essentially offseason training] down in Houston. We wake up at 5:30, go eat breakfast, have a couple meetings, then get in a workout session. After that, a couple more meetings, then I go take a nap and charge up. I'd eat lunch, and I would go work out again for the second workout of the day. Then I come home, eat dinner, take care of all my business stuff, and I'm in bed by 9:00-9:30.
What types of foods do you eat while training?
I eat two breakfasts, two lunches, and two dinners every night. I eat pretty clean—a lot of clean proteins: steak, chicken. Complex carbs too, from sweet potatoes to whole wheat pasta. Oatmeal. I love breakfast. There also are a couple shakes throughout the day.
What is your daily workout routine like? How does your new sneaker help with your training?
When I train, I go from a platform to turf to a rubber floor, a wood floor—we do box jumps, sprinting, bear crawls, sled pulls, Olympic lifts, running, jumping, cutting—all the above. With the shoe, I need something that can be explosive, but also sturdy. I need something light and fast, but also strong enough to handle what I'm doing. This shoe does everything. I pride myself on training and being an explosive athlete and the shoes are incredible.
You designed the sneaker to reflect the versatility of your training—what was it like collaborating with Reebok on the shoe?
It was incredible, and that's really one of the reasons I wanted Reebok is because they were so willing to work with me. I'm very, very particular about the shoes I put on my feet because my feet are my job. Their willingness to listen to everything that I had and to take my criticism and feedback and use it was incredible. My biggest thing was to do it with the performance aspect—to create a shoe that not only looks good but performs great. Anybody can create a shoe that looks good. I wanted to create something that really performed well, and people would say, "Wow, I need to have this shoe."
What are you hoping people take away from using the JJ I?
I hope people take away that it's the best training shoe out there. Early on in my life, I never really thought much about my clothes or shoes, I just wore whatever I had while training. But the older I got, the more I realized how important it is to have the proper attire if I wanted to have the best possible performance. I pride myself on my training and I wouldn't have put my name on the shoe if I didn't honestly think it was the best.
What does the theme "Hunt Greatness" mean to you?
Everybody talks about success, everybody wishes for success, everybody dreams about success—but what are you willing to do to be successful? Are you actually putting in the work, what are you doing each day to be great? I'm not just chasing it, I'm not hoping to catch greatness—I'm hunting it with a purpose, with a vision, with a passion.
How do you keep yourself motivated while training? What can people emulate from your dedication to training?
Every single day I want to be the best, that's what a true athlete's mindset should be. Whatever your own personal greatness is—yours will be different than mine—hunt that every single day with a passion. Also the motivation factor—people can do whatever they want in their workout. Everybody has a different version of greatness. Theirs is not going to be the same as mine, but if this shoe can help you chase and hunt your personal vision of greatness, I think that is the most important thing.
With this signature sneaker, you are taking a big step in your career outside of football, what does it mean to you to build for a future after your playing days?
I think in today's world, you never know how long your career is going to last. It could end at any moment. Sports are very violent. We want to make sure that you're doing as much as you can and maximizing opportunities, and also going out there and giving your fans something that you're proud of. That's like with this shoe—keeping it affordable so that my fans can have a shoe that I'm proud of, that they can wear it and be really great performance-wise, but they can also afford it. It's just having fun, taking advantage of the opportunities you get, because you never know what will happen.
Watt's advice for younger athletes in football:
I would tell kids don't specialize in one sport until maybe the back half of your high school career. I think that enjoying every different sport and hanging out with your friends and playing as many sports as you can is crucial. I think that parents shouldn't force their kids to specialize, because you gain so much from playing different sports. Let them have fun. Some of my best memories are from playing other sports—not football—when I was a kid.
Watt on having his own signature sneaker:
Something I've always tried to do is break outside the box. For a defensive lineman to be able to get his own shoe—it's incredible to think of how far I've come. This is going to last far beyond my playing career, and I wanted to make sure that we created something I was proud of for my whole life, and that maybe someday my kids are wearing J.J.'s. That's why it was so important to do it right. That's why we spent so much time getting it right.
Watt on his intense work ethic:
It was taught from my parents—they just instilled that drive with me. We're a middle-class family. We weren't poor and we weren't rich. They taught me that if I was willing to put in the work, I could do anything I wanted. Before I left for school every day, my dad would tell me, "Be somebody today. Don't just be anybody. Don't just go through the world being anybody. Be somebody. Do something that sets you apart from the crowd." That's what stuck with me my whole life.
Watt on keeping the sneaker affordable:
I'm from a middle-class family—we didn't have a ton of money, and some shoes cost so much money. That's why I wanted to keep mine under $100, because I wanted it to be affordable for kids everywhere. I'm not saying it's cheap, but compared to a lot of signature shoes out there, it is. We tried to keep it affordable, because I was that kid—I was that kid that wasn't poor, but just out of reach to get those signature shoes, and so I wanted kids to be able to be a fan of me and wear the shoe. That's something that was very important to me.
Watt on what other athletes give him motivation:
There's great athletes all over the place. You look at basketball—you have LeBron, you have Steph, you have all those guys playing great ball. You look at football, I mean, there's so many great players around the league, from Tom Brady, to Aaron Rodgers, to guys on the defensive side of the ball, Von Miller. There's great athletes everywhere. I think we all look to each other for that inspiration, for that push, that motivation, because even if it's cross-sport, even if it's different genres, we all are competitive. We all to be on that top. That's what makes sports so great. It's a competitive nature.
For access to exclusive gear videos, celebrity interviews, and more, subscribe on YouTube!