When top golfer Jordan Spieth tees up for the PGA Championship at Bellerive Golf Course in St. Louis, it will be the culmination of significant work, on—and off—the course. (Nearly) gone are the days when top players could eschew the training norms of other sports.
(TV schedule note: You can watch the PGA Championship tournament August 9 to 12 on CBS and TNT. The first golfers tee off at 8:50 AM EST.)
Younger golfers especially embrace the belief that strength and endurance training, and a well-honed diet, are as essential as practicing their short game. In anticipation of the tournament, Under Armour gave avid fans a sneak peek at Spieth's training, overseen by his trainer, Dr. Troy Van Biezen.
After we saw the video, we were a) extremely jealous of his workout facility, and b) wondering about how Spieth manages his serious training schedule. Not much we can do about point a, but as for b, here's what Van Biezen told Men's Journal.
Q: How many days a week does Spieth work out in the gym?
A: On his off weeks, his lifting schedule is five days a week. As part of that we do two heavy volume lift days, followed by speed moves. We're working on improving his force/velocity curve, so we incorporate functional lifts with movement patterns the other three days to make sure we maintain his mobility/pliability in all planes of motion.
Q: How does he balance that against on-the-course practice?
A: During tournament weeks we do one heavy lift day on Monday, and then the rest of the week we dial in movement/functional exercises with activation warm ups. Need to keep the gas in the tank for the golf course.
Q: How many years has he maintained a gym regimen?
A: Jordan has been training since he was about 14-15 years old. He understood at a young age that to be the best he had to commit in the gym, and with that, golf fitness has changed dramatically over the years.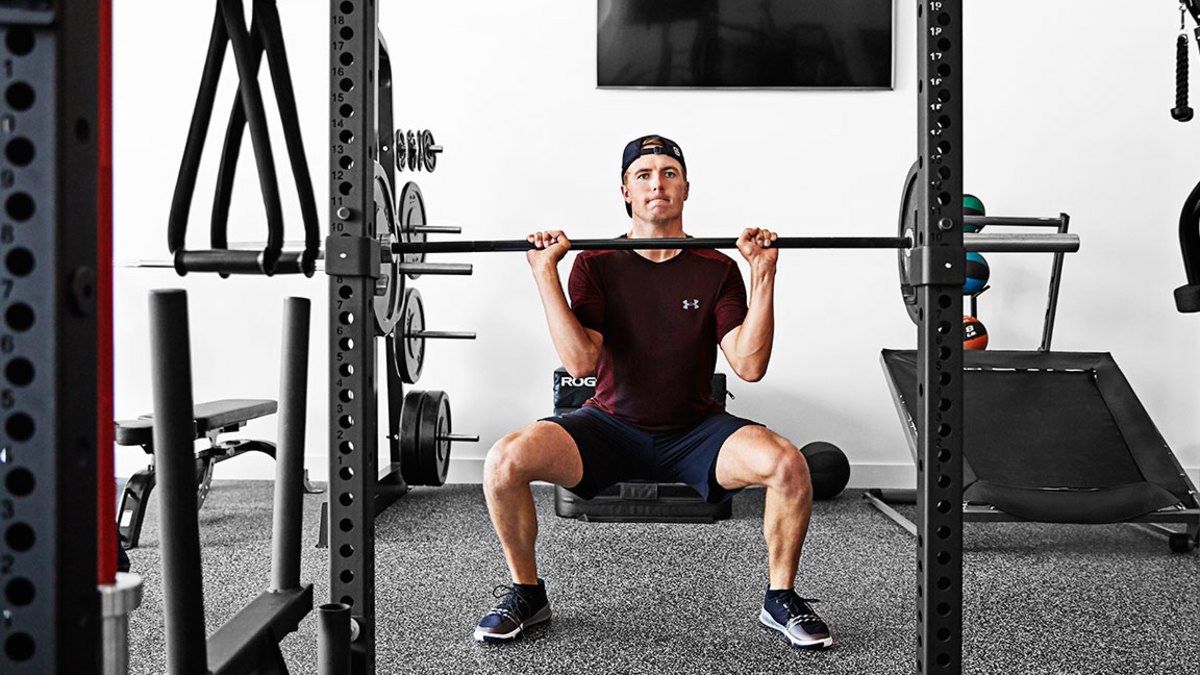 Q: Any tools or moves that are particularly useful for golfers?
A: When training, I'm very diligent to make sure he uses proper form which is critical, so that he recruits the proper muscle groups during his training. Quality of Bmovement over quantity is my motto! We are working on optimizing his hip hinge, which is critical in maintaining his posture during the golf swing. This will help to create space to be able to release the club.
Q: Any favorite moves/least favorite moves?
A: One of Jordan's favorite moves is the Paloff press. Great exercise for core/anti rotation in the transverse/frontal plane. His least favorite exercises is kettlebell pistol squats and dumbbell Bulgarian squat with hops. Hates them!!
For access to exclusive gear videos, celebrity interviews, and more, subscribe on YouTube!