The Cleveland Browns earned their first win in nearly two years—635 days to be exact—in Week 3 of the 2018 NFL season after defeating the New York Jets 21-17.
Many people played a part in contributing to that victory, including the players, coaches, and team employees, but there were also a few others that helped as well: Fox Sports analyst and MMA trainer Jay Glazer, and mixed martial arts legends Randy Couture and Chuck Liddell.
During the 2018 offseason for the Cleveland Browns, Glazer, Couture, and Liddell helped put together a mixed martial arts training program to help improve play on both sides of the ball, and give players an edge on the field.
"After the season we had [going 0-16], we wanted them to experience something different during our off season program, but we wanted to tie in the football," Browns head coach Hue Jackson told Men's Journal. "This was an opportunity for our players to train in a different way for the football season. I think it is very important to always be looking and searching for an edge. MMA training exposes you to a different type of mentality. We are always trying to do something different to improve our football team."
Originally started by Glazer and Couture as MMAthletics, a mixed martial arts training program for pro athletes, the company has continued to work with individual athletes in multiple sports, as well as NFL teams.
The group has previously worked with hundreds of athletes over the years, including players like Kyle and Chris Long, Odell Beckham Jr., Alshon Jeffery, Jadeveon Clowney, Andrew Whitworth, Melvin Ingram, Kyle Rudolph, Calais Campbell, Patrick Willis, Jared Allen, and Lane Johnson.
They have also worked with teams, including the Atlanta Falcons during the 2010 season, and in 2017, they helped train the New Orleans Saints for six weeks in training camp. The Saints program was a smashing success. After ranking second to last in the NFL in points allowed per game in 2016, New Orleans finished as a Top 10-ranked defense in 2017. Glazer and Couture brought in Liddell to help try and do the same with the Cleveland Browns.
"It's easy to go to the teams that are being successful and ride their coattails," Glazer says. "It's way more important to work with teams like the Browns that have been struggling. You get in there and try and change their mindset and it's very rewarding to see the results on the field when they improve."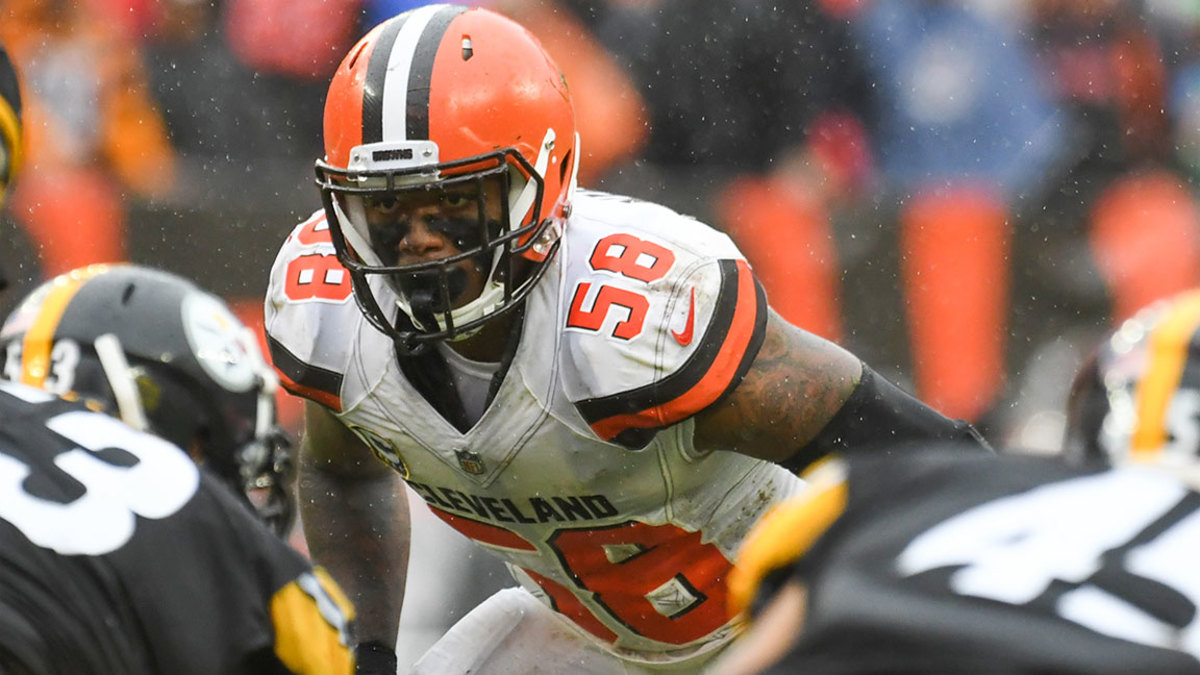 Browns linebacker Christian Kirksey enjoyed doing the training, and felt that even though it originates from a different sport, that it applied well to football.
"Being an athlete, you're trying something new, but it's still competitive," Kirksey says. "You work different muscles that you don't normally work in football, and it's a bit more hands-on. It's about being quick with reaction time, and your hand-eye coordination. I think that really helps as football player. They gave us good techniques to use with our hands and to use to get leverage. I think that when I started using MMA, I became more decisive with my hands, and learned about where to strike and where to punch. I think that I can really use that in apply it to my game, and keep me going on the field."
Glazer and Couture spoke with Men's Journal about working with the Cleveland Browns, why MMA training can help athletes in different sports, why mental preparation is as important as physical training, working with veterans in the organizations MVP (Merging Vets and Players) and the Xtreme Couture G.I. Foundation, and why they love working with athletes.
How did your program get started? What made you guys want to bring MMA training to athletes in other sports?
Jay Glazer: The program started about 12 years ago, and the first guy we ever trained was a long snapper and a part-time at defensive end for the Chiefs. He had like five sacks when we started with him, and he ended up trimming like 25 pounds, and really opened up his hips and got his hands going. We got him to think more like a fighter and not just being a football player. That long snapper ended up being Jared Allen, who became an All-Pro player and had 15.5 sacks. So from that, he starts talking about the program and people started calling, asking me to do what we did for Jared. I didn't really know what I was doing with training, so I went to Randy [Couture] and said, "I think we could do something special here together." We've always been preaching the mixed martial arts way and we just felt there was a space there to do this for football.
Randy Couture: We're taking guys like myself who are experienced in mixed martial arts, but are retired and out of the sport. So in a way we're giving them—and myself—a purpose and the chance to facilitate and teach this mindset that we developed over the years in our career while we were competing and training. It gives us something to do that we love, and it helps us teach and bring the sport of MMA to other athletes. It's positive and we get to contribute to the success these guys have on the field.
Take us through one of your MMA workout sessions. What are the players going through when you're training them?
Glazer: One thing we do, is we have rounds of five minutes each with a one minute break. That trains these guys to be relentless and nonstop, and that's how we go through all of it. It's not just to show these guys how to punch or kick, it's about showing them that they just did five or three-minute rounds with a one-minute break, so if you can do that, you can last for the eight to 10 seconds that football plays last on the field. It's about shifting their mindset. We do a ton of Greco Roman wrestling too. We don't go to the ground with them, but it's about teaching leverage.
Couture: We make them realize this is a combative sport. These guys are in close-quarter comeback with the guy across the line from them, and there might be 10 other guys on the field, but they're still in combat locked up with somebody one-on-one. The person across from you better have their worst game of football or you're not doing your job right. We want to teach them to take it up a notch, to control their body language, and send the right message. We want our guys to let their opponents know they have more and that they're going to keep running, keep chopping until the other guy doesn't want to play anymore. That's the mindset, that's the goal.
We're training these players to break the guy across from them. Get that mindset where you push your opponent to the limit and you have the strength to keep going. -Jay Glazer
You work with a lot of football players who play different positions. How do you shape and change your program to help guys in different areas?
Glazer: We've managed to come up with different drills and have done different things broken down by position. We haven't worked with a lot of quarterbacks, but we've worked with some, and for example, it doesn't make sense to do a bunch of pummeling, close-quarter work, or hand-to-hand work with a quarterback or linebacker, since they don't really do that stuff much. That's more for the offensive line and defensive line. So you want to come up with the right things for the other positions. Our hand fighting work is a little different for the offensive line than the defensive ends, or the wide receivers we work with. The defensive line and receivers actually have similar moves, and it plays a big part in what these guys do.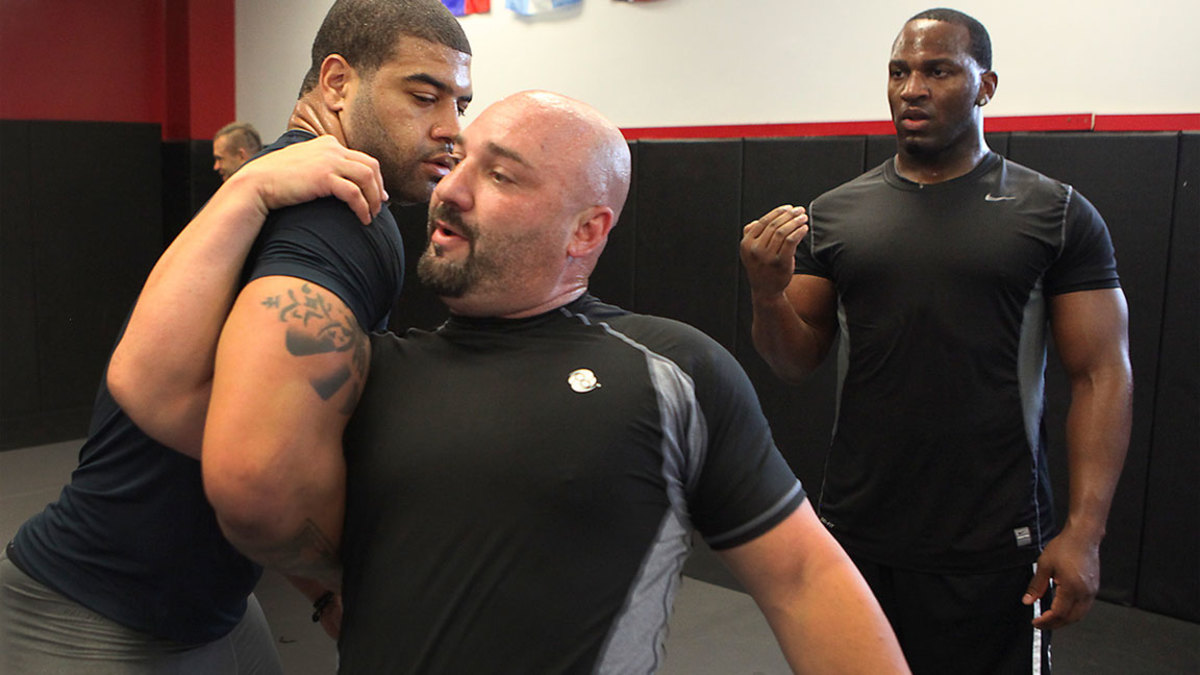 What's one of the most important moves or workouts that you guys use with the players?
Glazer: Greco Roman wrestling is an important one. So many guys out there can bench press 500 pounds, but if you can't move me—a little 5'7" Jewish guy—then you're not really doing anything. There's no bench press out there on the field, it's about physicality and movement out there. So we do a lot of functional movements, body-on-body training where we teach them about leverage. We do a wrestling drill where it's just three minutes straight, and we'll do 4 or 5 round of it just to make these guys really feel it. If you can do this and last for this long, you're going to be able to last when you're on the field for those quick bursts. In a way, it almost becomes easy for them.
Who are some of the other players you've worked with in the past?
Glazer: We've worked with guys like Patrick Willis, Jared Allen, Lane Johnson, Matt Leinart, Duane Brown, Brian Cushing, and Clay Matthews. Lane we worked with recently, and he's a good example of what happens when someone buys in. This stuff is hard, but it can make you great. Lane basically played every snap in 2017, played through a high-ankle sprain, back injury, a knee injury, but he pushed through it because he had the mindset.
Couture: He really had the right mindset. I mean this was a guy who was running out of the gym every morning to throw up because of the intensity, and he would just get right back in and do the drills, that's how hard he was working. That's the mentality he developed and now he has a monster contract and won a Super Bowl.
You guys also do work with veterans and military personnel. Can you tell us about those programs and why it's so important to you?
Glazer: I started a program called MVP—Merging Vets and Players—with Nate Boyer, who was an Army Green Beret and was signed to the Seattle Seahawks for a little while. A lot of people only talk about the physical and not the mental side of things with training, and I started to get into the mental health side of things and that's become one of my passions. For the program, we started a few years ago, we now have hundreds of participants. We gather and train together in different cities, and we sit and talk about life and why you should be proud of the scars and experiences you've been through as a veteran or as an NFL player.
Appreciate having you there. Your words made a difference RT @ChadCascadden: Proud to support Merging Vets & Players (MVP) with @JayGlazer at Renzo Gracie BJJ Academy in New York City. #BellatorNationhttps://t.co/qhzoLHtpbx

— Jay Glazer (@JayGlazer) October 18, 2018
Vets come home and think, 'I'm different,' and sometimes can't fit in, and what we try and tell them is that you're not like everybody else and that different is a good thing. When you get them in a group and they can talk and bounce this off each other, all of a sudden they have a new team again their transition becomes empowering and not something that's tough. I get in with those guys and it inspires me, it's a way for me to give back. I have so many friends who struggle with the transition, whether it's military vets coming home or players finishing their football careers, and I see them going through some of the same things. So when I saw that it just made sense to me, and so far it's worked great.
Couture: For me, I was fresh out of the Army and went to Oklahoma State as a 25-year-old freshman. I wrestled, I was married with two kids and had a lot of balls up in the air. It kind of became a lifestyle, and that transitioned into wrestling for the national team, and then in professional fighting and that gave me a chance to give back. I started the Xtreme Couture G.I. Foundation over 10 years ago because I wanted to help raise money for wounded guys and guys in transition and help them get back on their feet. I'm also on the board of MVP and am involved with what Jay and Nate built. It's all near and dear to my life to be able to give back.
For access to exclusive gear videos, celebrity interviews, and more, subscribe on YouTube!