Over the last decade, Fox Sports analyst Troy Aikman has established himself as one of the top sports broadcasters working in the business. The former Dallas Cowboys quarterback and three-time Super Bowl champion was known for his focus and preparation when he was a player, and he's brought that to his post-football career in the booth.
Aikman originally started broadcasting games in NFL Europe, and later joined up with Joe Buck as part of Fox Sports' "A-Team", calling the top games on the network each week. Aikman's experience as a Super Bowl-winning quarterback gives him unique insight into players and the action on the field, and that's a main reason why he's called five Super Bowls and earned an an Emmy Award nomination for his work along the way.
This season, Aikman's schedule has ramped up. Instead of just working the main "Game of the Week" on Fox on Sunday, Aikman and his broadcast partner Joe Buck are also broadcasting Thursday Night Football in the booth this season, along with the full team of Erin Andrews and Kristina Pink. His schedule has basically doubled, but Aikman hasn't let the extra work affect his preparation.
"It's been interesting, the challenge of it. I think there was a little bit of reservation on my part to take on the Thursday night package, and how I would be able to prepare and feel like I went into each game with the same level of confidence and knowledge that I have in the years past," Aikman tells Men's Journal. "As it's turned out, I haven't felt going into a game that I haven't been as prepared as I always have been. It's been fun and it's something different after mainly doing Sunday games for the first 17 years in the booth."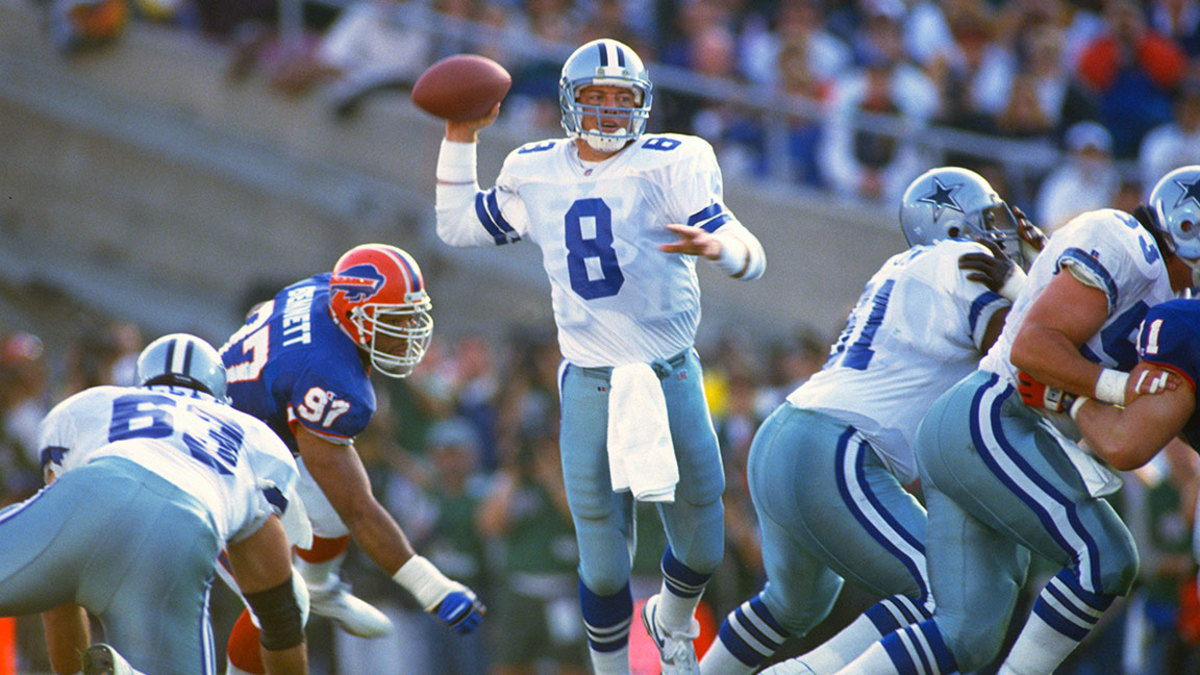 Aikman and Buck have some excellent games ahead on the schedule on Thursday Night Football, including the high-scoring New Orleans Saints visiting the Dallas Cowboys at AT&T Stadium in Week 13, and the Los Angeles Chargers playing MVP favorite Patrick Mahomes and the Kansas City Chiefs in Week 15.
"I've really enjoyed getting to see some teams and players we couldn't normally see from working on the Thursday games," Aikman says. "We have Kansas City in December, It's our last Thursday night game. I'm excited about that one. I've texted with [Chiefs head coach] Andy Reid, and he loves Mahomes and says I will to. I think that's pretty universal with everyone who's met him. So, I'm looking forward to getting ready for that game and just seeing what they're doing offensively. That'll be one to watch."
(Check out the full Thursday Night Football schedule here.)
Aikman spoke with Men's Journal about balancing his new schedule, how he trains to stay in shape past 50, working with Joe Buck, and the stadium that every NFL fan should see a game in.
Men's Journal: What have you enjoyed about working the Thursday Night Football schedule for the first time?
Troy Aikman: I've enjoyed taking it on and doing something different with having the only game in primetime on TV. I've been doing this for a long time and doing it on Sunday, which is great, but this has allowed me to see some teams that we simply just don't get the chance to see on Sunday. We don't usually have the Bengals, the Jets, the Ravens, those types of teams. We'll get a Patriots game or Steelers sometimes, but this has allowed me to see players I don't usually get to watch.
What games have you called this year on Thursday have been most exciting for you?
Here's a good example of what can happen when you look at the schedule before the season and then it turns out differently than you'd expect. We had the Cleveland Browns and the Jets, and so you look at the schedule, the Browns were opening up against Pittsburgh, so you think they're probably not going to beat Pittsburgh. But they end up tying them, then they take on the Saints and make a game out of that [Cleveland lost 21-18]. So they come in and play the Jets, and if the Browns were going to be what people thought they could be, then they should probably win that game.
So there was a buzz in the stands and on the field when I was down there before pre-game, and you could just feel the energy that that crowd really wanted to celebrate. They came ready to have a party 'cause it had been a long time since they had won a football game. Then, and you can't predict how games will go, you get Baker Mayfield the No.1-overall pick come in off the bench and lead the team to a victory the way that he did, that was about as much fun as we've had in a long time doing a game.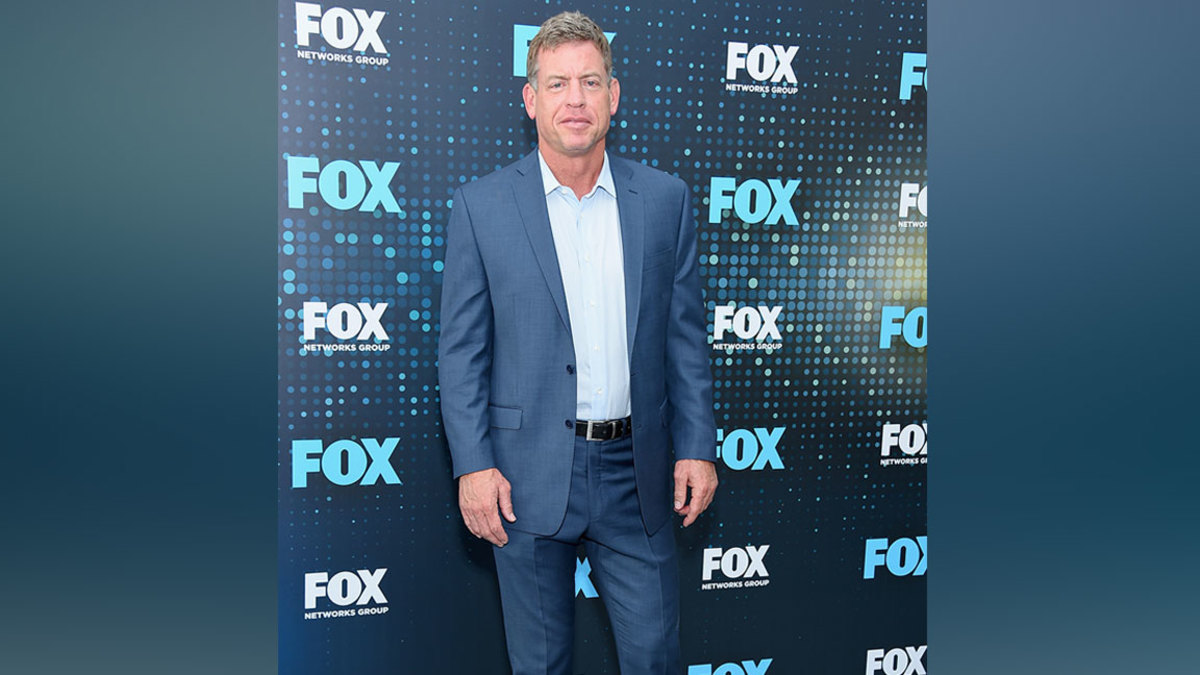 Any others?
The next week after the Browns and Jets we had our first game on Fox for Thursday, and we had the Vikings and Rams. That high-scoring game was everything you ever hoped it would be. It was exciting to see the Rams after all the trades they put together in the offseason, and You have Jared Goff, who we've been able to watch develop and mature the way he has. Then, you also have a really good offense with Kirk Cousins in Minnesota, and it's a really good offense with the Rams, and you think, this could maybe be a fun game. As it turned out, it was just an offensive assault, and so those have been the most fun games that we've had.
Looking back on your career from now to when you first started this, what were some of your goals back then? How does it feel to reflect back now after your long career in the booth?
I actually never really thought that I was going to do broadcasting when I was playing. I thought that Michael Irvin or Deion Sanders might, but back then, unlike now, this was not something that was thought of much for me back then. I had an opportunity and I went over to Europe and broadcasted a in NFL Europe and I thoroughly enjoyed it. And later one of the executives with Fox said, "Hey, when you retire, if you wanna broadcast, we've got a job for you.". And so I got to step right into the number two booth. Then the very next year, John Madden left, and it opened up the number one booth, and then Joe Buck and I, and Chris Collinsworth got paired together in 2002, and we were together for three years, and then Chris left for NBC and I've been with Joe ever since.
When I first got into this, I really thought I'd do it for two or three years until I figured out exactly what I wanted to do, and then I'd go on to something else. I really never envisioned that 18 years later I'd still be broadcasting and doing what I'm doing, and it really is a great job and I enjoy it. To have the opportunity to do it as long as I've been doing it now and to work with Joe, who's awesome, and my crew. I've had the same producer from day one. I've only worked for one producer since I've been in this business and we all get along. We all really like each other and I don't know that that's always the case.
Joe and I, we've traveled together, we golf, we go on golf trips together. Our families are friends and so that part of it's been really good too because a lot of times, broadcast partners, there's such a difference in ages and interests and you know, all that, and I hear sometimes they just aren't as good of friends as you might think that they are. But for us, we are. And so going to work and calling games is really enjoyable for both of us.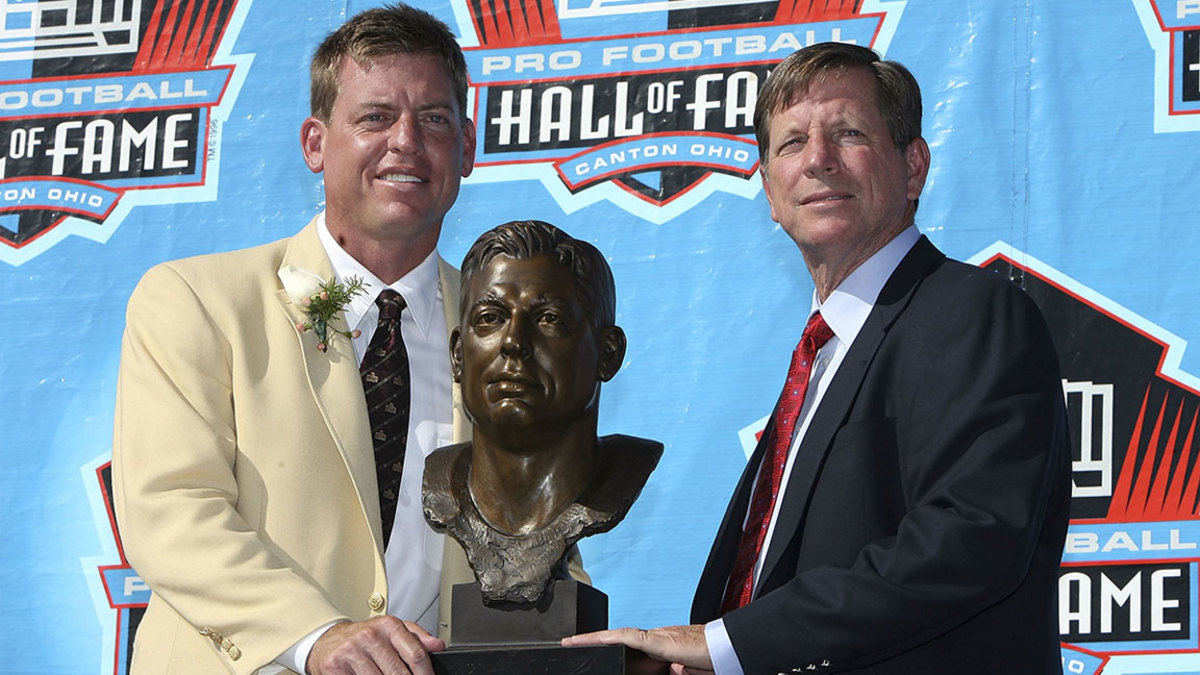 What players and coaches have you enjoyed interacting with during your broadcasting career?
I've been able to build relationships with guys like Aaron Rodgers and Tom Brady as well Drew Brees. And with coaches like Sean Payton, Mike McCarthy, and Bill O'Brien and all these guys that just through the years. You just get to know them because you're covering their teams and you're covering their games and that's been fun for me. If I weren't broadcasting and I was watching Aaron Rodgers play for instance, I'd say "Wow, this guy's really great. This guy's fun to watch." But I wouldn't know him the way that I do now. I wouldn't know the way in which he prepares, and his personality and all those types of things, so to be able to have relationships with these guys and really know the stars of the game today, that's been fun. It's been I guess one of the rewards, and one of the perks of doing this job and getting to stay involved with the NFL.
With your busy schedule, how do you find time to workout? What are some things you enjoy doing to stay in shape?
I make sure I find time, and I'll do something everyday. I do a cardio workout every day of the year, except, Sundays during football season. I like to run outside, but I only like running when it's hot, so Texas is perfect for that in the summer. Most people are inside when it's 100 degrees, but I'll I run in the afternoons in the hottest part of the day. I also like to do spin classes and mostly those two things are what I do. I just started, probably a couple months ago, sprinkling in a VersaClimber class in Dallas studio that opened. I lift four days a week, and I've had a trainer that's been training me now 13 years.
I was five years away from playing and I had back issues when I played, and I was still having back issues, so I hired this guy, just happened to run into him, gave him a chance, and he really knew the body, the anatomy and everything else. And he's made all the difference for me in the world. He completely changed my physique and then got me doing a lot of core work and it's really helped my back. I'm essentially back pain free.
As someone who has played in and broadcast in so many stadiums, are there some that you think fans should try and see a game in if they have the chance?
There's some iconic baseball stadiums we know, like Fenway Park, and Wrigley Field, but there's not as much of that in football now. Lambeau Field in Green Bay certainly is. They did an amazing job of maintaining the history and integrity of the stadium when they've renovated it over the years. It's just a special place. To be able to go to Lambeau and take in a game, it's pretty remarkable. Soldier Field used to have that before the renovation. You have the feel and intimacy at Lambeau and I think fans should try and see a game there if they can. The other stadium, and people might say "Oh, he's a former Dallas Cowboy he would say that," but the Cowboys stadium, AT&T Stadium, there's nothing like it. Even if you go to the bowels of the stadium, it's so polished and pristine, and it's an incredible stadium. There's nothing quite like it.
You've been able to travel to lots of different places in your playing career and now in the broadcast booth as well. What are some of the places that you've really enjoyed going to?
Of the NFL cities, I like Palo Alto when we go and do a 49er's game, so that's a great spot. We used to stay in San Francisco, and it's always great to go to San Francisco. I like being on the West Coast, I'm originally from California. So, now that L.A. has a team, I'm thrilled because I'm always looking for an excuse to come out here. Now we get to come out here and call some games from time to time, so that's pretty cool. I love Chicago, and New York is awesome.
As far as places I've gone outside broadcasting, I'd always wanted to go to the Amalfi Coast, and so I got married right before the season started in 2017, so we weren't able to go on our honeymoon. We went this past June and we went to the Amalfi Coast, so it was my first time to go and we had a great time. When I get an opportunity in the offseason to get to travel with my kids and now with my wife, it's great to see some places that we otherwise wouldn't get to go. So it's pretty cool. Probably one of the best trips I've ever been on was I took my girls on a safari two years ago. We went to Botswana and it was fantastic, and I'm hoping to go back with my wife and I've got two stepsons now and really the whole family, I'd love to go back to do another safari in Africa with all of us.
For access to exclusive gear videos, celebrity interviews, and more, subscribe on YouTube!