There's a level of excitement that takes hold among many PGA Tour golfers when The PLAYERS Championship comes up on the schedule. From the challenge of trying to hit the island green at the 17th hole, to the first-class clubhouse training facilities, to the total purse of prize money that rivals the four majors, there are plenty of reasons for golfers to get amped up when they get to TPC Sawgrass.
"This place is great, I love this event. It's a challenge and the atmosphere here at TPC Sawgrass is incredible," golfer Billy Horschel told Men's Journal. "I do think the nickname of the fifth major fits when you think of how guys prepare for it, they really do take it seriously. You can really tell when guys are taking longer on their practice rounds and preparing more. The Ponte Vedra fans and Jacksonville fans are amazing."
For 2019, golfers will be able to experience The PLAYERS Championship at TPC Sawgrass even sooner than usual: The PGA Tour announced the official 2019 schedule, and the The PLAYERS Championship will be moving from May to March 14–17, 2019. "With the new date in March, THE PLAYERS will lead an incredibly compelling season that showcases a significant championship every month to our fans around the world, culminating with the FedExCup Playoffs in August," said Jared Rice, Executive Director of THE PLAYERS Championship.
On top of the first-class facilities, there's another reason why the golfers are in good spirits when they arrive at TPC Sawgrass for the tournament, and it has nothing to do with the amount of prize money: It's because of the healthy menu of food and beverages offered to the players.
From "Cruise Ship Buffet" to As Nutritious As Possible
With golfers like Dustin Johnson, Justin Thomas, Brooks Keopka, Rickie Fowler, Jordan Spieth, and Horschel focusing more and more on fitness, training, and staying in shape these days, what they eat and put into their bodies is more important than ever. If they're thrown off of their usual diet regimen or nutritional routine, it could end up impacting how well they play on the course. That's why TPC Sawgrass and The PLAYERS Championship overhauled their food and beverage experience for the golfers, so that the players would always have healthy options at hand.
"The golfers are getting the best for their nutrition and they don't have to worry something won't be there," says Kent James, the PGA Tour's director of food and beverage. "It used to be something like a cruise ship buffet, but the players are here working, they're professional athletes, and need a certain level of nutrition. We got rid of the butter, the cream, there's really no fried stuff, and everything is clean—it's baked, steamed, or grilled."
The change to things came from the players and their relationship with Jay Monahan, the current PGA Tour commissioner. Those conversations led Monahan to speak with TPC officials to change up the food offerings at courses, ensuring that every golfer had the opportunity to stay as healthy and fit as possible during tournament weeks. As James put it: "Jay told us, 'Less beef Wellington, more juices and smoothies.' We ran with that and it's been a huge hit with the players."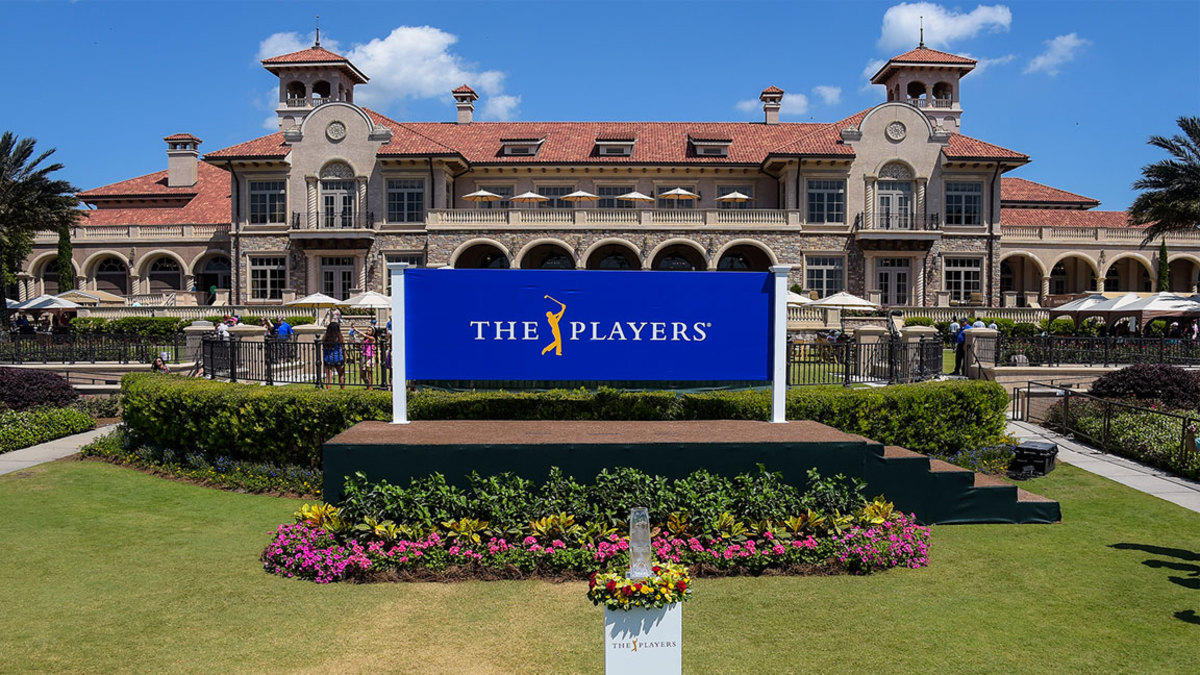 Fresh Salads, Juices, and Smoothies
The main component of the overhaul was making sure that players had healthy options at every food and beverage station, and more nutritious options in the locker room and clubhouse, too. TPC Sawgrass took away their candy bars and potato chip offerings, replacing it with fresh fruits and vegetables, custom-made salads, as well as fresh juices and fresh-made smoothies.
"At every TPC event, we have three different greens the players can choose from," James says. "There are 16 different toppings, all types of nuts and fruits, a minimum of two proteins, and four types of vegetables to choose from. We also have a cold juice press and smoothie station that goes to each TPC event, so the players know it's here and have that consistency."
The station always has two cold press juices that are ready-made that players can fill up with on their own, and they also can order one of four rotating recipes that change each week. On top of that, the players can custom order smoothies and fresh juices that are made on the spot. The station offers "smoothie boosters" each week, including Maca root powder, dried Goji seeds, and Chia seeds if players want an extra kick in their smoothies.
"We also do a fresh juiced shot elixir that we make in-house every week that rotates from tournament to tournament," James says. "It's a much more intense pick-me-up for the players, and we train the staff to let the players know what kind of boost they'll get from the shot depending on what ingredients are in it. The players know what they want, have their own recipes and regimens they follow they can tell the staff and they'll make that for them, too."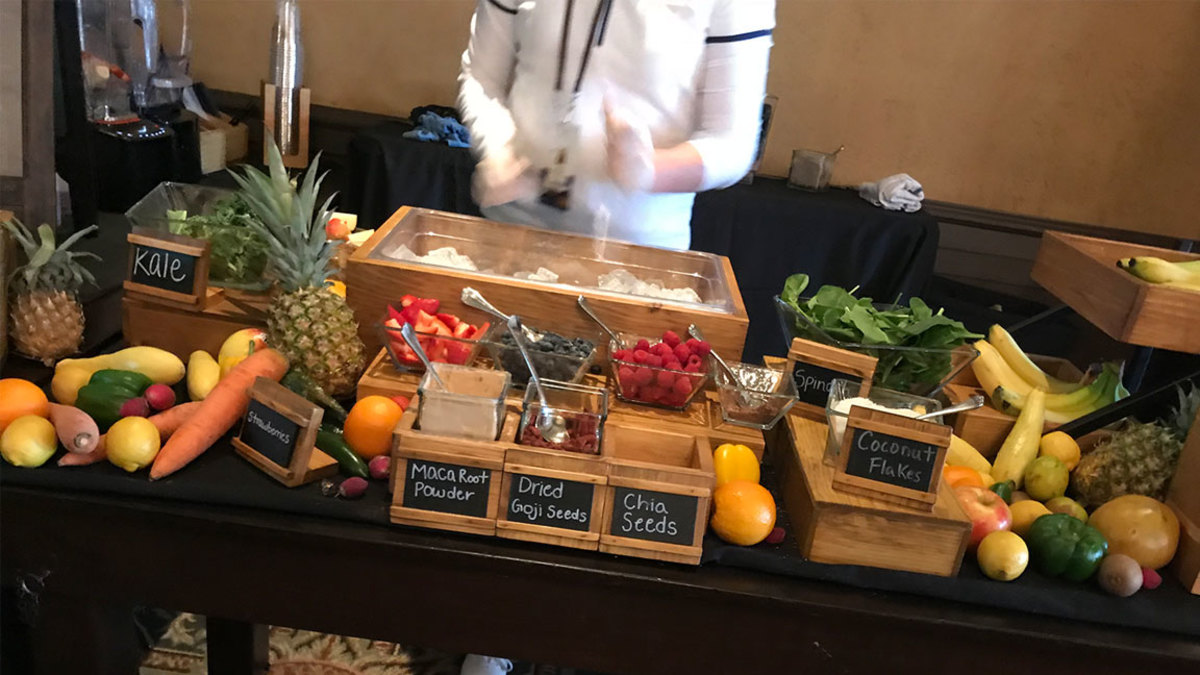 "Golfers have enough to worry about each week between playing, training, dealing with their families, and resting," James said. "The idea was to take something off their plate—pardon the pun—for the players to worry about. They can just come in and not worry about needing to find a special menu or order special food for their diets. The players are dealing with enough during a tournament week, so now they can just grab it and know with confidence it's healthy and what they want."
For as much as TPC Sawgrass has healthy food, smoothies, and juices, James and the staff understand players occasionally still might want that cheat meal.
"I will say, the occasional player—I won't name names—does ask for a bacon cheeseburger," James says with a laugh. "We have a lot of nutritious options, but we can accommodate if someone wants to have a cheat a little bit. Just make sure they have a juice on the side."
At the 2018 PLAYERS Championship, here are the options the players had at the smoothie and juice bar:
Natural Smoothie Recipes:
Mango Tango – Banana, Strawberry, Mango
Island Green – Pineapple, Kale, Coconut
Strawberry Classic – Strawberry, Banana
Berry Green – Raspberry, Strawberry, Spinach, Banana
Other ingredient choice options:
Kale, Strawberries, Carrots, Spinach, Coconut Flakes
Ready made juices:
Juice 1 – Beets, Carrots, Lemon, Ginger, and Green Apple
Juice 2 – Carrot, Orange, Ginger, Turmeric
Elixir Shot: Apple, Ginger, Beets, Cucumbers, Pineapple, Lemon
For access to exclusive gear videos, celebrity interviews, and more, subscribe on YouTube!