The New York Giants leaned heavily on Sterling Shepard during the 2016 season. Though he was just a rookie, Shepard was on the field for more snaps than any other wide receiver, even topping electric superstar Odell Beckham Jr.
Now, he's ready to do even more.
"Shep" ranked second in the NFL among rookies in receptions, receiving yards, and touchdown catches in his first year, and he's determined to avoid a sophomore slump. Shepard has been spending the offseason working on his speed and explosive strength, using some of the same workouts that Beckham does with his trainer, Jamal Liggin.
"I feel good about where my strength is, but I want to get faster, more explosive for next season," Shepard told Men's Fitness. "I've been doing a lot of speed work on the treadmill, strengthening my smaller muscles. I want to build on my first season and continue to get faster and stronger."
Shepard has high expectations for himself, but also for the Giants offense: "I want to be better than what I did last year," Shepard said. "We have all the tools to be successful. We didn't do a good job on converting 3rd downs last season, we can do better in the red zone. We have the potential—the coaches have been great—we just need to put things together and make it happen."
Shepard's been training with intensity this offseason, but he's also been putting in time to, as he says, "up his style game." Shepard's girlfriend—model and actress Chanel Iman—has been helping him out, and he got some more advice from students during the NFLxFIT Visual System Design contest at The Museum at FIT. Shepard debuted one of the unique logos for the Giants at the event and the the winning team of students got the chance to bring home a $15,000 grand prize. On top of that, the graphic designs and branding treatments the students created will be used for NFL merchandise during the 2017 season.
Shepard spoke with Men's Journal about his stressful draft experience, why he wants to get faster, and what Beckham taught him about being a pro.
What's your workout routine like? What have you been focusing on this offseason?
I've been doing a lot of cardio lately since I want to drop some weight before camp. I've been doing a lot of stretching, working on my leg strength and speed. We have a VertiMax machine, I really like that. I tie down and jump with it to help my vertical leap. As a receiver, you have to go up and attack the ball at the highest point, and this really helps with my vertical explosion.
What are some of your favorite workouts and exercises to do? What do you feel helps you most once you get onto the field?
I do a lot of single-leg stuff, single-leg squats, stuff like that. I really like to get on the Kaiser machine, too. It puts less stress on your knees. That's one of my favorite things to workout on. I really like to get on the field for workouts, too. That's where you make your money—you always have to work to perfect your craft, run crisp routes. I do some cardio and conditioning after my strength training. With a no-huddle offense, you have to be able to run. I'll throw on my cleats and do suicide sprints to help with my conditioning and stamina.
What are some areas you're focused on heading into training camp and the season?
I really wanted to work on coming in and out of my breaks and working on my deep ball speed. I want to complete more deep balls and be a consistent target for Eli (Manning). When I'm lifting I usually work on upper-body stuff like the bench press. It's important as a receiver to work on that press stuff, since guys are always trying to jam you at the line of scrimmage.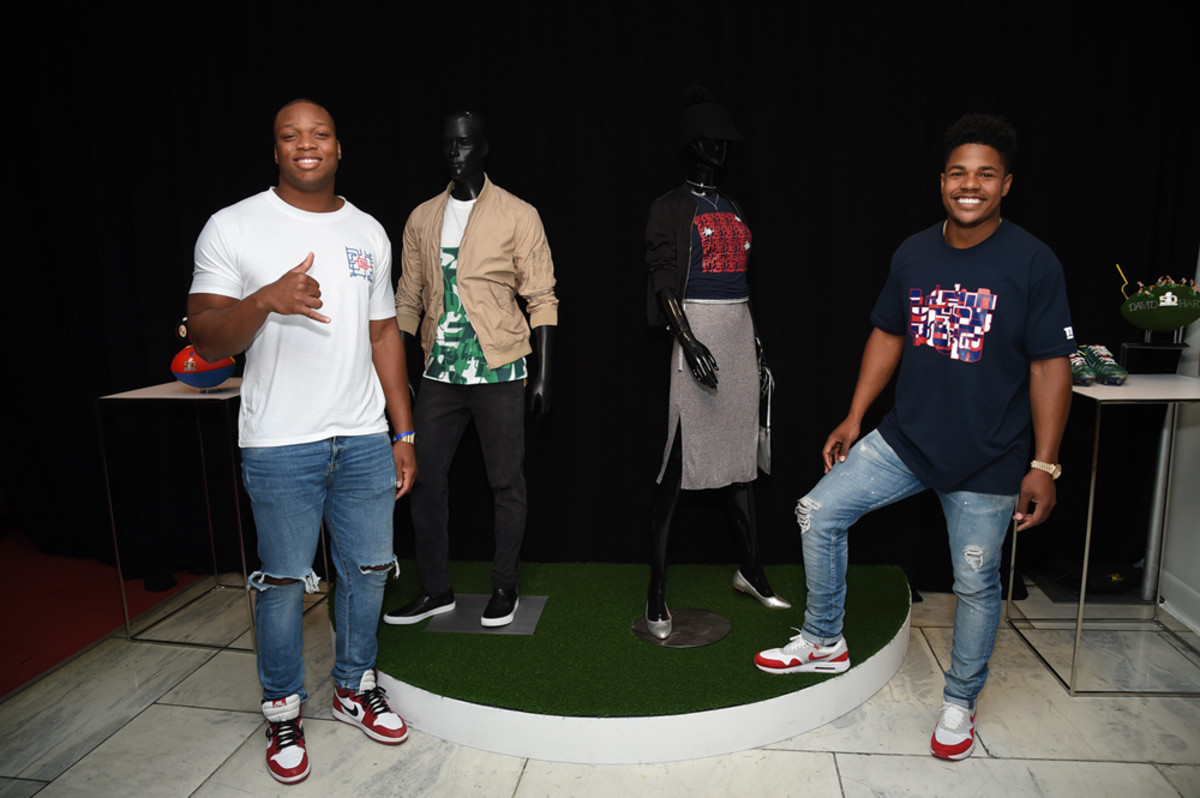 Romeo Okwara, left, Shepard, right / Evan Agostini, AP Images
What was your draft experience like? What did it mean to go to the Giants and play alongside Odell Beckham and Victor Cruz?
It was a stressful time at first—a lot of meetings, early wakeups, medical checkups—it was stressful but it was an experience I'll never forget. Met a lot of great people and great players on the way. Coming in I couldn't have landed in a better situation. I had Victor who was a veteran in the league for a while, and Odell who has been killing it—really, it was the best of both worlds. Having Eli was great and I've been working with those guys in the offseason, they gave me a lot of good advice all year. That was awesome when I realized I'd be playing with them after being drafted. They're two guys I looked up to before being in the NFL, being able to play alongside them was a blessing.
What's your style like? What's your go-to item when you're putting together an outfit? Any advice for guys trying to boost their style game?
My style is plain and simple, like using colors that go with a lot of things. When going out, I like to wear all black—black jeans and black shirt—just all black. I'm a big snapback guy too, hats can switch up the style for what you're wearing. I can wear them out on the weekend or when heading to the stadium for a game. The advice I have: Try new things, and always be open to trying something out. Even if you're not comfortable, just give it a shot. Just try new stuff and see how it looks. Always good to experiment.
For access to exclusive gear videos, celebrity interviews, and more, subscribe on YouTube!