Sports
How a Teenage Baseball Prodigy Fell From Glory to Face an Unfortunate Flameout
In the summer of 1957, I pitched against men. Thirty- and 40-year-olds, a few pushing 50. Bricklayers, carpenters, roofers, painters, plumbers, electricians, and machinists. They had wives, children. Their kids were my age, 16, and older. After work, they drove to our games at Seaside Park in Connecticut, across the street from the Long Island Sound, in old cars, pickup trucks loaded with tools, vans with the names of their self-owned businesses painted on the panels: "Gus Vieira, Mason Contractor."
They parked under the shade of an oak tree. They rested a moment in their vehicles, dragged on a cigarette, exhausted. Then they took off their work belts and their construction boots and painter's pants and ripped T-shirts. They sat there in their boxer shorts, stubbed out their cigarettes, then changed into their baseball uniforms: the White Eagles, the Stratford Merchants, the Highlanders, Lenox AA. They walked across the parking lot toward the diamond in that shoulder-shifting strut of athletes, rather than that plowman's plod of laborers. The fans stared at them. Fathers whispered names to their young sons, pointed them out. They recounted for their sons the players' athletic exploits of years ago in high school, college, the pros, before they became "workingmen" with unshaven faces. Their caps were pulled low over their foreheads as if to hide their weary eyes. But every time they wore those dirty uniforms, they were reminded of a time when they had been someone, looked up to, admired, set apart, when they had a future.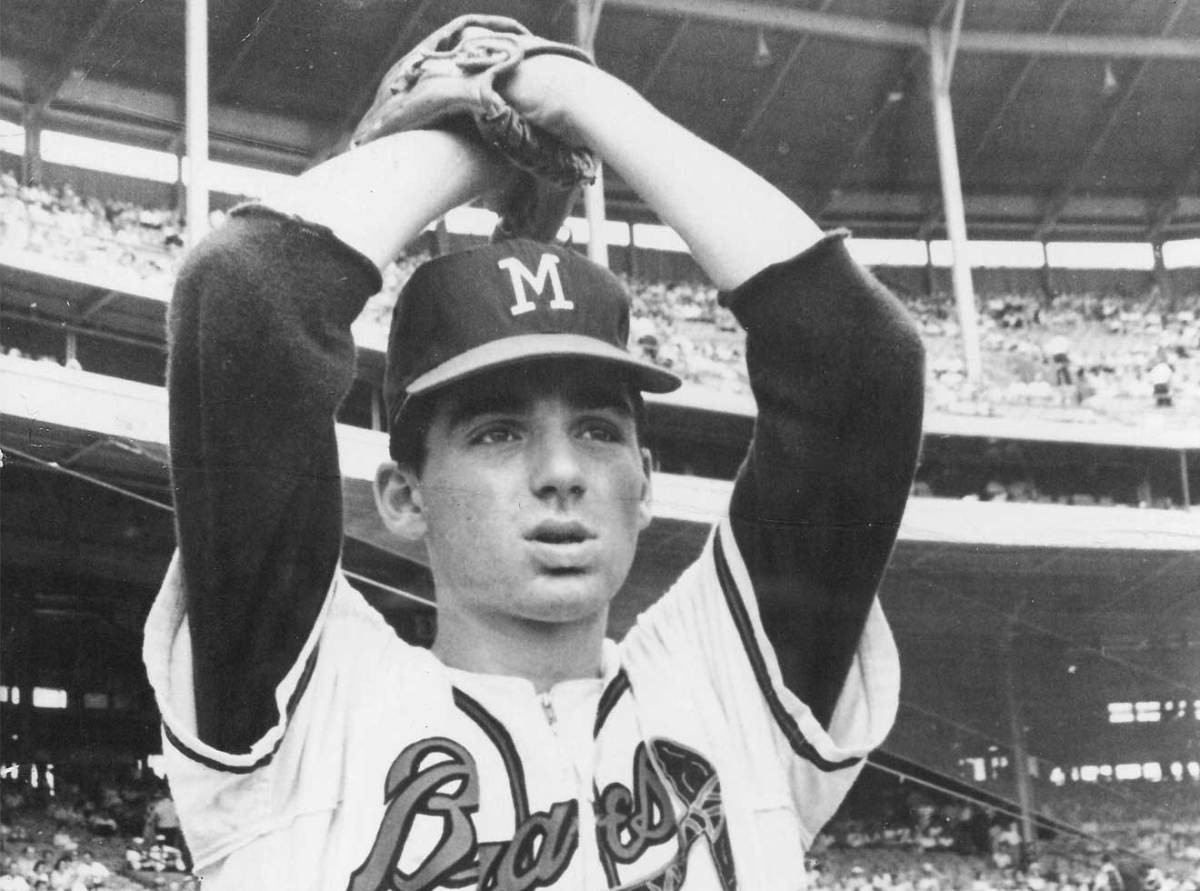 The author during his stint in the Braves' farm system
They were my idols. Ronnie "the Globe" DelBianco, shaped like a globe with sticks for arms and legs. In the minor leagues with the Dodgers organization, he had been a catcher who caught Don Newcombe. Frank "Porky" Vieira, short for pork chop because he was Portuguese. Go figure. He chased down fly balls in center field like a banshee. "Big" Al Bike was a barrel-chested catcher in his 40s, always scowling, pissed off. Fred "Fritz" Luciano was a slight, dark man, with the long, sad face of a Mafia hit man. Fritz had pitched in the minor leagues for more than 10 years, and his career was interrupted for a few years when he became a gunner's mate on a bomber in World War II.
John "Whitey" McCall was a pale, delicate-looking man, always smooth-shaven with neatly parted blond hair. He was shy, soft-spoken, the gentlest of men. His teammates never cursed in Whitey's presence. Even Porky kept his "muthafucking cocksuckers" to himself around Whitey. He was a southpaw first baseman who fielded his position with a dancer's grace. He was also one of the few players in Bridgeport, Connecticut's famous Senior City League (SCL) whose uniform was always spotless. It was laundered each week, and pressed with an iron, by the housekeeper in the rectory of St. Augustine's Cathedral, where Whitey was known as Father John McCall.
Rufus Baker was a slick-fielding infielder who ran like the wind, until he lost a step in his 40s. He had played for the New York Black Yankees in the 1940s before he returned to Bridgeport and the SCL.
Tommy Casagrande, aka Tommy Big House, was a southpaw pitcher as big as Paul Bunyan. Tommy had a stylish motion like the Yankees' Whitey Ford, only with better stuff. He'd been given a $40,000 bonus by the Phillies but hurt his arm and retired. Now, like all my idols, he was just keeping his hand in the game he loved in the SCL.
The fans were mostly fathers with their sons, Puerto Rican families spending a day at the beach across the street, and the wives of the players. The wives absentmindedly rocked their babies in carriages, glanced around for their older kids, then fixed their eyes back on the field. They worried about their husbands, not for them to do well but for them not to get hurt, be laid up for weeks, unable to work.
A clutch of old men, former athletes themselves, stood under the shade of a tree, criticizing the players, disparaging their talents, both now and when they were young. Those players had never been good enough, not even Fritzy Luciano or Tommy Big House, and certainly not Rufus Baker, not even in their prime.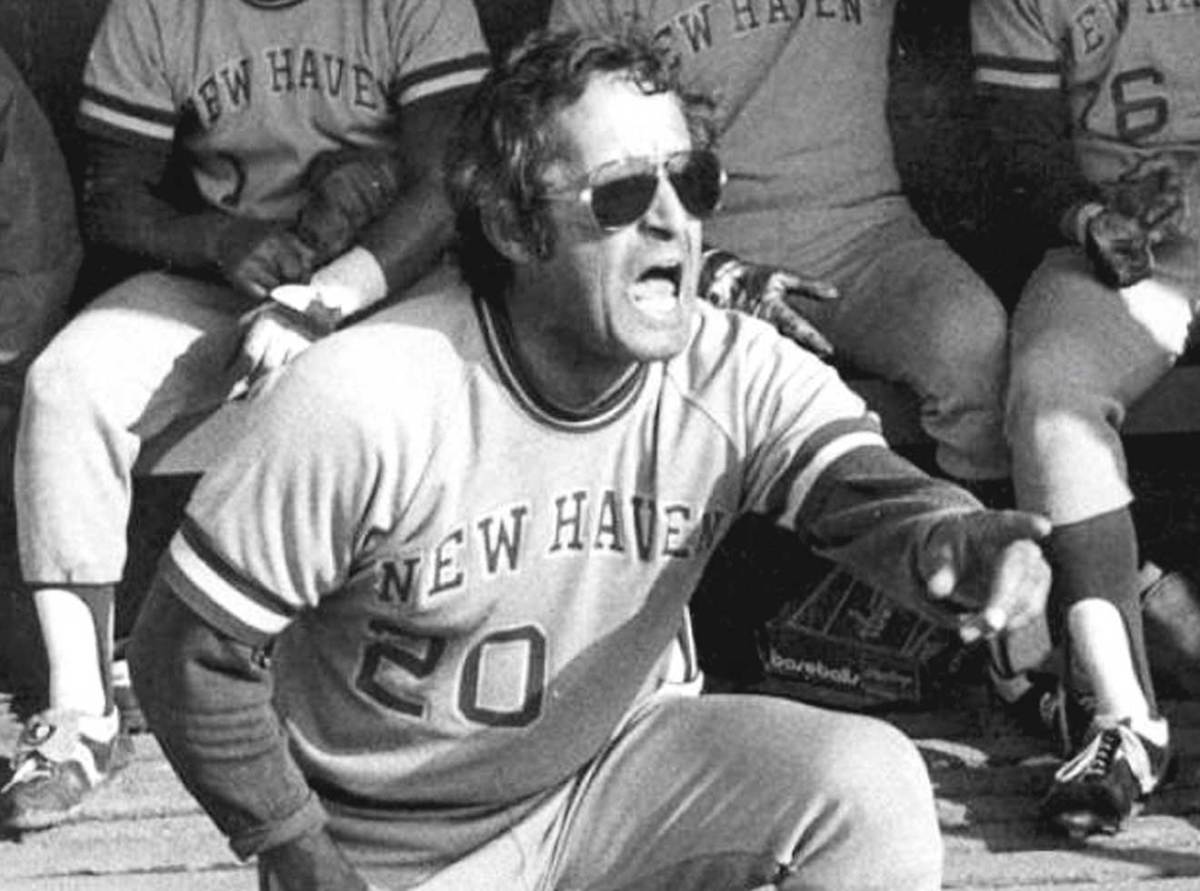 AND THEN THERE WAS ME. Those old men trashed me before I pitched an inning in the SCL. The gall to think a pink-faced sophomore in high school could play in this league. Against men. Who did I think I was? With a crew cut and a new Herb Score model glove, kangaroo-skin spikes and a spotless uniform. But no girlfriend. Just my mother and father and brother in tow. They sat in the stands, watching me pitch, not for amusement, like the parents of other boys my age in the American Legion League. My family watched me with an appraising eye, jewelers examining an uncut diamond. By then it was clear that baseball was no longer just a game for me. It would be my destiny.
The scouts had already heard of me. My 19 strikeouts out of 21 batters, a state record, in my first high school game. That night a Cincinnati Reds scout called our house and offered me a $20,000 bonus. He was shocked to discover I was only 15. "A boy," he said. "By the time you graduate high school, you'll be out of my league. But remember I was here first."
My team was Lenox AA, mostly college graduates, like the Pork, some ex–minor leaguers, and a few older guys like Rufus and Whitey McCall. My opponents were the White Eagles, the SCL Polack version of the New York Yankees. They paid their players $50 a game, except for Tommy Big House. He was fresh from the majors, so they paid him $100. He had good stuff, a nice fastball that had lost a few precious miles per hour, and a pretty curve not as sharp as it once was. But he still looked like a pitcher who didn't belong in some workingman's semipro league in Bridgeport, Connecticut. Tommy, my idol, would be my pitching opponent in my first SCL game.
I started the game feeling my way around on the mound. The new kid, just trying to throw strikes, not embarrass himself in front of his idols. I paced myself through the first three innings, retiring all nine batters I faced. Two strikeouts, a few easy ground balls, one hot shot to Rufus at second base that he backhanded, and a few lazy fly balls to the outfield. It was surprisingly easy pitching to these men. I didn't have to throw so many pitches. They didn't swing at and miss as many of my pitches as high school batters did. Rather, they attacked my first-pitch fastball and popped it up to first base. Or pounded my overhand curveball into the dirt for a routine ground ball out. Six pitches, side retired.
They started to make better contact in the fifth inning. A line drive to Whitey, who snapped it out of the air like swatting a fly. A long fly ball over Porky's head in center. He ran it down and caught it over his shoulder, just a long out. In the seventh, I gave up a run on a walk and a double between center and right. Runner on second, one out, the score 2–1, my favor. I fidgeted on the mound, walked the next batter on four pitches. Whitey came over and said, "Take a breath, Pat. Remember who you are." I said, "Yes, Fath—, Whitey."
My family watched me with an appraising eye.  it was clear baseball was no longer a game for me. It was my destiny.
The Globe was up. He glared at me with red eyes, a fat dragon spewing fire. I had struck him out previously on a fastball in on his hands. He shouted to me, "Throw that shit next time, you little prick, see what happens." Now he was grinding the bat in his fists, just waiting, me on the ropes. Instead of rearing back throwing heat, I threw a first-pitch overhand curveball, the ball floating toward the plate waist-high. It collapsed to the dirt just as the Globe lunged at it, too soon, the bat slipping out of one hand, the ball bouncing back to me on one hop. I caught it, whirled, and fired it to Rufus at second. He tagged the bag, pivoted, and fired it to Whitey at first base. Out of the corner of my eye, I saw the Globe's mincing little feet churning under the weight of his massive body, Whitey stretching low to the ground, swiping the ball out of the dirt with a disdainful backhand before the Globe's little feet hit the bag.
As I walked off the mound, Rufus jogged past me, his eyes downcast. I almost didn't hear what he said: "You the man, boy."
Then the Pork ran past and said, "Fucking balls, kid."
Whitey came over to me as I crossed the first-base line. He put his hand on my shoulder as if to give me a blessing. Then he did, smiling. I smiled back at him, "Thanks, Whitey."
I felt a lightness in my chest as if I could levitate. It surpassed any feeling I ever had on the field. I struck out five of the last six batters in the eighth and ninth innings to end the game. I beat Tommy Big House 2–1 that afternoon.
After the game, players from both teams went to the White Eagle Hall for beer and sandwiches.
The Pork said, "You comin', kid?"
I said, "I dunno. I have to ask my parents."
Porky stared at me with his black, glistening eyes and said, "You don't have to ask your parents shit no more, kid."
My parents dropped me off at the White Eagle Hall and told me they'd pick me up in an hour. I went inside. The players were still in their sweaty, dirty uniforms, drinking beer, laughing, taking a bite out of their kielbasa sandwiches. I didn't know what to do. What to say to these men. I stood off to the side by myself. Then through the crowd of players I saw Big Tommy Casagrande parting the crowd as he came toward me with two beer bottles in one hand and a cigarette dangling from his lips. He handed a beer to me, "Here, kid, you deserve it."
I said, "Thanks, Tommy."
I took a sip, the first beer I'd ever tasted. It was bitter, con gassatta. I belched. Tommy laughed and dropped his big arm on my shoulders like a falling tree limb. Then Tommy pulled a pack of Camels out of his back pocket, shuffled one out of the pack, and reached it toward me. I shook my head.
"I don't smoke, Tommy," I said.
He smiled and said, "Sure you don't. I forgot you're still a kid." Then he said, serious now, "But you don't pitch like a kid. You're gonna be a big leaguer one day soon."
When my parents picked me up, I told them what Tommy had said.
Dad said, "Tommy should know."
But he didn't.
AFTER I GRADUATED from high school, I got my big bonus, 50 g's. I paid off the mortgage on my parents' house. I tried to buy my brother a car, but he wouldn't let me.
"It's your money, brother," he said. "You earned it."
I left home to begin my adult life in professional baseball. Four years later I returned home in the spring. The pitcher who had experienced unqualified success since the age of 8 had now, at 21, forgotten how to pitch. My motion became a series of uncontrollable ticks and twitches, a kind of Tourette's syndrome on the mound. In my last game, I stood terrified, afraid to throw. And when I did, the ball sailed over the batter's head, or behind him, or into the dirt three feet from the plate. So I returned home to live with my parents. My Little League trophies had collected dust on the windowsill, illuminated in a haze by the morning sunlight. I saw the scuffed baseballs with the hieroglyphics of my past successes written on them. Numbers and letters, 18K, 0H, 0BB, 0ER. I slept late, rarely left the house. I went back up to my room in the afternoon and lay on my bed staring at the trophies and baseballs. I wanted to put them in a box in the attic, but I didn't have the will to do it.
Downstairs I heard my mother say, "Is he ever going to do something?"
My father said, "Give him time."
One Sunday afternoon I ventured out like a frightened caveman into the dangerous world of the SCL at Seaside Park. I arrived after the game had begun so I wouldn't be noticed. I stood behind the old crones standing under the shade of a tree, fearful I'd be discovered. Then, during one game, I heard it.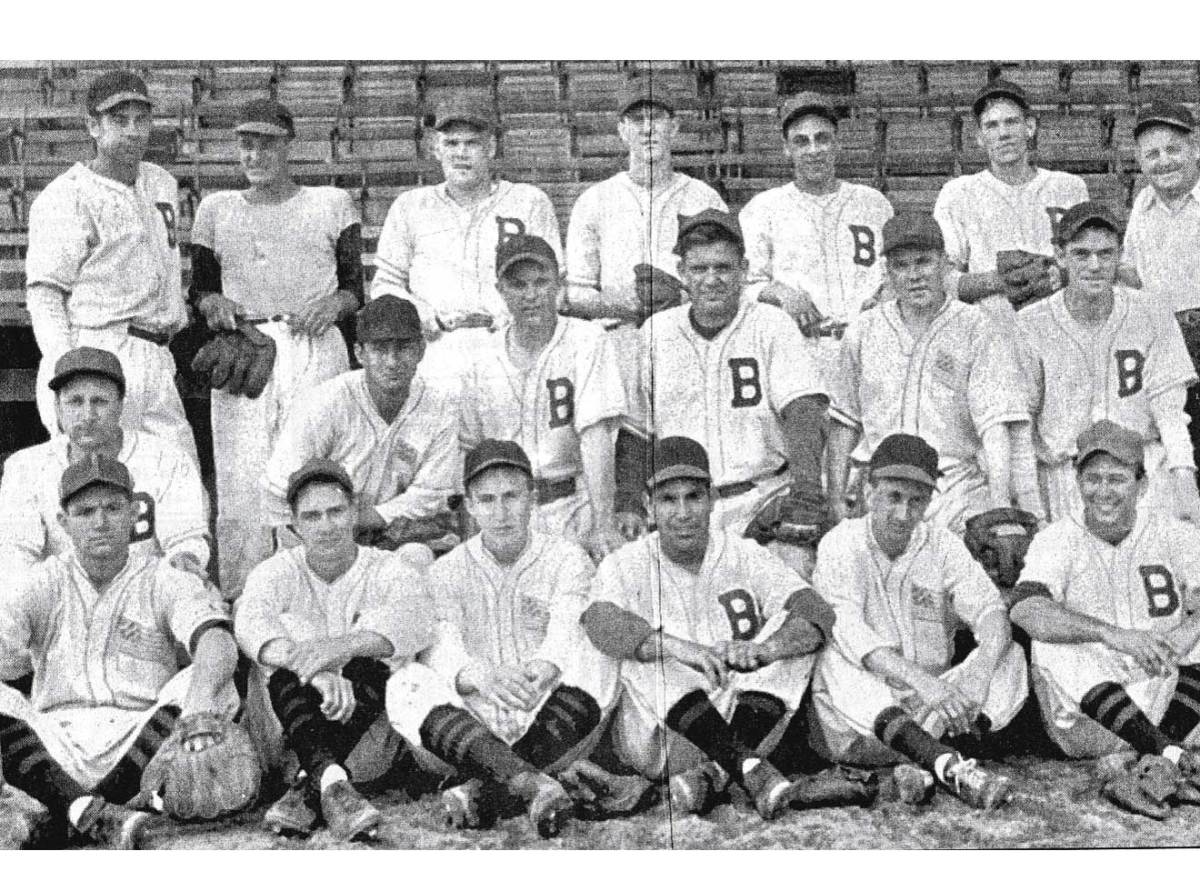 "Jordan's back, I hear."
"Not surprised."
"I never thought he had the stuff."
"He didn't have the guts."
I fled in tears, and never played again.
My entire life had been about my future.
Now I had none. It was so sudden. I thought you lost your future gradually so that you could see its bright light dimming through the years like a dying star. In your 40s, you accepted the fact that your future was gone. You had only the present now, which would remain the same until you died. In your 40s, what you were you would always be, only older. But I was confronted with a lifetime of the present at 21. I didn't know what to do. So I got a job.
I was a laborer on a construction crew that built expensive homes in Fairfield County. The foreman dropped me off at a deserted site in the early morning. The trees were chopped down, the stumps cleared out to reveal an open space, a square patch of dirt, outlined by string, with a high mound of dirt in the middle. He gave me a shovel and told me to spread  the mound of dirt evenly over the square space marked off by the string. Then he left me alone. After I had spread the dirt evenly, I compacted it with a handheld steamroller. The foreman returned in the afternoon. He pulled up in a cement truck and emptied wet concrete into the square space until it, too, was a high mound. He gave me a rake this time and told me to rake the concrete evenly over the dirt before the mason came. Then he left me alone again.
There was nothing to do in the solitude except work and sweat and think. I thought of what had happened to my future, why it was gone, but I had no answer. I thought of what I would do next in my life. What I would be. But I could think of nothing. I felt betrayed. By whom? My mother, father, brother? Fate? God? Myself? And then I thought of Dad. An orphan. Born into nothing. No mother, father, siblings, future. His curse, yet his blessing, too. He left the orphanage at 15, wandered lost into the city streets. He got a job sweeping out a pool hall. At night he slept on a green felt table. During the day and night, he watched the pool shooters with the eyes of a predator.
Over the years, Dad made a life out of nothing. He told me, in my teens, "It wasn't so hard to do, kid. You just keep walking through shit until it turns to clover."
So one morning, I got out of bed and got a job as a workingman. And then I got another job, and another, and another over the years until, pushing 30, I had a future again.
For access to exclusive gear videos, celebrity interviews, and more, subscribe on YouTube!