Even if you played for a major college basketball program, becoming a professional athlete is a massive step into the spotlight. Playing in the NBA gives you attention and opportunity like never before as the the highest-level of basketball in the world. It also brings a lot of pressure.
For the teenagers and young players making the jump to the NBA, that opportunity can be difficult to handle at times, especially when you have a lot of new things thrown at you. From financial success, to living in a new city, and playing with some guys a decade older than you, the entire process is a big adjustment. That's why the NBA holds the Rookie Transition Program each year to help their new young stars adjust to being professionals.
The four-day program, which first started in 1986 and took place earlier in the summer, was created to give rookies the education and tools they need to be successful professionals. Some of the programs, educational sessions, and topics the NBA focuses on include financial management, rest and recovery, social media issues, nutrition, career development, financial education, media relations and practice, as well as personal styling and general career development.
"Our top priority is to make sure we inform the players what it is what they need to know to be successful in their NBA transition, thrive while they're in the league, and then be prepared for life after basketball," NBA senior vice president of player development Greg Taylor told Men's Journal. "This is an amazing change in their life circumstance, and we want to walk them through what it means to be a leader, how to manage your finances successfully, how you enter into a new community, a new team, and how to be an ambassador for the league."
The league has also put a focus on mental wellness and dealing with stress, anxiety, and other mental health-related issues for young players—both on and off the court. To work in this area, the league partnered with the company Headspace, which specializes in meditation and mindfulness.
"It's incredibly forward thinking of the NBA to be taking this approach to mental wellness and that side of things," says Andy Puddicombe, co-founder of Headspace. "These guys are coming into a challenging environment, they're just starting out on their journey in professional basketball, and that brings with it a whole lot of stress and challenges."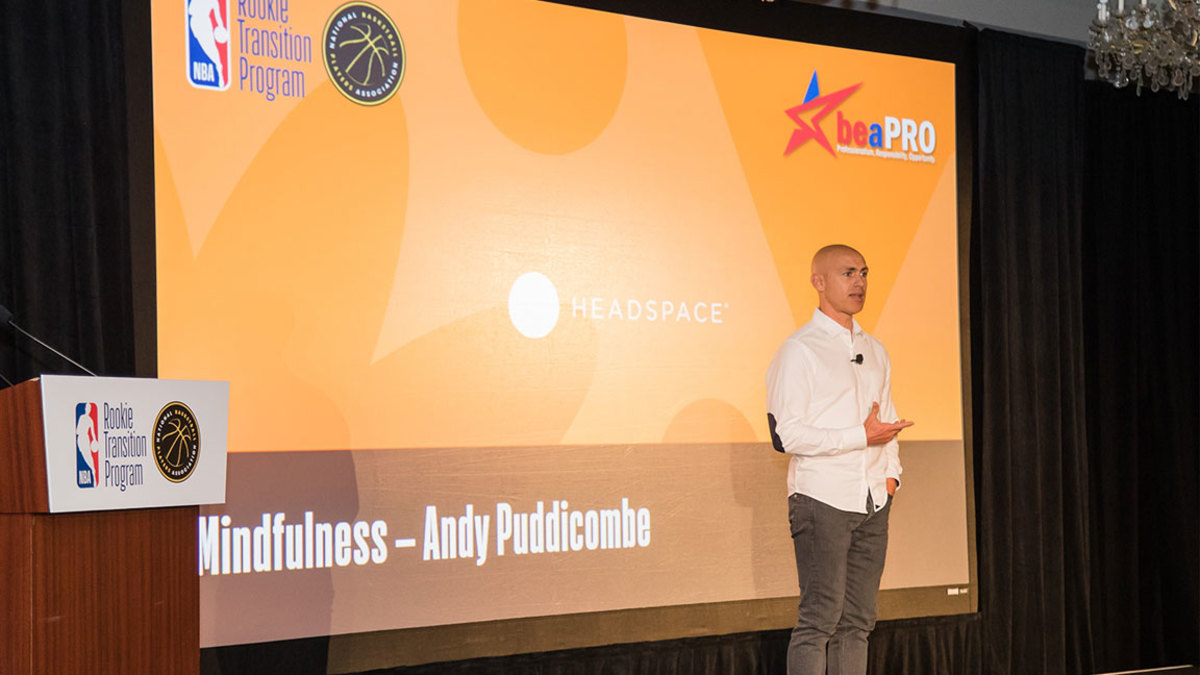 Taylor echoed the importance of working on the mental side of things for players: "Mental wellness is extremely important," Taylor says. "One of the takeaways we want the players to get from the RTP is understanding the importance of metal wellness and to seek out support and guidance. We all have times in our lives with stress and anxiety, and we want the players to be supported and understand all those issues. We're excited about our partnership with Headspace and working on mental wellness, and I'm impressed with how receptive the players have been to it."
The NBA takes input from many areas and people to help build the RTP, including from former players. One of those former players is Purvis Short, who played for the Warriors, Rockets, and Nets during his career, and now serves as NBPA Chief of Player Programs.
"We feel the Rookie Transition Program is one of the most comprehensive introductions to life management tools in professional sports," Short says. "We are trying to position the program and lay the foundation that helps the transition to the NBA happen as smoothly as possible for these players. I think my experience, and with many other retired players, we've had some tough situations while trying to stay in the NBA as players, and from those experiences, we've crafted the program to help alleviate those problems the best we can. Teaching the understanding of what it means to be a professional athlete and what that means for your team and your community and to the NBA as a whole."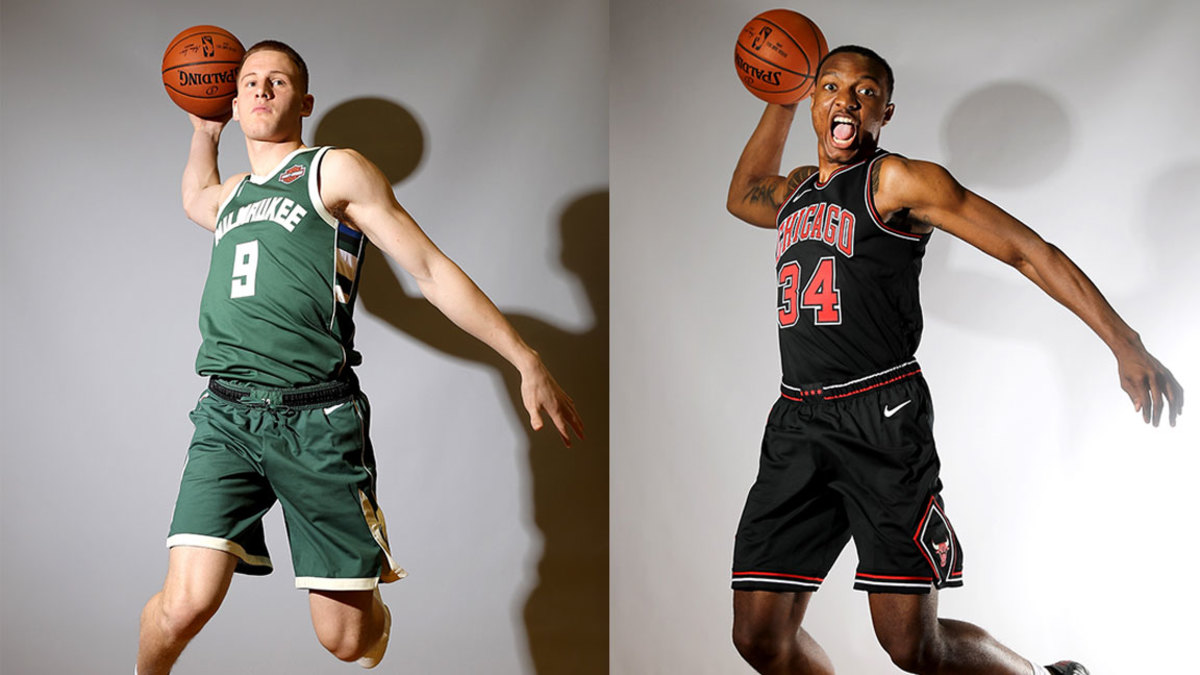 The players have embraced what the NBA is trying to do with the RTP, and many of the rookies have taken away important lessons from the program. Two of the players that found the RTP extremely helpful were Chicago Bulls rookie Wendell Carter Jr., and Milwaukee Bucks rookie Donte DiVincenzo.
"I found it very informational. One thing I am definitely taking away and that I'm going to live by every single day is being a professional on and off the court," Carter says. "You never know who is watching, who is the owner of a certain company or who is looking to give you a deal, so it's important to just carry yourself in a certain manner where they won't have any hesitation reaching out to you."
"Personally, coming from Delaware where it's a small state and I have a lot of eyes on me, just having the ability to love from a distance with a lot of friends reaching out to you and being able to focus on basketball while still remaining positive with everyone from back home," DiVincenzo added.
These #NBARooks participated in a Jr. NBA Clinic during Rookie Transition Program! #ThisIsWhyWePlay pic.twitter.com/29DtwqjCIy

— Jr. NBA (@jrnba) August 20, 2018
For Short, the RTP is a way for players to learn and educate themselves on what they need to do to have a long and successful career in the NBA.
"One thing I want people to realize is that our problems as players aren't unique," Short says. "We deal with many of the same problems that everyone else does, like family issues, financial issues, the struggle with trying to say no and helping friends or family members. We all struggle with that, and we try and help players prepare and understand those decisions and situations as a professional and give them the education and tools to deal with it. We're trying to lay that foundation for the players to have a successful and long career in the league. Taking that foundation and building on it, and giving them the resources to make sure their transition goes as well as it can."
Here's some more information and insight on the Rookie Transition Program.
Carter on how the program can help him personally:
"Just the outlets that they have here," Carter says. "They have many doctors who actually played the game, so they can tell you the basketball side – and the fact that they're a doctor, they are able to help you with mental and physical health. I feel like that's very important to have someone who has been through the same process who is able to tell you exactly what you need to know to just move forward."
Carter and DiVincenzo on the most important things they learned about training, nutrition and fitness during the RTP:
"They really hit home on all of those," Carter says. "Training is kind of a given – it's easy to make it here but it's harder to stay in this league. You just have to continue to work every single day – they've been pushing that and I've definitely bought into that. The whole nutrition thing with eating the right stuff is not really a hard thing to do, it is hard to cut down on some of the food you're eating but the concept is not that hard at all. I feel like they really hit home on a lot of those things."
Just to stick to a routine – the biggest thing they told us is get in a routine and stick to it," DiVincenzo says. "Don't fill your free time with random things – if you're bored, get in the gym. Other than that, just stick to a routine and don't change it."
The RTP serves as a year-long program:
While the main part of the Rookie Transition Program is just four days, the NBA treats the entire process as a year-long program where they can provide players the tools and education they need to adjust to the league.
"One of the mistakes that the media and public make is that they think that the Rookie Transition Program is just a one-time meeting," Taylor says. "But it's part of a year-long calendar that we do and the things we do. The RTP is most notable, but we talk to the players through the year in formal and informal ways, and we want to be there when they need any help or guidance. And for us it's a year-long program."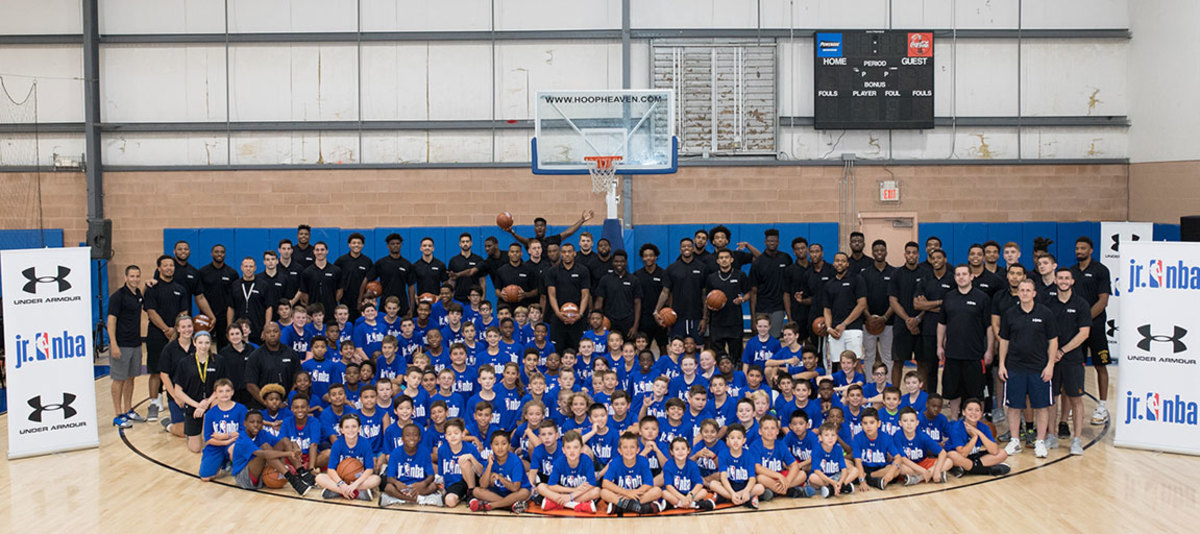 On the priority of mental wellness and mindfulness:
"Our talks with the NBA and the work we wanted to do was on two levels," Puddicombe says. "One was, how can we help these players perform at their very best? On a performance level, we want to help them perform at their best. Then on a mental well-being and recovery level, how can we ensure they are preparing for games the best they can, recovering from games the best they can. And away from the game, how can we help them stay happy and healthy in their life. Recognizing that on the court and off the court are connected. We want to help players deal with all of that as best we can."
Some people have misconceptions about meditation and mindfulness, and Puddicombe wanted to help the players understand how the mind works and use that to help them in their careers.
"For some people, they think having a busy mind means they can't meditate, or they don't have enough time to meditate, but we want to teach that it's doable and they can get it done," Puddicombe says. "Most people assume that it's about stopping thoughts, and that's one of the biggest misconceptions. Mindfulness is the ability to step back from thought, to see thoughts clearly, and not get involved in them. It's not about stopping thoughts and once you get comfortable with that, there's no pressure to be the perfect meditator. Ultimately, I would love to think that we can be there to help them in their careers, but also help them in their lives and make sure they have the tools when they need them most."
Fun for all. Kids and rookies alike. pic.twitter.com/UCM1hgZTOt

— Jr. NBA (@jrnba) August 15, 2018
On the evolution of the rookie program over the years with technology, and the importance of teaching social media awareness:
"The main way things have changed since it started is with the information we want the players to know," Taylor says. "With the presence of social media, it can be an amazing tool—it can promote your brand, it can help the people understand who you are, but if misused, it can really hurt you. So we take time around social media and make sure guys understand what's going on.
We want our guys to understand with great resource and great opportunity, also comes great responsibility.
"We spend a good amount of time on those issues," Taylor says. "This is a younger generation of players and things move fast, and so the manner in which we teach has changed. We've embraced technology. We utilize that everyone has cell phones so we can now give quick hit information, and a lot of interactive presentations, not as much long lecture style. It's more small learning groups and the players can talk amongst themselves and they can also talk to each other about what they've learned. It's about getting information in their hands and making sure they understand the situation they're in."
The most important things the players can take away from the RTP:
While obviously everything the rookies learn during the program are important, Short had some areas of focus he mentioned that he thinks the players should continue to remember and work on, even after the RTP ends.
"Hard to say which is most important, because many are," Short says. "But I think learning about leadership is important, and financial management is important. Athletes don't always know what that means, to be a leader. Being a leader covers many things, like how you carry yourself, an everything you do has an impact as an individual and how it relates to your team in the league. So we focus on teaching players what that means
"Financial management is also of extreme importance," Short says. "There's a lot of advice given, a lot about the basics, the importance of budgeting and establishing a budget and surrounding yourself with competent financial advisors. Educating the players and making sure they're understanding what types of financial management they have and what they're doing with their opportunity as a professional athlete on that side of things."
For access to exclusive gear videos, celebrity interviews, and more, subscribe on YouTube!