Jermell and Jermall Charlo aren't your typical brothers. Sure, like most siblings, they're competitive and always looking for ways to one-up each other. But instead of doing it around a family dinner or in the backyard, the identical twins do it in a boxing ring.
Jermell and Jermall are both undefeated. Nearly half of their total wins have come by knockout. The duo reached a major milestone back in 2016 as the first twins in the history of boxing to hold world title belts at the same time, and they'll look to continue that milestone Saturday, December 22, 2018, at Barclays Center. The "Brooklyn Boxing" fight night is presented by Premier Boxing Champions and will be broadcast on FOX and FOX Deportes starting at 8 p.m. ET.
They're scheduled to defend their title belts, with Jermell (31-0, 15 KOs) fighting Tony Harrison to defend his junior middleweight world title for the fourth time, and Jermall (27-0, 21 KOs) defending his interim middleweight title for the first time against challenger Matt Korobov. The brothers are excited to be co-headlining the event together, although Jermall already got a win over his brother: He won the coin toss that decided who'd be fighting as the main event.
"We're excited to be back in Brooklyn for this fight," Jermell Charlo tells Men's Journal. "We both trained really hard during our camp, and we've both fought here in this arena before. The fans are incredible in Brooklyn and we can't wait to both step into that ring and show what we can do. All our lives we've been together and it's exciting to both be on the fight card together again."
Read on to see how Jermell and Jermall trained for their title matches; what it feels like to walk out into the ring for a fight; and what boxers they most admired growing up.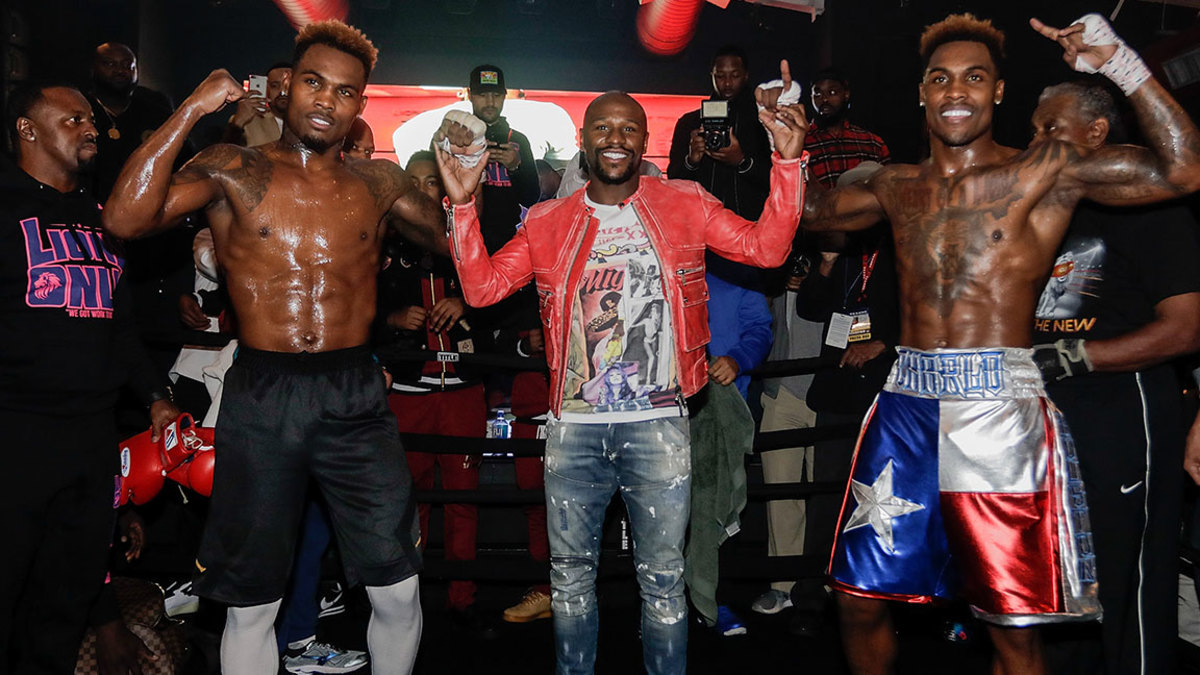 Men's Journal: How are you both feeling heading into the fight and knowing you'll be back in Brooklyn? 
Jermell Charlo: We're excited to be back in Brooklyn. We both trained really hard during camp, and we've both fought here in this arena before. The fans are incredible, and we can't wait to step into that ring and show what we can do. All our lives we've been together, so it's exciting to be on the fight card together again. I'm eager to prove a point and get in there and face another opponent who's willing to try and win against me. I've trained hard for this fight.
Jermall Charlo: We're super stoked. Every time we come to Brooklyn, we love the atmosphere and the fans. They've shown love to us. All we can do is keep trying to put on a great show for the city and the fans who come out.
How did you two train for these fights? What are some of the most important parts of your training camp programs? 
Jermell: We do a lot of twisting and turning in our training. Those types of moves really help get the body moving and make sure we're staying agile, which is so important in the ring. One thing that's key for both of us is stretching. We do a lot of different workouts, like hot yoga, to stay flexible, loose, and healthy. We'll work on the punching bag a lot, do some weightlifting and power workouts in the gym, and use the jump rope. That's something we've been doing for our whole lives. Jumping rope helps keep your footwork going strong.
My twin brother and I train hard, but we really push hard at the end of the year. I'd say we train harder now than anytime of the year, because we normally fight around this time. So our bodies are comfortable and almost genetically ready to produce more mass and muscle. So we really lock in this time of the year and we locked in for these fights. One thing we do in particular is use the jump rope. We both love to do that and that's something we've been doing for our whole lives. That helps keep us right and keeps your footwork going strong.
 

View this post on Instagram

 
Jermall: Staying focused is key. You have to focus on your opponent and make sure you're training right so your body and mind are ready. At this time, when we're training for a fight, we don't really engage with a lot of outside stuff. We just try to get our job done. Every fighter has their own type of cardio workout they like to do. My brother and I like to swim. We've been doing that our whole lives. Swimming and jump rope are two of the main things we do.
Outside of the gym, what are some of your favorite physical activities?
Jermell: We really love to be out in nature, whether that's for training or just living life. You can find us fishing in Miami offshore somewhere, riding jet skis, and doing fun stuff like that. My brother likes to ski and get out in the snow. We really are nature boys, and when it comes to getting out there and being in nature, there's not too much we don't like.
You guys get a lot of attention for being twin brothers fighting on the same card. Does that ever get old? Do you ever get competitive with each other? 
Jermell: It never gets old. You know, we've been through it all our lives. It's one of those things where you take the good attention with the bad and keep it moving. It's exciting for us to be in the middle of it, and we enjoy the whole package. It's a big thing for us to fight on the same card, but it's even bigger to get the victory, so that's what we both focus on.
Jermall: It's all smiles. We love being in it together. We're competitive, but we're not competing against each other. We're competing against our opponents. In training and in our lifestyle, we're competitive with each other, but it's nothing personal. It's all business. I think we both enjoy working hard and doing something special together.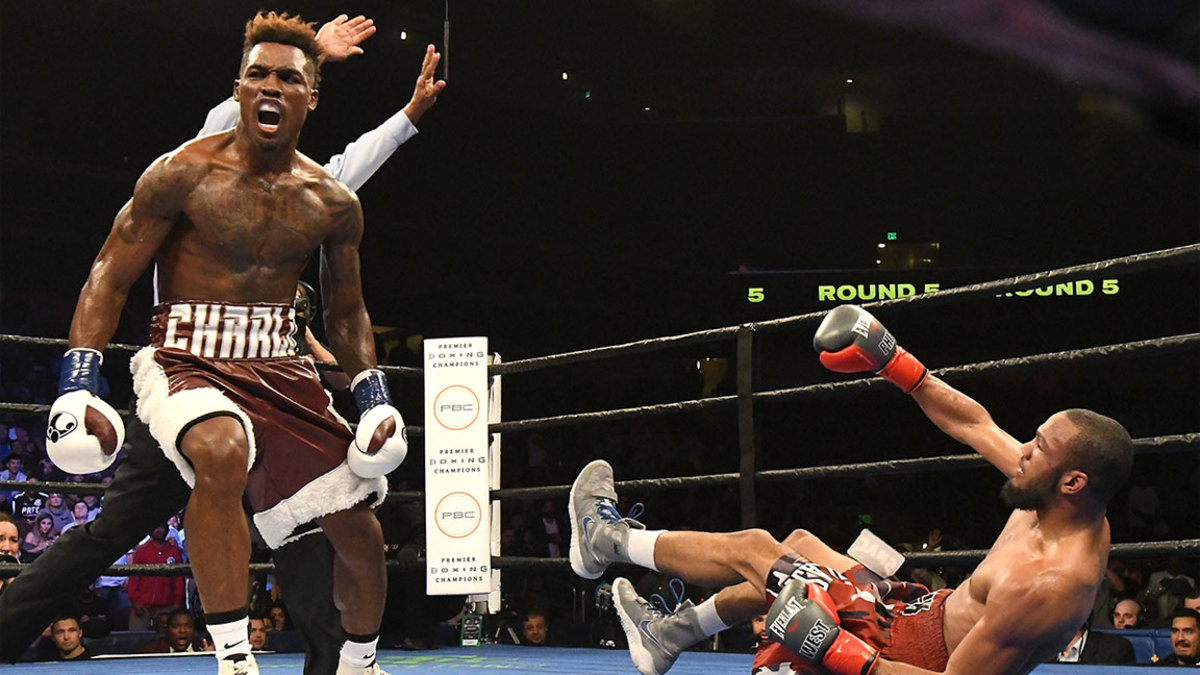 What fighters did you admire and emulate growing up?
Jermell: We liked Bruce Lee a lot. We watched fights with Evander Holyfield and Muhammad Ali. Those are guys we try to emulate when we fight. We used to have fun messing around using specific fighters' styles on each other.
Barclays Center is one of the best places for boxing. What are some other arenas and venues you've enjoyed fighting at?
Jermall: The Toyota Center is a great place for us to fight, with us being from Houston. We love Los Angeles, too. The fans are always great. Anywhere they put us, we'll make it work. Brooklyn is definitely one of our favorite places to fight, though. And we've had fun times in Las Vegas on the same card.
Do you guys have a favorite boxing movie?
Jermell: We really like Undisputed with Wesley Snipes. We watched that growing up a lot.
Nutrition is a huge aspect of your fight program. Is there anything specific you do when prepping for a fight?
Jermell: We have a personal chef who helps us stay on track, and we really like to keep things the same all year round. We don't want to change anything up too much if it's working. We eat clean and organic as much as we can, and try not to eat too much of anything.
What does it feel like when you're walking out for a fight and stepping into the ring?
Jermall: It's a surreal, exciting feeling. You never know what the outcome is going to be, so you have to be ready for everything. That's one thing about it and boxing is that any boxer that steps into the ring, you really never what the outcome is going to be. Look at a guy like Adonis Stevenson, who's dealing with a dramatic time after suffering brain damage in a fight. He's a fun guy and loved to fight, but he's going through something serious. You put your life on the line in the ring, so you never know what can happen and you have to keep that in mind.
Jermell: It's an exciting feeling walking out. You want to deliver a statement, and that's what we're here to do. It's part of our life. We both want it, and are fighting hard to win and put on a good show for everyone. We're hyped about the fight. We can't wait to get to Brooklyn and be in the ring and get this thing going for Premier Boxing.
For access to exclusive gear videos, celebrity interviews, and more, subscribe on YouTube!