It's summer, so that means beach days, barbecues, and long nights sipping beer. But what about all the times you're home, or dealing with work and actually not on vacation? What if there was a way to feel like you're on vacation while not actually being on one? That's what's behind the latest collaboration with Idris Elba and Stella Artois, stepping in to make sure you "summer like you're on vacation."
As a star who acts in major films like Hobbs and Shaw, creates, writes and stars in his own Netflix series Turn Up Charlie, directs films like Yardie, has his own designer fashion line, and is a pro DJ around the world, Elba is traveling quite a bit. But those travels don't always take him to the most glamorous places, and that's why he enjoys the mindset of having a "summer like you're on vacation" and think about home in a new mindset.
As Elba says in the new commercial for the campaign: Think of "Philadelphia as Vista Del-Phia, or New York as the Isla de Manhattan, and Chicago as the Chi-Town Riviera." On top of that, the new ad has a never-before-streamed track produced by Elba himself.
"My lifestyle, it seems glamorous, but a lot of times myself and my team, when we go to a job or a press junket, we find ourselves in a corporate hotel," Elba says. "We figure out a way to make where we are like it's home and somewhere we can feel comfortable and like we're on vacation. It's really about finding the things that make you most comfortable, whether it's a good soundtrack, a good vista—it doesn't have to be a beach or ocean, you can just sit on the balcony and have a good view—a cold Stella Artois, the right sort of stuff on your feet so you're comfortable. All that allows you to enjoy the moment with the right music and conversation. It's about remembering to smile in the moment and enjoy the moment."
Elba added: "That was the premise we wanted to expand. That's my life, it isn't all glamour, but you can find time to relax, turn everywhere we are into a vacation-like vibe."
As part of the campaign, Elba served as a creative director for the new TV spot, collaborating with VaynerMedia and award-winning Director Henry Scholfield for it. The ad takes Elba through a bunch of different scenarios and shows off how he (and you) can "summer like you're on vacation" even when you aren't actually on vacation.
"It was a fulfilling experience, to be able to give my input, Elba says. "Stella had a great vision for it, very clear, and I wanted to amplify it, For me as an actor, this is a dream gig. On one side of the fence I get to act in it and be a personality. Stella was so open for my input and creative ideas. It's a sign of the times. It truly was a collaboration. I really felt that my opinion as a creator was taken seriously. Stella has their knowledge and I have what I can bring to it, and they were very receptive to my ideas and energy, and to Henry and his ideas. It was truly amazing, it didn't feel like a grit-and-grind-it-out situation. Everyone had truly artistic minds with the idea to sell a great product. Even before I worked with them I drank Stella and I love it."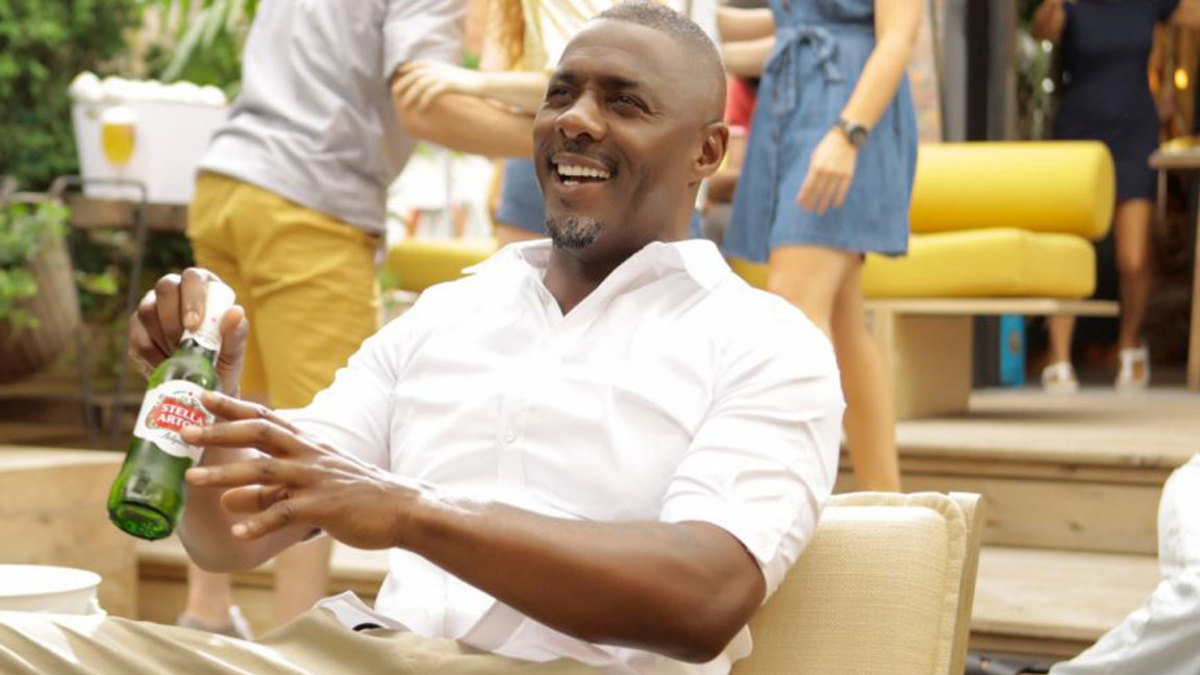 "Summer equals vacation and vacation means that you splurge on that better drink, that nice restaurant, you name it. But vacations are never as long as we'd like them to be, so this summer we're inspiring consumers to trade up to our premium European lager and embrace that vacation state of mind, all summer long," said Peter Van Overstraeten, VP, Premium & Super Premium Brands, Anheuser-Busch.
I've collaborated with @StellaArtois to spread the word: you don't have to go on vacation to get away. It's all about perspective. #StellaArtoisPartner #SummerLikeVacation pic.twitter.com/aPDdHtLWbu

— Idris Elba (@idriselba) July 10, 2019
For more, and to get involved, follow @StellaArtois and check out the #SummerLikeVacation hashtag on social media.
For access to exclusive gear videos, celebrity interviews, and more, subscribe on YouTube!