"Zeus" is not a superstar. Graham Zusi, the 27-year-old midfielder blessed with an Olympian nickname, did not grow up playing for high-profile American youth national teams, and he never competed in the English Premier League, soccer's most elite level, like big-name U.S. national teammates Landon Donovan and Clint Dempsey. In fact, for a pro athlete gearing up to play on a global stage, Zusi is quiet and unassuming: He floats under the radar, free to walk the streets of Kansas City's River Market neighborhood, where he lives, in relative anonymity.
But perhaps more than any other player on the U.S. national squad, Zusi represents America's best hope for success at this year's World Cup in Brazil. He's one of the fittest players on a team that increasingly survives, even thrives, on its outsize endurance in international competition. "The U.S. is a team that lives on its athletic performance and its [conditioning]," says Michael Ballack, the former German soccer star who played against the Americans in 2002. "On the pitch against the world's best, however, they do not particularly stick out with skill."
That is a charge that even some American players will not dispute. Regardless, when the competition begins in June, the team will enter the tournament more confident than ever. They will play three games in 11 days, taking on Ghana, Portugal, and Germany in the so-called "Group of Death." Their travel schedule will encompass more than 11,000 miles from the team's base in São Paulo to matches in Recife, Natal, and Manaus, where they'll play Portugal amid soul-crushing humidity in the middle of the Amazonian rain forest. It's the type of trek that gives a fitness coach nightmares—which means that the ultrafit Americans, more than any other nation, are actually looking forward to it.
What The Hell Do You Know About The World Cup?>>>
In Major League Soccer, where many of the U.S. players earn a living, teams routinely endure cross-country flights and play matches in extreme conditions: The heat of August in Texas, the freezing cold of October in Montreal. "It's nothing that we haven't seen before," says Zusi. "Playing in Houston is worse than what we experienced [earlier this year in Brazil]. To be honest, I do not think the weather is going to be a factor for us. But it will be for a lot of the European teams."
He has a point: Europe's leagues are confined to smaller countries with similar, more temperate climates. ("Believe me," says Pierre Barrieu, the U.S. fitness instructor for much of the last decade, "The Portuguese have no idea about the humidity when compared to the U.S. players.") Which begs the question: Will the tournament's oppressive conditions offer soccer's perennial also-rans a more level playing field than usual? Frankie Hejduk, a defender who played for the U.S. national team in the 1998 and 2002 World Cups, believes so.
"If we're fitter than they are," he says, referring to the Group of Death, "we can try to run them into the ground."
Beats By Dre Nails It In World Cup Ad>>>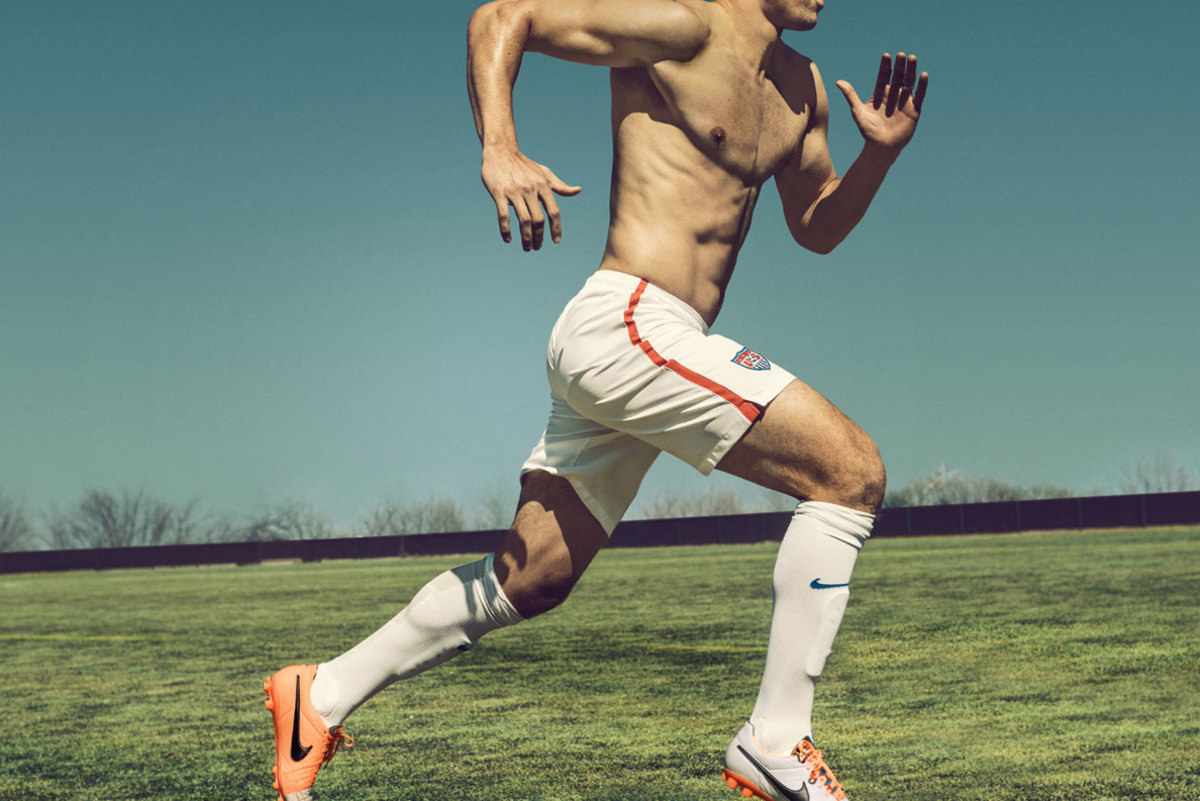 On the first day of the team's january camp in  Los Angeles, on a pitch outside the StubHub Center, the hard work is just getting started. The players, gasping for air and clutching the sides of their American-flag uniforms, wander the grass between drills like crooked-stepped zombies, their scruffy faces draped in thousand-yard stares. They've just finished a five-on-five game set on a grid stretching from the 18-yard box at one end to the midfield to the other—roughly 40 yards long and 30 yards wide.
During the game, 10 players at a time sprint nonstop, attacking the goal with the ball and scrambling into defensive positions after losing it. When the ball exits the designated field of play, a new one immediately rolls in. The rules of the drill dictate that a player has only three touches before he must pass or shoot, which is intended to emphasize quickness, constant movement, and "fitness," the soccer-world term for "conditioning." It's a grueling, sustained exercise, exacerbated by the thick-accented shouts of the team's sideline-pacing, German-born coach, Jürgen Klinsmann. Several minutes of flat-out effort, then a quick water break, then repeat.
Zusi glides through the five-on-five on his toes. When he receives the ball he does so with ease and handles it capably with both feet before springing it over to his teammates with pinpoint accuracy. As the other players fight for air during breaks, Zusi appears relaxed, casually squirting water into his mouth before jogging over to line up for the next round. "His cardiovascular fitness level," observes Masa Sakihana, the U.S. team's head fitness coach, from the sideline, "is at the very top of the current squad."
Zusi has built a career on that cardio. As an undergrad at the University of Maryland, from 2005 to 2008, Zusi frequently topped the charts on agility drills and "beep tests"—soccer's insidiously demanding fitness institution that requires players to shuttle between cones at ever-quickening intervals. "I've made fitness my top priority from early on," he says. "I take great pride in being one of the fittest guys on the team. When you can take that factor out of the game and you don't have to worry about it, then you can worry about other things on the field—the soccer aspect of the game."
It is a mindset that has served him well in the pros. The head fitness coach at Zusi's MLS team, Sporting Kansas City—a cut, hardcore exercise buff named Mateus Manoel—once coined the term "Sporting Fit," which the franchise's front office uses to describe the club's ideal player: a hard worker who can thrive in a fast-moving, high-pressure system. When newcomers arrive at the team, it can take months for them to grow accustomed to SKC's running style of play—if they do at all. In 2013, SKC midfielder Benny Feilhaber, a skilled U.S. national player, found himself languishing on the bench for much of the season due to a lack of conditioning. Zusi, meanwhile, has become the very measure of Sporting Fit.
In 2012, the team installed cameras at their stadium, allowing Manoel to monitor player movements during games. (They aren't the first; like other major sports teams, soccer clubs have invested in analytics and player-tracking technology, a trend that began in the mid-aughts with the English Premier League.) As he mined the data, Manoel discovered that Zusi, who makes his living on the right side of the field with both offensive and defensive responsibilities, consistently covers more ground than anyone else on the team. During a single playoff match in 2013, Zusi logged more than 10 miles—the highest figure Manoel had ever seen in an MLS game. SKC won the game and advanced to the MLS Cup, where they were crowned champions.
"It's one of the most intense positions on the field that requires he cover a lot of landscape," says Manoel. "He's in an unusual bracket of hyperactivity that not only requires exceptional speed and pace but also requires endurance to track up and back."
As the Americans cast their eyes on Brazil, all of Zusi's tracking up and back seems to have paid off. To the delight of American coaches, he arrived at the team's camp in Los Angeles and recorded a VO2 max of 71ml/kg/min. during his physical.
"That's exceptional for soccer," says Manoel. "It's the highest I've ever seen in the MLS." To put that into perspective: Zusi's body consumes oxygen as efficiently as a professional cyclist competing in the Tour de France.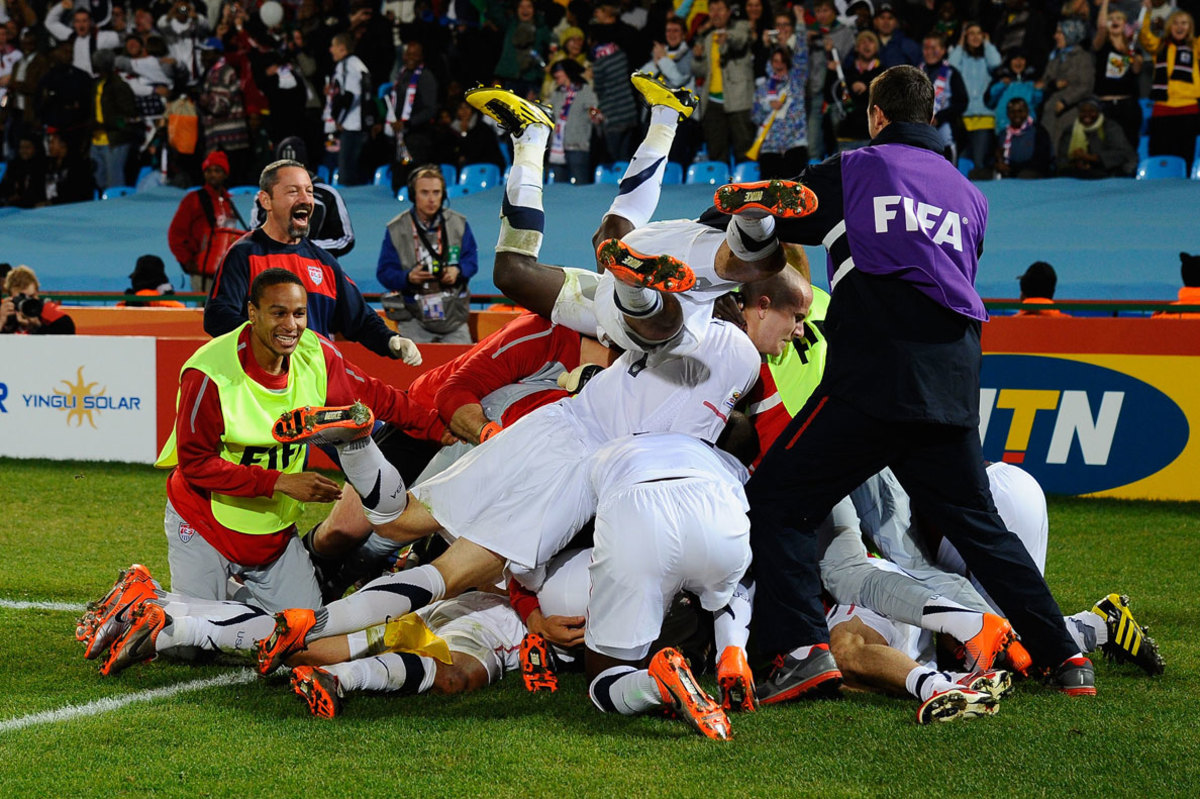 When hardcore international soccer fans see Zusi set foot on the pitch, they instantly recognize the characteristics of the stereotypical American player: the chiseled face and lithe, slender frame; that long, flowing brown hair often tied up high in a bun or pushed back with a headband—it's a breezy look that would seem just as fitting in the crowd of a Colorado music festival as on a soccer pitch. (English footballers, meanwhile, tend to look more like bouncers.) And though he is indeed a laid-back and polite guy, Zusi brings to the pitch a near psychopathic intensity and threshold for pain. It turns out that his style of play is All-American, too.
At the 2010 World Cup, the American players covered an average of 73.6 miles per game. According to FIFA's tracking technology, that figure was the highest of all the participating 32 nations. (Japan came in second at 72.1 team miles per game.) Midfielder Michael Bradley, another one of America's fittest players, ran a tournament-high eight miles per match. Donovan, the man Zusi replaces on occasion in the team's starting lineup, came in second, at 7.5 miles per game.
In soccer, the ability to outrun and outlast an opponent has advantages, especially at the end of a long match where a single mistake can lead to a goal. "It's much easier to be focused in the 80th and 90th minute if you have that fitness inside," says Mix Diskerud, a young American midfielder vying for a spot on the team.
Landon Donovan Dropped From World Cup Squad>>>
So it's no surprise that the Americans have thrived in late-game situations. In the opening match against England in the 2010 World Cup, the U.S. team conceded a goal in the fourth minute, only to tie the game in the 40th. (It ended 1-1.) Against Slovenia, the Americans fell behind 2-0 before halftime to rally in the 48th minute and then again in the 82nd to earn a second straight draw. In their next game, against Algeria, they dominated the possession but couldn't score—that is, until the first minute of stoppage time, the extended play allotted for injuries and other delays, when goalkeeper Tim Howard hurled an outlet pass to a sprinting Donovan, who kicked the ball to forward Jozy Altidore. Altidore crossed to midfielder Clint Dempsey, who took a shot that was saved. Donovan, in perhaps the most memorable moment in American men's soccer history, scored on the rebound. The entire play, at the close of a grueling match, unfolded in less than 15 seconds. The team fell to Ghana in the next round.
"We knew to some extent that we were physically better than most of these teams," says Barrieu, who served as the U.S. team's fitness instructor under head coach Bruce Arena between 2002 and 2006 and then under Bob Bradley from 2008 to 2011. "That was taken care of. We knew that if we were going to lose a game, fitness wouldn't be the reason."
In 2012 and 2013, when they played a total of 37 matches—during which Zusi logged 19 appearances—the U.S. national team scored 11 goals in the last 10 minutes of the first half and a whopping 21 in the final 15 minutes of the second. In that same span, they conceded just four goals and 10 goals, respectively.
Under Coach Klinsmann, one of the most recognizable faces in international soccer—he was a star forward for the German national team in the 1980s and '90s, who relocated to Southern California after retirement—the focus on fitness has shifted but remains no less intense. Gone are the days of running lap after lap, sprint after sprint, as the team used to do under the aegis of Arena and Bradley. Training sessions now consist of prolonged on-ball drills, such as the five-on-five games, designed to improve skill as much as lung function. It's a subtle change the Americans enjoy.
"All players appreciate when we're able to do fitness while we're playing," says Benny Feilhaber. "Practice goes by a little bit quicker. Jürgen loves that stuff."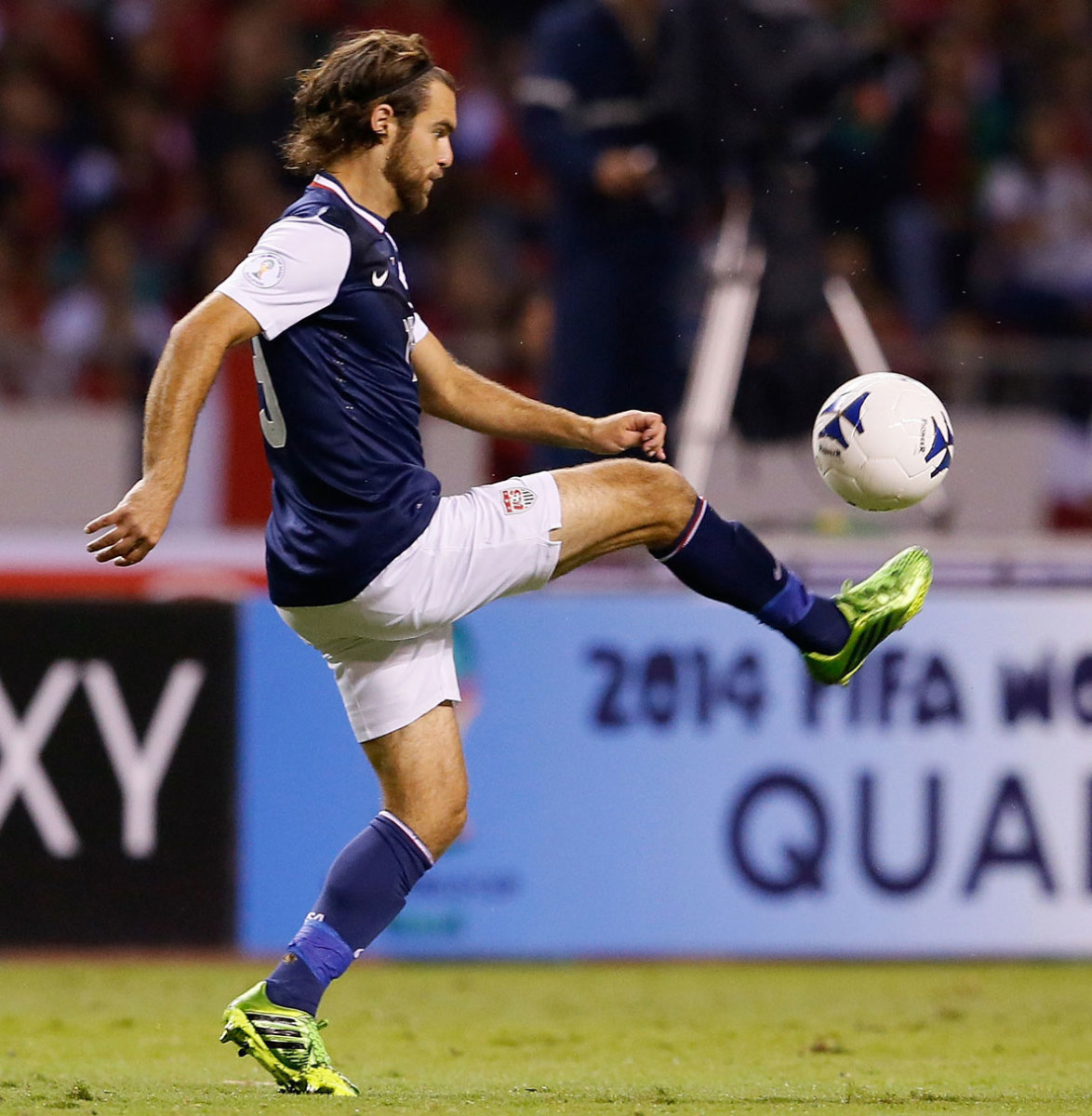 For all their feats of hustle and late-game heroics, the fact remains that the Americans continue to wallow in mediocrity on the world's biggest stage. They've reached the quarterfinals of the World Cup just once since 1930. As of April, they were ranked 13th in the FIFA world rankings, behind Switzerland and Greece.
The reality is that the best soccer teams in the world rely on a much less hyperkinetic style of play than the one the Americans excel at. In 2013, Paul Bradley, Ph.D., a senior lecturer in the Department of Sports and Exercise Sciences at the University of Sunderland, led a study on the relationship among speed, endurance, and success at varying levels of the sport.
The researchers isolated factors that included distance covered and sprint speeds as well as total ball touches and successful passes. Bradley discovered that teams in England's League One and League Championship—the Euro equivalent of minor leagues—cover far more ground on a game-by-game basis than teams at the sport's uppermost echelon, the English Premier League. Those elite teams, such as Manchester United, Arsenal, and Chelsea, employ a more economical style of play, consciously covering as short a distance as possible.
Athlete Q&A: Hunter McIntyre>>>
"They are more technically proficient with the ball and thus don't need to run around," said former U.S. coach Bradley. "Plus, they play more direct football, or a passing game, versus the bottom teams that use the long-ball game more." The high-mileage American style of "kick and chase"—especially when under pressure on defense—resembles a lower-league team.
In addition to talent and skill, the other crucial attribute that elite European-league soccer players share is raw speed. "Modern soccer isn't how much distance you can cover in 90 minutes," says Sakihana. "It's more like: How many sprints can you make, and how fast are you? Can you reach that maximum speed 10, 12, 13 times in 90 minutes? That's more important than being able to run 12, 13, or 14 kilometers." A study conducted by the staff at Bolton, a Championship team in England, found that teams whose players consistently covered more distance at high speeds of more than 5.5 meters per second had an 80% greater chance of winning.
With these observations combined, the attributes of a world-class soccer player become clear: He conserves his energy, is efficient with the ball, and has laserlike passing abilities and open-field speed—the latter of which he only unleashes when absolutely necessary. In other words, this guy does not play Sporting Fit.
On the third day of training camp, the U.S. national team continues dusting off the cobwebs: sprints, drills, and interminable mini-games focusing on technique and endurance. During one hour-long session, they launch into a drill called "10 v. 10 plus 1," which features two teams, each with 10 players, and a free-roaming extra man who always plays offense. There are four goals, two at each end of the field. "It's 100 miles an hour," says Zusi, sopping with sweat.
Halfway through the game, Zusi scores with a nifty left-foot shot, then sprints 50 yards back to his position on the flank as play restarts. Moments later, he gains possession again, only to be taken off his feet by a sliding Mix Diskerud. Both players go airborne, their long hair flying, their bodies falling to the ground in hollow thuds. As the ball rolls out of bounds, a new one enters the field of play. Without any concern for their bodies, Zusi and Diskerud hop to their feet and hustle back into position. The drill continues, and the players just keep running. It's what they do.
The former U.S. defender Hejduk, who proudly claims to have never lost a "fucking beep test" in his life, sums up the American mindset nicely. "There were plenty of times in my career where I played a guy who was twice as skilled as me, a guy who was tactically and technically better," he says. "But you know what? I ran that guy into the ground. The last 15 minutes of the game, he couldn't do anything. That's when I was getting my ball, though, I was crossing the ball, and someone was scoring."
And while the level of American skill continues to improve with each passing year, "we're not really there yet, technically," he says. "But at the very minimum, we have to be fitter than those guys. That's been a big, big component of American soccer over the last decade and why we've done so well. It's become who we are. We're known to be this team that will still be in for a dogfight at the very end." 
For access to exclusive gear videos, celebrity interviews, and more, subscribe on YouTube!