Buster Posey knows how to deal with pressure. Whether it's stepping up to the plate in a tight situation and hitting a clutch walk-off home run or settling down a pitcher in Game 7 of the World Series, the All-Star San Francisco Giants catcher has seen it all—and somehow, he's never fazed by it.
Editor's Note: This was written in October 2016.
That's one of the main reasons why Posey has been a key contributor in three World Series championships for the Giants, and one of the main reasons the team is always confident when they head into the postseason.
Throughout these halcyon years in the Bay Area, with the Giants and the Golden State Warriors seemingly obliterating their respective leagues, the tandem of Posey and wood-chopping, hard-throwing ace pitcher Madison Bumgarner has become an infield pairing to rival the Splash Brothers (Steph Curry and Klay Thompson) across the bay.
So you can't blame the Giants for feeling pretty good when they hit October.
The team proved it again in the 2016 National League Wild Card game against the Mets, putting Posey will behind the plate and Baumgarner on the mound—just as it was 2014, when the Giants closed out a championship against the Kansas City Royals. Even though the Mets had a lighting-bolt-throwing pitcher of their own in Noah Syndergaard—the 6'6", 240-pound goliath known as "Thor," a self-professed "gym rat" who loves lifting—the Giants rallied behing their starter, who had a 4-0 record and a sub-1.00 ERA at the Mets' Citi Field before pitching in the game.
Bumgarner only added to his fantastic résumé at the stadium, throwing a four-hit complete-game shutout to push San Franciso into the divisional round of the playoffs. With his stellar performance, Bumgarner stretched his scoreless pitching streak to 23 consecutive innings, something he's accomplished with Posey behind the plate. The two have become one of the best battery tandems in all of baseball and have put together a historic run in the postseason. Even though the Giants fell in the next round to the Cubs, the performance in the wild-card game kept the reputation of the Posey-Bumgarner battery intact.
And while Posey's stats pretty much speak for themselves—the four-time All-Star won the NL Rookie of the Year in 2010 and the NL MVP title in 2012—the affable Georgian has also earned a name for himself as something of a pitcher whisperer.
Take the 2014 World Series. The Giants were up 3-2 in the bottom of the ninth inning, just one out away from another championship when Royals outfielder Alex Gordon smoked a ball into the outfield and rumbled to third base after Giants centerfielder Gregor Blanco misplayed the ball. The tying run was just 90 feet away from home plate.
With thousands of Royals fans cheering like bedlam and the tying run on third base, it fell to Posey to make the right calls at the end—and despite the pressure-packed situation, he delivered.
"It happened so fast," Posey says, "Bum got two quick outs there in the ninth, then all of a sudden Alex Gordon is standing on third and an All-Star, Salvador Perez, is at the plate. For me, in that situation, I had to slow it down. I went out and talked to Bum and I came up with a game plan, fortunately, he executed and we got that last out."
The Giants aren't quite the juggernaut they were in 2014. San Francisco limped into the 2016 postseason, going 30-42 after the All-Star break, with an offense that's suffered through a protracted slump. But that hasn't rattled Posey's confidence.
"We came in on a little rough patch, but baseball's funny," he says. "Sometimes all it takes is one good game and it'll set you straight for a while, so the most important thing is try to come out and treat each game individually and do the best you can to try and win that one."
Posey spoke with Men's Fitness/Men's Journal about getting ready for the playoffs, how getting older has changed his training, and what it was like behind the plate in Game 7 of the World Series.
(Editor's note: This interview has been edited for clarity.)
Men's Journal: What's your training routine like? How has your training changed as you've gotten older and more experienced?
BUSTER POSEY: As I get a little bit older, I think I have to train slightly different from what I did when I was in my early twenties. Core stability is one area I focus on a lot. It's important to make sure I'm stretching a little bit more, keeping long, lean muscles, as my body gets a little bit of wear. Maybe transitioning away from bulky and heavy lifting. As you get a little bit older, your body naturally carries that mass more easily.
You've been playing more first base over the past couple of years. How do you prepare for that and how do you train for that?
For me, it's a matter of trying to remain athletic—staying loose and flexible, get that "squatty" feeling. It's hard as a catcher to go out and practice on the field. I can't go out and take ground balls at first base on days I'm catching. When I know I'm going to play first base, I try to get over there before the game, take some throws and field some grounders.
What types of drinks, supplements, and products do you use while training?
There's the craze now, and rightfully so, all about putting stuff in your body that's as natural as possible. I truly believe that if you're going for a sports drink, that's what you've got to go with. If you want to hydrate and recover, natural stuff is what you need in your body. Go with anything that's natural and helps you keep hydrated.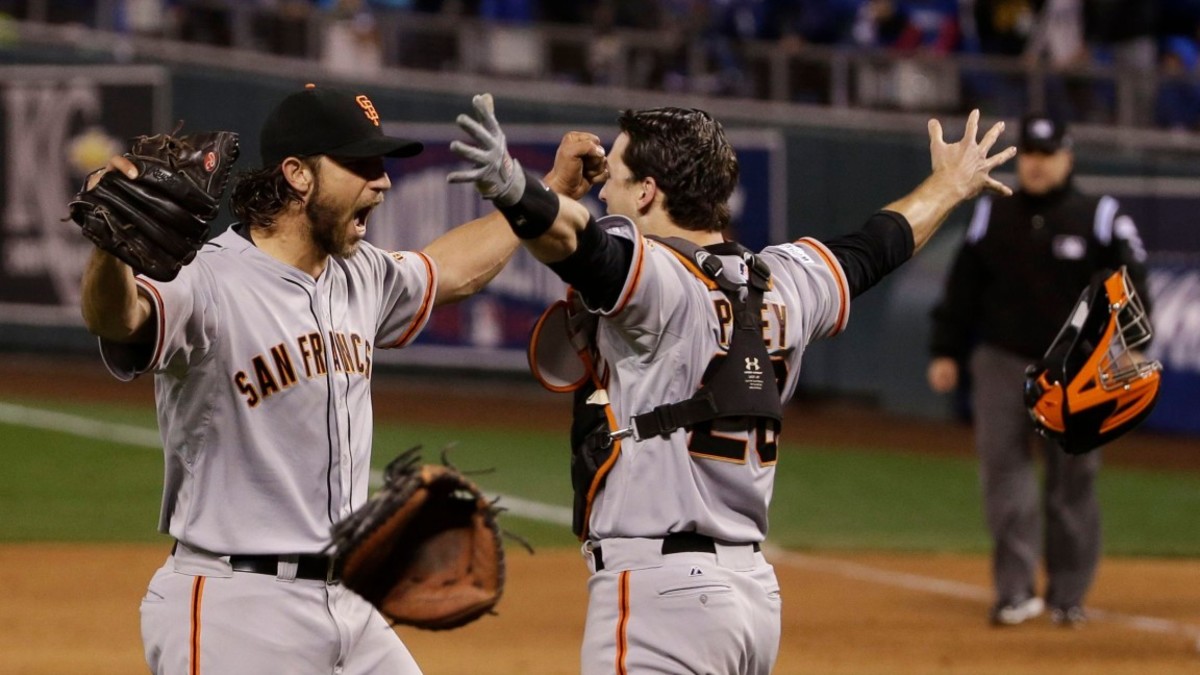 How did it feel to catch Madison Bumgarner in Game 7 of the 2014 World Series? What was that final inning like from your perspective?
It was amazing. Bum came in and he just kept cruising. When Baumgartner got in the game, I was kind of trying to think along with our coach—thinking that if he got us through seven innings, that was going to be outstanding. He gutted it out and did what he needed to do, when we got that last out that was a lot of happiness, a lot of relief. We'll definitely always have those memories.
What's it like working with pitchers like Bumgarner, Matt Cain, and Jake Peavy for multiple years? How do you adjust after adding new pitchers like Jeff Samardzija and Johnny Cueto last offseason?
We have a great staff and we're comfortable with each other after so many years. When you start working with new guys, first, I start by trying out some dialogue back in Spring Training and then get some work with them in the bullpen. To be honest, there's really no way to simulate an actual regular season Major League baseball game. So it really just happens when you get out there. There are going to be some moments where there are adjustments you have to make. For the most part, I think the transitions went well this season.
For access to exclusive gear videos, celebrity interviews, and more, subscribe on YouTube!