Leonard Fournette is an absolute beast on the football field—and in the weight room.
After rushing for nearly 4,000 yards in just 32 games at LSU, the Jacksonville Jaguars running back is ready to bring his bruising style to the NFL.
"I'm excited to compete and get out there," Fournette told Men's Fitness. "Training camp can be intense, but I'm anticipating it. We have a great team, and I want to do my best to help the team win. Whatever the team needs from me and wants me to do on the field, that's what I'll do."
Fournette comes into Jacksonville in some of the best shape of his life. Following the NFL Combine, some draft analysts were worried that Fournette was too heavy at 240lbs—so he went to work and dropped 12lbs, impressing scouts with his muscular physique and agility at his LSU Pro Day.
Here's a look at Fournette in the weight room crushing some back squats and pullups while wearing a heavy chain:
Although he was selected with the fourth pick in the 2017 NFL Draft, Fournette will have to compete to get carries with the Jaguars. As a former USA Today High School Football Offensive Player of the Year and blue-chip prospect, Fournette knows how to deal with high expectations, preparing him for the transition from college to the NFL.
"It feels the same for me," Fournette said. "I feel completely ready physically, and I'm ready to show what I can do. At LSU we didn't throw the ball to the running back much, but I love doing that. I'm anticipating the competition. Knowing you have to come in here and compete for a job with four or five other players, it fires everyone up."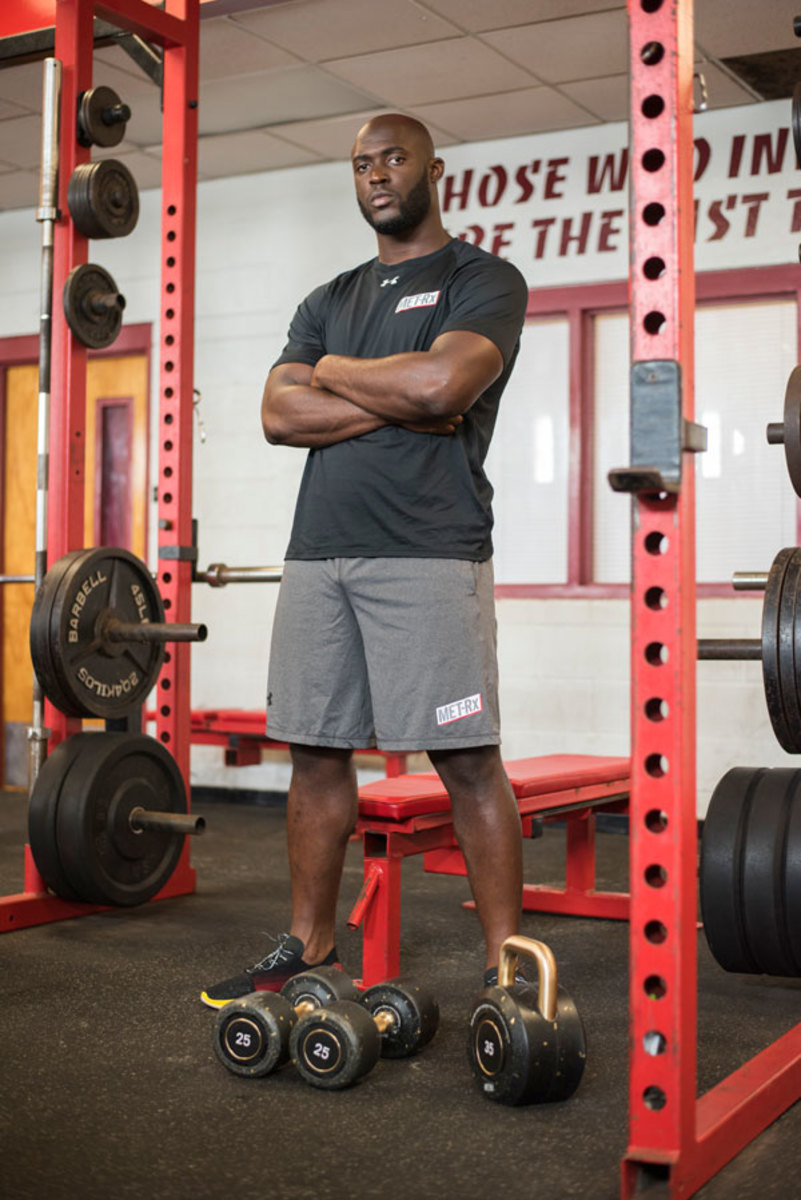 Courtesy of MET-Rx / Leonard Fournette
Even before he ever stepped onto the field for the Jaguars, Fournette made an impact on the community. Working with MET-Rx, Fournette donated one of his old football trophies, which was combined with hundreds others and melted down to create a set of free weights and kettlebells for the football team of Raines High School in Jacksonville.
Here's a look at the process:
Fournette spoke with Men's Fitness about his training routine, his favorite workouts, helping the Jacksonville community, and what he expects in his first NFL season.
MEN'S FITNESS: What's your workout routine? What's a typical Leonard Fournette workout like?
Leonard Fournette: First, I start off with a big MET-Rx protein bar, and then I get into a stretch. I have to get my body warmed up. I might start with some field position work, then go in the weight room and lift weights. It depends on what I need for that day, but lifting weights for a warm-up is good for me. It makes you feel all your muscles at use, and when it's time to run, you make sure you'll use them again. So, I might stretch, run a couple routes, do a couple of drills, and do the same thing, do the same routine as much as possible, over and over. Some of my favorites are squats, climbing ladders, drills where I'm catching the ball, and formation drills.
How have you been preparing for your first training camp?
It's the mental part of it. Coming in and competing with a group, and making sure you're doing your best and helping the team. Trying to keep that mindset, knowing you have to make plays and do what you have to do and just win that position. It's going to be fun out there, but, again, you are competing. That's all that matters, doing my best and helping the team win.
What's the transition been like going from college to the NFL?
It's really the same thing for me, physically. The rest is the mental game. It's more mental than physical now because you have to know what you're doing out there in camp. You can't be lost like a chicken with your head cut off out there. You have to know your role—that's part of your job, and that's part of your assignment.
Shoulder shrugs are great—they help get your shoulders strong for when you make contact at the line of scrimmage. The dumbbell press on the bench is great, but if you don't have any of that, pushups are always good. That's what I did as a kid to get stronger.
What's it been like working on the campaign and the local students in the Jacksonville community?
The whole thing has been fun. Giving back to the high school was great. The kids are the future of our sport, and we'll provide all the tools that they'll need to take them to the next level of training. We wanted to give back and make sure that the hard work went into the community. It felt great just to give back. It started back as a kid for me, wishing people came back and gave to me and my friends growing up. So I wanted to see that difference made in my community, and my city where I'm from, and also here in Jacksonville, too; just be a difference-maker.
I eat a lot of broccoli—that's my favorite vegetable. Protein-wise, all the meat I have is grilled. No more fries, no more pork—and hardest of all, no more Popeye's. My favorite thing, of course, is my mama's cooking.
For access to exclusive gear videos, celebrity interviews, and more, subscribe on YouTube!