New England Patriots wide receiver Julian Edelman knows what it's like to face long odds. From being a seventh-round NFL Draft pick to recovering from a serious knee injury (not to mention dealing with a suspension from the league), Edelman has had plenty of moments where he could have given up on his career. Instead, Edelman developed into one of the best wide receivers in the league, winning three Super Bowl titles along the way.
Back when he was first drafted, there was no guarantee that the former Kent State quarterback would even have a place in the NFL, since he was undersized for the position at 5'10". So Edelman made himself integral to the Patriots, playing at whatever position coach Bill Belichick needed, including wide receiver, punt returner, kick returner, and even on defense at cornerback. All the while— including later on when he was injured and suspended—Edelman kept his father's advice at top of mind.
"Tough times don't last; tough people do," Edelman told Men's Journal. "I say it all the time. My pops grew up without a father and had a lot of struggles in his life, and I saw firsthand how he was with his dedication, focus, and sacrifice. Those key ingredients showed me how to do things right and molded me into the man that I've become. So this project is kind of my way to share that knowledge with people that are in need of it."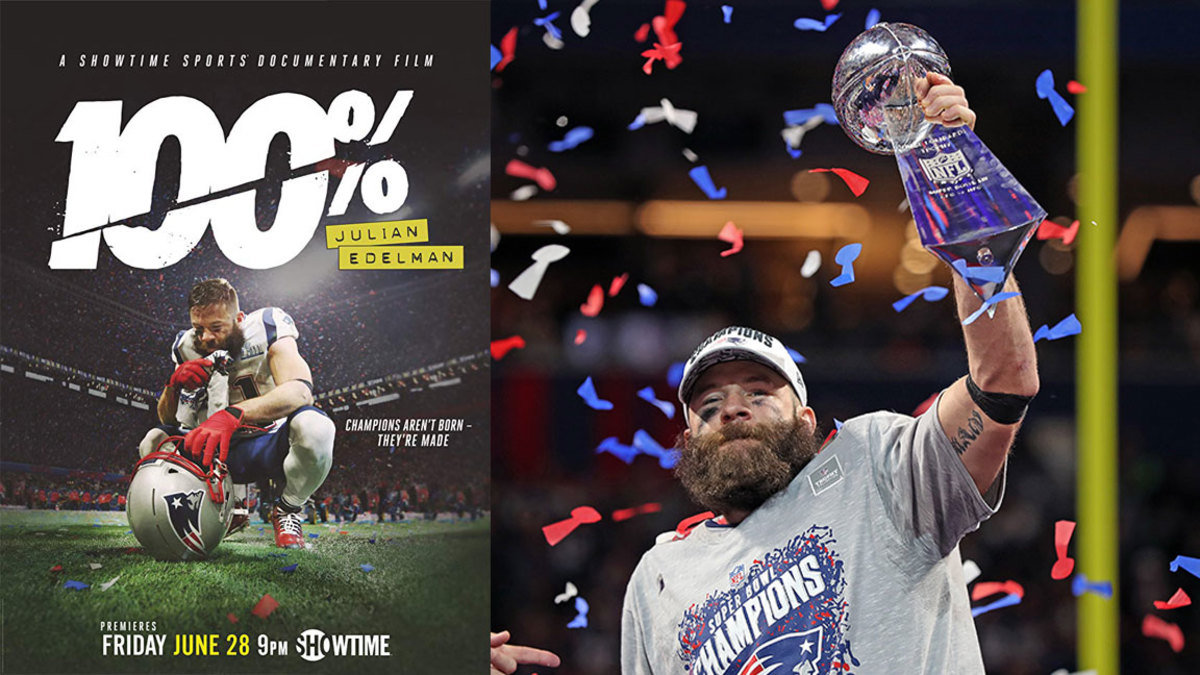 That project Edelman's referring to is the new Showtime documentary 100%: Julian Edelman, which premieres on Friday June 28 at 9 PM ET/PT and follows the ups and downs of his career. The documentary gives a behind-the-scenes look at the wide receiver as he rehabs from his ACL injury and trains to come back after his PED suspension in 2018 through interviews with Edelman's friends and family (as well as stars like Mark Wahlberg, Snoop Dogg, Tom Brady, Michael Strahan, Deion Sanders, and more).
Edelman spoke with us ahead of the premiere about his unorthodox journey to the NFL, how he trains to stay at the top of his game, what it's like to play with Tom Brady, and more.
Catch the documentary 100%: Julian Edelman on Friday, Jun 28 at 9 PM ET/PT and streaming anytime at the Showtime website.
Men's Journal: What did it mean for you to tell your story in this documentary?
Julian Edelman: It was a great experience. It's a documentary not just about sports, but about life and overcoming adversity. It's about scaling obstacles and improving yourself, and if it can inspire a kid, woman, man, anyone—if it gets a couple people to feel like they can overcome stuff that's hard in their lives, I think it's done its job.
Along with your friends and family, you have some big names helping tell your story. What was it like for you to have them involved?
It was awesome. With the success I've had, I've been able to meet a lot of cool people and start friendships with people that I've looked up to over the years. To see the generosity they've had in helping me and my dreams has been fun. It's a pinch-me moment to have guys like Mark Wahlberg in it—to have Snoop Dogg reading your suspension letter or Guy Fieri explaining the ACL ligament rupture. Looking back, it was so cool to be able to do that.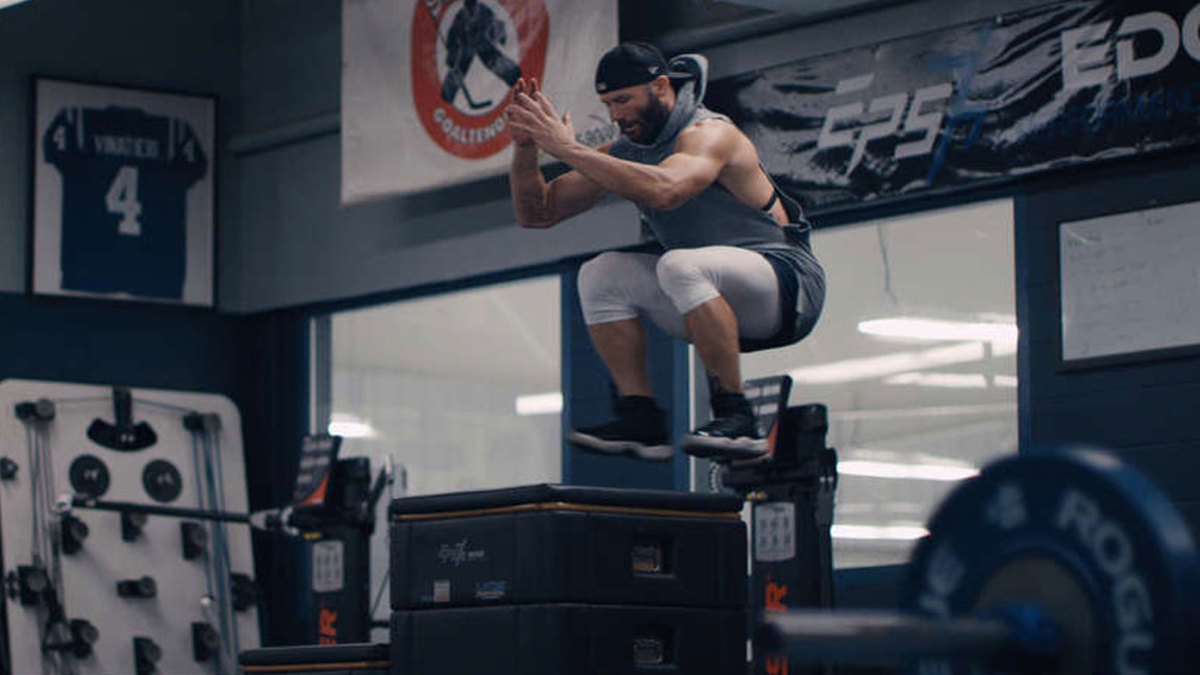 What do you hope people take away from watching the documentary? 
As I said before, the main mantra that "tough times don't last, tough people do."  That If you're going through something, I hope the doc makes you realize that you don't need to feel like you're the only one going through that situation. A lot of people go through tough times and it's not always easy to bounce back and believe in yourself. But I hope that my story helps people to see that you can go out there and give yourself the best opportunity to overcome something tough  that you're in.
What was it like to win Super Bowl MVP?
It really was amazing just to go out and win the Super Bowl and end the season like that. Being named the Super Bowl MVP was honestly probably more exciting for my family, but playing those games and being in that final game of the season was a great experience. I've been a part of three now, and you're just happy that you won. You're happy it went your way, because I've been on the other side, like in 2011 when it didn't go our way.
What's it like playing with a future Hall of Famer like Tom Brady?
It's been a blessing to get to work with a guy like Tom with the way he is as a professional. You're learning so much from watching him every day. With his attitude and his hunger, he really is the ultimate professional. You can learn more from him than just football. You see how he is with his family, and how he compartmentalizes things—the balance he has with everything. He's the best for a reason, and it's been great to get to play with him and learn from him all these years.
What are some of the workouts you do that help you perform your best on the field?
I like a lot of resistance training and resistant running-type exercises. Those help build explosiveness, as well as high metabolic-type training in the weight room—moves that are constantly keeping your heart rate up. Those things always help me out. Running routes and making sure they're crisp and accurate—it's kind of like dancing in a way with some extra footwork added in. If you can run your route and have that down, the more you can think about other things when you're out on the field, like what the defense is doing.
What are some ways you train to help with injury prevention?
I've been incorporating a lot of yoga this year. It really helps for flexibility, breathing, and core strength, which has been great. I also do a lot of muscle work, like soft-tissue treatments, keeping the blood going. All those really help me get where I want my body to be.
What's a favorite place of yours to travel?
I just got back from Israel, and I had been out there before. This time, it was partially to support Mr. Kraft [Patriots owner Robert Kraft] for winning the Genesis Prize, which is a huge honor. It was important to be there and see him get recognized for his philanthropy and his work in the community. I went to Tel Aviv. Everything is amazing out there: from the food to the people to the sites. When you go to Jerusalem, you have that feeling in your heart that this is the oldest place you can visit. It's 3,000 years old and being there is just great.
For access to exclusive gear videos, celebrity interviews, and more, subscribe on YouTube!