NFL wideout Larry Fitzgerald doesn't want to hear the word comeback. Sure, the Arizona Cardinals wide receiver admittedly had a rough 2014 season, when he posted the worst numbers since his rookie year. But in 2015, just as the critics started rumbling about how Fitzgerald was getting over the hill after a decade of consistency, the 6'3″, 220-pound wideout delivered his best campaign in years: a career-high 109 receptions, his highest single-season receiving yards total since 2011, and a berth in the NFC Championship. (Note: This piece was written in 2016.)
So yeah: Larry Fitzgerald's still got it. And he'll continue getting it: Fitzgerald announced that he'll be returning for the 2017 season after mulling retirement. UPDATE: Fitzgerald not only came back for 2017 and 2018—he's coming back fro 2019, too. That'll be Fitzgerald's 16th season in the NFL. (Read more here on Fitzgerald coming back.)
"My offseason training really helped me—I was fully healthy and having my health made a big difference," says Fitzgerald. "I was able to come in and have a great camp, get up to a fast start early in the season, and it kind of just kept rolling."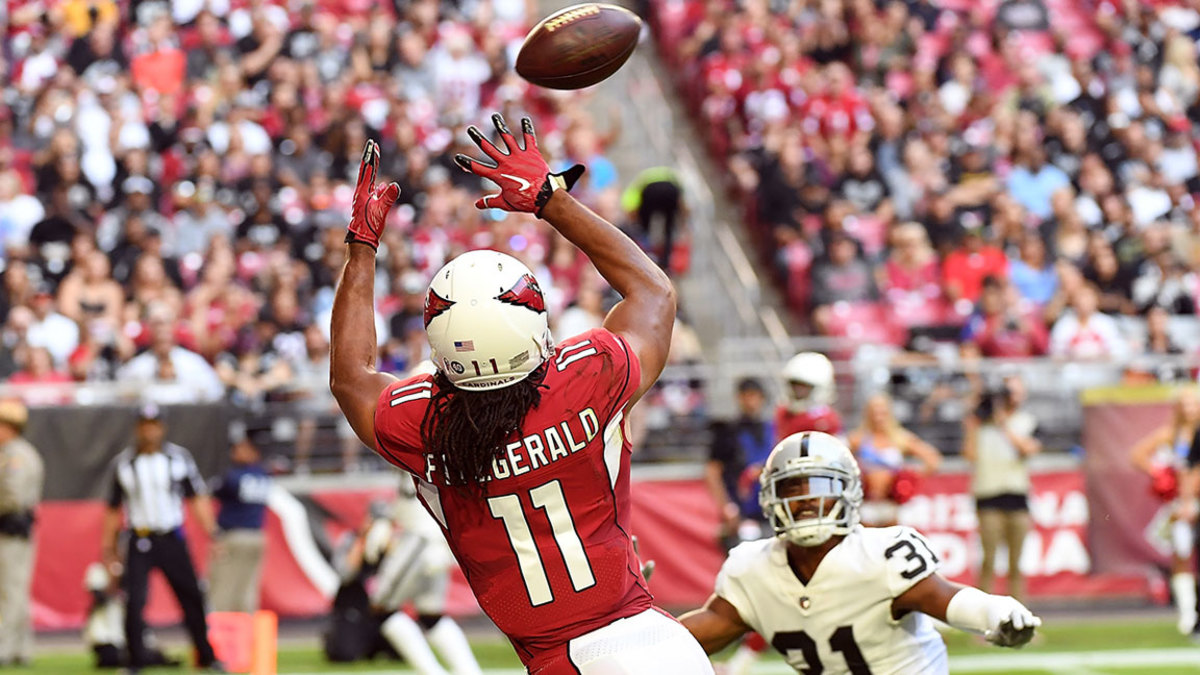 Fitzgerald battled through injuries in 2014, missing two games—the first time he had to sit out since the 2007 season—but he played a full slate of 16 games in 2015. Fitzgerald credits his training routine and nutrition as the main reasons why he's been able to stay so healthy through the course of his career—overall he's missed just six games in 12 years in the NFL.
"There are no shortcuts," says Fitzgerald. "If you want to be successful, you've got to put the time in with your training." The wideout uses a wide range of workouts and exercises in his training, including box jumps, agility drills, hang cleans, squats, explosive movement drills, and a ton of running. "I'm doing between 600 and 800 yards of intense, intense running when I'm training," says Fitzgerald. "I want high-intensity training, every single day."
Fitzgerald will be 33 years old when the 2016 season starts, but he still plays football with the same intensity as when he was a rookie out of the University of Pittsburgh. Fitzgerald credits his nutrition for keeping his body in top shape despite his age and all the wear and tear he's suffered through a decade-plus in the NFL.
"You've got to make sure your body's getting the nutrients that it needs," says Fitzgerald. "At this age, I have to be able to train hard, but I have to be able to recover so I can do the same activity day in and day out, and nutrition is key for that."
Fitzgerald spoke with Men's Journal about his intense offseason training, how he gets ready for the season, what his favorite workouts are, and why he loves Game of Thrones.
(Editor's note: This interview has been edited for clarity. This interview was originally done in 2016)
MEN'S JOURNAL: What's a typical day like for you when you're training? What's the most important thing to focus on when you're training?
Larry Fitzgerald: I'm up at six—then I'll eat a nice, healthy, balanced breakfast, usually oatmeal, some eggs, and either some steak, lean turkey, or something like that. Then I'll start to work out, I want to do it at seven, around then. Each day you've got to dedicate yourself and make sure your body recovers too. For me that includes one hundred percent whey proteins after every workout. I make sure that my body's recovering. That's the most important thing for me on training days.
How has your training changed throughout your career? What's different now from when you were younger?
Intensity is the same, but I would say I train a lot smarter now. In terms of the ridiculous amount of volume that I may have done early in my career, I still do a lot of volume, but with the GPS tracking that the team does, I know exactly how much I've run every single day. I do a lot of intense running—not like jogging between periods or routes that are run at 80 percent, my 100 percent output per practice is usually around 800 yards—so I emulate that in my training. Being covered by [teammates] Patrick Peterson or Tyrann Mathieu, I can't recreate that in my own training, but I can recreate the volume and determine the intensity of the routes. Catching the football, breaking tackles, things of that nature, I can simulate all that.
2015 was one of the most productive seasons of your career, did you do anything different in your training or offseason routine to help you put up numbers like that?
It was all in the training. Plus, having a healthy Carson Palmer for all 18 games was important for the team. David Johnson, Chris Johnson, those guys—everybody benefits from when Carson's on the field and he's producing like he produced last year.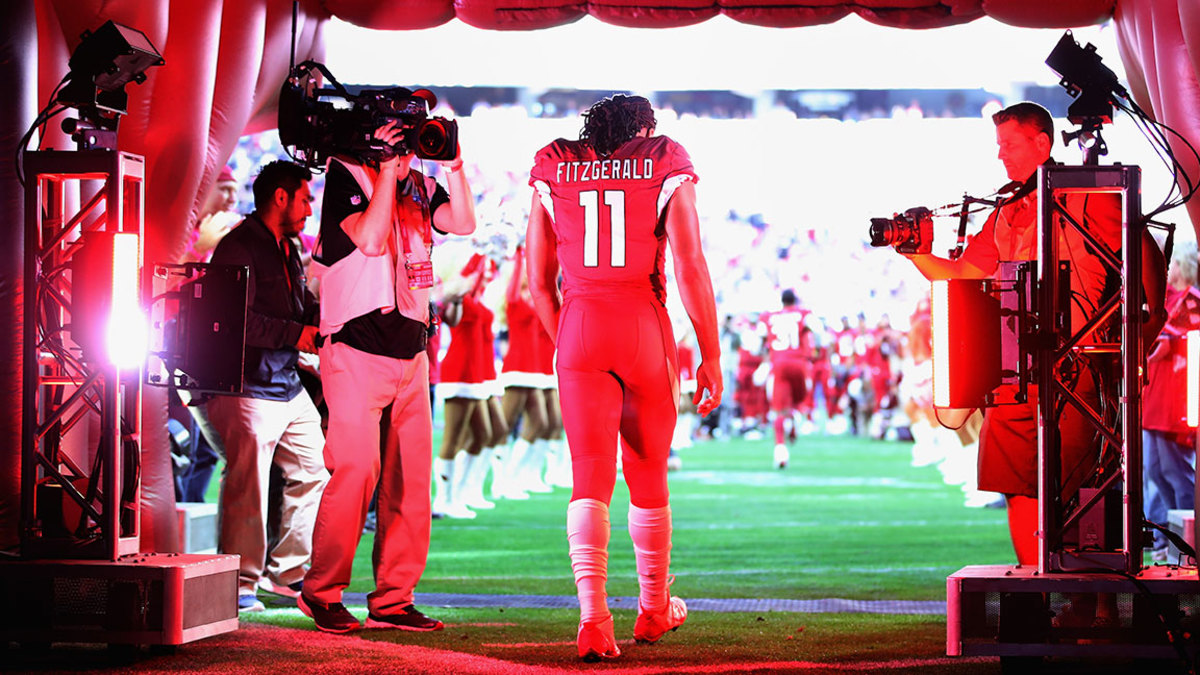 What are some of your favorite things to do in the gym and in your training?
I like working on the speed and agility aspects of the game because it really, it's what I do on a daily basis, so I feel like it gives me the biggest advantage. Plus doing lifting, box jumps, and squats, but also working on getting to the high point of the football, being able to break tackles, using my stiff arm, things of that nature. I think those are some of the things I know that are going to directly affect my ability to get open and make plays for my ball club. I really like running routes because the route running part for me is so important—just being precise, catching everything that's thrown to me. I would say in my training, that's the part that really is essential.
What's your daily diet and nutrition like?
I think that this offseason, especially this year and leading up to the season, I've really, really, really carefully monitored what I'm putting in my body. The lean protein, exactly how many calories I'm taking, cutting out the fats and sugars out of my diet. When I'm going hard and my body's at its best, it's feeling great. I've worked hard to get myself ready for what's to come, and that's very, very important for me to know mentally, that I've done everything I need to do. It's just being prepared.
What's the best piece of training advice that anyone has given you through your career?
There's a lot of different people that have come along over the years and helped me fine tune, and helped me become better at what I'm doing. There hasn't been just one person, but it's been more collectively, and and I've learned that there's more than one way to get things done. I say, "okay, that makes sense, I can try that. I can implement this into my workout." So I'm one of the people who's really open to anything that's legal that will help me get better.
What advice do you have for younger players and athletes in football looking to learn from your experience?
I think the biggest thing is just focusing on the nuances, especially for wide receivers running their routes. Guys like Antonio Brown, Julio Jones, you look around the league at some of the guys working at a very high level and get out there one on one, they're able find separations, like top of the breaks. Speed and agility is great but being able to get those nuances right, it keeps you in play for a long, long time.
Do you use any supplements, energy drinks, or other products in your training?
Yes—I've been with EAS sports nutrition now for, going on my 13th season, and I think it goes hand in hand with me playing at a high level. They provide me with clean, certified, quality nutritional supplements that I know that I can put in my body and not only get great results, but also know that I'm going to be safe. It's going to be giving me the most, cutting edge efficiency in terms of research and hard work they put into it to fine tune their brand, and that's the same way I think. That's why we align so well.
What are your expectations for the Cardinals this season?
We want to be in Houston [site of Super Bowl LI]. We want to be hoisting that trophy, the last people on the podium in Houston. That's our goal, we know that we have the team that can do it. Obviously health plays a huge factor, every team that has to play ball, they've got to deal with that— hope for everyone to stay healthy. Throughout the course of the year we're going to be right there in the thick of it. We have that kind of ball play.
What are your thoughts heading into the season for yourself and what you want to accomplish personally?
I feel good—my body's done great this offseason and I've been in the same system now for four years. Now it's just going out and getting that rapport back with Carson, picking up where we left off from last season, and getting to the Super Bowl.
What do you like to do in your downtime? Do you have a favorite TV show?
Oh yeah, Game of Thrones. I'm a little behind right now, I've missed the last few episodes so I'm going to get in my bed and watch TV. Don't tell me anything. Don't say anything right now [laughs]. I got to catch up on it.
We promise not to spoil anything. Do you have any favorite characters or moments on the show? [Spoiler alerts for Game of Thrones fans who haven't caught up on the show.]
Yes, I've always been a big Stark guy. I just think that their integrity, I feel like they deserve the best, and they've had it pretty rough—so seeing Jon Snow back, kicking ass and taking names is great. What they did to Lady Stark was rough, man, so I have some love for her, for both of them. And the dudes that did it to them, I have no love for those guys. I liked Stannis Baratheon, I feel like he was entitled to the throne just because what happened to his brother, I mean he was the next in line, but I don't like his alliance with the Lady of Fire, Melisandre—she's a weirdo, man. What they did to Stannis's daughter, man, I lost a lot of respect for him on that too—so it's back and forth on that guy.
For access to exclusive gear videos, celebrity interviews, and more, subscribe on YouTube!